News
Analysis: Redskins draft picks from rounds 4-7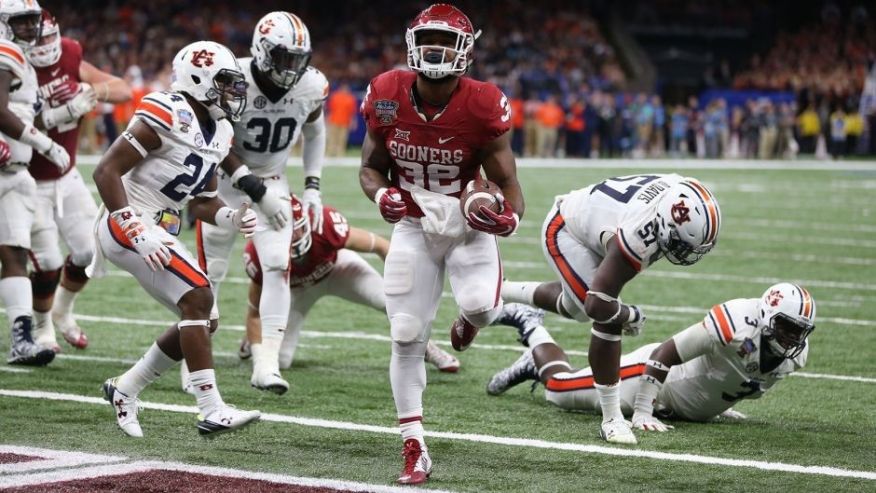 4th Round, 114th Pick – Samaje Perine, RB (5-foot-11, 233 pounds)
Perine is a physically strong back, putting up 30 reps on the bench press at the combine, and he translates that strength onto the field. He's said himself that he'd rather go through a defender than around him and that isn't lip service. He holds the FBS record for the most yards in a single game at 427 and the record for most career rushing yards by an Oklahoma Sooner.
He keeps his feet churning and has the balancing power of a segway. He regularly requires multiple defenders to bring him down and arm tackles aren't effective against him.
While he brings a lot of smash to the field, he doesn't bring a lot of dash. He ran a 4.65 forty time and lacks the breakaway speed that you'd see in running backs selected ahead of him. With that being said, he is fast enough that if he gains separation through good blocking and a well designed play, he doesn't get caught as quickly as his 40 time suggest.
Almost every time I see Perine getting chased down on a big run. It looks like he should get caught but he doesn't. Faster than he looks.

— Robbie Duncan (@RobbieDuncanOL) April 29, 2017
Many respected analysts rate Perine highly. Charley Casserly said that Perine "can be 1,000 yd rusher in right system" and that the Redskins scored big in drafting Perine. He's expected to compete immediately with Rob Kelley and put Matt Jones' job into jeopardy.
4th Round, 123rd Pick – Montae Nicholson, S (6-foot-2, 212 pounds)
The Redskins added a safety in Nicholson that fills out the sheet if you were writing down what you want a safety to look like. He's tall, long, and ran a 4.42 forty yard time. The issue is that he doesn't translate that to field in a way that impresses scouts. An AFC scout described him to NFL.com as "Big and beautiful with no impact on the game whatsoever. He just doesn't have the aggressiveness you need to play this game on this level."
Mike Mayock said that he'll make big hits but will miss tackles. The Redskins seem to be drafting him for his tangible features with the hopes that they can coach him up.
The Redskins have struggled at safety for years and with Nicholson have another player to compete. He has a good build for the position, the question is if the Redskins can get him up to an NFL level of play.
5th Round, 154h Pick – Jeremy Sprinkle, TE (6-foot-5, 252 pounds)
Tight end is an evolving position in the league. Some tight ends clock 40 times faster than receivers while others are built like lumberjacks and are mostly used as blockers.  The ideal tight end is a player who doesn't give the play away by being limited to certain types of plays. Sprinkle doesn't have the athletic flash of a Jordan Reed but he could potentially be a tight end who could stay on the field to block or catch passes.
He has a very large frame and uses his long arms to block and his long strides to get into the open field. He only ran a 4.69 forty time but when he gets going, he has steady speed with a lot of momentum behind it. Oddly enough, at 6'5″ and 252 lbs, he is almost a sneaky receiving target at times. In many of his highlights he is wide open due to good play design and solid execution. Out of two tight end sets, Sprinkle utilises the numbers advantage to get open and get solid yardage. If the Redskins line up in a formation to run on 3rd and short, they could send Sprinkle out on a route and get some cheeky yards.
Mike Mayock pointed out that playing at Arkansas, Sprinkle had to do a lot of blocking. This helps his dual threat viability and makes him more of a traditional tight end.
Sprinkle had an off the field issue where he was caught attempting to shoplift and was suspended for a bowl game that would have been the last game of his college career. He says this is in his past but it may have affected his draft stock.
6th Round, 199th Pick – Chase Roullier, C/G (6-foot-4, 312 pounds)
The Redskins have made some major investments along their offensive line. One area of relative weakness is the left guard spot. With the 199th pick in the draft, they added some depth to the interior line in the form of Roullier. He played two full years at guard and then moved to center for a year. In his final year he earned first team All Mountain West honors. There isn't a lot of game film of Roullier, but Pro Football Focus is complimentary of him stating, among other things, "Roullier makes blocking look easy at times and can be a dominant in-line blocker." They mention pass protection and athleticism being weaknesses for him but commend his overall ability to win blocks.
Pro Football Focus seems almost too effusive in praising a linemen that fell to the 199th pick but Roullier has size, experience, versatility, and at minimum adds depth and competition to the interior line of the Redskins.
6th Round, 209th Pick – Robert Davis, WR (6-foot-3, 219 pounds)
Davis is a solid pick for this late in the draft. He is a former basketball player and boasts a 41″ vertical leap. He ran a 4.44 forty yard dash and has good athleticism. The Redskins have made a concerted effort to add height to their receiving corps and Davis fits the bill. In addition to some good highlights in the red zone, he has a plethora of long ball catches and big plays from his time at Georgia State. He also once hurdled over a defender. With the long ball potential and his athleticism, watch for Davis to be a preseason champion in 2017.
The question is if he can translate these physical attributes and his success from Georgia State into the NFL. NFL.com points out that his route running is raw and that he lacks long speed.
7th Round, 230th Pick – Josh Harvey-Clemons, S (6-foot-4, 217 pounds)
Harvey-Clemons has had two failed drug tests in college, transferred schools, and has been suspended for a game in college for violating team rules. But that doesn't mean he doesn't have elite measurables and high potential. He has elite size for his position, he's aggressive, and he tackles well. Mark Bullock points out that he is a box safety.
NFL.com has the best description to show why the Redskins would use a pick on him, despite his off the field concerns. He could be the steal of the draft for the Redskins.
Former five-star recruit with an alpha mentality who roams the field with swagger and undeniable intent as a tackler. Has elite size, length and athletic traits, and is a rangy tackler with the ability to cover and blitz. He could be considered by teams as a box safety or hybrid linebacker.
7th Round, 230th Pick – Joshua Holsey,  CB (5-foot-10, 190 pounds)
Holsey had two ACL tears in college but he has since returned and played a full season for Auburn.
Joshua Holsey is the final pick for the Washington Redskins. Despite two acl injuries, Holsey could develop into a nickel CB down the road.

— Steve (@SteveDraft_) April 29, 2017
You can never have too many defensive backs and adding Holsey might create some competition for the nickel corner slot.
Who do you think is going to be the most successful pick of the Redskins draft? Is there a diamond in the rough or a major draft bust from the 2017 draft class? Let us know in the comments and get in touch with us on Twitter.
Comments
comments
Powered by Facebook Comments