News
Redskins Create Rushing Lanes and Possible Identity in Victory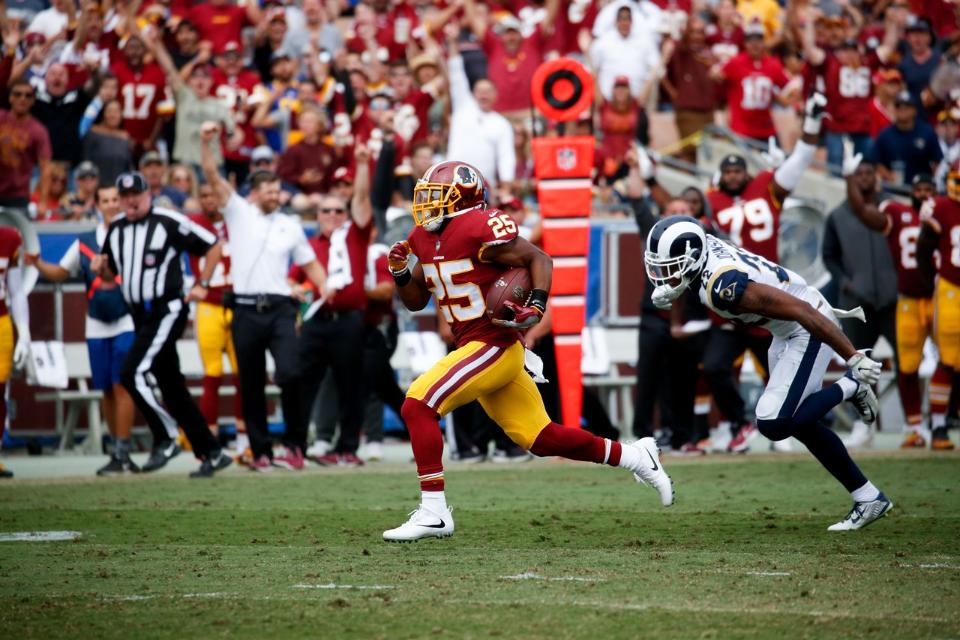 A long time ago in what seems like a galaxy far, far away a once proud franchise had an identity.  The identity was based off of the offensive line and the running game.  Nicknames such as "The Hogs" and "The Diesel" put a name to the identity and helped create a certain "tough guy" persona.  East coast teams experience blustery autumns, and cold winters.  Running the ball allowed the team to hold possession as well as wear the opponent down regardless of the rain, sleet, and snow. It was a winning formula that lead to 3 Super Bowl victories.
This franchise has been searching for a new identity since those halcyon days and even picked up the West Coast Offense as way to adapt to the new NFL and its pass happy ways. If it works for everyone else who is winning why can't it work for the Washington Redskins? But the truth has always been that this team's identity, its DNA if you will, is the running game.
There was one play in the first quarter where the Redskins ran the counter trey with Morgan Moses and Brandon Sherff pulling from the right to the left crushing everything in their path, as if it were an homage to those glorious teams. The counter trey was a classic Hogs play that instilled fear and dread in defensive players minds. Linebackers and safeties are no match against a 300+ lb. linemen running at them full speed. It gives them pause, and doubt. With the mental game won, execution is all that's left to focus on.
In the 27-20 victory over the Los Angeles Rams this version of the Redskins ran the ball a whopping 39 times for 229 yards with 3 different running backs. They ran with such authority it didn't matter that one of the best defensive linemen in the game Aaron Donald, was practically a footnote in his first game back from a contract hold out.  They ran so hard, for so long that they gave rookie running back Samaje Perine enough time to develop his run game and adapt and grow as a running back before everyone's eyes.
Jay Gruden who is such a pass happy coach that even the play-by-play announcer for FOX, Thom Brennaman, who is a Cincinnati Bengals supporter, openly speculated on Gruden's continued commitment to the run game after being successful in the first half.  Brennaman couldn't even help himself. He had seen Gruden inflict this pain as an offensive coordinator for his Bengals and knew all too well that no matter how many times Gruden has been told to balance the play calling he just ignores the advice and does whatever he wants. The results be damned!
Ladies and gentleman of the courtroom, I present the "Fades to Failure" as exhibit 1 against Gruden and his play calling when the run game is clearly the best option.  Gruden was a quarterback in a previous life and it makes sense that he thinks passing will bail him out of trouble. But this past Sunday, it looks like he listened to his team instead of himself and it paid off with a hard fought victory.
Being patient with the run gives this team a chance to stay competitive in so many ways. With reliable ball carriers it limits the amount of turnovers, it eats possession time, it wears down defenders and keeps the opponent's offense from establishing a rhythm. Additionally, with Kirk Cousins still struggling to establish trust and timing with newly acquired WR Terrelle Pryor, this is the best time to lean heavily on the offensive line and cater to their strength.
Some folks said this was a must win game due to the schedule. I was reminded of the conversation my Abuelita,(grandmother), and I had before every game.
I would call her and ask her "Are we gonna win today?"  and she would reply with a jovial "We're gonna win!"
I would respond with "ok, we are gonna win…" and she would always add "We HAVE to win."
She was always right, about everything, but they are all must win games. They are all important. It is why folks went crazy last week over the loss and it is why folks will go crazy over this week's win. They all matter and this was one that may have been worth more than the others, because it might of helped create an identity for a team that has been long searching for one.
This article is dedicated to my Abuelita who besides being a excellent mother, grandmother, great grandmother, sister, wife, friend, and all around great human being, was also a diehard Redskins fan and will be missed.
Comments
comments
Powered by Facebook Comments