News
Redskins vs Bengals: 5 Things We Would Like To See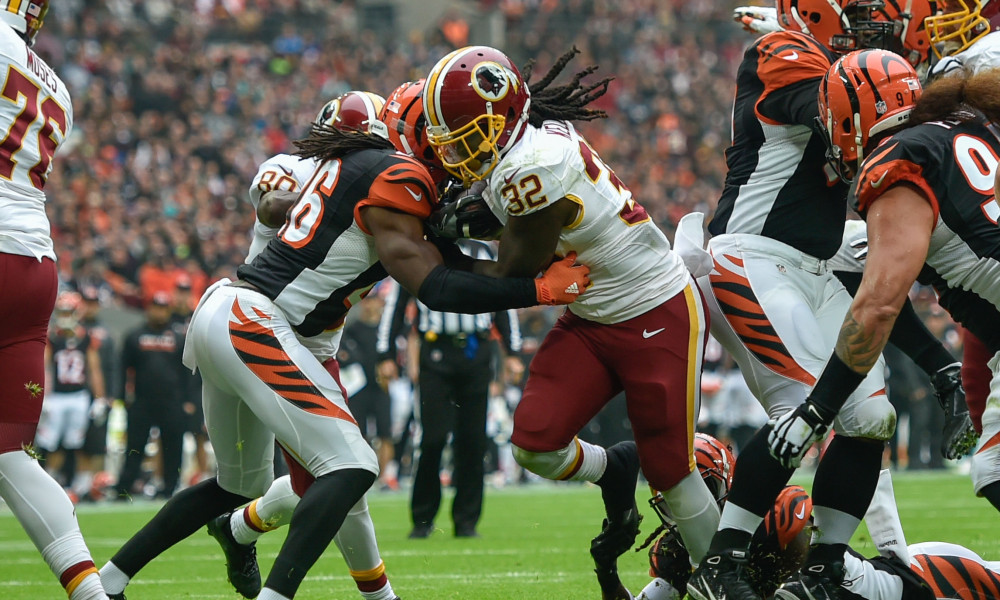 The last meaningful preseason game (that may be an oxymoron) for the Washington Redskins is this Sunday, August 27th against the Cincinnati Bengals, and by meaningful; the starters are expected to play about the first half of the game. This gives the fans the last chance to see how the team is progressing in time for the regular season in two weeks and by the looks of it, there's still some areas that definitely need to be addressed.
However, it is still just the preseason and not always does the results of these games depict how the regular season will turn out. In fact, the New York Giants have yet to score a touchdown in either preseason game and many still expect them to light it up offensively with Odell Beckham Jr. and Brandon Marshall. Still, another teams issues doesn't always correlate to what's happening with the Redskins, but it is something to remember if it seems there's doom looming in the air.
Keeping in mind what has happened against the Ravens and Packers, there are a few key things that would be reassuring to see in the game against the Bengals that would give more confidence to the fans that the team is tracking in the right direction.
1) Junior Galette: Returning To Former Glory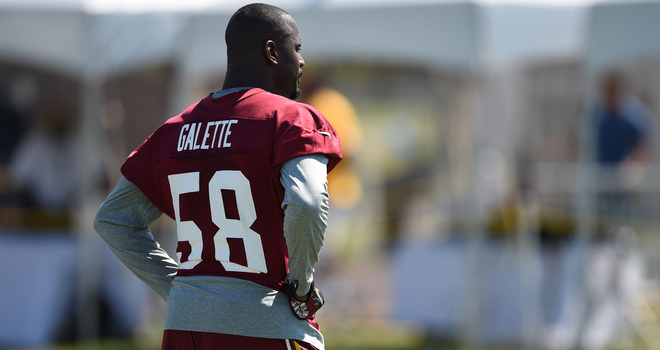 The rookie 'Bama Boys, Jonathan Allen and Ryan Anderson, have been looking like a great fit so far in what they've shown in training camp and the first two preseason games but a healthy and destructive Junior Galette would be the icing on the cake for the defense. Signed in 2015 after being released from the New Orleans Saints, Galette was expected to be the answer at pass rusher and ease pressure off of Ryan Kerrigan. However, he suffered a season-ending injury in training camp.
In 2016, with expectations still high, Galette suffered yet another season-ending injury before the regular season even began. The frustration and disappointment from Galette was apparent but he was still willing to prove his worth and signed a 1-year contract for just $800K in 2017. He wanted to prove that he is still the same player that posted 45 tackles, 10 sacks and 3 forced fumbles in 2014 to the Redskins.
He's currently a game-time decision, but if he's out there come Sunday, he should elevate the entire front defensive line. Also, opposing coordinators may not know what to expect from him and leave him 1-on-1 with an inferior lineman, giving Galette an opportunity to showcase his ability to get in the backfield and disrupt the quarterback. If he's able to post a sack or two, expect fans to grow wide-eyed and in love with the potential of a healthy Galette for the entire season.
2) Samaje Perine: Sharing Time With The Starters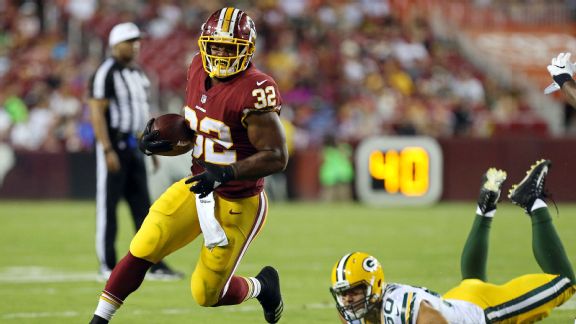 After a weak rookie debut against the Ravens, Samaje Perine shook off any rookie jitters and had a great outing a week later against the Green Bay Packers, rushing for 45 years in 8 attempts and a catch for 29 yards. His cuts were much more decisive and made a defender miss in the backfield to gain positive yardage. Even in contact, he kept low and run through a defender to gain that extra yard.
"Everything came naturally," Perine said. "I didn't know what to expect in my first NFL game, but after I got that one out of the way, I just got out there and had fun."
Anyone in doubt about Perine will quickly point out that he did match up against the second string players of the Packers and that's completely fair to state, and that's why Perine should share time with fellow running back Rob Kelley this Sunday with the starters. Perine showed skills that matched to what many have watched on his highlight reel via YouTube and should be given the opportunity to see if he can replicate his abilities against a starting defense.
This Sunday would be a great test for Perine as Bengals defensive players like Geno Atkins, Vontaze Burfict, and Dre Kirkpatrick are known for their aggressive play style. If he's able to do more in pass protection, continue to be more decisive in his cuts and trusting in his blocks then Perine may become the starting running back sooner then later.
3) Offensive Line – Communication, Communication, Communication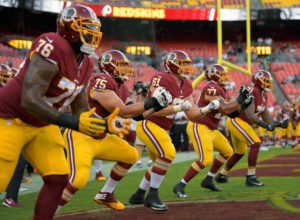 There's no nice way to put it, the starting offensive line were dominated at the line of scrimmage in both preseason games. Missed assignments, slow reaction time and lack of communication factored in as to why the line performed so poorly so far. It appears that each player is working individually and not as a whole to provide ample time for the passing or running game. Now throw in a rookie center, Chase Roullier, and things may even become more chaotic.
Fortunately, the Redskins do have one of the best offensive line coaches in the league, Bill Callahan, who must be irate at the results on the field. If there's anyone who can fix the issue with the line, Callahan has a proven record of fielding some of the best lines in the league. Perhaps with Roullier starting at center, they may go more basic packages and use this preseason time to work on calling out possible blitzes and communicating at the line pre-snap.
During the Packers, guard Shawn Lauvao was hesitant when no defensive player made contact and instead of moving up to the next level, Lauvao stood his gap and waited for contact. It may seem minimal but it shows a lack of aggressiveness that the Redskins need to win the battle of the trenches and to have a successful run game. This weekend will be a good representation if these issues have been addressed this week during practice. More communication along the line and discipline would be ideal and go a long way come regular season.
4) First Down – No More Three-and-Out's!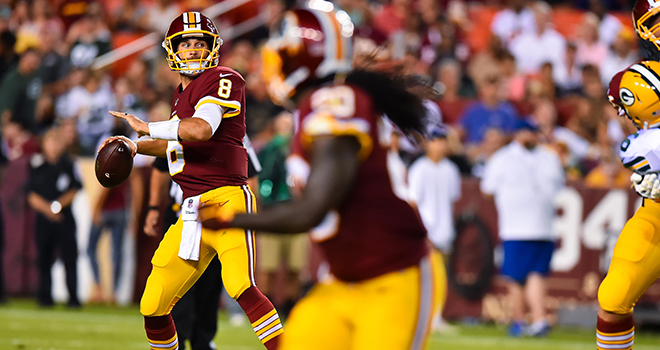 The Redskins starting offense went three-and-out both times against the Ravens then twice to start the game against the Packers. With many firming believing the passing game could be even more electric then last season, Cousins and Co. have not shown anything that backs up that claim. Terrelle Pryor, whose expected to be Redskins leading receiver, only has 1 reception for 11 yards and still hasn't had a chance to display his unique athleticism on the field.
However, the Redskins do receive some really good news, Jordan Reed has been practicing at full speed the past dew days and is expected to play this Sunday. Reed completely changes the dynamic of the offense and is one of the best receiving tight ends in the NFL. His innate ability to successful convert third down is invaluable and is the missing link to fix the current woes on offense.
Unfortunately, the offense still needs to overcome these faults without Reed just in case of injury. Reed hasn't played a full 16 game season in his career and the Redskins can't afford to solely rely on him to be the only piece to keep drives alive. Once they throw Reed into the mix of receivers, this may allow Cousins to continue to build trust and confidence with other receivers such as Pryor and Josh Doctson, both of whom really don't have much playing time with Cousins. Of course, Jamison Crowder has developed into a legit receiving threat who does have great chemistry with Cousins.
Lastly, Cousins should be using these preseason games on working on his ability to create plays and work off-script. If he's able to buy a little extra time or even scramble for a few yards to make a shorter 2nd or 3rd down, this would allow for a less predictable play call then a 3rd and long.
On their first drive against the Bengals, the Redskins should at least manage to get a few first downs and get points, anything other then that would be a little worrisome.
5) Rookie Development – Build The Depth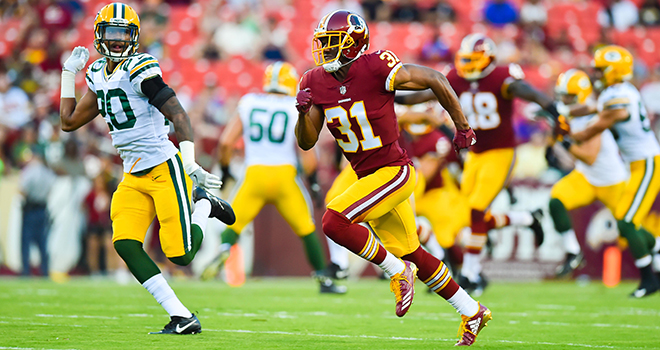 Last week against the Packers in his rookie debut, Fabian Moreau, had a big preseason debut and quickly made a name for himself. During a punt, Moreau used his speed to race past the Packers and timed his wrap up of Packers returner Trevor Davis perfectly to cause Davis to muff the punt. Moreau, who was directly in Davis's face, immediately wraps him up and blocking him from recovering the ball. Niles Paul was able to recover the lose ball and give the Redskins excellent field position.
On the next punt, Moreau was once again the first Redskins down field and tackles Davis once again and only allowing him to gain one yard on the return. Naturally, he still has a lot of room for development, particularly as a cornerback but that comes with practice and experience.
As mentioned previously, Perine may become the starting running back this season if he continues to build upon on what he accomplished last week versus the Packers. He will have to do it against a starting defense though before claiming the starting position and even then, will most likely share time with Kelley.
Overall, the top four draft picks (Allen, Anderson, Moreau, and Perine) seem to have already made an impact but it will be interesting to watch the other drafted rookies to see what they can contribute to the team and if they provide good depth to their respective position.
Roullier will be starting at center and throw into the fire right away but what better way to learn? If he's able to at least hold his own, especially against players like Geno Atkins, then he may provide extremely valuable at a position that's been a bit of a weak spot. Spencer Long is predicted to come back Week 1 but having knee issues throughout the season, Roullier may be called upon again.
Further down the line, the Redskins wanted young but talented players to compete in the secondary, and while there's definite growing pains, Montae Nicholson, who had an interception against the Packers, may be a rising area for the defense. While Josh Harvey-Clemons and Joshua Holsey may be a bit more raw, they could still spend time with special teams while studying and watching players like Joshua Norman and D.J. Swearinger.
This year, more so then previous years, seems as though the Redskins drafted very well and could possibly have 4 or 5 starting players as rookies. As long as they continue to develop them and allow them the time to grow, this could become a young and talented team.
Conclusion
Preseason games in a nutshell are meaningless but they shouldn't be ignored, especially the third game. This is the game the starters play the longest and after two lackluster performances by the offense, their ability to convert on third down and put up points may not be world ending but it would build confidence. The Redskins should be using this game to continue to trial and error play calling and players to see what fits. In the end, the record doesn't matter and as long as there's no injuries there's no issue.
Either way, it's nice to have Redskins football back on and there's a lot of areas to watch come Sunday.
Comments
comments
Powered by Facebook Comments