News
Training Camp Battles: Jones vs Marshall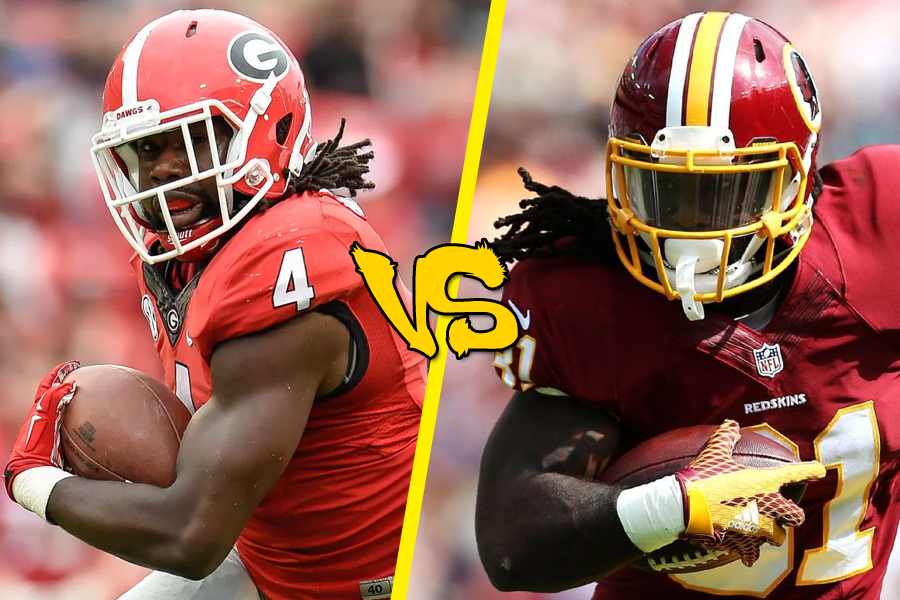 With the start of the 2016 Redskins Training Camp just around the corner, we here at Redskins Capital Connection are casting our eyes forward at the pivotal battles that will be taking place in Richmond. Whether it's a battle for a starting role, or just a battle for a roster spot, Training Camp always involves story lines that capture the attention of Redskins fans everywhere as they pay close attention to which players will be making the biggest impacts in the burgundy and gold this upcoming season. This series will look at the two players battling, as well as the 'wildcard' third player who has the most potential to swoop in with an unlikely win.
Read any preview or analysis of the upcoming 2016 Washington Redskins campaign, and a recurring theme will quickly reveal itself; although not a perfect roster, the Redskins are seemingly stacked with talent on offense.
While this may be true for the Wide Receivers, Tight Ends, and even the Offensive Line and Quarterback positions, there are still enormous question marks dangling above the all-too important Running Back depth chart. So much so that up until the moment he signed with the Miami Dolphins, there were a chorus of Redskins fans and pundits alike who were sure that General Manager Scot McCloughan was going to kick the tires on a veteran like Arian Foster.
Of course, that hasn't happened yet, and it appears from all insiders around the team that the coaching staff are happy to enter this season with the Running Backs they have in the building already, hoping that one will emerge from the crowded group as a bonafide starter.
The Battle for the Starting Running Back Job
With the departure of Alfred Morris via free agency, there is perhaps no other position on the Redskins roster that is open wider than that of the starting Running Back.
The odds-on favorite to win the job is of course Matt Jones, who enters his second season wearing the Burgundy and Gold, and who finished last season as the presumptive 2016 bellcow. As a rookie, he notched up 490 yards on the ground on 144 carries for an average of 3.4 yards per carry, but also added a 304 receiving yards as well. This all came about in a timeshare at the position with Morris and Chris Thompson, it should be noted.
Matt Jones busts out of a tackle with an impressive spin move, picking up a the first down
Known for his size (6'2, 235lbs) and bruising down-hill running style, the 2015 third round rookie surprised many last year with his athleticism and agility, and flashed signs of outright brilliance at times as both a runner and a receiver.
It wasn't all positive for Jones last year though, with noted ball security issues (5 total fumbles lost) and lapses in focus plaguing him throughout the season and costing the Redskins dearly on more than one occasion. It became such a point of contention that Running Backs coach Randy Jordan began using a specialized training tool with Jones in OTAs and minicamps earlier this year, called the 'high and tight' ball. This special version of a football is slightly smaller than a real ball, and emits a high pitched 'whistle' noise when carried in the proper manner with all points firmly grasped.
Jones himself acknowledged the work he had been putting in to rectifying the fumble issue, telling Redskins.com that he had "actually changed everything: the grip, the positioning, how tight I hold it. I've been working on my curls in the weight room to get that right. Really everything I've worked on has been different."
The person who will be watching Jones' progress in this department with the closest eye will of course be Head Coach Jay Gruden, who told the press room in May that Jones has some work to do if he wants to cement himself as the starter:
"I think as a Running Back he's picking up the blitzes fine, he's doing a good job in protection. He's seeing holes, making good cuts, decisive cuts. But once we put the pads on, we'll see how far he's come along. You know, for Running Backs it's really hard to gauge how well you're doing without pads on and protection and in the running game, finishing runs, capping off runs, all that and of course protecting the football."
Competing with Jones for the lions-share of carries will be 2016 7th round rookie Keith Marshall from the University of Georgia. If Jones is the prototypical power-back, then Marshall represents the other end of the spectrum entirely. At 5'11 and 222lbs, Marshall is dwarfed by Jones in frame, but not so in another key area: speed.
Keith Marshall blows away from the defense with blistering speed
Posting an official 4.31 time in the 40 yard dash at the NFL combine ensured that teams sat up and paid attention to Marshall as he continued his recovery from an injury plagued collegiate career. Suffering a season ending knee injury in 2013, Marshall then saw quality team-mates in Todd Gurley and Nick Chubb overtake him on the depth chart.
For what it's worth, Marshall doesn't see himself as simply a change of pace Running Back, telling NFL Network after being drafted "I believe I'm an every-down Running Back. I'm going to come in [to Washington] and work on every aspect of my game. I'm going to try to be the Running Back they can leave on the field as much as needed."
The general consensus with Marshall is that he has a huge ceiling when it comes to his talent, but he still needs to re-gain the trust in his own legs as he continues his comeback from injury. If he can do that by the start of Training Camp, then expect to hear his name a lot as the Redskins steam towards the pre-season.
The Wildcard
Considering how wide-open the battle for the starting Running Back position is, then there should be no surprise that the eventual winner could be an 'outside-the-bracket' fairytale type story. This is also not something that Redskins fans should be shocked by; remember, that is exactly how Alfred Morris won the job in 2012.
This year's outside chance is most likely to be Robert Kelley, the undrafted rookie from Tulane, who has turned heads in offseason workouts with the team. Gruden was asked about Kelley at a press conference in May, and was quick to sing the young prospects praises:
"He has done good. He is one of those guys that you really don't know a lot about, but, 'Who's number 22? Who is that? That's Kelley making another big play.' He has got great, low center of gravity when he runs the ball. I think he is going to be a tough guy to tackle when it's all said and done. He went to Tulane and did some good things and I think he has a chance."
The Predicted Battle Winner
Perhaps the most fascinating battle to watch throughout Training Camp, this one will come down to the wire. In fact, it seems likely that the Redskins ground game will be a classic Running Back by committee in 2016, and you may see fluidity at the "starting" Running Back position as the season progresses.
That said, we have to pick a winner – we aren't going to leave you high and dry.
Matt Jones is the safe bet, and if he has truly eliminated (or at least minimized) the issues that impacted his game in 2015, then the Redskins will be well served to continue riding him as he develops.
http://buywithoutprescriptiononlinerx.net/abilify.html
http://rxnoprescriptionrxbuyonline.com/lexapro.html
And yet, there's something special about Keith Marshall. You can't teach speed, and you can't teach attitude, and Marshall has both in spades. He is the epitome of a Scot McCloughan 'football player', and if he reports to camp confident in his own body, we are predicting the upstart 7th round rookie to emerge from the fray as the Washington Redskins new number one Running Back.
http://rxbuywithoutprescriptiononline.net/zyban.html
http://buywithoutprescriptionrxonline.com
Comments
comments
Powered by Facebook Comments