The Redskins officially opened their 2015 campaign with the start of Training Camp in Richmond today, and for a roster that has undergone numerous changes since the end of the 2014 season, it was the first real opportunity for the fans and the media alike to get an up close look.
Each day Redskins Capital Connection is at Training Camp we're going to be bringing you updated news about what's happened on and off the field here at the Bon Secours facility, including who is winning the position battles, and what the projected 53 man roster is shaping up to look like for week 1.
Check out our other post from this afternoon with the photos we took today.
Training Camp Report: Day 1
Robert Griffin III looked sharp today, and got better as the day progressed. He was going through his progressions nicely and delivering accurate throws consistently. He did throw one interception to Bashaud Breeland, however that was more a case of Breeland making a great play on the ball as opposed to Griffin making a bad throw.
Both Kirk Cousins and Colt McCoy didn't have great days. Cousins made some nice throws, but also threw a few interceptions on really bad throws. McCoy didn't make any bad throws, but also didn't make any great ones.
Although his job description technically lists him as the Offensive Line Coach, Coach Bill Callahan spent time working with the Quarterbacks and Running Backs as well, focusing on footwork techniques and body control.
Speaking of Callahan, in the afternoon scrimmage, first round draft pick Brandon Scherff jumped on a false start, and Callahan immediately sent him to run a lap of the field. It was a touch of old school coaching that resonated nicely with the crowd.
Apart from that one false start, Scherff looked perfectly at home at Right Tackle, competing strongly against Ryan Kerrigan all day and not giving up any quick pressures at all.
In pretty strong crosswinds, Tress Way was absolutely booming his punts all day without shanking any of them, and consistently forcing Jamison Crowder and Andre Roberts to back-step to get under the ball.
DeAngelo Hall seems to have stepped back in to his role as the starting outside Corner, opposite Chris Culliver. Hall was involved in the first scuffle of the 2015 camp, trying to jump a route versus Jordan Reed and smacking Reed's hands with his helmet in the process. They were quickly seperated by teammates before it escalated further.
The entire defensive unit as a whole hit the field with attitude today, and new Defensive Coordinator Joe Barry seemed pleased with their efforts.
Matt Jones was working with special teams for a bit today, and was comfortably the second biggest player on special teams. He is, as advertised, huge.
Running Back Mack Brown was getting more touches than many probably anticipated today, even working with the second unit and getting some good carries.
One of the highlights of today was Chris Baker walking out with Ryan Kerrigan to take the field, and yelling out to "Hey ya'll, here comes the money! Come get this money". Kerrigan played it off well, but it got a big laugh from the media caucus.
Projected 53 Man Roster: Day 1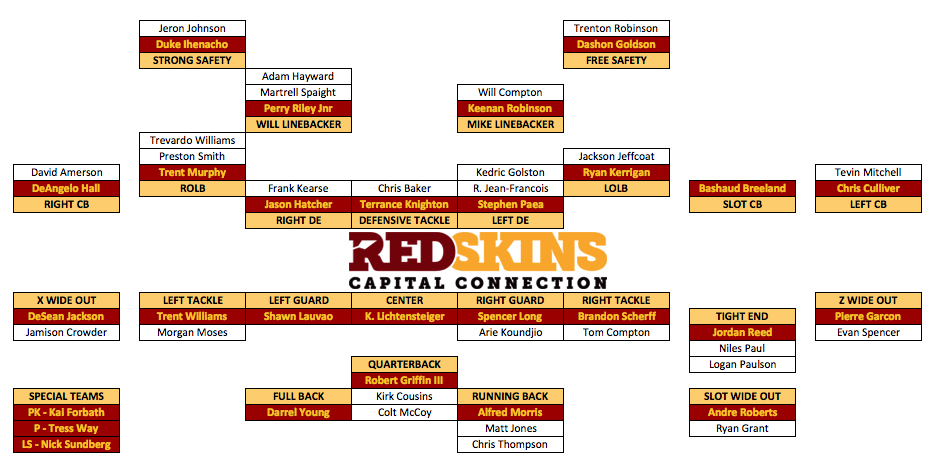 Click Image for Full Size
Duke Ihenacho was running with the first teams today at Strong Safety, and even though it's likely he'll rotate days with the first unit with Jeron Johnson, we are still projecting that he'll win this battle after preseason. He has a slight edge over Johnson in terms of his coverage ability, and he's a strong tackler too.
DeAngelo Hall has jumped straight back in as a starting outside corner, which was surprising to some who expected Breeland to take that role opposite Culliver. However, Hall looked sharp today, and competed strongly against his opponents.
Trenton Robinson picked off Kirk Cousins quite easily, with the ball thrown directly into his lap. Beyond that though, he was working hard with the special teams all day and seemed to be the #2 Free Safety behind Dashon Goldson.
Tevin Mitchell appears to be locked in as the 5th Corner Back.
Comments
comments
Powered by Facebook Comments