News
Week 2 Matchup: Redskins at Rams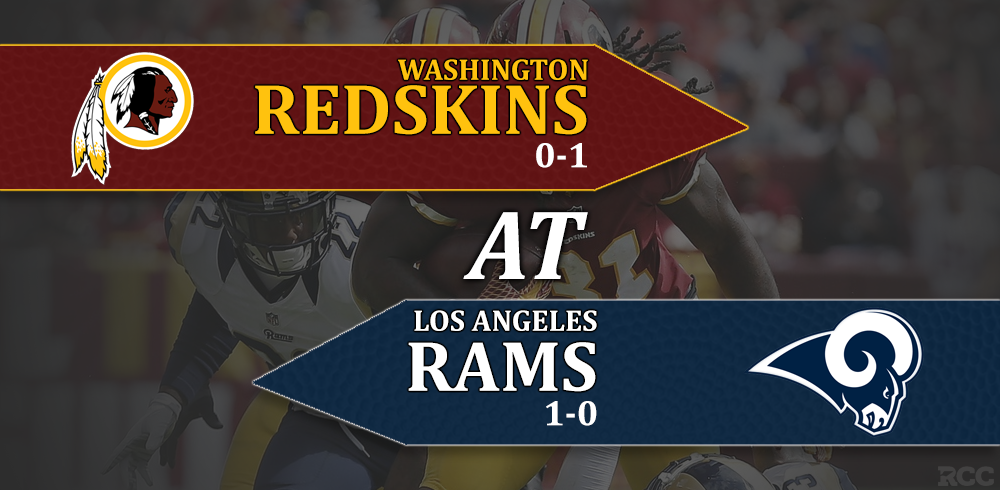 It's time to shake off last weeks lackluster performance against the Philadelphia Eagles and turn to the next challenge, the Los Angeles Rams.
In previous seasons, a matchup against the Rams wasn't intimidating. It was a team that always seemed to struggle and constantly in rebuild mode. However, this season's matchup is quite difference and the biggest difference isn't necessarily within the Rams roster, but lies with their young, new head coach Sean McVay.
In 2014, McVay was promoted to the Redskins offensive coordinator (from tight ends coach) and immediately his influence became apparent. That season, the Redskins finished with the 11th best offense, up 5 spots from the previous season. Just two season later, when he took over play calling duty, the Redskins soared to become the 3rd best offense in the league. Naturally, you can't put all the success on just McVay as head coach Jay Gruden is an offensive minded coach and qauterback Kirk Cousins has developed well as an above average player, but there's no denying McVay's impact helped catapult the offense.
So why is McVay being the head coach of the Rams so important? To put it simply, he knows the ins and outs of Cousins. He understands what style of play Cousins thrives in, how he reacts to pressure and his overall thought process during a game. Fortunately for the Redskins, it works both ways.
As McVay knows the intricacies of Cousins and the Redskins offense, Gruden knows how McVay's mind works as a play caller. For the past three season, Gruden and McVay have been working together in developing an offense centered around the West Coast style. Whatever McVay knows about how Gruden likes to operate offensively, Gruden knows what McVay was comfortable with as his offensive coordinator. The only main difference, and a slight advantage for the Rams, is that McVay the majority of the players for the Redskins whereas Gruden has no connection to the Rams roster.
Recently in an article by Sam Farmer from the L.A. Times, he quoted Trent Williams on his thoughts of facing McVay:
"To go against Sean the first time is kind of nerve-racking because I know for a fact he knows everything about everybody on this team that was here when he was here."
Williams isn't the only player to think highly of him. Josh Norman was also asked about McVay and stated:
"He's so smart. He's a magician. As far as offensive minds, he's young but could probably create something that we'll see and be like, 'That's Sean McVay.' Just like the West Coast offense. Who created that? Bill Walsh. Sean McVay could add another layer on top of that. That's scary, but he has the opportunity to do that."
Norman isn't even coached by him but still see's the potential that he has a head coach. It will be interesting chess match to watch Gruden versus McVay.
Rams Has An Offense?
In 2016, the Rams ranked last in total offense with an average of 262.7 yards per game (45.4 yards below the next spot) and 15.3 first downs per game. An abysmal season which ensured that the Rams would go into the offseason with offense in mind. During free agency, they were fairly quiet, not attracting any big names until the trade they made with the Buffalo Bills in August to acquire receiver Sammy Watkins.
Riddled with injuries, Watkins was never able to fully string together a dominating season but flashed a multitude of times in his three season with the Bills. He definitely has the athleticism and skills to be a play maker as long as he stays healthy. It would be ideal to have Norman shadow Watkins but if last weeks game shows how Greg Manusky plans to use him, Norman may stay more or less exclusive to one side of the field. If that's the case, then expect to see Watkins continuously shift his position in order to create a mismatch.
However, if Manusky does allow Norman to strictly cover Watkins, then this allows the rest of the secondary to focus on other key receivers, including fellow transplanted Bills receiver, Robert Woods. Similar to Watkins, Woods has battled a few injuries and never was able to have great success but posses innate ability for running seamless routes. Bashaud Breeland will most likely be keying on Woods with possible help from a linebacker on the shallow crosses. DJ Swearinger should play as the high safety, providing a safety blanket for Breeland if need be.
This leaves rookie receiver Cooper Kupp to lineup in the slot often which would pin him against Kendall Fuller. Kupp is similar to Woods with his ability to run any route but if Fuller can stay on the inside of Kupp and use the out of bounds line as an extra defender, then Kupp won't be able to fully utilize his athleticism to create a deep play.
In the passing game, the Rams like to bunch their receivers on the line to allow Jared Goff to read the coverage quickly at the line. This allows him to key in on who his primary target will be on that specific play.
In order to combat this, the Redskins will have to play tight man coverage and send an extra linebacker to disrupt Goff's timing. Not only that, if Manusky can use a lot of disguises and have guys like Zach Brown and Mason Foster move around, it could cause a lot of confusion for the Rams offense.
Also, they can't ignore rookie tight end Gerald Everett. It seems in every matchup against the Redskins, the opposing tight end becomes a nuance. Despite being a rookie, Everett shouldn't be overlooked, especially in the middle of the field.
The other major headache will be Rams running back Todd Gurley. Despite struggling last season, Gurley is still one of the more athletic runners in the league. He's not extremely fast but he's quick to get up to speed and very powerful. The Rams like to use their guards, Rodger Saffold (325 lbs) and Jamon Brown (330 lbs), to create a lane for Gurley to power through so the Redskins will need to fill the A gaps and try to push him to the outside.
Ziggy Hood and Stacy McGee held there own last week against the Eagles and will have to repeat their success in order to shut Gurley down or at least, slow him down. Luckily, Jonathan Allen has already become a bright spot on defense has a knack for shedding blocks and quickly getting to the ball carrier. He will be extremely vital in run protection and keying in on Gurley if he tries to break in between the center and guard.
Overall, if the Redskins can disguise their blitz and coverage to keep Goff confused then they can contain the Rams offense.
Aaron Donald and the Defense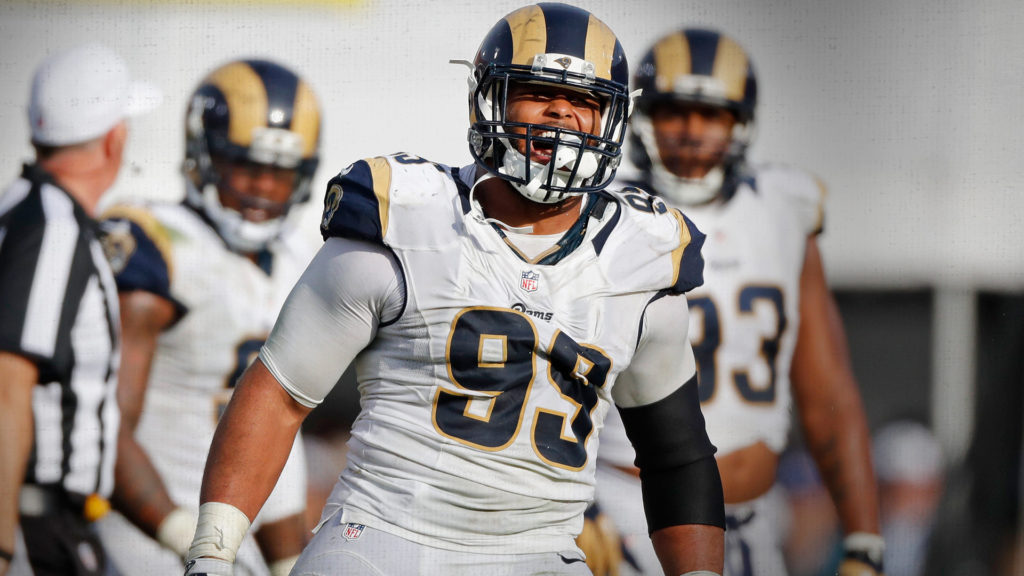 Defensive tackle Aaron Donald ended his holdout earlier this week and has returned to practice. This is not good news for the Redskins. Donald is one of the best in the league in disrupting the line of scrimmage and getting to the quarterback. Already has 28 sacks in his first three seasons, Donald missed week 1 due to contract talks but looks to take the field against the Redskins.
"He looked fast, looked fresh," McVay said, adding, "Didn't look like he missed a beat."
If the Redskins key on Donald then that leaves outside linebackers Robert Quinn and Connor Barwin to rush the edge. Quinn tends to line up against the left tackle which means Trent Williams will have his hands full all day. However, Rams defensive coordinator Wade Phillips isn't shy to move around his players to create nightmare mismatches. This may force the Redskins hand by using a running back or tight end to provide extra blocking which eliminates an offensive weapon but it may be necessary.
Last week against the Eagles (and the whole preseason), the Redskins offensive line was being dominated by the rush which rattled Cousins. Several times, Cousins didn't have a chance to set his feet, throwing off his back foot causing high and late passes. Nothing else will matter offensively unless they can contain the rush and if it requires two tight end sets throughout the game then they must oblige. The passing game will never get going and the run game will become absent once again if there's constant pressure from all sides.
Another option for the Redskins is bringing in tackle Ty Nsekhe for max protection. The Rams secondary isn't anything that Terrelle Pryor, Jamison Crowder, and Ryan Grant can't handle so if it means to utilize an extra man to buy an extra second in pass protection, then it will do wonders to allow the receivers to complete their routes.
Pryor should be moved around and try to get him paired against safety Lamarcus Joyner whose just 5′ 8″, compared to Pryor whose 6′ 4″. This matchup would greatly favor Pryor as long as he's able to pull in the catch. Last week against the Eagles, Pryor has several key drops that proved costly. However, Cousins shouldn't shy away from him unless it becomes an issue in this game as well.
If the Redskins do use two tight end sets then using Jordan Reed and Vernon Davis (as long as Reed isn't blocking) for the quick pass over the middle would open up the passing game. Reed only had 5 receptions for 36 yards last week, a number which needs to increase dramatically. He's one of the best receiving tight ends and should be getting the ball a lot more, especially on 3rd down.
Gruden will need to utilize Chris Thompson more often, especially in the screen game. If Cousins can get the ball out to the flat to Thompson with Crowder as a leader blocker, there's potential for some big plays. Thompson showed he's able to create something out of nothing last week in his miraculous touchdown catch and run against the Eagles. They need to get the ball into the hands of the playmakers.
Cousins may have had one of his worst games of his career last week but there's no reason he can't bounce back. It all starts at the line and giving him protection. One positive though was that he showed willingness to keep the play alive by either moving out of the pocket or tucking and running the ball for a first down. It's simple plays like those that can keep a drive going and begin to tire the defense.
The run game still seems to be an issue for the Redskins and it may be time to at least give Samaje Perine an opportunity to see if he's able to translate what he did in Week 2 of the preseason to a regular season matchup. Rob Kelley hasn't shown enough to be the clear cut favorite as the starting back. He has a tendency to be a little slow to hit the open gap which closes quickly, especially when going up against Alec Ogletree. There won't be wide open lanes against the front seven of the Rams and Perine has shown he can cut quickly and get to the outside if necessary.
The Rams have one of the strongest and most aggressive front seven in the league and containing them will be the primary objective come Sunday. Buy Cousins time and the Redskins should be able to exploit the Rams secondary. If not, then a repeat of the Eagles game may be the outcome.
Prediction
After the tough loss against the Eagles in Week 1, Gruden rallies the troops to victory in thanks to a solid pass rush that shakes Goff and throws him out of rhythm. Cousins gets going early and has a few deep shots to Crowder to achieve victory. Still some missed opportunities and 3rd defense is still a work in progress but a much better outing for the Redskins.
Redskins 23, Rams 20
Comments
comments
Powered by Facebook Comments