News
Week 3 Matchup: Raiders at Redskins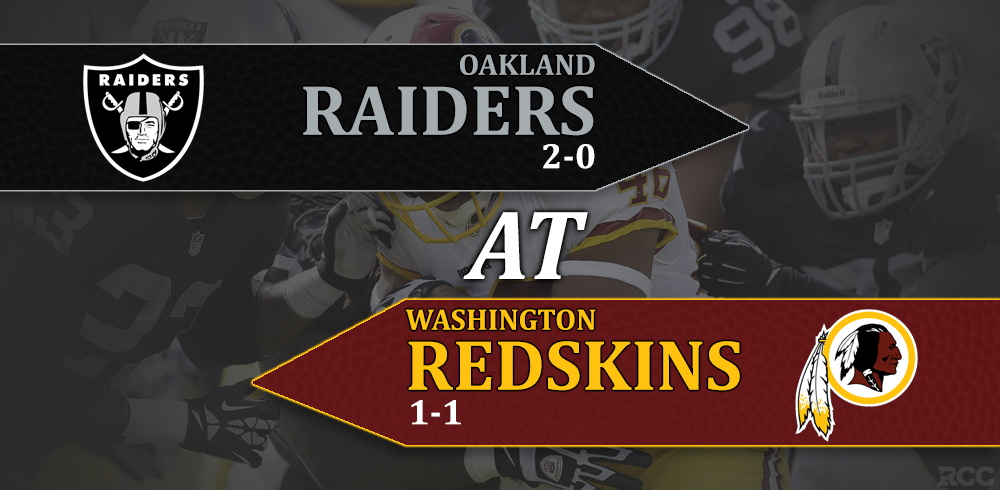 The Washington Redskins depart Los Angeles with a crucial victory over the Rams in a grudge match that ended with a perfect drive from the offense and immediately after; a dagger from the defense with the interception from Mason Foster. They head back home to square up against the red hot Oakland Raiders under the lights on Sunday night.
The Raiders are currently 2-0 (albeit last week's victory was over the New York Jets) and many experts have them as a favorite to reach the Super Bowl this season, barring any major injuries.
Limiting Carr's Quick Passing
Sunday evening, the Redskins defense will face their toughest test thus far going against the Raiders. The Raiders offensively have started the season hot averaging 35.5 points per game and 384.5 yards per game but it was against the Tennessee Titans and New York Jets, two teams not known for their dominate defenses. Although the Redskins defensively are an improvement over last season, they will have to play near perfect to stop Derek Carr and his multiple weapons.
Averaging just 1.91 seconds from snap to release, Carr is getting rid of the ball and into the hands of his talented backs and receivers. The Redskins will have to stick with their use of 5 or 6 man pressures to break through the tough Raiders offensive line. Right tackle, Marshall Newhouse has yet to allow a pressure during pass protection while left guard Kelechi Osemele handled Leonard Williams last week which is no small task.
The weakest spot would be newly converted right guard Gabe Jackson. Coming over from left guard, Jackson is still a good lineman but may be the spot of attack. Using Preston Smith or Mason Foster (who was limited at practice on Wednesday) to apply constant pressure. They may not be able to get to Carr but they may force his throws into tight coverage. Since 2014, Carr's only been sack 3.8% of his dropbacks due in part to solid line play but ultimately being quick and precise. In a recent article by John Keim on ESPN, he quotes Josh Norman saying;
"He's about timing, he's precise at what he does. It's cool to see. He doesn't have any turnovers, and he doesn't make mistakes. So it's more for us as defensive backs to make plays on the ball because he's so methodical and timing-based on how he does things. He's a good quarterback. He really is. We've got our work cut out for us."
The biggest test won't be necessarily trying to sack Carr, it will be limited where he throws the ball. Cornerbacks Bashaud Breeland and Norman have been stellar so far in man coverage and should be utilized the same way against Raiders receivers Amari Cooper and Michael Crabtree. A tough matchup but if Breeland and Norman keep playing press and stick with their receiver and not requiring an extra man to shadow, this will allow the Redskins to stuff the box and minimize the rushing game.
Marshawn Lynch and Crew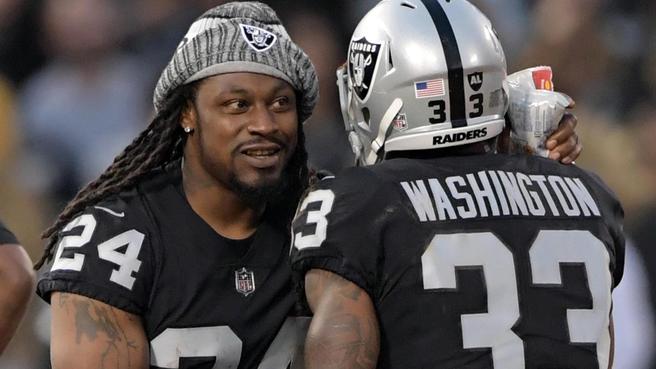 Todd Gurley ran for 88 yards with an average of 5.5 yards per carry last week and now the Redskins face a similar running back in Marshawn Lynch. A strong, powerful and intense runner, Lynch doesn't shy away from contact and creates his own hole by running through a defender. He doesn't get outside the tackles often, more running between the center and guard, and simply puts his head down and drives himself forward. Jay Gruden is definitely aware of Lynch and his ability to break tackles and said in today's press conference:
"Marshawn might stiff arm one guy but the next two or three guys are going to come get him. It's got to be a group effort and we've got to run to the football – all 11 of them on defense have got to pursue to the football with great passion."
Runs between the tackles the Redskins have contained pretty well overall and it starts up front with Ziggy Hood and Terrell McClain, both of whom have held their own thus far. They've been taking on double teams while holding their ground which allows Zach Brown to key in on the runner and make the tackle. The biggest improvement with the front seven have been their ability to finish the play and make the tackle. As long as they wrap up Lynch's feet at the initial point of attack instead of trying to knock him down, which rarely works, then they may contain him. However, it's a whole other gameplan when it comes to Jalen Richard.
Richard is the Raiders version of Chris Thompson; quick, elusive and makes smart cuts downfield. In the above play, a simple pitch to the outside with key blocks from the lineman to create just a big enough gap for Richard to see and then cuts at an angle to bypass the defensive backs. These are the types of plays that the Redskins and Thompson excel at and should have a lot of practice against it.
Matt Ioannidis quietly had his best game last week and in the first drive the Rams used a pitch play to his side. He noticed the eyes of the receivers were focus on the defensive ends and not their man coverage. This gave him a tell that they were setting up to immediately block for the running back. It's smart plays like this that will take a 50+ yard pitch and turn it into a no gain or at worst, 5 yard gain.
The Raiders could mix in DeAndre Washington with the screen game if he's healthy. Yet another running back that can be dynamic if given open space. Washington is currently dealing with a hamstring and was limited in practice which may benefit the Redskins and cuts the three headed dragon down to two.
If the man coverage is succeeding then bringing DJ Swearinger down into the box to help contain the short passing and running game would be ideal. It's easier said then down and this week will be one of the toughest running back duo's the Redskins will face this season. Fortunately the Redskins practice against Thompson and just faced Gurley, who shares similarities to Lynch, so they should have a strong game plan on stopping the run.
Jared Cook and the Tight End Woes
It seems in every game, the Redskins have this innate ability to allow the opposing teams tight end to have a big game. It happened last week against Gerald Everett who had 3 catches for 95 yards, 69 of which came on a single play. The pass was directly across the middle in front of Zach brown who simply didn't even notice Everett. These plays are killer and it Brown has had issues thus far in pass protection in the middle of the field.
To help eliminate these big plays, Brown either needs to stay in zone with a focus on the tight end in crucial passing downs or bring Swearinger down just behind Brown. Swearinger is quick enough if Carr isn't looking at his tight end, Jared Cook, and begins to plant to pass elsewhere, he can cover the field quick enough to help breakup or tackle the receiver. Bringing down an extra guy, be it for the run or pass, will prove beneficial in limiting the big plays.
Raiders offensive coordinator Todd Downing promised Cook that their offense will feature tight ends in the passing game. Before the season started, an article on USA Today had a quote from Cook saying:
"It is a tight end-friendly offense, the way the quarterback reads the plays, how they line me up, how they use the tight ends. I think it will be important for me to take a big step in my career."
Expect to see Carr utilize two tight end sets with Cook and Lee Smith to set a rhythm early and test the Redskins defense. Smith isn't known as a receiving threat like Cook is but he excels at blocking which may be a tip off to the defense as to what type of play Carr is calling.
The Raiders have a lot of weapons on offense which dictates a lot of coverage. There may not be enough defenders to continuously bring pressure and blitz as the biggest focus will be trying to eliminate Cooper and Crabtree while ensuring Lynch or Richard doesn't slip past the line into open space. Sunday night will be the true test of what type of defense the Redskins have going forward.
Kirk Cousins and the Missed Opportunities
Last week, Kirk Cousins improved from Week 1 by limiting his turnovers and having a much higher completion percentage. Also, he lead the game winning drive in the 4th quarter and had a beautiful pass to Ryan Grant for the go ahead touchdown. An important drive to help boost the confidence of not just Cousins, but for the whole offense. However, despite a clutch performance to help win the game, Cousins missed several big play opportunities, something he will need to hit in order to stay with the Raiders offense.
In the Rams game, there were at least two times where Josh Doctson had his man beat, streaking down the field. For whatever reason, Cousins went with the first read or check down instead of throwing a pass that could have easily resulted in a touchdown. Perhaps it's lack of game time together and the trust level isn't there just yet. Recently, Cousins spoke to the media, who brought up why there seems to be a disconnect, and said:
"But there is no doubt that with our receivers we are still young and new with this a little bit with a few of the guys, and so we can continue to improve each week as we spend more game reps and practice reps together learning on the fly."
Cousins has the strength and accuracy to make these passes as he averaged the most passing yards in air in the league last season. He will have to at least attempt some deep shots if he wants to match what Carr and his offense is capable of doing. The Raiders are averaging 35.5 points per game thus far while the Redskins are average just 22 points per game.
The game plan is in place to provide the opportunities for Cousins and the Raiders secondary can be exploited. Strong safety Karl Joseph has played well but measuring in at 5'10", Terrelle Pryor and Doctson have the height advantage in a jump ball situation. Last week, Joseph was used several times to blitz while recording a sack and turnover. Keeping Chris Thompson or Niles Paul in the backfield will help pick up the blitzes.
A familiar face in David Amerson is lined up as cornerback and should be tested early and often. His time as a Redskins provided a lot of frustration and it's time to return to favor. Not known for his quickness, the receiver should be able to beat him in stride similar to how the Jets attacked him last week.
In order for the passing game to effective, the offensive line will have to be aggressive as they were last week against the Rams. Defensive ends Khalil Mack and Mario Edwards Jr. already have 3 sacks among them and will be bringing pressure constantly to disrupt Cousins. Trent Williams and Morgan Moses held their own last week against a similar pass rush but the Raiders know it will be easier to rush up the middle against Spencer Long and Shawn Lauvao.
Cousins will have to be quick and decisive with his passes as the pocket collapses. There's no reason to shy away from the dump offs to either Thompson or Jamison Crowder. They've created big plays out of small passes and until the Raiders stop it, should be used constantly. If you have to dink and dunk them to death, as long as the offense is getting first downs, there's nothing wrong with it. This will also open up the bigger plays as the defense will begin to pull a defensive back down leaving man coverage.
Despite Cousins having missed several big play opportunities, which should come with time, the Redskins will need to keep focusing on what has been working for them and what the defense dictates. It may not be all highlight worthy but if it puts points on the board it's a success.
Keeping the Run Game Alive
In an unexpected turn of events, the Redskins run game came alive against the Rams last week, amassing 229 yards of rushing. Rob Kelley suffered an injury to the cartilage in his ribs but is expected to start against the Raiders.
Although Kelley did rush for 78 yards before leaving the game due to injury, he could easily have had over 100 yards and at least a touchdown. On his 21-yard run, Kelley was in the open field and instead of cutting to the sideline at an angle to outrun the defender, he runs directly at him. What happens? He's tackled by a lone defender in the open field. A missed opportunity.
Kelley will have to understand that he doesn't need to be the attacker when he's the ball carrier. In spite of that, he ran well and is in a great mix with Thompson and Samaje Perine. The Redskins have their own three-headed rushing attack similar to the Raiders.
Even though all three ran well against a tough defense, the offensive line will be the vital piece to get the run game going.
Brandon Scherff comes across the line to pick up the free defender as Moses and Lauvao double team. A beautifully drawn up play that could execute well against the Raiders defensive line. Niles Paul goes in motion quickly to allow Cousins and Kelley to pre-read the defense then helps push the defense away from Kelley. Shifting lineman will be important to provide matchups that work in the Redskins favor.
Here, Scherff leaves his guy unblocked to attack the linebacker as Lauvao comes across and picks up Scherff's defender. Long cuts across to attack the left side with Williams to provide a giant lane for Perine to run through. If Perine had a bit more explosive speed, he would have gone down the center of the field for a touchdown.
These differing schemes crafted by Gruden and offensive line coach Bill Callahan, plus the execution by the offensive line, created a successful run attack. The Raiders are vulnerable as the Rams were, especially when using so many moving parts to throw off the defense. They may not be able to gain over 200 yards like last week but gaining positive yardage will force the Raiders to stay honest against the run which in turn opens up the passing attack.
Prediction
The Redskins are feeling confident after getting the victory in Los Angeles against their former offensive coordinator, Sean McVay. They come back home in Prime time to show the league that not only has their defense improved, the offense is starting to click. Cousins is much more comfortable taking deeper shots while Pryor manages to hold onto the ball to gain over 100 yards in a tough shootout.
Redskins 34, Raiders 31
Comments
comments
Powered by Facebook Comments