News
Week 6 Matchup: 49ers at Redskins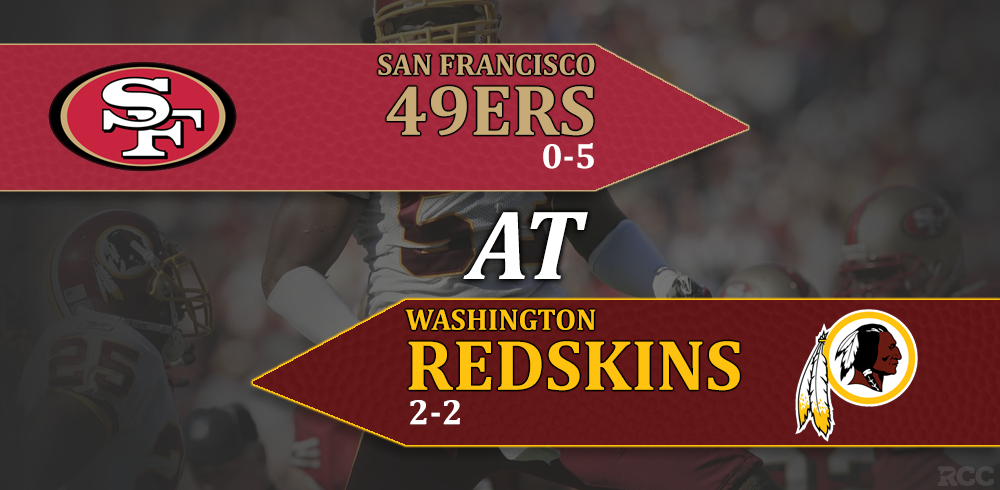 After a much needed bye week to heal after all the injuries in last Monday night's grueling match against the Kansas City Chiefs, the Washington Redskins host the San Francisco 49ers at FedEx Field. Even though the 49ers are currently 0-5, their last four games all came down to the last drive. In fact, besides the season opener, each game was decided by a field goal or less. The Redskins shouldn't be overlooking the 49ers.
Also, it's a bit of a homecoming for wide receiver Pierre Garcon, who was released during the offseason and immediately picked up by head coach Kyle Shanahan. Shanahan, who worked with Garcon during their time together in Washington, and Garcon would love to come into Washington and get their first victory against their former team. However, the Redskins matchup extremely well against the 49ers and should come out victorious.
The 49ers Hodgepodge Offense
Offensively, the 49ers have struggled to find their identity and appear to still trying to find someone who can truly take the game over. Running back Carlos Hyde was thought to be the difference maker in the running game but hasn't cemented his place as the lead back. He had a big game in week 2 against the Seattle Seahawks, rushing for 124 yards at 8.3 yards per carry and then followed it up the next week against the Los Angeles Rams with 84 yards and 2 touchdowns.
Unfortunately for Hyde, the previous two games weren't as impactful and he began to split carries with rookie Matt Breida. Even though this will take away carries from Hyde, it will keep him fresh throughout the game and prove to be more dangerous late in the second half.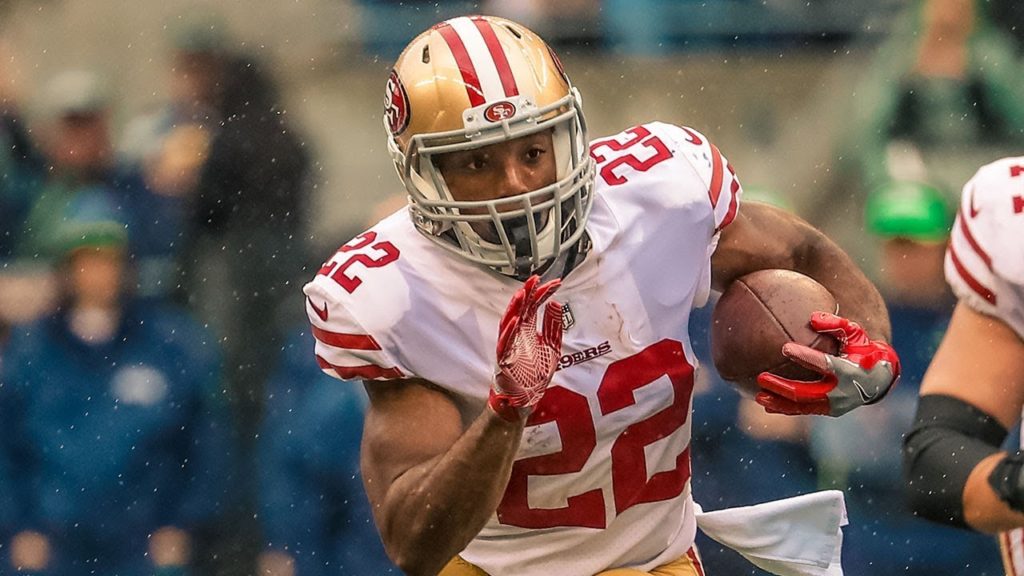 On Monday, coach Shanahan addressed the media and when asked about the running back situation he said;
"I plan on going with Carlos early, and I plan on spelling him with Breida regardless, whether he's doing good or bad, Breida had a real good week of practice. We weren't out there as much as we wanted, especially early in the game, and we ended up just going with the hot hand. We felt like Breida was going better at the time. I think they ended up, I think it was like 35 plays to 33 plays, so it was pretty even. That's how it played out in that game. But, I think it'll be a different story each week."
Breida has shown some patience and athletic ability in the few games that he's played. In the game against the Seahawks, he had a nice 13-yard run where he followed fullback Kyle Juszcyk to the line where a quick running lane opened up. He was able to hit it precisely and kick his way outside for a big gain and almost getting into the endzone. He had good vision when hitting the second level by going to the outside as he would've been taken down immediately if cutting inside.
A balanced attack of Hyde and Breida would keep their running attack more sustainable throughout the game. However, against the run is where the Redskins have shined defensively. Although they're currently ranked 10th overall defensively against the run, they've gone against the top rusher, Kareem Hunt, and the third best running back, Todd Gurley, in the league. They held Hunt to just 101 yards (his second fewest rushing yards in a game) and Gurley to just 88 yards (his third fewest rushing yards).
One of the biggest reasons for this change in defensive dominance has been Zach Brown who lead the league in tackles through the first four weeks. He didn't participate in practice on Wednesday due to illness but is expected to be fine for Sunday. As long as he's on the field alongside nose tackle Ziggy Hood, the Redskins should be able to minimize the running game fairly well despite the 49ers switching between Hyde and Breida.
Meanwhile, the passing game has slowly gotten better for the 49ers and quarterback Brian Hoyer. He's able to move the ball down the field but hasn't had any great success in the redzone. Currently he's only thrown for four touchdowns while throwing four interceptions. He's not the long term solution at quarterback, just a one year plan until Shanahan is able to find his long term solution at the position.
The key will be to apply constant pressure on Hoyer who's been known to buckle easily under pressure. The 49ers offensive line has been improved over last season due in part to their tackles, Joe Staley and Trent Brown, who are ranked in the top 17 offensive tackles in the league according to PFF. This may cause some difficulty for the outside linebackers Ryan Kerrigan and Preston Smith but Smith currently has a sack in each game thus far and he's looking to continue that streak come Sunday.
Where the Redskins need to attack in the trenches will be against center Dan Kilgore and left guard Laken Tomlinson. Both of them have allowed a majority of the pressures in the passing game and have struggled in their blocks.
The Redskins front seven have been successful in bringing pressure on just four and five man rushes with thanks to Matthew Ioannidis and Jonathan Allen who are having a great season thus far. As long as defensive coordinator Greg Manusky and defensive line coach Jim Tomsula continue what they've been doing in the first four games of the season, the Redskins may post a large number of sacks.
With this pressure, this should minimize the passing game and keep Garcon out of play as much as possible. The Redskins are very familiar with Garcon and his innate ability to catch the crucial third down, keeping a drive alive. With Josh Norman out, Bashuad Breeland will most likely matchup more often than not against Garcon and as long as he stays physical, could shut him down.
Then there's rookie tight end George Kittle. Having only come on in last weeks game against the Colts, who rank 30th against the pass, Kittle showed he could be an issue in the passing game. Combine that with Redskins inability to stop tight ends and there's where the only glaring issue resides. In the first four games, the Redskins have allowed 361 yards to opponents tight ends, third most in the league. Zach Brown has become a bit of a liability in the passing game and even DJ Swearinger has had a tough time covering a tight end. Brown will have to stay focused on Kittle and not worry so much about Hoyer scrambling.
Even though Kittle is a rookie and hasn't done much outside of the one game, Shanahan is well aware of Redskins weakness and will look to capitalize.
Overall defensively the Redskins matchup very well against the 49ers offense. The weakness in the offensive line should be dominated throughout the game, limiting Hoyer's passing game while Zach Brown and Mason Foster should be able to stuff the run. Garcon will definitely get some catches and expect him to move to the opposite side of Breeland to create a mismatch.  This means either Kendall Fuller or Quinton Dunbar will have to keep stride with Garcon and limit his big plays.
Bring constant pressure, disrupt Hoyer and continue to play smash mouth football will be the keys to success.
Airing It Out With Cousins and Co.
Running back Rob Kelley has been ruled out for Sunday's game thus giving Samaje Perine the starting role. Perine had a crucial mistake against the Chiefs, bobbling a pitch from Kirk Cousins (who was ultimately penalized for the fumble) so protecting the ball will have to be the number one priority. Expect to see Mack Brown get some playing time as well even if Perine doesn't fumble. In order to get the run game going, the offensive line will have to hold their own against the 49ers pass rush.
Linebacker NaVorro Bowman hasn't played as dominant as he has in the past but the slack has been picked up by defensive tackle DeForest Buckner and defensive end Solomon Thomas. Buckner has been one of the best in the league in applying pressure and is currently ranked as the second best defensive tackle according to PFF. Not only have they become much stronger on the line, linebacker Reuben Foster is currently on track to play this Sunday. Mix in Aaron Lynch and Elvis Dumervil and the 49ers have a potent pass rush.
On top of all that, Trent Williams is still questionable and with Ty Nsekhe out for a couple more weeks, T.J. Clemmings may find himself in trouble. He may need assistance as the 49ers will most likely key on that side as the most vulnerable but the Redskins have been playing very well in pass protection. They've only allowed four sacks on the season and even though the 49ers do have weapons on the defensive front, they are still young and growing. If Clemmings does start, giving him an extra hand if found in trouble will be key but Brandon Scherff and Morgan Moses have been locking down the right side.
Splitting Chris Thompson out to the left side, if 49ers bring extra pressure on that side, and dumping off a quick screen could generate a lot of yards. It's worked against everyone, even though it seems the Redskins went away from it against the Chiefs, and should exploit the open side. Thompson has been lethal in the quick passing game and should be utilized until an opponent shuts it down.
Where the 49ers are the weakest is in the secondary. Currently ranked 29th in passing defense, the 49ers have been allowing an average 249.8 yards per game. There's no reason Kirk Cousins isn't able to eclipse 300 yards passing against their defense. Last week he showed an ability to move outside of the pocket like never before. He may have to rely on extending plays outside the pocket if Buckner and company can penetrate the line.
As the season has progressed, Cousins also has been willing to take shots further down the field. Last week against the Chiefs, he threw a beautiful 44-yard touchdown pass to Terrelle Pryor.
These deep passes should be more available against the 49ers secondary. Cornerback Rashard Robinson and Dontae Johnson haven't performing up to expectations, ranking 95th and 99th overall respectfully, per PFF. There will be opportunities in the passing game and Cousins has appeared to be more comfortable in taking riskier shots down field.
In the pass to Josh Doctson in the endzone against the Chiefs, Jordan Reed was open for the first down but Cousins felt like Doctson was the right choice for the touchdown. It was a great pass and an incredible effort by Doctson. Even though Reed could have been the safer play, it's refreshing to see Cousins willingness to take the shot and give an opportunity to the receivers to make the big play. After the game, Norman praised Doctson for his impressive athleticism and knows he'll get it next time;
"He has a [vertical] that's out of this world and it showed, his time will come again to make that play and I know he'll make it 110 percent. … You'll be immortalized. Seriously. You make that play and it's ballgame."
Cousins has slowly been feeding the ball more and more to Docston and Pryor, and this matchup works in his favor to continue to increase the attempts. Pryor still has had some issues with drops but the trust is building between him and Cousins. Now, if only they can mix in Jamison Crowder then the passing offense will become much more electric.
Lastly, Reed's name was absent from the injury report from Wednesday's practicing meaning he should be full go against the 49ers. Throw in Vernon Davis who has been playing as though he's 10 years younger and the Redskins are poised to air the ball out a lot come Sunday. As long as the offensive line gives enough time for Cousins to throw the ball, the receivers should be able to beat the defensive backs.
Gruden will continue to stick to the run game as he firmly believes a balance of run helps elevate the passing game but without Kelley, there may be a slight favor towards the passing game. Coming off the bye week and fairly healthy, the Redskins should be able to put up points against this defense.
Conclusion
The 49ers have been playing better football lately but there's a reason that their record is 0-5, they still are a few key players away. This bodes well for the Redskins who rank in the top 10 on both offense and defense. Coming off a bye week with only a few players out for injury, the Redskins should be more than prepared to keep the 49ers winless. A big passing day for Cousins who should throw for over 300 yards and 3 touchdowns while the defense, missing Norman, struggles a little bit but is able to force a turnover.
Redskins 31, 49ers 20
Comments
comments
Powered by Facebook Comments