News
Wentz Again, the Redskins Come up Short Against the Eagles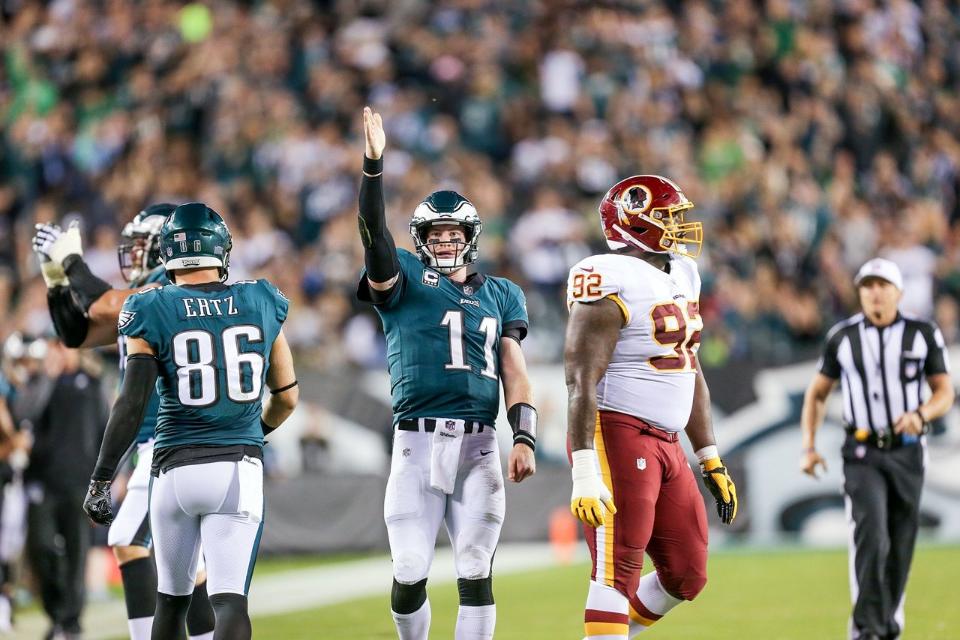 This game was almost a repeat of the home opener against the Philadelphia Eagles this year.  Almost the same exact mistakes were made.  Almost every part of the team struggled and they all played a part in the loss.
Want to blame the coaching? Sure, both the defense and the offensive coaching staff made no discernible changes to the game plan from when both these teams met.  The offense seems to sputter in the redzone for the 2nd year in a row and it comes down to play calling in those critical situations. Also the Redskins had no counter to the Eagles blitz and barely used the screen pass to counter their aggressiveness.
Want to blame DJ Swearinger getting burned twice for easy scores? Sure, he has brought a lot of swagger to this defense but it seems he has also brought his coverage skill issues as well. The Redskins have been terrible at covering tight ends all season long and will continue to struggle.
Want to blame the wide receivers who keep dropping balls and running short routes before the 1st down markers? Sure, they are a mediocre bunch, maybe even below average. It's now clear the Jamison Crowder was benefiting off of Pierre Garcon and DeSean Jackson's output. Redskin lackey, Chris Cooley called him the best slot receiver in the NFL last year. It's laughable this year looking at Crowder's output. Also, is it clear to everyone in league by now that Crowder is a huge liability on special teams returning punts?  Surely, there is someone else who can just fair catch it and make more progress? Pathetic.
It's also laughable to see Terrelle Pryor drop catches every week now.  I would be surprised to see him not drop a pass during a game. Pryor's hands are freakishly large but must be controlled by an extra small brain.  Josh Doctson is still learning how to play professional football and barely gets enough snaps to make a major difference anytime soon. For all his heart, Ryan Grant is just average at best but at least coach Jay Gruden loves him. So he's got that going for him, which is nice.
Want to blame the running game? Sure, why not. Robert Kelly isn't a breakaway runner and doesn't really do anything all that impressive. He's about the same as the others in the backfield excluding 3rd down back Chris Thompson. Thompson is the team's leading receiver and that speaks volumes to the ineptitude of the wideouts and begs the question why don't the Redskins use him more? I guess to keep him fresh for those games at the end of the season where the Redskins are fighting for position in the draft?
Want to blame injuries? Every team is dealing with them right now in the league. That's why its important to draft deeper than the 1st two rounds. Let's see how the Eagles do without left tackle Jason Peters moving forward shall we?
If you really want to blame someone for the loss, how can we forget Eagle quarterback Carson Wentz?  After that initial nightmare 1st series, he figured out his problems and adjusted nicely. He lead drive after drive with accuracy and confidence while throwing for 4 touchdowns along the way to securing a commanding NFC East lead. Every time the Redskins blitzed he slithered away and made a play with his feet, mind and arm. He was the main reason for this Redskins loss.
And to think, Wentz will only get better as the years go on and he becomes more aware of his skill set. Yikes! Redskins fans will learn to despise him just much as they despised past Eagles quarterbacks Donovan McNabb and Randall Cunningham. Except Wentz is even better than them and he was actually worth all the draft picks they gave up to get him. The Redskins might have to draft accordingly to stop Wentz or face difficulties for a decade.
So blame him Redskins fans. Blame him for escaping blitzes and eluding tackles with sheer determination.
Sadly, it is going to get a lot worse before it gets better for the Redskins this season as they host a resurgent Dallas Cowboys this Sunday then go out to Seattle, then host the Vikings and Saints. All those teams have an equal if not better record than the Redskins.
It should make every Redskin fan cringe at the thought of going 0 for 5 including this loss and start thinking about next season a bit sooner than they expected. But it might be a reality after coming to grips that the Redskins might not be as good as some of us, including me, thought. Too bad, there was a sliver of hope there for second wasn't there? This season isn't over yet, but with the Eagles sweeping the Redskins and firmly atop the NFC East the chance to go to the playoffs just became very complicated and extremely difficult.
Comments
comments
Powered by Facebook Comments