News
Redskins Capital Connection's 2017 Round One Mock Draft!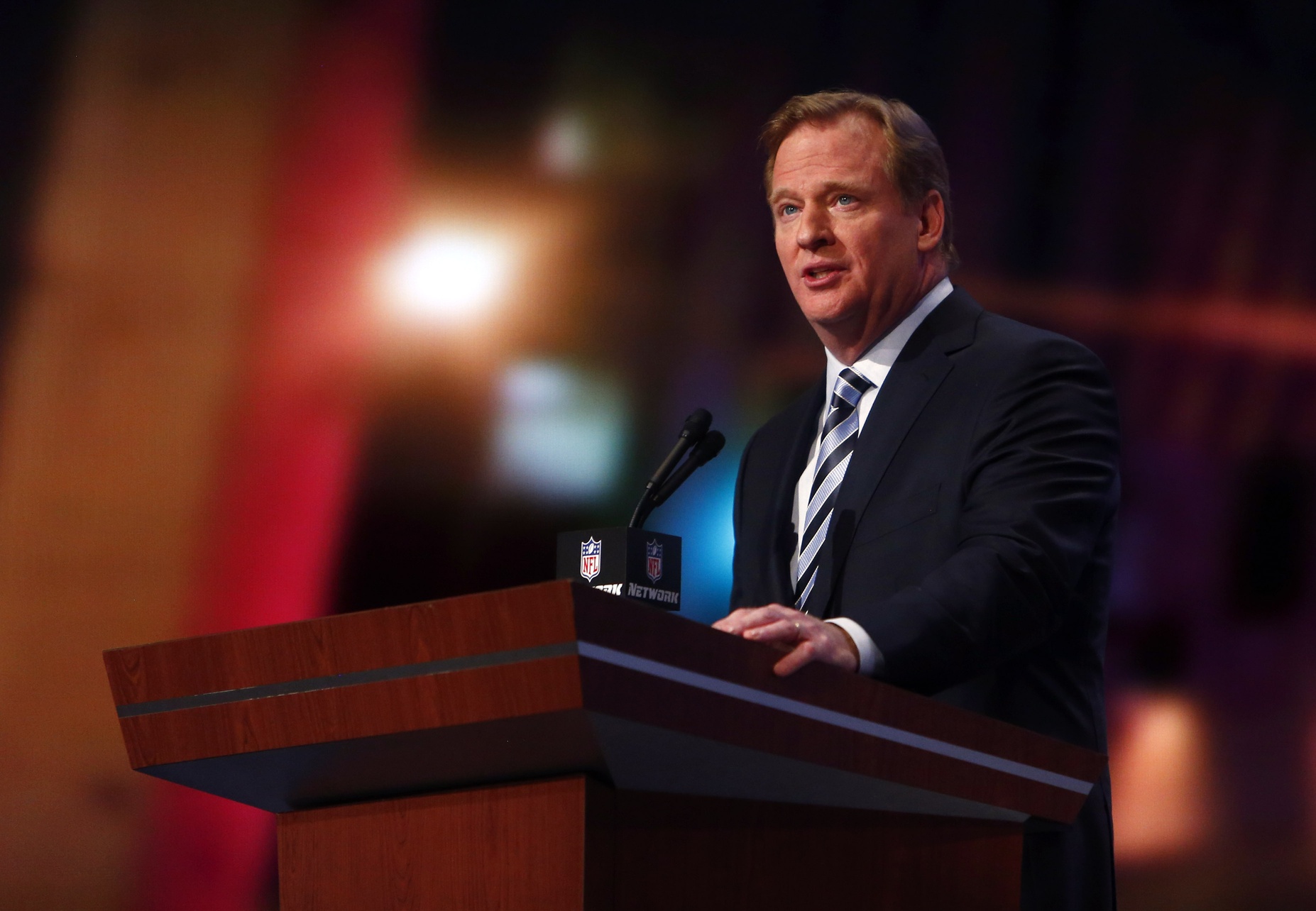 The NFL Draft is right around the corner, so let us all once again rejoice, for it is time to get in to the spirit of clairvoyance and prediction with the Official Redskins Capital Connection Round One Mock Draft!
This Redskins mock draft covers the full first round; all 32 picks. As you can see, we haven't mocked any trades at all during the first round, which we acknowledge is certainly unlikely. Tomorrow we will be releasing a second edition of the mock draft that includes trades. Instead this mock draft today is an indication of what we think each specific team would do if they stayed at their original draft spot.
In mocking the selections for each team, careful consideration was made in attempting to strike the perfect balance between team need and available talent.
Do you agree or disagree with any of the selections we've made here? Are you pleased or displeased with who we've mocked to be the latest rookie to don the burgundy and gold? Well, don't hesitate to let us know on Twitter, on Facebook, or in the comments below! We'd love to hear your feedback!
Redskins Mock Draft – Round One
Pick #
Selection
#1
DE Myles Garrett, Texas A&M
The unanimous best player in the 2017 draft class, not even the Browns could stuff this pick up... right?

The rumors that Cleveland is considering taking a Quarterback at number one overall seem to be little more than an effort to increase the trade value of pick 12, which they may try and trade down from. Regardless, it would be a stunner if Garrett, the prodigiously talented pass rusher that he is, didn't have his name called first on Thursday evening.
#2
S Jamal Adams, LSU
The 49ers roster has plenty of holes, and what better way for new GM and former NFL Strong Safety John Lynch to put his immediate mark on this team by using the second overall pick to select the enormously talented Strong Safety out of LSU Jamal Adams.

How good can Jamal Adams be? One of the frequent players he is compared to in scouting notes is none other than Redskins great Sean Taylor. That's incredible company to find yourself in as a young prospect.

The 49ers may also be tempted to select Solomon Thomas, considering he played his football locally at Stanford.
#3
DE Solomon Thomas, Stanford
Every year there's a handful of players who continue to rise up draft boards after the college season is long over, thanks to impressive combines, pro days, and team meetings. Solomon Thomas hasn't put a foot wrong in 2017, and his stock has risen from a mid-to-late first round prospect to a nearly unanimous top five pick.

For the Bears, they can shore up a pass rush that was middle-of-the-road last year. Thomas will also help to alleviate pressure on the secondary.
#4
RB Leonard Fournette, LSU
The Jaguars were equal 2nd last in the NFL for rushing touchdowns in 2016, and their ground yards per game and yards per attempt were both in the bottom ten of the league as well. This is an offense that will benefit enormously from forcing oppositions to pay respect to the rushing attack.

Dallas famously selected Ezekial Elliot with the 4th overall pick last year, and there are many scouts whom have placed even higher grades on Fournette, so this is a pick that could shake up the AFC South for years to come if Fournette plays like the stud he was in college.
#5
WR Mike Williams, Clemson
Just in case anyone didn't watch Clemson in 2016, let's get one thing clear: Mike Williams is an absolute star. On numerous occasions he came up with huge plays to help Clemson go on to be crowned national champions.

For Tennessee, Williams would step in as the instant number one weapon on the offense, and should put up sensational numbers with Marcus Mariota.
#6
QB Mitchell Trubisky, North Carolina
The first Quarterback off the board for 2017 goes to Broadway, as the Jets get the prospect they hope can be their man under centre for the next decade.

Trubisky isn't a perfect candidate, but the Jets know that if they don't pull the trigger here, they'll be left with scraps at Quarterback by the second round.
#7
S Malik Hooker, Ohio State
This is one of those cases where the best player available on the board also fits a clear need for the team on the clock, and the Los Angeles Chargers get an absolute talent with Malik Hooker.

It's possible that the Chargers will be tempted to pick another defensive player such as Jonathan Allen or Marshon Lattimore, but Hooker's ceiling is just far too enticing to pass up on him at this spot.
#8
RB Christian McCaffrey, Stanford
Cam Newton and the Panthers suffered a fairly remarkable slump in 2016 after making the Super Bowl the previous year, and will be looking to add the best available weapon to their offense with this pick. Christian McCaffrey fits that bill.

McCaffrey is an exciting prospect who has the potential to be a versatile and explosive player in the NFL, and when you pair him with the dual-threat that is Cam Newton, the sky is the limit.

The Redskins have been linked to McCaffrey quite a bit in recent weeks, but it seems unlikely that he'll still be available at pick 17, and it seems equally (if not more) unlikely that Bruce Allen would trade up for him.
#9
DE Derek Barnett, Tennessee
This would be a genuinely tough decision for the Bengals, if the board broke like we have mocked here thus far. Coach Marvin Lewis would likely be torn between three fantastic defensive prospects, but two of them have health red flags. The third prospect has no such issues, and his name is Derek Barnett.

In 2016 the Bengals pass rush was entirely pedestrian, and their numbers tend to flatter them a bit more than they should. Barnett can step into the defensive front and be a disruptive force as a starter from day one.
#10
CB Marshon Lattimore, Ohio State
The year that new Bills Head Coach Sean McDermott took the Panthers to the Super Bowl as Defensive Coordinator, he had a supremely talented player at Corner by the name of Josh Norman. After he lost Josh Norman, the Panthers defense wasn't the same. So when the best Corner in this year's draft class falls into his lap at pick number ten, I don't think McDermott would hesitate in using every ounce of influence he has in the Bills front office to make this selection.

The AFC East is still dominated by Tom Brady, so doing everything you can to curtail and contain his ability to cut apart your defense is a wise investment.
#11
CB Gareon Conley, Ohio State
Two picks in a row, two Corner Back's out of Ohio State. This time it's Gareon Conley who goes to New Orleans to shore up a piecemeal defensive back unit. The Saints have actually added a few decent defensive players through free agency this offseason, such as Manti Te'o and Nick Fairley, but their secondary still requires an injection of talent. Conley provides that.
#12
TE O.J Howard, Alabama
It seems likely that the Browns will do everything they can to try and trade down from this pick, and in tomorrow's version of the Redskins Capital Connection mock draft featuring trades, you will see that reflected as such.

If the Browns do stay at pick 12 then, and assuming that Mitchell Trubisky is already off the board, expect Cleveland to pick one of two players; Wide Receiver Corey Davis or Tight End O.J Howard.
#13
WR Corey Davis, Western Michigan
Larry Fitzgerald strongly considered retiring after the end of 2016, and Malcolm Floyd is already gone, so suddenly the Cardinals look thin at Wide Receiver.

Corey Davis fixes that problem nicely, and would benefit enormously from the chance to study alongside and play across from Fitzgerald.
#14
WR John Ross, Washington
Philadelphia enjoyed enormous success for six seasons after drafting the speedy DeSean Jackson, and know that the age-old adage 'speed kills' is true in the NFL. And John Ross will be officially the fastest man in the NFL once he is drafted.

Carson Wentz needs weapons, and importantly those weapons need to be able to reliably catch the ball, instead of registering frustrating drops. John Ross will satisfy those requirements for Philadelphia.

For the Redskins, seeing John Ross go to a division rival won't be ideal, because he's a nightmare matchup. That said, the Redskins defense has plenty of experience going up against speedy receivers who stretch the field.
#15
ILB Reuben Foster, Alabama
New Colts GM Chris Ballard probably would have preferred one of the top pass rushing prospects to fall to him here at fifteen, but blue-chip Inside Linebacker Reuben Foster is a fantastic consolation prize.

Were it not for some question marks regarding his health, Foster likely would have gone earlier in the draft. Pick 15 is a great spot for him, and Indianapolis a team that will allow him to thrive from day one.
#16
DE Jonathan Allen, Alabama
Another player who likely would have gone higher in the draft were it not for lingering concerns about his health and longevity, Jonathan Allen still has enormous upside.

For the Ravens, Allen can step in and become a dominant force on their Defensive Line, resulting in defenders behind him like C.J Mosley, Tony Jefferson and Eric Weddle being put under less pressure.
#17
ILB Haason Reddick, Temple
There is perhaps no player in the 2017 draft class whom has seen their individual stock rise more than that of Temple's Haason Reddick. He shined bright in the Senior Bowl playing at Inside Linebacker, backed it up with an incredible combine, and according to sources has left every NFL team that he's met with enormously impressed. One of those teams he met with was none other than the Washington Redskins

At Temple, Reddick primarily played as a Defensive End, and in 2016 notched up 65 tackles, 22.5 tackles for a loss, 10.5 sacks, 3 passes broken up, and 3 forced fumbles - an impressive stat line, to be sure.

At the combine, Reddick tested in the 99th percentile for defensive ends in the broad jump, the 98th percentile in the 40-yard dash, the 84th percentile in the vertical jump and the 83rd percentile in the three-cone drill according to www.mockdraftable.com.

At 6'1 and 238lbs, Reddick has the size and athleticism to work his way into the starting Inside Linebacker role opposite newly signed free agent Zach Brown, under whom Reddick will learn an enormous amount from. And make no mistake about it; Reddick will be keen to learn. He has a work ethic that coaches love, and his love for football is readily apparent according to scouts who have phoned him up expecting a quick chat, only to end up having long phone conversations delving into the ins and outs of the game.

All three of Zach Brown, Mason Foster and Will Compton (whom at time of writing is yet to sign his tender) are out of contract at the end of the 2017 season, and this pick helps to insure against having to completely reset at such a crucial position on the defense in 12 months time.

Reddick will benefit from not being expected to step in and be an every down starter at ILB from day one, although it would be no shock at all if he forces his way into that role through determination and talent.
#18
CB Marlon Humphrey, Alabama
After earlier selecting an offensive weapon to pair with Marcus Mariota, the Titans now have the luxury of shoring up another position they are thin at; Corner Back

The departure of Jason McCourty will only shine additional light on what was already a pretty thin CB corps, and as such the Titans will look to their draft board and see Humphrey as a player with enormous upside.
#19
RB Joe Mixon, Oklahoma
In what many will consider a surprise pick, the Buccaneers take the risk on Joe Mixon and select him at pick 19 overall. By now, everyone knows about Mixon's off-field issues and red flags, but there are pundits and scouts who believe that he has been able to successfully convince teams he has met with (including Tampa Bay) that those days are behind him and that he's not going to blow this opportunity.

On the field, there is no denying Mixon's ability to be an exciting and productive Running Back, and his versatility in terms of being able to be a weapon in the receiving game draws comparisons to players such as Le'Veon Bell.
#20
OG Forrest Lamp, Western Kentucky
Regardless of whomever the Broncos Quarterback is in 2017 and beyond, the Offensive Line will need to be improved if they are to be productive.

Forrest Lamp is the best Offensive Lineman in what is a fairly lackluster class at the position, and the Broncos will jump at the chance to solidify their line with the top prospect.
#21
DE Taco Charlton, Michigan
Having played college football for Big Blue, and having developed a positive relationship with Detroit Lions defensive line coach Kris Kocurek, this pick makes too much sense. Charlton can step in and form a nasty pass rush duo with Ezekial Ansah from day one.
#22
LB Jarrad Davis, Florida
The Dolphins need to upgrade the spine of their defense significantly, and Jarrad Davis is the best player on the board available that allows them to do just that.

Davis is the kind of player that coaches fall in love with due to his intangibles and positive impact on his team mates around him, and he'll be a good fit in Miami.
#23
RB Dalvin Cook, Florida State
Who was the last good Running Back the Giants had? Tiki Barber last played for the G-men over a decade ago, and since then it's been a cavalcade of journeymen at the position for the Giants.

That ends now with the selection of Dalvin Cook at pick 23.

For the Giants it makes an enormous amount of sense to try and surround Eli Manning with as much talent as possible, and with all eyes on Odell Beckham Jr, adding a potential stud at Running Back could open up the entire field for the Giants.

That wouldn't be ideal for the Redskins, who obviously want to see their division rival remain one dimensional on offense.
#24
ILB Zach Cunningham, Vanderbilt
When you have one of the best young Defensive End's in the league in Khalil Mack, how do you get even more out of him? Put a solid Inside Linebacker behind him.

Zach Cunningham is athletic and talented, and will be a presumptive starter for the Raiders as they seek to step up to the next level in 2017 under Derek Carr.
#25
QB Patrick Mahomes, Texas Tech
It seems that most of the analysts and fans watching the draft would be shocked if the Texans didn't select a Quarterback with this pick, given that the best Quarterback currently on their roster is Brandon Weeden.

Mahomes has a lot of upside, and will benefit from playing on a team that is well and truly led by it's defense, helping to alleviate the pressure on the rookie Quarterback.
#26
OT Garett Bolles, Utah
Far too often, Quarterback Russell Wilson has had to escape a collapsing pocket and try and extend plays on his feet. This is something that he's had success doing, but surely the Seattle coaches would rather see Wilson stay upright and safe behind a strong Offensive Line. Bolles helps them achieve this goal.
#27
QB Deshaun Watson, Clemson
Watson has publicly made it clear that he wants to be the first Quarterback off the board in the 2017 draft. In this mock, he's the third.

If he channels that into extra motivation, Watson could thrive under Andy Reid whom has had more success with dual-threat Quarterbacks than most current NFL coaches.

Watson has a strong arm and decent accuracy, and could be a genuine NFL caliber Quarterback if he can cut down on the interceptions and errant throws.
#28
CB Kevin King, Washington
Odell Beckham Jr. Terrelle Pryor. Alshon Jeffery.

The NFC East is stacked with talented Wide Receivers who can high-point the ball in the endzone, and Dallas has absolutely no one on their roster at present who can defend them. Kevin King is 6'3 and would (annoyingly) be a great pick for the Cowboys to help them in this area.
#29
DE Malik McDowell, Michigan State
The Packers have been reasonably decent along their defensive front, but 'decent' doesn't win championships.

McDowell can plug into the Defensive End alongside ex-Redskin Ricky Jean-Francois and re-shape the interior Defensive Line for Green Bay.
#30
TE David Njoku, Miami
According to NFL Network's Aditi Kinkhabwala, Ben Roethlisberger asked coach Mike Tomlin for a new Tight End to be added via the draft this year. And although he didn't necessarily mean in the first round, David Njoku is a great prospect at a great price here at pick 30.
#31
OLB T.J Watt, Wisconsin
The Falcons defense could benefit from an improved pass rush, and the family pedigree that comes with the name 'Watt' is attractive too.

It's not just nepotism that will see T.J Watt likely taken in the first round of the draft though; he's a hard working edge rusher with a lot of talent.
#32
DE Takkarist McKinley, UCLA
After addressing the Corner position earlier in the draft at pick 11, the Saints have the added bonus of also significantly boosting their pass rush with the 32nd pick.

McKinley is an athletic and ferocious edge rusher who has a knack for finding his way to the football.
Comments
comments
Powered by Facebook Comments