News
2018 First Round Mock Draft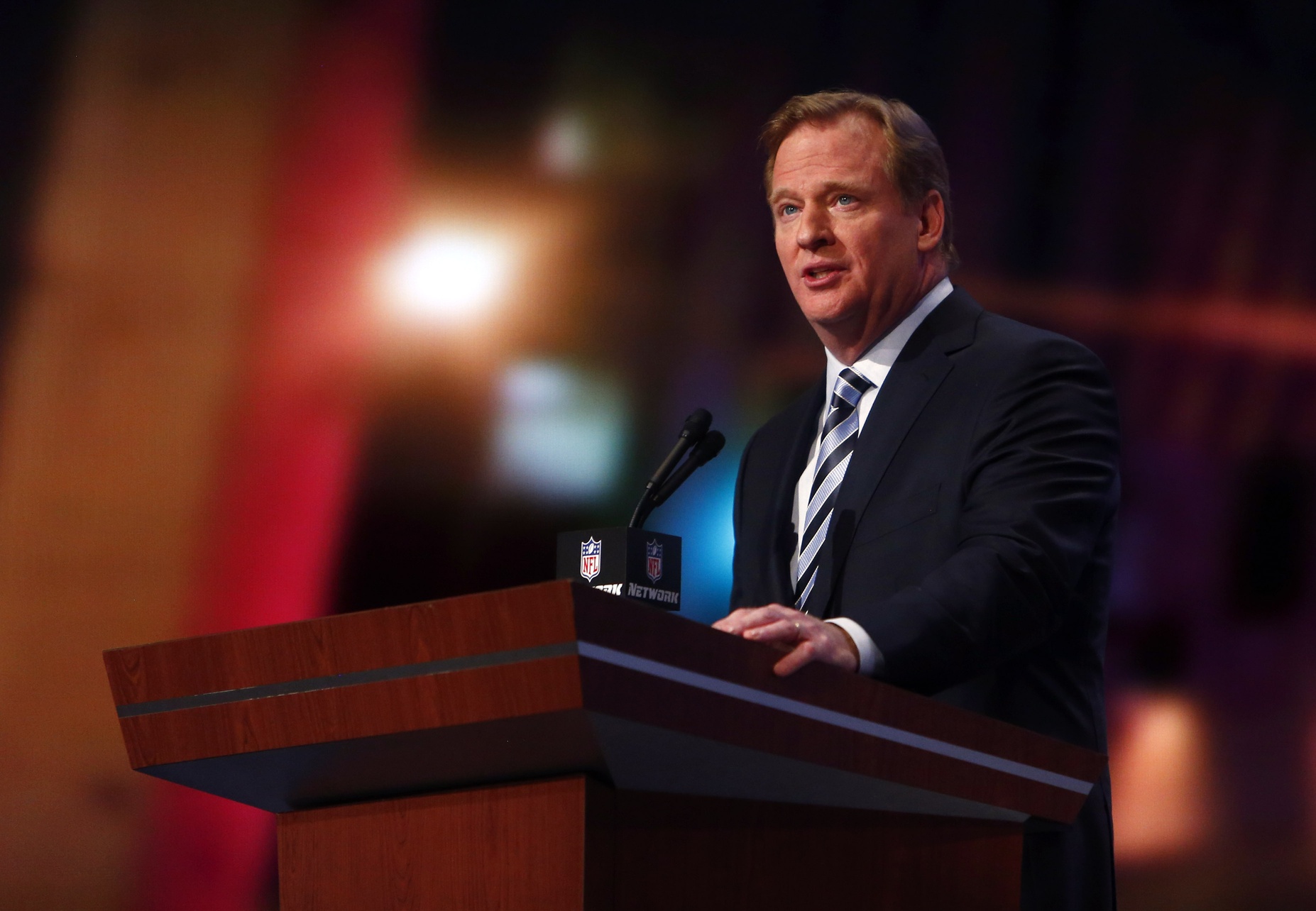 As we approach the 2018 NFL Draft, it becomes clearer and clearer just how intriguing Thursday night's round one action is going to be.
There could be as many as five Quarterbacks taken in the first round, or as few as three. There could be as many as three Running Backs taken, or as few as one. And do you like interior Offensive Line play, because oh boy is this draft going to be exciting for you!
Although unlikely, it feels like this year may see a reduction in the flurry of mid-draft trades compared to recent years. Partly because several first-round trades have already occurred, and partly because the teams that need Quarterbacks seem to be in the right draft spots to get them. That said, we do have one trade included in this mock which just seemed to make too much sense for both teams concerned.
Do you agree or disagree with any of the trades or selections we've made here? Are you pleased or displeased with who we've mocked to be the latest rookie to don the burgundy and gold? Well, don't hesitate to let us know on Twitter, on Facebook, or in the comments below! We'd love to hear your feedback!
Pick #
Selection
#1
QB Sam Darnold, USC
Cleveland goes in to the 2018 draft with five picks in the first two rounds, so there is every chance they'll get funky and be creative.

However pick #1 overall isn't the place to do that, and with Scot McCloughan in their draft war room I don't imagine we are at risk of the Browns overthinking this. Take Darnold and build around him.
#2
RB Saquon Barkley, Penn St
Big Blue is a big mystery at pick two; do they look to the future and take a QB to learn under Eli Manning for a year or two, or do they look to address holes on their roster now and que sera sera?

The latter is more likely, and Barkley is prodigous. He'll be annoying to face within the NFC East for years to come, and while the Giants will want to shore up their offensive line moving forward, one of the best ways to help protect the Quarterback is to keep defenses honest with a stout running game. Barkley does that.
#3
QB Baker Mayfield, Oklahoma
Multiple Quarterbacks to choose from at pick 3 for the Jets, but Mayfield makes the most sense for them.

He's brash, he's exciting, he has a high ceiling, and he'll make Jets fans fall in love with him. Former Redskins WR Terrelle Pryor will look forward to working with him.
#4
OG Quenton Nelson, Notre Dame
Remember how we said above at pick one that the Browns might look to get funky? Welcome to where it starts to get funky.

Every man and his dog would rightfully expect Bradley Chubb to be the pick at 4 if the board were to break how we have projected it, but the Browns just lost Joe Thomas to retirement and if they're going to protect their investment in Sam Darnold, what better way to do it than by selecting the best interior Offensive Lineman to come through the draft since Pro Bowler Brandon Scherff?
#5
DE Bradley Chubb, NC State
Even though the consensus seems to be a Quarterback here at pick 5, the Broncos aren't desperate for a signal caller in 2018 with Case Keenum playing solid football last year, and he's quote-unquote "only" 30 years old.

Bradley Chubb is said by many to be the best player in the entire class of 2018, so Denver will be ecstatic to get him at the fifth pick and pair him with Von Miller.
#6
TRADE between Indianapolis and Buffalo

QB Josh Allen, Wyoming
The Colts at six would have to be disappointed that both Chubb and Nelson are off the board before their pick, but thankfully that means that top three Quarterback talent has slid, making their pick valuable in a trade.

Enter the Bills, who utilise the draft capital they have to nab the biggest arm in the draft in Josh Allen.
#7
S Minkah Fitzpatrick, Alabama
Tampa has a solid defense but a glaring weakness at Safety in a division with Quarterbacks who are not afraid to go deep.

Minkah Fitzpatrick brings some class to the defensive backs for DC Mike Smith, and although they'll take a good long look at Derwin James here as well, ultimately Fitzpatrick fits their scheme a little better.
#8
ILB Tremaine Edmunds, Virginia Tech
On a roster that has multiple holes that need to be plugged, starting with the General of your defense is wise.

Edmunds is considered somewhat raw, but demonstrated throughout his time with the Hokies that he has elite physicality and great instincts. His ceiling is enormously high and the Bears will be betting on their history of success at the position continuing.
#9
LB Roquan Smith, Georgia
When it came to rushing the passer from the edge, the Niners struggled enormously in 2017. It's tough to win games of football without it, and even though Smith isn't a pure edge rusher, he'll help immediately and also fill the gap that Reuben Foster will presumably leave.
#10
DT Vita Vea, Washington
A lot of possibilities here for the Raiders, and they are one of the hardest teams to predict a pick for.

It was reported that Oakland attempted to sign Ndamukong Suh in free agency, so clearly there's an identified desire to upgrade the interior of their defensive line, and Vea does that in spades.
#11
CB Denzel Ward, Ohio St
The Dolphins would have loved one of Edmunds or Smith to fall to 11, but unfortunately for them the board hasn't broken that way. What's worse is that the top three quarterbacks have also gone in the top ten picks, so trade down value isn't at a premium either,

Instead Miami finds itself with a few nice options, and Denzel Ward has the potential to step in and be their best Corner from day one.
#12
TRADE between Indianapolis and Buffalo

OT Mike McGlinchey, Notre Dame
Although the Colts would have preferred to take the other stud offensive lineman out of Notre Dame at pick six, they can now afford to "reach" on McGlinchey at pick 12 thanks to the fact that they'll own 3 total picks out of the next 25 selections.

Besides, McGlinchey isn't that much of a reach at 12 anyway, and teams in the teens would have been lurking for him.
#13
S Derwin James, Florida State
ESPN's Louis Riddick, who worked as a scout and then Director of Player Personnel for the Washington Redskins from 2001-2007, compared Derwin James to none other than Sean Taylor, saying "He has the same body language of another safety I scouted a long time ago who I hold in THE highest regard... [James] is special, and is similar in many ways to Sean".

If that does not sell you on Derwin James to the Redskins, nothing will. But we'll continue regardless.

James is 6'2, 215lbs and plays with exceptional speed, physicality, and confidence. He is a player that commands respect both in how he plays the game, as well as how he carries himself as a person.

DJ Swearinger and Derwin James would instantly become perhaps the best Safety tandem in the National Football League, and with Montae Nicholson and Deshazor Everett backing them up, suddenly it becomes a position of enormous wealth for Washington.

Importantly, Derwin James can play deep or he is capable of coming up to the box and playing run support or even contribute as a blitzer.

In short, this would be a selection that the Redskins will benefit from for years to come, as the 'spine' of their defense would be enormously talented and filled with youth.
#14
CB Josh Jackson, Iowa
Given how badly Green Bay needs to improve their Corner position, this pick seems like a no brainer. So obviously it won't happen.

But in case it does, it's a rare example of the best player on the board being a position of incredible need, and this seems like a match made in cheese-head heaven.
#15
WR Calvin Ridley, Alabama
One day Larry Fitzgerald will show signs of ageing. And when that happens, the Cardinals will need to have a replacement for the future Hall of Famer.

Calvin Ridley will benefit exponentially from having at least one year alongside Fitzgerald, and while they're on the field together they'll be difficult to contain.
#16
WR D.J Moore, Maryland
The local boy D.J Moore won't have to spend a lot of money relocating as he stays within Maryland to play for the Ravens

The Ravens brought in Michael Crabtree this year, but beyond him their passing attack doesn't intimidate teams. Moore is an electric talent with good quickness and an ability to break simple passes into big plays.
#17
DT Da'Ron Payne, Alabama
Los Angeles has some bonafide talent upfront with Joey Bosa and Melvin Ingram, but the interior of their front seven would benefit from an upgrade which would push their defense into the upper tier across the NFL.

Da'Ron Payne has blue-chip talent and can contribute instantly, and will only make Joey Bosa's life easier moving forward.
#18
RB Derrius Guice, LSU
Seattle was at their absolute best when Marshawn Lynch was breaking apart defenses and giving Russell Wilson some much needed breathing room

And who is Derrius Guice most often compared to? Marshawn Lynch.

Guice will love life in Seattle, and although the Redskins were right in to him, it seems unlikely that they'll be in a position to trade back up into the first round to get him, and even more unlikely that Guice will slide out of the first round at all.
#19
WR Courtland Sutton, SMU
With the departure of Dez Bryant, it seems unlikely that Jerry Jones would go into a season with Allen Hurns and Cole Beasley as your best wide outs.

At 6'3, Courtland Sutton has good size to help Dak Prescott in the redzone, and isn't afraid of contact. While he may not be the quickest WR in the draft, he's not slow.
#20
OG Will Hernandez, Texas-El Paso
Matt Stafford has had a bit of a rough go during his time in the Motor City, and it's time for the Lions to really invest in keeping him upright.

Hernandez had a fantastic combine and it led to people really evaluating his four years of tape from college. What they saw was an elite offensive guard.
#21
OG Isaiah Wynn, Georgia
It was only a few short years ago when some criticized the Redskins for "wasting" a first round pick on a guard with Brandon Scherff, and yet here we are in 2018 mocking three guards in the first 21 picks! Were the Redskins trailblazers after all?

Well, maybe. But at the end of the day talent trumps everything, and it just so happens that the guard position is well represented in top-tier talent in 2018.
#22
TRADE between Indianapolis and Buffalo

DE/OLB Marcus Davenport, Texas-San Antonio
The luxury of trading down means you can take the best player available on your board, and for the Colts here at 22 that would surely be edge rusher Marcus Davenport.
#23
DE/OLB Harold Landry, Boston College
A mini theme is emerging of 'hometown' guys being selected by their local teams, and that continues here with Landry heading to Foxborough.
#24
TE Hayden Hurst, South Carolina
Few teams in the NFL have leveraged value out of the TE position in recent years like the Panthers have done with Greg Olsen. But Olsen is 33 years old and likely entering the last season of his professional career.

Hurst can learn under Olsen in 2018, and replace him in 2019 and beyond.
#25
C Billy Price, Ohio State
What's better than three offensive guards being selected in the first round of the NFL Draft?

Three guards and a center!

Price looks pro-ready, and at 6'4 , 312lbs, he won't be bullied by NFL defenders. This helps keep Mariota upright and improves the run-game for the Titans.
#26
DT Taven Bryan, Florida
The Falcons have tipped their hands pretty significantly, and for months have been linked to Taven Bryan. He's been to Atlanta for workouts and the team has met with his coaches from both college and high-school. One of the rare instances where we'll be surprised if this isn't the pick.
#27
QB Lamar Jackson, Louisville
Even though it feels like it is said every year, Drew Brees can't play forever. The big easy needs a big succession plan, and Lamar Jackson fits that bill

Jackson is the type of rookie who probably needs a year holding a clipboard anyway, and when the knocks against you are that you struggle with reading a defense, who better to learn from than Drew Brees?!

A lot to love about this pick.
#28
LB Leighton Vander Esch, Boise State
While the recovery continues to sound promising for Ryan Shazier, it's obvious that he faces a long road back to football, fi that's ever to eventuate. Therefore the Steelers need to replace him.

Vander Esch may sound like a country club sailor from Connecticut, but he is ferocious and tenacious, and will thrive as a Steeler.
#29
CB Jaire Alexander, Louisville
Jacksonville already boasts a stout defense, but Jalen Ramsey can't do it all by himself. He needs help, and Jaire Alexander can step right in and control the opposite side of the field from him.
#30
C James Daniels, Iowa
When you invest approximately $500 million dollars in to your Quarterback, you need to protect him. Kirk Cousins already knows how good it is to play behind an interior offensive lineman from Iowa, and James Daniels will fit nicely in Minnesota.
#31
QB Josh Rosen
Tom vs Time.

For the better part of 20 years, Tom Brady has been the reigning champion in this ongoing battle. But as we all know, Father Time is forever undefeated.

There's been a lot of reports that the Pats like Rosen, so will be ecstatic they didn't need to trade up to get him.

It seems likely that at least one of the top five Quarterbacks will slide further than anticipated, and of the five it makes the most sense for it to be Rosen.
#32
RB Sony Michel, Georgia
The reigning champions lost LeGarrette Blount to Detroit in free agency, and replacing him at pick 32 will feel like a gift when the player you get has the calibre of Sony Michel.

That will mean that the Redskins divisional opponents will have Ezekial Elliot, Saquon Barkley, and Sony Michel. Yikes.
Comments
comments
Powered by Facebook Comments