News
A Few Players to Watch During Redskins Preseason Debut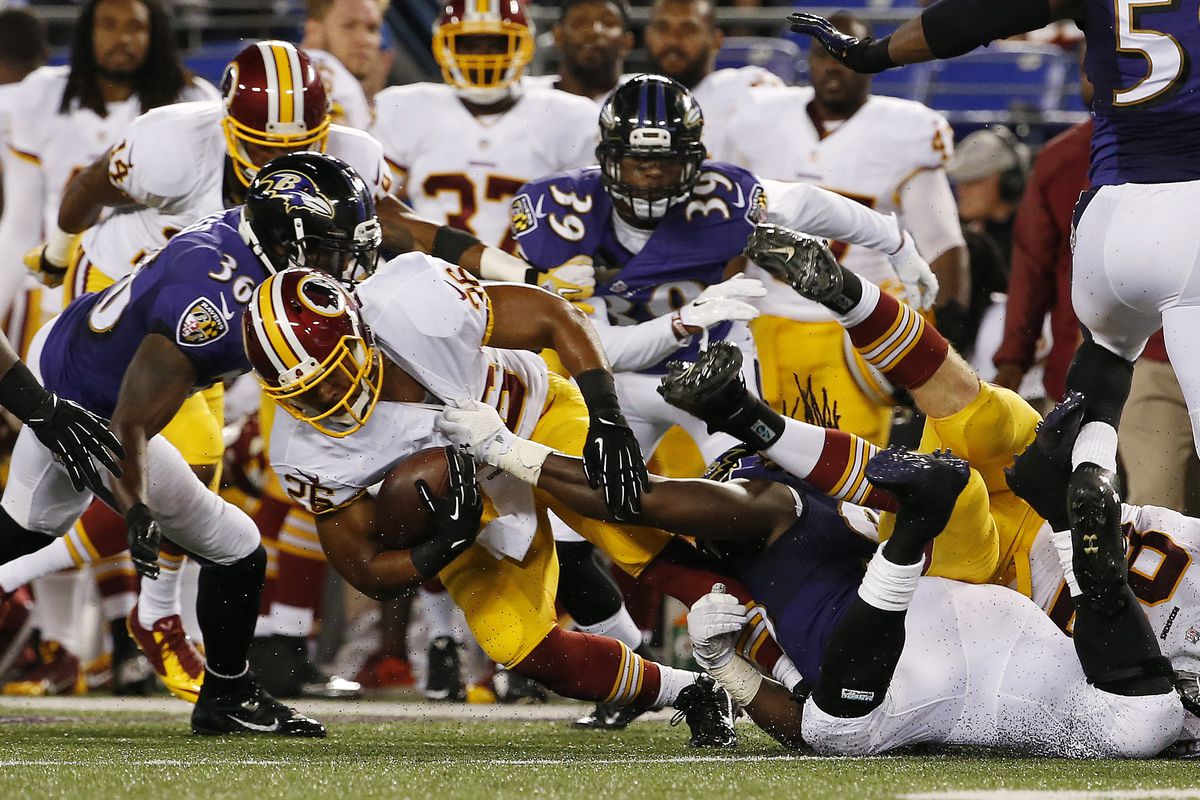 The agonizing wait for any resemblance of Redskins football has finally come to an end, and while it may not be the regular season just yet, the Redskins first preseason game is just one day away.
Traveling north up the beltway, the Redskins will match up against the Baltimore Ravens in another "Battle of the Beltway". While the outcome of the game holds no true value, the chance for players to finally see the field and play at full speed against someone other then themselves is invaluable. More importantly, it allows the newly acquired free agents and rookies to showcase their abilities to the coaches on why they deserve a roster spot.
This year the Redskins have strong depth on their roster with several players that could provide much needed assistance in areas that were lackluster last season. Offensively there are a few players such as Terrelle Pryor and Josh Docston that fill vacant roster spots, but the majority of necessary talent upgrades are on the defensive side of the ball. Now those players take to the field and take what they practiced at camp and apply it to game day.
While watching the Redskins take on the Ravens, here's a few players to keep an eye on:
1) Phil Taylor Sr. – Nose Tackle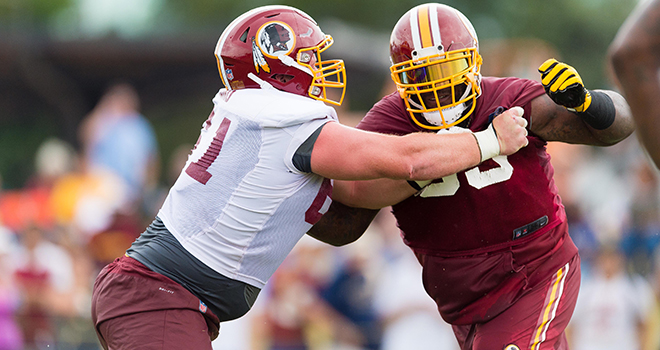 Arguably one of the most important positions in a 3-4 Defense, the nose tackle can be required to tie up several offensive lineman, penetrate the gap and apply pressure to the quarterback, or to knock down any short passes within arms reach. The Redskins really haven't had an answer to the position, utilizing a player for merely a season or two (Barry Cofield, Terrance Knighton) but coaches hope that changes with the addition of Phil Taylor Sr.
He hasn't played since his knee surgery in 2014 but has made an impact at his time at training camp. Originally coming into camp as third on the depth chart, he quickly climbed the charts using his quick athleticism to run down the ball carrier and applying his body weight correctly to take on multiple lineman. Now, he has been listed as first team on the first unofficial depth chart that the team released on August 6th.
When asked about Taylor, defensive coordinator Greg Manusky said via Washington Post, "Phil is a big cat that can move, and that cannot be moved. He's doing a really nice job inside. We've got a lot of good competition there, and I can't wait to see us in this first preseason game. But Phil's doing really well."
Taylor will be in rotation with some stiff competition in Joey Mbu and Ziggy Hood. If Taylor is able to keep up his play making ability that he flashed in camp, and is able to keep that knee safe, the Redskins may have an answer at the nose tackle position.
2) Jonathan Allen – Defensive End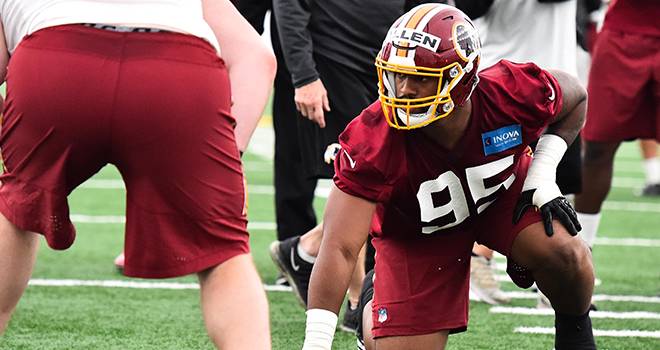 The Redskins first round pick whom many considered to be one of the best defensive players coming out of college, Jonathan Allen, will make his rookie debut. Expected to make an instant impact, Allen has been proving on why he's a first round pick throughout camp. Fortunately for Allen, he gets to practice against arguably the best tackle in the game, Trent Williams.
"He's extremely strong so you have to be very mindful of playing with a good base when playing against him," Williams said during training camp, via Redskins.com. "He knows not to get past quarterback depth, which a lot of young guys make that mistake. You run them by pretty easy. I was just impressed when he gets to the depth of the pocket he turns his rush back into you."
That's a glowing praise coming from Williams but going against an opponent who may not pull back will prove to be a different story. While the Ravens don't have the most dominate offensive lines, if Allen has a chance to square up against Ronnie Stanley, it will be another good test. Either way, going against fresh new lineman and play styles should only benefit Allen and advance him further as a defensive playmaker.
His first NFL game will be a good benchmark as to where he is as a player and what he will need to work on throughout the remainder of camp and preseason.
3) Samaje Perine – Running Back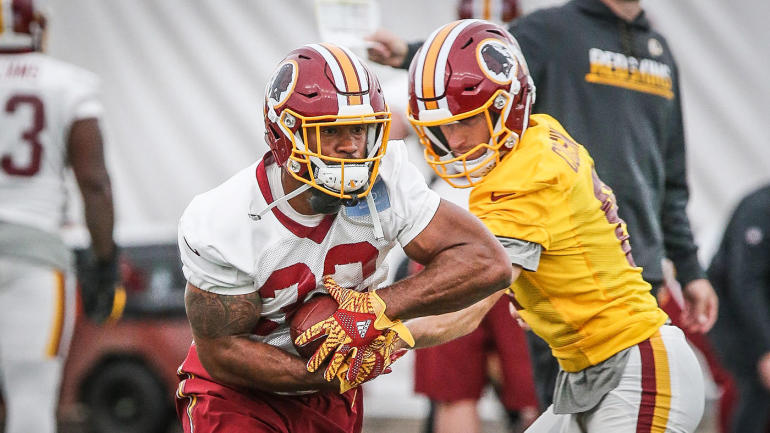 Every season, there's a rookie that the fan base falls in love with and this years camp heartthrob is running back Samaje Perine. There's good reason for the infatuation; the Redskins running game has been mediocre over the past two seasons, with Rob Kelley flashing slightly at the end of last season, and Perine has been receiving high praise from head coach Jay Gruden.
"I think he's a total pro. You know, he comes in, he's no nonsense, works hard, prepares well and is a very bright kid," said Gruden at training camp on Monday. "Really doesn't have any weaknesses in his game. We've got to shore up his protection a little bit, but, like all rookies, that takes time – where your eyes are, how to pick up certain people and all that stuff. But I've been impressed with Samaje, very much so."
There's expectations that Perine will win the starting role against Kelley and Chris Thompson, but he still has to prove himself as he's still just a rookie. The difference between college and the NFL, especially in the run game, is vastly different and Perine isn't one to shy from contact. While he lines up against the Ravens, it will be different when the linebacker is just as quick and hits twice as hard, even compared to teammates in camp, so he will have to be smart on the field.
It will be a great test for Perine, especially if he's able to go against the starters for the Ravens such as; Terrell Suggs, CJ Mosley, and Brandon Carr. An exciting player to watch as he takes the field for the first time as a rookie.
Conclusion
The Redskins have a lot more invested on the defense so there will be a lot of focus on them, especially the rookies. Even though Allen is considered to be one of the saviors of the defense, don't forget about his teammate from Alabama, Ryan Anderson. They should see the field at the same time so it will be interesting to see if their chemistry from college translates to the NFL. If so, they will be good bookends on the line.
While no word officially on who will be sitting, many veterans will mostly only play a series which gives plenty of time for the newly acquired players see the field. Either way, it's exciting because Redskins football is finally back!
Hail!
Comments
comments
Powered by Facebook Comments