News
A Leaner, Meaner Ryan Anderson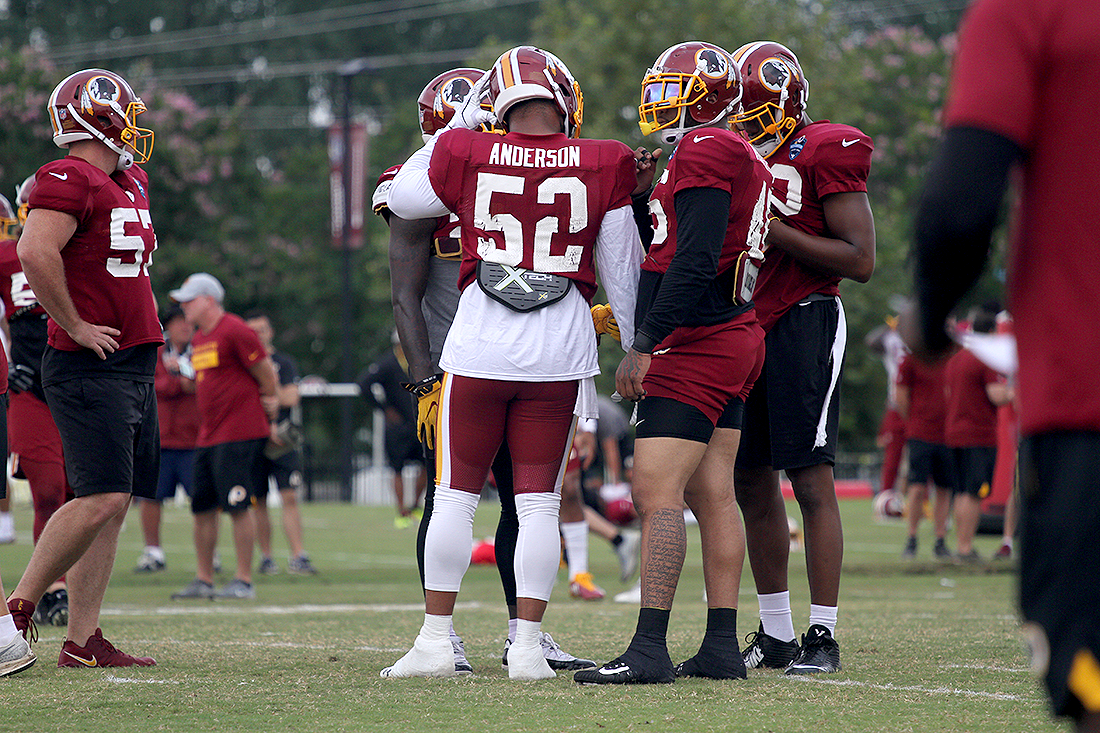 Redskins Capital Connection is pleased to welcome Richmond's own Chip Brierre to the team for Training Camp 2018. Here he profiles Ryan Anderson. 
It's clear by now that the University of Alabama takeover of the Washington Redskins is becoming a trending topic of discussion amongst fans. Four of the five Crimson Tide alums are on the defensive side of the ball. Three of them are key contributors. One of them is Ryan Anderson.
The second-year linebacker is finding his form in training camp, both in his play and his shape.
Currently he is listed at 253 lbs. but his frame says otherwise. He lookers trimmed down, less fat and more muscle mass. In an effort for the entire roster to stay healthy, Anderson's attempt to do so looks to have paid off.
"Right now, I'm in tune with my body and what I'm eating," says Anderson, "just keeping everything up and stuff is finally starting to slow down."
2017 was a slow start to Anderson's NFL career. As a rookie, he appeared in 14 games but only managed 11 tackles in those appearances. Not what he or the coaching staff predicted when he was selected 49th overall in the second round of that year's draft. The Daphne, Ala. native says his diet played a crucial role.
"I'm from the country," says Anderson, "I was always eating neck bones, collard greens, macaroni and cheese not anything vegan."
This offseason, Anderson went to work. Now he feels better mentally and physically than he had in any preseason setting he's participated in.
"I didn't approach (2017) the way I should have," Anderson tells NBC Sports Washington, "being a rookie, not understanding how long the season was, how good a lot of these guys are."
His teammates are taking notice, especially outside linebacker Preston Smith.
"He knows what to do when he touches the field," says Smith, "[Ryan] is playing with a lot of confidence this year is going to help this defense a lot."
Smith and Anderson were both paired up during a couple snaps of team drills opposite each other at outside linebacker. Both had success applying pressure to the quarterbacks Wednesday morning.
"He can drop in coverage and he can rush. He can play the run very well," says Smith, "you know, he has a lot of tools to be a key asset to the defense."
Becoming a multi-faceted linebacker will be a great addition for Anderson and the Redskins front seven that is starting to show flashes of greatness for the season ahead. The more tools in the shed for defensive coordinator Greg Manusky and head coach Jay Gruden, the better this defensive unit will be as whole against some powerful offensive attacks on the schedule.
"I see steady improvement and growth from him in the weight room, his weight, his effort," says head coach Jay Gruden, "I like where Ryan's at."
Comments
comments
Powered by Facebook Comments