News
Are the Washington Redskins Tanking?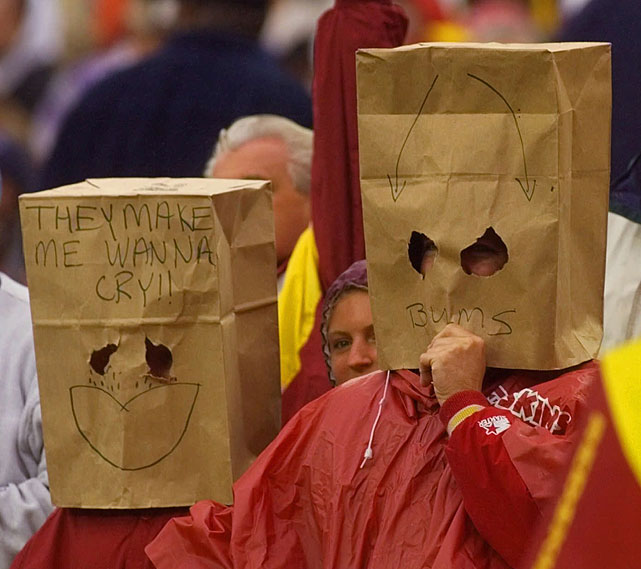 The Washington Redskins corporate sponsor, GEICO, gave out clear plastic tote bags to fans walking on the concourse before the game. By then end of the game, a 31-15 drubbing of the Redskins by the Chicago Bears, I saw some Redskins fans wearing brown paper bags with eye and mouth holes. I look forlornly at my clear plastic tote and pondered for a brief moment that I could just put an end to my misery and don this bag, sans air holes. This die-hard Redskins fan could finally find the peace and acceptance that eludes so many Redskins fans after so many decades of fandom.
Thankfully, I guess, the moment passed and I choose to walk the mile to my friend's car and listen to the radio as fans called in bemoaning all the problems the Redskins have from top to bottom. From the coaching, to the front office, to the defense, to the offense, to the owner, to the general manager, no one was spared after that embarrassment. "All of them must go!", they yelled. Except for P Tress Way and WR Terry McLaurin, they can stay.
At 0 and 3 the Redskins season might be over before it even really got started. But is that just a story fans like to tell themselves? Was this season ever in play anyways? Sure Jay Gruden proselytized that he had to get into the playoffs or he was gone, but he was a lame duck coach anyways. It explains why no real defensive coordinator was looking to jump on board on the defensive side of the ball with such uncertainty. No one is going to uproot your family for a year for a shot at winning with the Redskins unless they have some long term commitment. And if coaches know that, you can believe the players know it too.
Redskins players are all saying the right things, " We're professionals", " We haven't given up on the season", "We just need to execute", "We have to just focus on the next game", "We stand together", "blah" , "blah", "blah". They say the all right things, but they do the all wrong things too. I've seen all the Redskins coaching regimes end their seasons the way this season has started; with poor execution and even poorer coaching.
Why should the players really try? This team doesn't have enough real depth to compete for a playoff spot, the head coach is a lame duck, the defensive is inexperienced, and one of the top players on the team, LT Trent Williams, doesn't trust the training staff in so much as he'd rather not get paid than put his body out there for this team. Morale has to be low.
Which leads me to the headline in this article, "Are the Washington Redskins Tanking?"
While the company line is absolutely not, are you really going to believe that this is not a major rebuild? Clearly it is. The Redskins drafted a young quarterback who needs time to learn. They brought in QB Case Kennum, a journeyman quarterback, to develop the other young players on offense like McLaurin and the other young wide receivers until QB Dwayne Haskins is ready. The average age of the defense is 25 years old, with 7 contributors on defense that have less than 2 seasons worth of game experience due to either injuries or being recently drafted. Combine that with so many additional positional needs that have to be addressed there's just no way this team competes on a basic level, let alone for a playoff spot.
Yes, it sucks Redskins fans. They are tanking, they just aren't doing it on purpose.
I'm not saying you need to cheer for the Redskins to lose. They are going to lose anyways. What I'm suggesting is that maybe this is actually good for the team in the long run. Rebuilding the Redskins through the draft and smart free agency doesn't happen over night. It takes 3 to 5 years to get it where it should be depth wise and talent wise.
The franchise is trying its best to get you to believe that this team can compete this year because saying otherwise is bad for the meager ticket sales they have left to make and most fans don't like hearing they might have nothing to cheer about come Sundays. But tanking and getting a high draft pick to possibly protect Haskins future is exciting actually. Tanking and possibly getting Bruce Allen fired should make you grin from ear to ear. Tanking and getting a new head coach and a real defensive coordinator might get you to think there might actually be sunny days ahead.
It's a bleak way to look at the current season but it's a honest way to see into the future.
Comments
comments
Powered by Facebook Comments