News
"BADONK!", Was the Sound of Victory in Redskins Win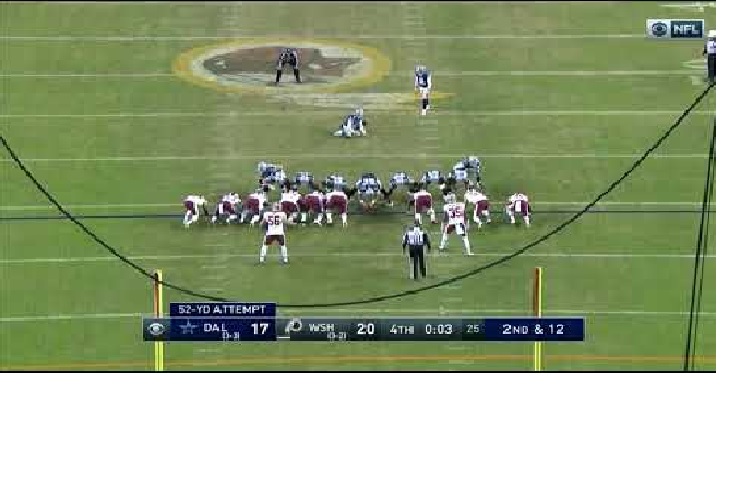 When Dallas Cowboys K Brett Maher was lining up for a 52 yard field goal, after an amazing penalty against the snapper L. P. Ladouceur for a snap infraction, you could hear the crowd roar and try to desperately sway Maher with some noise psychology. Even play-by-play announcer, CBS's Jim Nantz, added to the intrigue by saying  "He's made 16 consecutive field goals in a row…" as if to counter balance Tony Romo's obvious Cowboys support in the booth with some good old fashioned commentator jinxing.
Then came the snap, the hold, the kick. And then all the noise turns into mumbles, gasps, held breath, as the ball sails elegantly through the air with force and will. It looks like it has the length to make it. Prayers turn into curses as the ball continues to move forward. But then, just as quickly as it appears to be going through, it turns and moves towards the neon colored upright. Like a beacon in the night, it calls to it.  The ball now moves magically towards it and meets it. "BADONK!" The sweet sound of heavy gauge steel and aluminum rattling and moving the ball away from the middle and on to the ground is met with euphoric screams across the stadium and in homes across the Washington region.  Relief, exultation, and as former Redskins owner Jack Kent Cooke once said "sheer unadulterated, uncompromising ecstasy!"
Wow. Final score: Redskins 20 Cowboys 17.
This game is an instant classic when it comes to the fabled Washington Redskins vs Dallas Cowboys rivalry. It's up there with some of the great victories of memory such as the Monday Night Miracle where Redskins WR Santa Moss hauled in two long touchdown passes in the final minutes from QB Mark Brunell, or when Redskins CB Troy Vincent blocked a last second field goal attempt by Cowboys K Nick Vanderjagt, that was recovered by S Sean Taylor, who scrambled to Dallas' side of the field to give Redskins K Nick Novak a chance to redeem himself and make the winning 44 yard field goal with zero seconds left due to a Cowboys penalty. There are so many other classics that have been handed down and shared in this rivalry that make this the game to watch for Redskins fans every year no matter the record.
The Redskins defense has been gaining momentum every week, slowly but confidently.  There are some vocal leaders that have emerged that showcase the passion and dedication to win. Just watching DL Jonathan Allen's face in between plays and along the sideline makes you want to go karate kick someone in the chest. His passion and now his skill set seem to be growing exponentially as he begins to understand his brute strength like the Incredible Hulk, "Allen, Smash!". He played marvelously in Sunday's game and I look forward to seeing him becoming an All Pro as the season carries on.
Although the play that will live on in the minds of Redskins fans will be the strip-sack-fumble-recovery-touchdown late in the fourth quarter. The play before that, Cowboys QB Dak Prescott connected with WR Cole Beasley to convert a 3rd down and gained 16 yards to the Dallas 36 yard line. But a holding call brought it back and the Cowboys were now backed up close to their own end zone.  So instead of a first and ten, they were in a 3rd and 14 situation.  Redskins blitzed and LB Ryan Kerrigan, who seemed to be waiting patiently on the other side of the field, came crashing in on Prescott and knocked the ball out of his hands. The football lay there abandoned on the goal line, waiting for someone to claim it, to carry it, and then slam it into the ground in victory.  LB Preston Smith took it upon himself to be that someone and palmed the football with one hand and walked into the end zone for a defensive touchdown and a 20-10 lead as he was mobbed by teammates and fans alike.
While the Redskins offense deals with injuries and growing pains with QB Alex Smith it might be nice to finally see a Redskins defense that can keep games close and even dominate on occasion this season. Especially as the weather turns from comfortable to cold and windy, it might keep fans warm to know that there might be some fire in this Redskins defense as they begin to forge into possibly one of the league's better units.
Comments
comments
Powered by Facebook Comments