News
Cousins Who? Alex Smith Leads Redskins to Convincing Win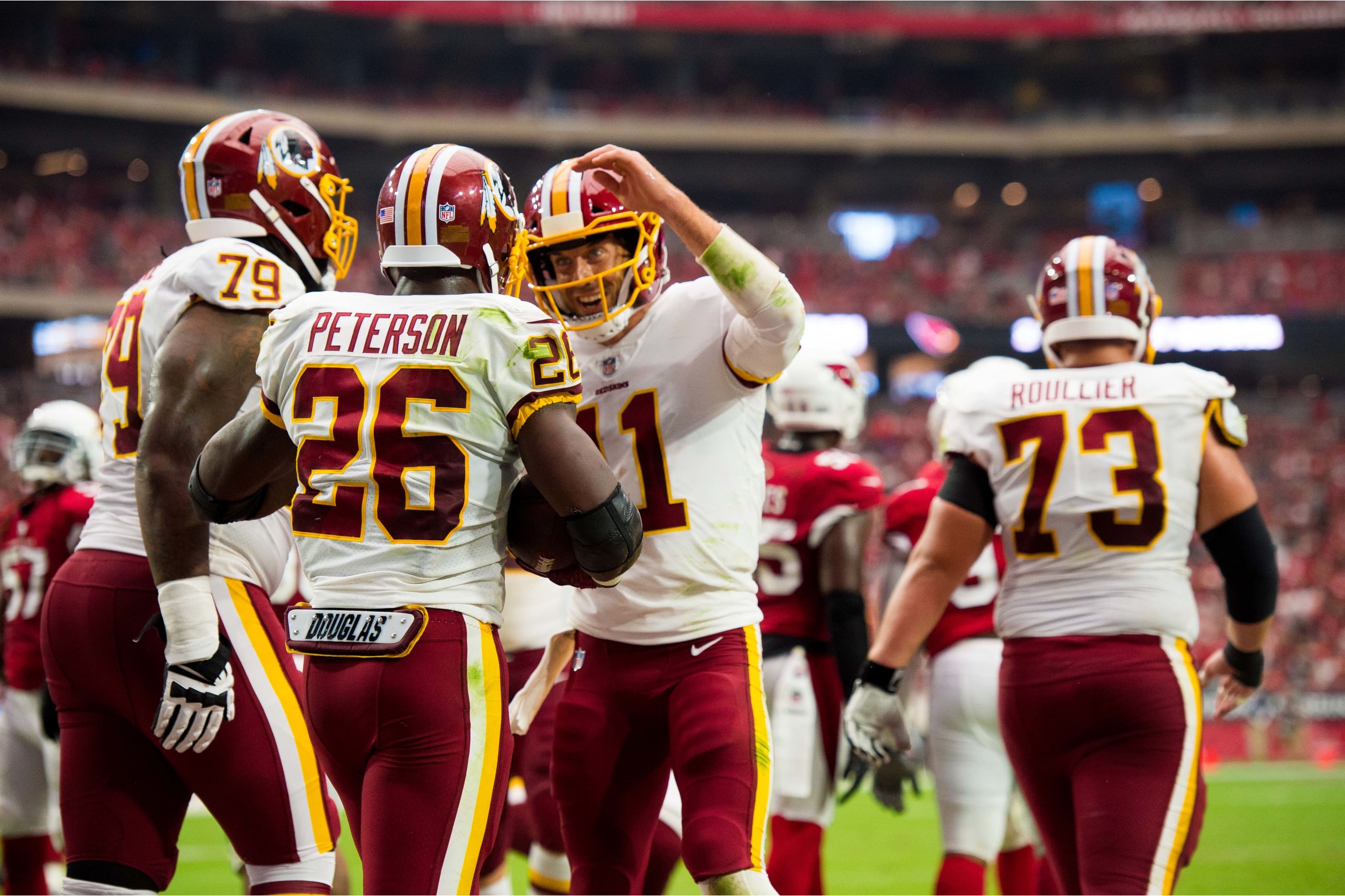 If you were like me this Sunday, you were just a tad bit curious to see how well the former Washington Redskins starting quarterback, Kirk Cousins,  did in his new home and use it as a comparison as to how the new Redskins starting quarterback,  Alex Smith, did in his regular season debut.
I would say Smith won out not because he had a better quarterback rating than Cousins, which he did, 118.1 to 95.1. And not because he had more yards than Cousins, which he did, 255 to 244. But what Smith did better than Cousins was win convincingly. The last time the Redskins won by a 18 point margin or more was against the Chicago Bears on Christmas Eve in 2016, in a season that should've ended in a playoff appearance, if not for Cousins throwing a costly interception the following game against the New York Giants. But I digress.  Cousins rarely seemed to have those types of games where the game seemed so effortlessly in his control as Smith made it seem on Sunday in a 24-6 victory over the Arizona Cardinals.
Smith seems to have this cool way about him that exudes confidence not only in himself but in those around him. He doesn't need to appeal to the masses with some catchy saying. He doesn't need the franchise to pat him on the back enough. He's more polished than Cousins might ever be because he has had to overcome more with a higher set of expectations. What did Kirk have to overcome in Washington? Oh excuse me if Robert Griffin III imploded due to poor management, coaching, and personal accountability. All Cousins had to do was be better than Griffin, which turns out wasn't too hard.  That being said I cheered for Cousins and thought he should've gotten paid by the deep pockets of  Redskins owner Daniel Snyder, but it was not to be. Cousins felt slighted and didn't feel wanted. Geez, how needy.
Smith comes in having had his starting job taken away from him in San Francisco and in Kansas City due to youth, and yet he's produced and more importantly, won. He won't need a catchy saying or pats on the back or quirkiness to get his teammates to believe in him. He does it by winning.
Jay Gruden clearly believes in him as he tailored the game plan to the team and Smith's strengths in Sunday's win.
When the offseason started the Redskins had major question marks for the offense in regards to the running backs, wide receivers and overall offensive line health. They addressed the running back situation by drafting Derrius Guice who sadly got injured in the first preseason game. Then when injuries started to mount for that position, someone in the Redskins front office thought it would be a great idea to bring in future Hall of Famer Adrian Peterson for a tryout.  After seeing Peterson run in the preseason and now the regular season what do they pay these talent hunters to do in the front office of the 31 other teams? Eat Cheetos and watch SpongeBob SquarePants? Peterson was fantastic in his regular season debut as the lead back for the Redskins, making those Cheeto loving talent evaluators reassess their meaningless lives.
The wide receiver question mark still remains a point of concern as the wideouts didn't seem to contribute enough when they had their chances but it very well could have been that Gruden is astute enough to know that the wideouts still need some time to develop chemistry with Smith or that they are just the weak link in this offense and Gruden will play to the strength of this team and not force the issue at this time.
The offensive line looked healthy and when Gruden went for it on a 4th and 1 early in the game he showed he believed in them and their capability to make a first down when needed.
I would be remiss to not mention the Redskins defense but the Cardinals played their way out of the game so often by doing the complete opposite of what Gruden was doing with his team. The Cardinals seemed to know early on that the running game was their strength but then by falling behind so early abandoned it completely. It seemed like a rookie coach move, and inherently was, due to this being Steven Wilks first head coaching gig as the Arizona Cardinal's skipper. One that we've seen Gruden make all too often.
This time though, Gruden made the right moves at the right time, with the right quarterback, who he and the entire city of Washington hope is in the right place once and for all.
Comments
comments
Powered by Facebook Comments