The Redskins Ring of Fame is home to some of the absolute legends of the NFL.  Names like Sammy Baugh, Darrell Green, Art Monk, and Charles Mann can all be found emblazoned around FedEx Field, honoring their career achievements in Washington over the past nearly 90 years.
With the unsurprising news that Santana Moss was not going to be offered a new contract by the Redskins for 2015, it signals the end of a storied 10 year era for both the team and the player.
But does Santana Moss deserve a place in the Redskins Ring of Fame?
Moss joined the Redskins in 2005 via a trade with the New York Jets that saw the Redskins send Wide Receiver Laveranues Coles back to the Jets. In his first regular season game as a Redskin, he caught 4 passes for 96 yards against the Chicago Bears, in a game which the Redskins won 9-7 via three field goals and no touchdowns. Combined with Clinton Portis' 121 rushing yards in this game, Moss and Portis almost single handedly accounted for all of the Redskins offensive yards in an otherwise unremarkable game.
However, his second game as a Redskin was anything but unremarkable.
In a game that lives on in Redskins lore as the Monday Night Miracle, the Redskins trailed the Dallas Cowboys 13-0 going into the final few minutes on the Cowboys home turf. It seemed like another crushing loss to the Redskins bitter division rival was imminent, and coach Joe Gibbs and his team would be boarding a plane back to Washington as losers on prime time television.
Enter Santana Moss.
Remembering that this was just his second regular season game in the burgundy and gold, and that realistically he had not yet come to understand just how deep the rivalry between the Redskins and Cowboys was entrenched in the psyches of fans, Moss caught not one but two touchdown passes in the final 2:30 of the fourth quarter to cap off one of the best comebacks in the recent history of the NFL.
Video – The Monday Night Miracle: Santana Moss
After this game, Santana Moss was bestowed with the moniker of the Cowboy Killer by Redskins fans, and it's a name that followed him around. Racking up 7,867 receiving yards with the Redskins, ranking him 4th on the team all-time receiving yards leader board, Moss was a consistent bright spot on a team that was so often bereft of them.
In fact, this is perhaps the biggest argument for why Moss should be included in the Redskins Ring of Fame; he was a brilliant and mercurial player stuck on a mediocre team lacking any consistency or cohesion year in and year out. During Moss' tenure with the Redskins, he has played for four different head coaches, and caught passes from a whopping ten different quarterbacks;
Mark Brunell (2005-06)
Patrick Ramsey (2005)
Jason Campbell (2006-09)
Todd Collins (2006)
Donovan McNabb (2010)
Rex Grossman (2010-11)
John Beck (2011)
Robert Griffin III (2012-14)
Kirk Cousins (2012-14)
Colt McCoy (2014)
That list paints a picture in and of itself. Moss has had to develop new rapports with the same number of quarterbacks, as the amount of years he was with the Redskins. Any coach will tell you that to be the absolute best you can be, you need to trust your team mates innately. You need to be able to instinctively know what they are going to do before they do it. You need to be able to rely on them, and in turn have them rely on you. All of this is borderline impossible when the quarterbacks responsible for getting the ball in to your hands change more often than most people change their hair styles.
Moss holds the Redskins record for most receiving yards in a single season (1,483 in 2005), is 3rd on the Redskins all-time career receptions list (639), 4th on all-time career receiving yards (7,867), and 3rd on Redskins touchdown receptions (67). Considering that above list of quarterbacks, those stats are extremely impressive.
In Robert Griffin III's 2012 rookie season, in which he famously won Rookie of the Year, Santana Moss caught 8 touchdown passes from Griffin and showed no signs of being anything less than a playmaker, including highlights such as this ridiculous touchdown vs Philadelphia;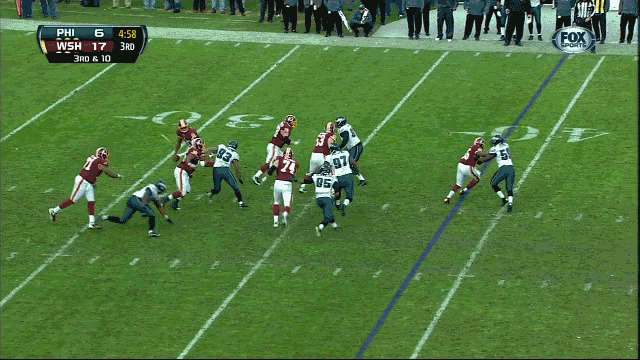 There is no telling what sort of career Santana Moss may have had if the Redskins had have been fortunate enough to find a franchise quarterback in the mid 2000's, instead of bouncing around from journeyman to journeyman.
Regardless, Santana Moss is definitely deserving of a place in the Redskins Ring of Fame. All throughout his ten years in Washington, he brought fans joy and gave them a reason to cheer for a team that so often was towards the bottom of the NFL barrel. The Redskins may not have enjoyed on-field success during the time that Santana Moss was their #1 receiver, but none of that blame lies at his feet.
Comments
comments
Powered by Facebook Comments