News
Entire Team Shines Under the Bright Lights of Sunday Night Football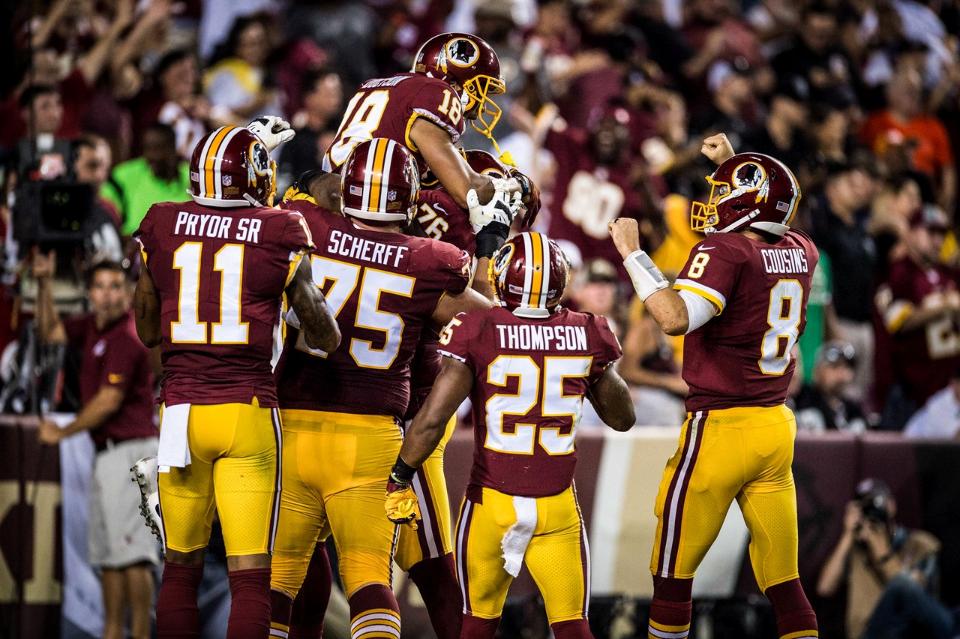 Did that really happen on Sunday Night Football? Did the Washington Redskins dominate a 12-4 playoff team from the 2016 season? Did we just watch the most complete game by the Redskins in maybe a generation?
Yes. Yes! And YES!
The Raider faithful were a boisterous bunch before the game started and were heard chanting in the concourse and as they took their seats. Redskins fans sat quietly to start the game due to decades of trepidation and angst but would soon lose their minds in jubilation and bliss.
When Oakland QB Derek Carr on the first drive of the game threw an interception into the waiting hands of Redskins safety Montae Nicholson the hometown fans roared to life and wouldn't stop making noise for the rest of the game.
When the defense sacked Carr on back to back plays there was a feeling that maybe this defense, who for many seasons has been an albatross for the team, might actually become a strength.  By the time the Metro had closed for the evening, the defense could boastfully say they held the Raiders offense to zero percent on 3rd down conversions and Redskins fans all acknowledged that this new defense had arrived.
The defensive front four pushed back the vaunted Raider's offensive line like a tackling sled with freshly greased wheels. I sometimes find myself waiting for DE Matt Ioannidis to reconnect with his Greek heritage and scream "THIS IS SPARTA!" while he kicks a quarterback in the chest into a endless pit.  By the end of the game Carr wanted to probably crawl into said pit voluntarily due to the shame he helped bring to his team. "We just got our butt kicked" Carr was quoted as saying after the game and asked his friends to send him food and care packages because it's cold and dark down there.
When Greg Manusky was hired as Defensive Coordinator many pundits thought that it was a forced move, due to a weak hand, based off of a front office in tumult at the time. Nonetheless Manusky was quoted as saying in the offseason "We might not win a game, but we'll sure beat the crap out of a lot of people!"  Hot Damn! What is this sorcery? How did he know that he would take one of the worst defenses in the league and possibly make them a top 10 defense almost overnight? He's a wizard Harry.
With the defense doing their part, the offense had to step it up as well. Besides the Raiders coming out as flat as a  3 day old opened Coca Cola 2 liter that's been sitting in the sun, what surprised me was that they apparently hadn't watched any tape of the Redskins offense.   Even the laziest of coaches, knew that the only person making plays consistently for the Redskins was 3rd down specialist RB Chris Thompson.  His speed and illusiveness make him a dangerous weapon that no one seems to respect. He almost went untouched into the endzone for the Redskins first score of the game on a 22 yard pass play.  If opposing defenses continue to ignore him and think they can cover him with a linebacker they will be happily burned and taught a lesson.
Thompson is turning into one those players Redskins fans always hated, a Darren Sproles, LeSean McCoy and Brian Westbrook type guy who sneaks out of the backfield and turns what should be a quick little play into a devastating long gain.  Those plays are morale killers for a defense. Nothing stings more than watching a tiny little back wiggle through the backfield unnoticed and then melt defenses because they forgot to account for him to come out of the backfield. It's nice to finally watch other teams lament this and cry in agony as they keep forgetting about him. Thompson deserves all the accolades coming his way.
Kirk Cousins finally arrived in game 3 of the season and not a moment too soon. His 25 for 30 passes for 365 yards were accurate and precise.  Most importantly he had his confidence and swagger back. His bomb to WR Josh Doctson showed that he was ready to sling it and take more risks.  Redskins fans should begin to see an improvement from Cousins as he gets more comfortable with his options.
Jay Gruden deserves some love too. His team was prepared in all facets of the game. Take away those 2 turnovers and you might of seen the greatest performance by a Redskins team in a very long time. Gruden has been taking a considerable amount of heat about starting the season slowly and going against his former offensive coordinator who has been dubbed a "young genius". The strength of this victory does all the talking for him and keeps his detractors at bay. To the victor goes the spoils.
Finally, on a day when the President of the United States talked about football and made it weird, the Redskins made it even weirder by going up 21 to 0 and showing the entire nation under the bright lights of Sunday Night Football, that they might have finally arrived to the 2017 season ready to compete at a higher level than most of us anticipated with a tough defense, an efficient offense and a prepared coaching staff.
Redskins fans, you might want to take a seat instead of a knee, because this season just got surprisingly good.
Comments
comments
Powered by Facebook Comments