News
Getting to Know the Washington Redskins 2016 Draft Class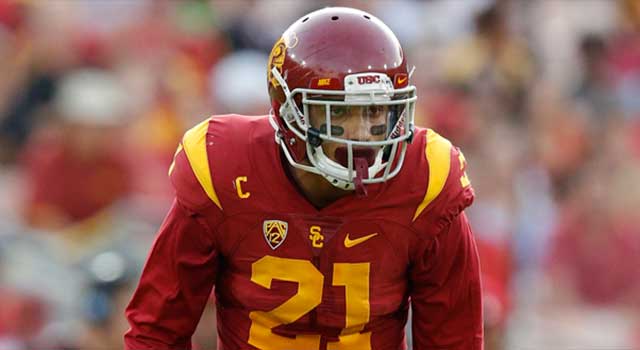 Scot McCloughan may not have gotten the 12 draft picks he desired, but that's not to say that the Redskins haven't gotten much better from the 7 selections McCloughan made over the weekend.
Versatility is probably the best way to describe the Redskins 2016 draft haul. Almost every selection McCloughan made can either play multiple positions or can play multiple roles for the Redskins moving forward.
Let's get to know each pick a little better, and how they will fit in with the team moving forward:
Josh Doctson, WR, TCU:
If you follow me on twitter, you know I'm a huge fan of this pick for multiple reasons. First of all, when your first round selection says he's willing to play special teams to begin his career, you know McCloughan indeed got one of his "red" type players who loves the game.
However, I don't see Doctson staying on special teams for very long if at all, he's simply too talented. He needs to polish his route running, and he could stand to pack on some weight, but you can't coach his 41 inch vertical, and elite body control to consistently make circus catches. Doctson is a complete receiver, who can hurt you as a possession receiver and in the red-zone, to go along with his ability to track the deep ball extremely well.
Doctson is a quarterbacks best friend, he's tough and consistently makes his quarterbacks look good by making contested catches as well as catches he had no business hauling in at all. Doctson's skillset, along with the fact that Pierre Garcon and DeSean Jackson will be on the wrong side of 30 and free agents after this year make this an extremely smart selection. Jordan Reed and Jackson have had their share of injury history as well, but even if everyone stays on the field, I think Doctson has a big role from day 1.
Su'a Cravens, DPM, USC:
If you're wondering what "DPM" stands for, it's Defensive Play Maker. It's unclear exactly what role Cravens will play, or how the Redskins would like him to develop long term, but what is clear is that Cravens has a nose for the football. Cravens had success as a traditional strong safety to begin his college career, as well as a hybrid safety/linebacker role to finish his time with the Trojan.
In his second full year in his hybrid role, Cravens was the leader of the defense, racking up 86 tackles including 15 for loss, 5.5 sacks, and intercepting two passes. Although it's unclear what Cravens long term role will be, he will have a role early. In a pass happy NFL, these type of hybrid players who can cover backs, tight ends, and the slot as well as hold up against the run and taking on blockers are all the rage.
Thanks to Cravens high football intelligence, above average instincts, and willingness to mix it up with blockers despite his smaller frame make him a perfect fit for the NFL's new trend of smaller, faster linebackers. Cravens nose for the ball should help the Redskins defense create more turnovers, and he will have a special teams role immediately as well. Cravens needs good coaching, and a specific role carved out to get the best out of his unique skill-set, but if you use him correctly, he will greatly help the defense.
Kendall Fuller, CB, Virginia Tech:
If Fuller can come back 100% healthy, the Redskins have the deepest group of corners they've had in some time. Fuller has the versatility to play outside or in the slot, which helps the depth of the unit quite a bit. With Josh Norman, Bashaud Breeland, and Chris Culliver as the top three, the Redskins can take their time and develop Fuller and last years undrafted free agent Quinton Dunbar slowly.
Fuller is a ball hawk, grabbing 8 interceptions in 2013 and 2014 alone. But that's not to say Fuller is simply a cover guy, he certainly isn't afraid to tackle and come up in run support as well. Fuller can get over aggressive and bite on pump fakes, but he plays with the attitude of a number one corner and is always looking to make a momentum swinging play. I think Fuller's best long term role is as a slot corner, which has more and more value with NFL defenses in sub packages the majority of the time in a pass happy league. Fuller provides great value in the third round, and can absolutely develop into a big contributor on defense.
Matthew Ioannidis, DT, Temple:
This is an extremely solid pick, and one that could look like an absolute steal 2-3 years down the road. McCloughan took advantage of the phenomenal depth across the defensive line class to grab a player in the fifth round that probably would have gone in the third in any other year.
Jay Gruden commented that they expect Ioannidis to pack on another 10-15 pounds to be versatile enough to play the true nose tackle role in the Redskins base 3-4. However, even at 299 pounds the former Temple product has outstanding power to clog the middle and hold blocks. However, that's not to say Ioannidis doesn't have any pass rushing upside. Ioannidis has the versatility to play across the defensive line, and uses a relentless motor and nasty streak to shoot-the-gap and rush the passer. Ioannidis is a tough, physical, bring your lunch-pail to work every day type of player. A solid addition to the defensive line, with the potential to develop into an above average starter. Ioannidis may never be a pro-bowler, but he's a solid football player who loves the game and understands his role, and that's exactly what Scot McCloughan wants on his team.
Nate Sudfeld, QB, Indiana:
This pick just makes a lot of sense. Sudfeld is a big (6'6), productive, pocket passer who came from an pro-style offense. The Redskins hadn't drafted a quarterback since they took two in 2012, and really needed to invest in a long term backup option, and Sudfeld seems like a very logical choice.
He won't blow you away with arm strength or athletic ability, but his best chance for success is in the type of offensive scheme Jay Gruden runs. With Colt McCoy resigned through 2018, Sudfeld can be brought along slowly as the third string quarterback, or could even spend a year on the practice squad. Kirk Cousins isn't the biggest quarterback, so having a solid backup who can play in a pinch is huge, if Sudfeld can develop into an above average backup, this is a pick well spent.
Steven Daniels, ILB, Boston College:
If you want a throwback, punch you in the jaw type presence in the middle of your defense, look no further than Steven Daniels. The Boston College product led the nation against the run in 2014 according to PFF, and he absolutely demolishes blockers who try to get in his way.
Daniels isn't a flashy player who ran a good 40 yard dash, but he used his high football IQ to hold up in college (this might not be enough in the NFL) in coverage grabbing 3 career interceptions at Boston College. Daniels is going to come in and compete for special teams snaps and a backup role right away, and he has the toughness and smarts to sneak onto the 53-man roster
Keith Marshall, RB, Georgia:
This is a pick that has a lot of potential. Marshall was a blue-chip recruit out of high school and had a phenomenal start to his career with the Bulldogs. However, unfortunately for Marshall injuries derailed a career that had a promising start. Marshall persevered through injury, accepted a backup role, and became a special teams demon.
Buy Aciphex online
buy soft Viagra
What Marshall has that gets you excited about this pick is natural ability and speed, 4.31 speed to be exact. If Marshall can stay on the field, I fully expect him to make the roster and compete with Chris Thompson for the third down back role in addition to his special teams duties. Marshall is a threat to take it to the house every time he touches the ball, and with a wide open running back depth chart, the former Georiga product as a real chance to carve out a niche early.
Buy Cialis Jelly
cialis next day delivery usa
Comments
comments
Powered by Facebook Comments