News
It's Madden season for the Redskins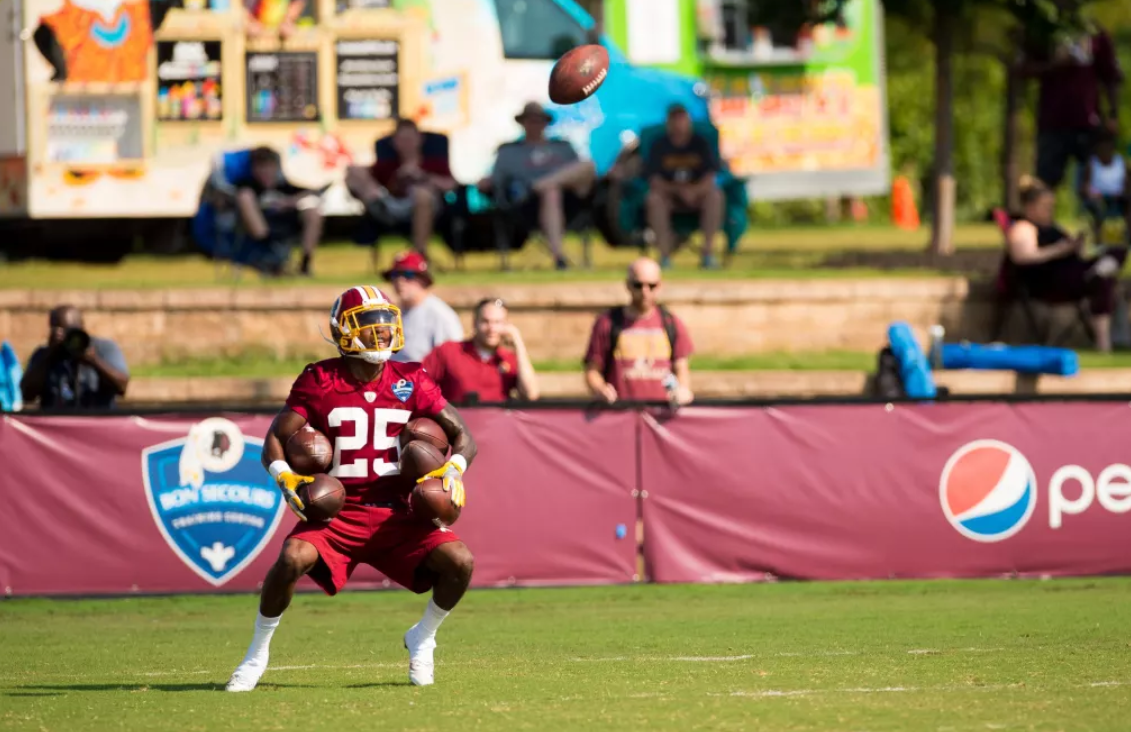 Redskins Capital Connection is pleased to welcome Richmond's own Chip Brierre to the team for Training Camp 2018. Here he takes a look at how EA Sports Madden 19 is occupying the thoughts of some players.
Alex Smith breaks the huddle as the offensive line moves into position at the 37-yard line. The Washington Redskins are lining up in a two tight end power formation on the left side of the line. After a quick check, Smith hikes and hands off to Derrius Guice on a stretch play, probing behind a scrum of combined body mass and a flurry of jabs. He finds the lane and cuts upfield only to be brought down hard by Olivier Vernon of the New York Giants for a six-yard gain.
That wasn't a real play, that was a snap of the newly released Madden NFL 19, with me at the controls.
"I play it a lot," says Redskins' defensive back Quinton Dunbar. "I play based off the opponents, try to match up team for team."
"It's probably one of the only games I had as a kid," says Redskins' linebacker Mason Foster. "My dad or mom would get me Madden."
The popular video game franchise continues to blur the line between reality and simulation with improved graphics, facial animation and capture, as well as physics and atmosphere of any given Sunday. This year's installment, which hit shelves early for the price of $60 across various consoles, is another step forward in photo-realism.
"It's cool to be in the game," says Foster. "See yourself in the game, see your hometown up there. That's probably the coolest part about it."
Then come the ratings. Yes, the compilation of analytics, statistics, video and performance together in a cavalcade of numbers, calculated into one number that represents how a player performs and compares to others in the game's rosters. It can be a fun talking point of discussion amongst the gamers, fans and even athletes who play it.
"We all want it to be higher," says Redskins' wide receiver Paul Richardson Sr., who has an overall rating of 84. "I might go tweak a couple things myself".
Looking specifically at the NFC East, the Washington Redskins overall are 83 with the New York Giants being 80, Dallas Cowboys at 84 and the defending Super Bowl champion Philadelphia Eagles at 95.
"I don't get to high or low on that stuff man," says Dunbar, whose rating is 79. "It is what it is."
"Somebody said I was 69," says 7th round draft pick and rookie wide receiver Trey Quinn, who continued while grinning "the goal is to keep it there."
It does provide a fun wrinkle ahead of the Redskins' first preseason game at New England Thursday night, to see where players stand in the game compared to where they stand in reality in the eyes of their coaching staff.
Not only is this matchup, along with the three others they will play, a chance to improve rating in the video game, but also their position on the roster with cuts on the horizon.
"I got hurt last year so I dropped a little bit," says Foster, whose rating is 74. "After the first game I'm going to boost right back up, just got to make some plays."
There's no telling if the weekly roster update in the game will reflect the actual results from preseason week one; but for those playing in real life as opposed to with their thumbs, it makes the NFL experience a bit more fun.
"I swore I would keep playing this game until I got good at it," says Richardson. "I've been doing pretty well with it so far."
Back to the Madden NFL 19 game at hand. Next play following the six-yard gain from Guice, Smith takes the snap out of the shotgun and throws a 31-yard touchdown strike to Paul Richardson Sr. Just twiddling thumbs on a controller.
Comments
comments
Powered by Facebook Comments