As a unit, the Washington Redskins Tight Ends have had a tumultuous time in the past two months.
Going into Training Camp in Richmond, the presumptive depth chart seemed locked in stone. Jordan Reed would be the number one, with Niles Paul and Logan Paulson the back ups. If Vegas had a market on it, the odds would have been heavily in favor of this combination.
On August 10th the Redskins released their first (unofficial) depth chart for the 2015 season, and lo and behold, Niles Paul was listed as the starter. At the time, Head Coach Jay Gruden said that the decision was made because he believed that Paul was "a little more of a complete tight end", referring to Paul's blocking as well as his usefulness as a receiver.
On August 13th, during the Redskins first preseason game versus Cleveland, Paul broke his ankle. Meanwhile, Logan Paulson had been battling a toe injury that inhibited his movement.
On August 16th, both Paul and Paulson were put on season ending Injured Reserve.
During this time, and as he watched the Redskins trade for one Tight End and claim another Tight End on the Waiver Wire, the softly spoken Jordan Reed was quietly grinding away, readying his mind, and significantly, his body. Throughout camp he worked with all three Quarterbacks on the Redskins roster. He spent extra time with Tight End's Coach Wes Phillips, working on his fundamentals. He spent time working with Offensive Line Coach Bill Callahan, working on his blocking. He spent time working with Offensive Coordinator Sean McVay, working on his assignments.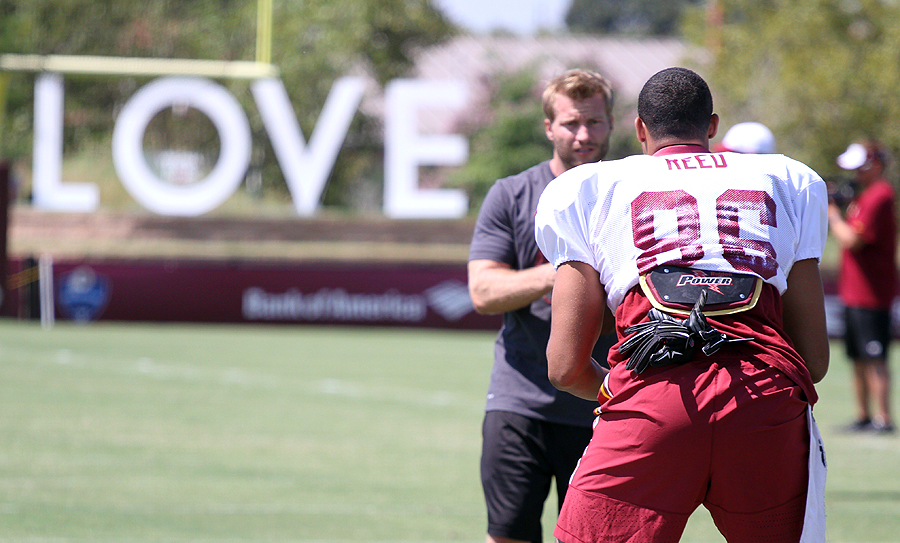 The message from Reed was clear. After missing 5 games in 2014 and 7 games in 2013, he was determined. Determined to be a weapon for the offense. Determined to be an option as a blocker. Determined to be healthy.
In the days before Training Camp, Reed spoke to the Washington Post's Mike Jones about his body, and acknowledged that for him, staying healthy required work.
"What I learned these first two years is it's going to take a lot of maintenance and getting a lot of treatment, staying after and taking care of my body, listening to my body and focusing on playing my game."
In their first 2015 regular season game against Miami, the Redskins got their first glimpse of what this wiser and more experienced Reed is capable of.
Reed led the team in receptions (7), caught the Redskins only touchdown for the game, and simply looked like the most reliable and dangerous weapon the Redskins had in the passing game, especially with DeSean Jackson leaving the game injured in the first quarter.
As capable and motivated as Reed looked, what was most promising for fans and coaches alike was how healthy he looked. Reed appeared fit and fired up, ready to shed the "injury prone" tag that has followed him from early in his career. You could forgive a player who has missed time with injury for shying away from unnecessary contact in their first game of the new year, but instead Reed showed no signs of fear. On routes over the middle of the field, where receivers are vulnerable to hits from Safeties and Linebackers, Reed's eyes were locked firmly on the ball in the air. Time and time again.
At his best, and yes, when healthy, Reed has the potential to sit amongst the top tier of receiving Tight Ends; he possesses a sublime set of physical abilities that set him apart from others in the league. His hands are reliable, with balls that make contact with his hands seemingly never leaving their vice-like grip. His work against defenders is excellent, and Reed makes using both his strength and his long arms to create separation look almost effortless. And then there is his footwork. Oh, his footwork. It's a joy to watch, and if you aren't paying close attention the sheer ludicrousness of what Reed can do with his feet can easily be missed, such is it's subtlety.
Take this reception from Sunday's game for example. After making the catch and turning up-field, Reed employs a quick stutter-step to stop his forward momentum, change direction, then push off with speed. He does all of this in the blink of an eye, and it's enough to make not one but two defenders completely miss him, being brought down by a third defender.
After the game, Reed told reporters that it was the first regular season game he truly felt 100% healthy for in a long time.
At full flight, there aren't many players around who are more of a joy to watch than Jordan Reed.
Let's hope that he can stay at 100% for a long, long time.
Comments
comments
Powered by Facebook Comments