News
Notes from Training Camp Day 2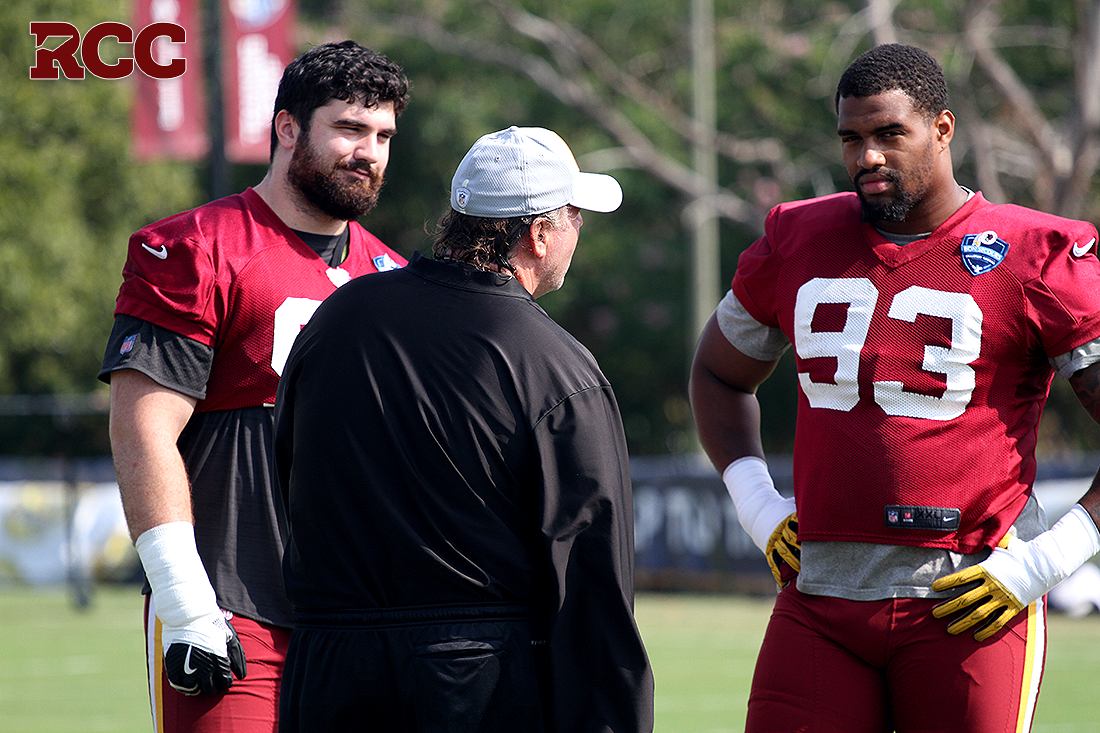 Redskins Capital Connection is pleased to welcome Richmond's own Chip Brierre to the team for Training Camp 2018. Here are his notes from Day 2's practice session. 
RICHMOND, Va. – In the first few days of training camp, it's common to see the defense winning in team
drills while the offense gets on the same page of the playbook. After two days at Washington Redskins
training camp, it's clear this defense is already beyond the common mean.
As a whole there have been four interceptions, a forced fumble, a handful of sacks and stonewalling the
offensive backfield. It all starts in the trenches with a revamped defensive line.
"We've got a line now that can compete with any team in the NFL," says Josh Norman, the Redskins'
three-year veteran at cornerback. He wasn't finished there, "You got those two young studs right there
in the middle, oh man… roll tide."
Norman is talking about the second-year man Jonathan Allen and rookie Daron Payne, both first round
draft picks by the Redskins the previous two seasons. If "roll tide" didn't tip you off, the two defensive
lineman come from a University of Alabama program that has won five national championships the last
nine years and produced 25 first round draft picks in that same timeframe.
"I think the chemistry is already there," Payne said after the first practice of camp, "I kind of know what
(Jonathan) is thinking sometimes and with (Ryan Anderson) if we go in pass rush I'll know the
terminology we used at Alabama which makes it comfortable for me."
"We're focused on being some badasses," states Allen, "simple as that."
Duly noted. Alongside Payne and Matt Ioannidis, Allen's "badasses" have proven in fact their ceiling as a
group is attainable. Alex Smith has had no time to throw, running backs struggle to find any daylight,
both have lead to increased opportunities for loss of yards and turnovers.
"Everybody wants to get in there and make a play," says Norman, "we're just putting this hard work now
towards it. Doing the little things to get better so when you get into that game time mode you can be
successful. It's all you can ask for."
For a group that gave up 4.5 yards per carry and ranked 27 th in the NFL for total defense, what's been
asked now has an answer. The key is for both young Crimson Tide alums to stay healthy. Last season
Allen played his first five games as a rookie before a season-ending foot injury. Now back and being
brought up to full speed on schedule, his knowledge and chemistry with his college teammates can help
them avoid a spot on the injury reserve.
"There's so many things that you can do that rookie year that you just don't have the time for," says
Allen, "I don't want to seem like their father figure. I'm here if they need me but we're all grown men
here."
With 18 more days of practices and two preseason games in training camp, it's only taken two days to
reveal this young defensive line has the makings of something special. Get the rest of the defense
squared away, perhaps locking down the rest of the NFC East's high-powered offenses doesn't seem as
daunting.
INJURY UPDATES
– Linebacker Zach Brown was back on the field in limited work, participated in some 11 vs. 11
segments. Had a quad strain yesterday and status is still day-to-day.
– Linebacker Ryan Anderson needed help getting to the locker room after a team drill, no update
on severity or his status.
OTHER NOTABLE EVENTS AND PLAYS
– Josh Doctson and Derrius Guice continue to show off their athleticism. Doctson had a dazzling
catch over Montae Nicholson down the far sideline that saw Josh nearly leap over the second-
year safety while Guice showed his agility and vision out of the backfield in the passing game.
– DJ Swearinger has been hands down the best defensive back the last two days. Had another
interception today, should have had two, made sure to let everyone know he was feeling it this
morning.
– Daron Payne and Tim Settle both had pancakes in 1-on-1 O-Line vs. D-Line drills. They were hard
to miss.
– Keep an eye on Adonis Alexander at cornerback and safety. Dude is huge for his position and can
lay the wood when given the chance.
– On either edge of the defensive line, Preston Smith and Ryan Kerrigan continue to hound the
tackles and keep Alex Smith on his feet. For all the praise Smith is getting for his savvy veteran
status, those two aren't making it easy to see in person with their pressure.
Comments
comments
Powered by Facebook Comments