Now that the smoke has cleared following the opening of Free Agency this offseason, I figured now was as good a time to do a mock draft addressing what the Washington Redskins could do this upcoming draft. In case you don't remember what the Redskins have done so far this offseason, here's a quick look to reference to while reading my mock:
Kirk Cousins franchise tagged- It remains to be seen whether a long-term deal gets done between the two. Redskins reportedly aren't interested in trading him and Kirk reportedly will only sign if Bruce Allen is no longer there. My best guess is Kirk will play under the tag again, unfortunately. We'll see how this plays out, maybe money talks and they get a long term deal done. That would be much better for the team than Kirk walking away the following year.
Defensive linemen Stacy McGee and Terrell McClain sign- "The Mc Brothers" (let's make this a thing) signed essentially replacing Chris Baker who signed with the Buccaneers and Ricky Jean-Francois who the Redskins released last week. Both are viewed as starting defensive ends in the Redskins' base 3-4 defense.
DJ Swearinger signs- the tone setting safety signed with the Redskins relatively quickly with the Redskins at the start of Free Agency. Swearinger I would assume is the penciled in starter at FS at the moment. His career took off during his stint with the Arizona Cardinals. Regardless if he ends up starting or not, Swearinger adds quality depth to the Redskins safety position group.
Terrelle Pryor signs- To say that Redskins fans were dismayed to lose both Pierre Garcon and DeSean Jackson at the start of Free Agency would be a severe understatement. Redskins took a step in the right direction to help ease the pain by bringing in an up-and-comer in Pryor. At 6'4 (almost 6'5) Pryor adds some much needed height that the Redskins have lacked in their receiver corp. To add to his size, Pryor is also gifted with speed boasting a 4.38 forty yard dash time. If Josh Doctson is healthy, the Redskins could have a very talented 1 and 2 at WR with the dangerous Jamison Crowder in the slot.
Linebacker Chris Carter signs- Redskins bring in another special teams ace type player with Carter. Can only assume that this means Terrance Garvin isn't returning to the Redskins for 2017
Vernon Davis re-signed- a good expected move. Davis came in and revitalized his career with Washington. His run blocking skills added a lot to the offense and not to mention his receiving ability. He did well in filling in for Jordan Reed when Reed was down due to injuries.
Ty Nsekhe re-signed- Nsekhe has become an irreplaceable part of the Redskins offense, being the quality swing tackle that the Redskins need in a pinch. Though he will be 32 by the time October rolls around, he proved that he is starting material in his stint of filling in for Trent Williams during his four game suspension.
Up to speed?
Good.
While some of these moves are exciting, the Redskins are by means an improved team and face a lot of "ifs". The Redskins are still lacking impact players a long the defense and need to make some more moves for the offense. For this mock draft I approached this under the impression (optimistic you could say) that the Redskins and Kirk Cousins work something out. I would hope that the Redskins realize how disastrous it would be for Cousins to play under the franchise tag again and then just walk away to play for somebody else. So to avoid that, they very well just may end up having to pay him what he wants. The immediate need for finding a solution at QB goes away with a deal done.
To make my mock draft instead of just listing names and telling you "trust me, they'll be there at this round" I used the the "On The Clock" mock draft simulator provided by Fanspeak.com. If you have never used this tool, I highly recommend it. I have the premium version that allows proposing and accepting trades with other teams, which you'll see I took advantage of in a conservative and more realistic way. Without further ado, here is the mock draft:
Round 1 Pick 17- *WE HAVE A TRADE*
When the the Redskins 17th pick was on the clock the Tampa Bay Buccaneers called up offering a trade for the pick. Getting a free 3rd round pick to fall two spots? Yes please.
Round 1 Pick 19- Haason Reddick (ILB, Temple)
After falling back two spots I was faced with a lot of talent to choose from: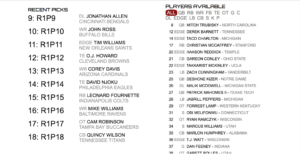 With the talent that is available at 19 (especially someone like Mitch Trubisky) the Redskins would be sitting pretty to trade back yet again but I didn't try and just stuck with the 19th pick. The temptation of drafting Christian McCaffrey was there but when you factor in how deep the draft is at running back and how desperate the Redskins need for talented defensive players is, drafting Haason Reddick is the wise decision. Reddick has been one of the Draft's biggest risers after having the best showing at the Senior Bowl and a great outing at the Scouting Combine. Reddick oozes talent and speed at the linebacker position that the Redskins need. The concern about Reddick is that he's still learning the ILB position due to playing mostly DE during his career at Temple. But if his Senior Bowl performance is anything to go off of, he's a very fast learner.
Round 2 Pick 49- Obi Melifonwu (Safety, UConn)
This was the easiest pick of this mock draft, Melifonwu was the top player on the board and at a position of need. Melifonwu (6'4 224) is a gifted athletic freak who blew the NFL Scouting Combine by storm with his outstanding performance- 4.4 40 yard dash time, 44 inch vertical jump, and 141 inch broad jump. While it's easy to say that Melifonwu is just another combine warrior that won't turn out to be a good player but he has the film to back it up. The pro comparison that I have for him is a taller Byron Jones.
Round 3 Pick 81- Chris Wormley (DL, Michigan)
Another "need pick" that was filled with one of the top players on the board. Chris Wormley adds serious size to the Redskins DL rotation. Wormley impressed at the Senior Bowl being one of the standouts of the week. Drafting someone like Wormley would allow the Redskins to slide either Stacy McGee or Terrell McClain down to nose for the Redskins base 3-4 front. Wormley is the perfect 5 tech DE for a 3-4.
Round 3 Pick 84 (From Bucaneers trade)- Joe Mixon (RB, Oklahoma)
This is sure to be controversial as it would be in real life. Mixon obviously has a major character red flag but he is without a doubt one of the top backs of this draft. There's Fournette, Cook, and McCaffrey at the top but I'd argue that Mixon is better than each of them. Mixon in the 3rd round is an absolute steal based on talent. I don't buy that he won't get drafted by a long shot. Tyreek Hill still got drafted. Mixon's detrimental mistake was made a while ago and he has taken the necessary steps to try to redeem himself. If the picks works out then you have arguable the best running back in the draft class for insane value. I say it's worth the risk.
Round 4 Pick 114- Curtis Samuel (WR/RB, Ohio State)
This was the ultimate "best player available" pick. Samuel was available at the time when I selected Chris Wormley and still somehow slipped to the 4th round. Samuel is a speed demon (4.31 40 yard dash time) and more of an offensive gadget type of player than a true wide receiver. Samuel can be used in many ways to create mismatches and I have no doubt Jay Gruden would salivate at getting a player like Samuel this late in the draft. I wouldn't worry too much about where he'll play. Let the coaches figure that out. It's a good problem to have.
Round 4 Pick 124- Sidney Jones (CB, Washington)
This pick also has the potential to be the steal of the draft. Jones is regarded by many as the best cornerback in the draft but suffered a serious Achilles injury during his pro day. Will he actually make it to the 4th round? Maybe not, but if he does I think he's worth the risk. The Redskins cornerback situation is still not quite resolved with Breeland's disappointing season and Josh Norman not able to do it all by himself. The Redskins need the depth and Jones if healthy would be a starter and potential pro bowler.
Round 5 Pick Pick 154- Jarron Jones (DL, Notre Dame)
Picking Chris Wormley didn't solve anything for the Redskins DL. They still need depth and Jarron Jones is, in my opinion, a very underrated prospect. Jones (6'6 316) also adds a ton of size to the Redskins defensive line and would be a very solid rotational player on the line while he develops into a starter role. Jones has a lot of potential but has football character concerns that seem to be the reason a guy like him could end up falling into the 5th round. From his draft profile page on nfl.com: 'He's a character flag for us. He's talented but I just don't think he loves the game enough for me to back him in our room. Who doesn't love those long arms? We all do, but I think he's lazy and will head south as soon as he has more time and money on his hands. — NFC director of scouting'. Now I know for certain that a NFC Director of Scouting would have access to more film and resources to get to know the kind of player he is. However, from the film I've been able to watch on him I don't see the character concerns or laziness. I think he has the potential to be a special player.
Round 6 Pick 201- Bryan Cox Jr. (Edge, Florida)
Cox isn't going to be a difference maker but with Junior Galette still an injury concern and Trent Murphy facing a 4 game suspension, the Redskins are going to need help at OLB and Cox can develop behind the bunch when Murphy is back. Cox isn't a dynamic pass rusher but has the ability and traits to build on (fast get off, plays physical, sets the edge well against the run).
Round 6 Pick 209- CJ Beathard (QB, Iowa)
Like I said earlier in this post, I drafted under the optimistic belief that the Redskins and Cousins work out a deal. With that said, there's no harm with bringing in another camp arm to maybe store on the practice squad and develop. Not to mention that Beathard as a strong connection to the organization (grandson to former Redskins GM Bobby Beathard). This pick makes almost too much sense if you ask me.
Round 7 Pick 220- Jonnu Smith (TE, Florida International)
The Redskins situation at TE is pretty stable but could very quickly become a need. Vernon Davis while solid is old and Jordan Reed has concussion concerns. Selecting a TE would make sense to have someone to develop and call up to the active roster in a pinch while stashing him on the practice squad. Smith is a decent blocker and can make plays with the ball in his hands but that is only if he catches it (means his ball catching skill are very inconsistent)
Round 7 Pick 235- Ben Gedeon (LB, Michigan)
Gedeon was a best available pick. The linebacker could use more depth and competition. Gedeon is a smart, solid, and instinctive football player but lacks the physical traits you look for. While the ILB position group is loaded with developmental guys adding more to it couldn't hurt.
Of course on paper a draft class like this would be exciting but as we've all come to know, the draft is a crapshoot and isn't a guarantee. What could seem to be a bad pick could end up being a good pick and vice versa. You can find the entire mock draft here: http://fanspeak.com/ontheclock/premium/draft.php?d=asbrcz
What do you think about the mock draft? Let me know in the comments below or shoot me a tweet on Twitter (@DeadeyeDunkan).
Comments
comments
Powered by Facebook Comments