News
Post-Draft Recap: Player Analysis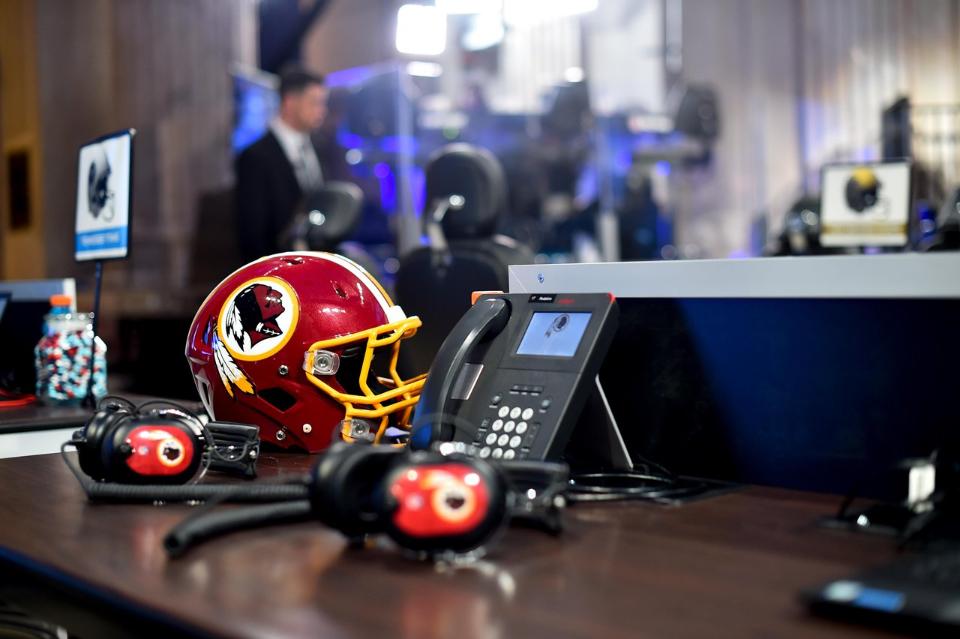 The 2017 NFL Draft came to a close over the weekend and the Washington Redskins focused primarily on fixing the disjointed defense by using their first 3 picks in the draft to add key players on that side of the ball. Overall, the Redskins used 6 out of their 10 picks on the defense but their 4th pick could possibly be one of the biggest steals of the draft!
In case you missed a pick or just looking for a quick guide to whom the Redskins selected, here's each selection and a little more information as to what type of player to expect.
Round 1, Pick 17 (17) – Jonathan Allen, DE – Alabama
Height: 6′ 3″
Weight: 286 pounds
Jonathan Allen became a force in Alabama during his final season, winning the 2016 Chuck Bednarik and Bronco Nagurski Awards for being the top defender in the nation boasting a stat line of 69 tackles (16 for a loss) and 10.5 sacks. He has really good hands with a flexible core to allow himself to get around blockers and after the quarterback. Also, has a very high football IQ and is able to read zone plays and is patient at the line.
Notice he patiently waits at the line, knows he has the passing lane blocked and instead of rushing the QB and possibly allowing him to the outside, he waits and forces the QB's hand. Then Allen quickly cuts back and chases him down for the tackle.
The only thing knock on Allen would be his slower lateral speed against shifty running backs, a la LeSean McCoy. However, having strong talent around him for support can allow him to be that threat on the line against the pass and run. Allen's shoulder injury concern shouldn't be much of a factor in the short term, could develop into an issue several years down the line.
Round 2, Pick 17 (49) – Ryan Anderson, OLB – Alabama
Height: 6′ 2″
Weight: 253 pounds
Sticking with Alabama, the Redskins selected Ryan Anderson to compliment Allen and the mentality of what they are looking for on defense; physicality, discipline and raw power. Voted first-team all-conference from the media after racking up 61 tackles (19 for a loss), 9 sacks and an interception for a touchdown. He's got quick feet with strong hands to help change direction and break away from a blocker.
Here, Anderson starts on the outside of the tackle, not pressuring too much which causes the tackle to run back with him. Then he shifts back inside before the blocker can adjust, giving himself a clear shot on the quarterback. He understands he's not as a big as many of the offensive lineman, so he uses his agility and vision to create opportunities.
Lastly, he brings an attitude that's been missing on the Redskins defense for a while that should help provide a spark and with his nonstop motor, others on the roster will take notice.
Round 3, Pick 17 (81) – Fabian Moreau, CB – UCLA
Height: 6′ 0″
Weight: 206 pounds
Formerly a running back, Fabian Moreau transitioned into a corner as a freshman and utilizes his speed and agility well in the secondary. Works well at the line, jamming receivers and disrupting their routes. Also, loves to play press and is patient while sticking with his receiver through the route. Isn't know for his turnover ratio and jumping the ball which isn't always what's needed from a corner.
As mentioned previously, his speed is a big factor not just against a receiver, but if used in a blitz package, he can get quickly up the line and force the running back into the inside. He has great instincts but sometimes may try to be too physical and draws penalties. If coaching focuses on limiting his holding and interference, his instincts and ability to tackle in the open field would help the Redskins secondary.
He may not work in every package, but throw him on press coverage and running downs, Moreau could make an impact.
Round 4, Pick 7 (114)(From Jets) – Samaje Perine, RB – Oklahoma
Height: 5′ 11″
Weight: 233 pounds
Samaje Perine may become the steal of the draft. An absolute bruiser of a runner, a la Marshawn Lynch. He has very powerful thighs with a lower center of gravity that allows him to bounce off tacklers when hitting the line or the next level. His feet are always moving forward and doesn't stop until the whistle is blown. He may not be too much of an edge rusher but still has good vision and if taught to be patient at the line, could develop into an every down back.
Although he does relish in abusing would-be tacklers, the NFL is vastly different when it comes to power on the defense. He may be forced to be more wary of head-on tacklers and utilize his ability to cut to shed tacklers and stay up-right. If able to use a balance of brute force and finesse, Perine would see a lot of touches, especially in short yardage and the red zone.
Mix in Chris Thompson to take some touches on screen plays and Robert Kelley to alleviate when necessary, Perine may become the Redskins starter sooner than later.
Round 4, Pick 17 (123) – Montae Nicholson, S – Michigan St.
Height: 6′ 2″
Weight: 212 pounds
A large factor that may have helped the Redskins select Montae Nicholson was his height. Currently, Su'a Cravens is the tallest safety on the team at 6′ 0″ and although 2 inches may not seem like a lot, in the NFL it greatly matters. His size wasn't the only deciding factor, he ran the 3rd fastest 40-yard dash (4.42 s) among safeties and tied for 5th best vertical jump (35″). The tangibles are all there but still needs some work on his hesitation.
Occasionally, Nicholson can be a bit reactive in terms of trying to break up a pass but wraps up players well immediately after the catch. Lacks the ability to go up against the deep routes and can take an extra second to match a receiver coming out of a break. The physical traits are all there for Nicholson to become a starting safety, just needs to work on pass defending and not always going for the big hit.
Expect him to work with the special teams as he's coached up more through his first year or two.
Round 5, Pick 10 (154)(From Saints) – Jeremy Sprinkle, TE – Arkansas
Height: 6′ 5″
Weight: 252 pounds
A big tight end that thrives in pass protection; that's exactly what the Redskins are getting out of Jeremy Sprinkle. A large frame with long arms and large hands helps Sprinkle setup blocks at the line, almost as though he's an extra offensive lineman. Especially with knowing that Jordan Reed hasn't developed well as a blocker, continuously drawing flags, and Vernon Davis nearing the end of his career, this gives the Redskins time to work with Sprinkle.
He may not be a great route runner or create separation from a defender but due to his size, has ability to mismatch against a safety in the middle of the field. Sprinkle may be used sparingly in the red zone as his height would give defenses nightmares if he runs along the backside of the end zone. If Reed stays healthy, Sprinkle will have time to further develop his pass catching ability but if called upon, may be used more as a decoy or red zone target.
Round 6, Pick 15 (199)(From Vikings) – Chase Roullier, C – Wyoming
Height: 6′ 4″
Weight: 312 pounds
An absolute necessary pick as the Redskins need more depth with their interior offensive line. Chase Roullier is listed as a center but is quite capable to play the guard position if need be which provides versatility in case of injury. Roullier keys in on his blocker and with his stout lower body, he's able to plant firmly his position. He's able to flex if the rusher goes off to his side to keep a pocket for the quarterback.
Despite being 6′ 4″, Roullier has shorter arms than other centers or guards which may prove tricky against a rusher whose extremely capable of cutting blocks. Coming from Wyoming, hasn't gone up against some of the tougher schools in the NCAA so there may be a wider gap between his caliber rushers and whats expected in the NFL. Luckily, during training camp he will face against a wide range of attacks and if able to learn from them quickly, may be called upon if issues arise with the current line.
Round 6, Pick 25 (209)(From Texans) – Robert Davis, WR – Georgia State
Height: 6′ 3″
Weight: 219 pound
There seems to be a theme lately with the Redskins receivers; height. Previously, the Redskins passing corp rarely broke the 6 foot mark and now there's 4 receivers that are 6′ 3″ or taller; Josh Doctson (6′ 4″), Terrelle Pryor (6′ 4″), Brian Quick (6′ 4″) and now Robert Davis (6′ 3″). Davis has the height to help leverage against a defensive back as well as long arms to further increase his catch radius.
He'll need to utilize his height and speed as he's still developing his route running capabilities. Definitely not afraid to jump for the ball and take the punishing hit afterwards while securing the football. As of a Redskin, Davis will most likely be more of a project to further develop his routes and blocking out defenders during his first few seasons. If able to be more polished and aggressive, he could help with the infamous fade route that seems to creep up every so often.
Round 7, Pick 12 (230)(From Vikings through Eagles) – Josh Harvey-Clemons, S – Louisville
Height: 6′ 4″
Weight: 217 pounds
Once again, the Redskins are going for size and strength on the defense. Josh Harvey-Clemons is the definition of an open field tackler. He rarely got beat one-on-one in the open field and is able to bring down a running back even at full speed. However, in coverage he tends to overthink which can cause him to miss a step and be off his receiver. Not a fast straight runner so not an ideal safety for deep coverage.
When Jay Gruden was asked about Harvey-Clemons, Gruden mentions that they will look to play him as a dime linebacker and special teams. Due to his size, this would be more of an ideal fit, allowing him to attack the middle of the field or move up quickly during a run play.
Round 7, Pick 17 (235) – Joshua Holsey, DB – Auburn
Height: 5′ 11″
Weight: 195 pounds
Joshua Holsey played primarily as a corner and nickel defensive back during his senior year at Auburn. Flashed well in a few games, particularly against Ole Miss where he recorded 5 break up passes and a 47-yard interception. As the Redskins last pick, it shows the dedication that the team has to bolster the defense. Holsey may make the 53-man roster if he's able to continue to develop and play special teams.
Worst case scenario, he's stashed to the practice squad to further hone his skills and provide any necessary depth in the next coming seasons.
Comments
comments
Powered by Facebook Comments