News
Projecting the Final 53 – Early Training Camp Edition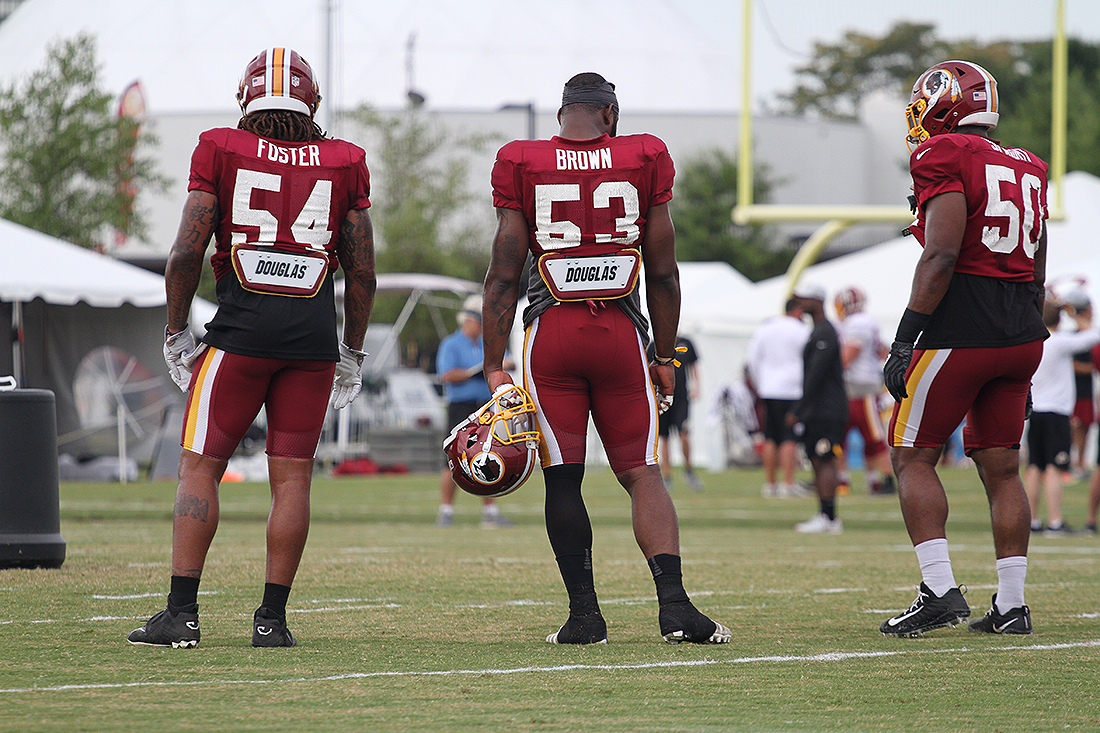 We are now through the first phase of Washington Redskins Training Camp 2018, and with today being the first scheduled day off, it's a great time to take stock of what we've seen through the first four days of on-field action.
Following the reshuffled Redskins front office personnel department last year, the way the roster is put together now takes a communal approach, with Head Coach Jay Gruden having the leading voice, but with input from key figures such as Doug Williams and Bruce Allen. At the end of the day, all involved share the goal of wanting to put the best possible team on the field, and now that we have had multiple practice sessions to observe, a clearer picture is beginning to form of whom rests where on the proverbial pecking order.
And so, as we do annually, here is Redskins Capital Connection's updated attempt at projecting what the Redskins final 53 roster will look like: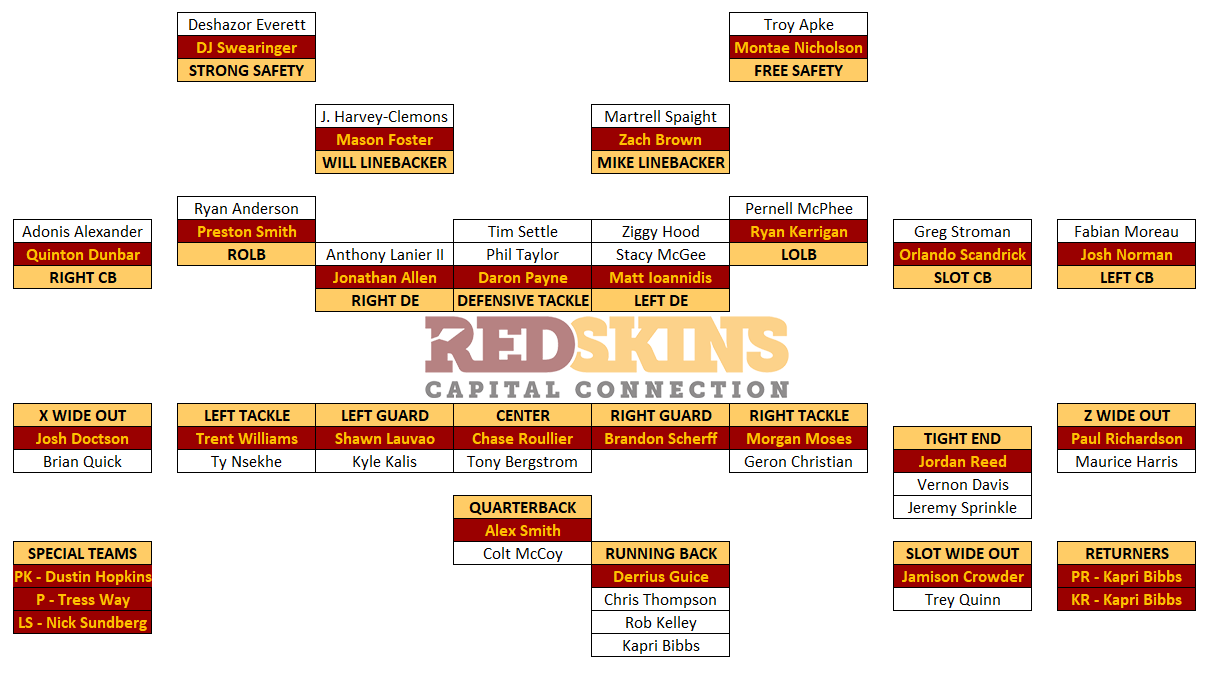 Click the image to see it full size
Quarterbacks
It's a new year and a new beginning for veteran Alex Smith. Through the early days of Training Camp he has demonstrated a strong command of the playbook. Each day he's shown off another weapon in the arsenal, as well; on day four of camp there were multiple designed plays that saw Smith holding the football and running with it, including a long touchdown run from midfield on a QB draw that the defense was totally blind-sided by.
Colt McCoy just signed a new deal with the Redskins and has a big fan in Coach Gruden, so he is as safe as a house in that backup position. The only question going into the season is whether or not the Redskins will keep three Quarterbacks, but based on the play of Kevin Hogan thus far, that seems very unlikely.
Running Backs
Welcome to the Derrius Guice show.
That's been the story of Training Camp so far when you really bring it down to brass tacks. The mercurial rookie has not only impressed with his physicality on the ground, but has demonstrated impressive versatility in the passing game. He has seen a lot of passes thrown his way in the flats with blockers in front of him. They aren't checkdowns and they aren't screen passes; they're simple wheel routes and other similar high percentage passes that are all about getting the ball into the hands of a dynamic playmaker and watching him go to work.
It would be wrong to designate Chris Thompson as sitting 'behind' Guice on the depth chart. They are 1A and 1B, and will both see a lot of opportunities in 2018. Thompson has spent the offseason recovering from injury and has noticeably bulked up in terms of his upper-body strength, but there are no indications it has slowed down the speedy and slippery weapon.
Coach Gruden was asked point-blank if the team will head into the season with a backup on the roster with a similar skillset to Thompson, and Gruden answered "without a doubt". He singled out both Kapri Bibbs and Byron Marshall, and at this stage you can bet that one of those two will be on the final roster. Both have flashed some promising signs early in camp, but Bibbs simply looks stronger in the return game on Special Teams and given how the Redskins have struggled in this regard in years prior, that gives him the advantage at this spot. Preseason games are going to be what determines this toss-up though, so watch this space.
Wide Receivers
Whenever a new Quarterback takes the reigns of the first unit offense, you would expect the process to be slow and deliberate when it comes to developing cohesion with the receivers around him. To both the credit of Alex Smith and the coaches around him, that hasn't appeared to be the case in Richmond as yet. There have been scant few occurrences of miscommunications between the Quarterback and Wide Receivers where a ball is thrown incomplete due to a wrong route being run or a ball being thrown to the wrong spot.
Instead, what is evident is that Smith is already on the same page as his starting three Wide Receivers Paul Richardson, Josh Doctson and Jamison Crowder.
Individually, each of these three have proven their ability to Smith in their own way; Crowder creates separation with gorgeous footwork and route running. Richardson makes quick cuts and finds space with pure speed and also has shown a perhaps unexpected ability to play with physicality. And Doctson makes catches so absurd that even Gruden calls them 'lucky', but when you're making them every single day at some point you have to acknowledge that it isn't just luck, but instead a unique ability to make the impossible look achievable.
Behind this trio, no one else is really standing out dramatically. Rookie Trey Quinn has been a favorite target of both Colt McCoy and Kevin Hogan when the 2nd and 3rd units are on the field, but that could equally say more about the other receivers than it does about Quinn.
Maurice Harris and Brian Quick bring good size and, crucially, a demonstrated understanding of the full route-tree that WRs Coach Ike Hilliard has installed, and that probably makes them the safe bet to make the roster.
We have the team carrying six receivers, but if the team only carries five instead, then it's likely that Maurice Harris would be the odd man out.
Tight Ends
Jordan Reed is a superstar. It really is that simple. There are scant few players in the NFL, at any position, who draw the eye like Reed does anytime he is near the ball. In terms of 'roster locks', he's at the very top of the list. And after well-documented injury troubles in seasons prior, Reed is looking healthy and unrestricted.
Vernon Davis' first touchdown he ever caught in the NFL was thrown by Alex Smith (in what seems like an eternity ago), and he's found himself on the receiving end of some nice Smith throws in Training Camp again. He'll be a consistent factor on this offense once again.
The Redskins will carry three Tight Ends, and Jeremy Sprinkle is the clear choice ahead of the alternatives on the roster. He'll catch some balls this year, but purely in a rotational capacity; if he's starting or getting big chunks of game time, then you can assume one of Reed or Davis is unavailable.
Offensive Line
A unit that has legitimate claims to call itself one of the premiere Offensive Lines in the entire National Football League. That starts with Trent Williams for obvious reasons, but Brandon Scherff and Morgan Moses are both top five players at their respective positions as well.
At Center, Chase Roullier is the starter for 2018 and has spent a lot of time working with both Alex Smith as well as Coach Callahan on making sure that he has all facets locked down. For what it's worth, there hasn't been a single fumbled snap during the first phase of practices in Richmond.
Tony Bergstrom will make the roster this year as the backup to Roullier, and he can also play some Guard in a pinch which adds another string to his bow. Ty Nsekhe and Kyle Kalis are also likely to make the roster as valuable backups, so the only remaining question is which player gets the (likely) final roster spot to be a backup Tackle. We're giving the nod to Geron Christian here, but John Kling could be an outside chance if he plays well during preseason opportunities.
Defensive Line
When asked about his impression of the Defensive Line, Josh Norman smiled and simply said "Oh man… Roll Tide!".
With the addition of first-round pick Daron Payne to Jonathan Allen & Matt Ioannidis, this interior defensive front is an absolute brick wall. As we've noted, the Redskins Offensive Line is packed with talent, but they are struggling to create consistent running lanes due to the strong play of this Defensive Line.
Payne had his ankle rolled up on in the trenches and, erring on the side of caution with their new investment, the Redskins have side-lined him for one to two weeks to ensure he goes into the season healthy. Jonathan Allen remarked that if they were still at Alabama, he'd probably play this week. Gruden has said he isn't concerned about the injury, and neither should the fans be. The timing is unfortunate though.
Behind these three starters, Anthony Lanier II will make the team and get decent playing time this year as he continues to impress Coach Tomsula with his tenacity and strength. Both Phil Taylor and Tim Settle may end up making this roster as the team looks to carry a good amount of depth at the position.
We have Stacy McGee on this projection for now, but there's a possibility he goes on IR and misses the start of, if not the whole year.
Outside Linebackers
The ever-reliable Ryan Kerrigan leads the Outside Linebackers once again, and he'll abe joined by veteran Preston Smith and sophomore Ryan Anderson , who together will look to make their presence felt at every opportunity as well. With Trent Murphy and Junior Galette gone, there isn't a lot of depth here. Pernell McPhee will make the roster, but it's hard to make the case for a 5th Outside Linebacker behind him to end up on the roster – no one else is showing enough to warrant the valuable roster spot.
Inside Linebackers
Zach Brown made Redskins fans sweat during the offseason when it came to his contract, but he finally put pen-to-paper and returns after an impressive 2017. Joining him in the middle of the field will be Mason Foster, who it must be said is an under-rated starter in the NFL as he brings versatility and high football IQ to the position. As a starting tandem, Brown and Foster work well together, and each compliments the other well.
Josh Harvey-Clemons and Martrell Spaight look to be locked in as the backups, and it would be a surprise if either didn't make the team at this point.
It may be prudent for the Redskins to carry a fifth Inside Linebacker, but it's really difficult to make the case for it given their greater needs at other positions.
Cornerbacks
In previous years the Redskins have usually carried six Cornerbacks on their initial 53 man roster, and given the talent that seems likely again this year.
Josh Norman needs no introduction, and as one of the elite players in the NFL at his position, he elevates the level of play of those around him.
With the departure of Bashaud Breeland in free agency and the trade for Alex Smith that saw Kendall Fuller shipped off to Kansas City, this is suddenly a position group that doesn't look blessed with upper echelon talent on paper. Quinton Dunbar and Orlando Scandrick are serviceable and certainly capable of playing good football against good opponents. But when it comes to stopping elite opponents, like those found in the NFC East? That's less certain, and it has the potential to be a problem for the Redskins this season.
Fabian Moraeu is showing strong signs early in camp, and he'll be a young player to watch for the team this year as he works to solidify himself and maybe push his way into the starting rotation. He'll get the opportunity, so it's entirely up to him to compete for it.
Greg Stroman and Adonis Alexander haven't shown a whole lot throughout camp that fills you with confidence, but then again neither have the players behind them on the depth chart. So they're in, for now.
Safeties
D.J. Swearinger talks. A lot. And it's not just because he's a guy who likes to get under the skin of his opponents on the offensive side of the ball; it's because he sees himself as the leader of this entire defense. Whether that's true or not (and there is at least an element of truth to that), the fact that he plays like it's true is enormously valuable to the Redskins, and it elevates the play of those around him starting with Montae Nicholson. When Redskins Capital Connection asked Swearinger about Nicholson, he said that they want to be known as one of the best Safety tandems in the league, and that is within their grasp. They work well together and this defensive playbook puts them in good positions to succeed.
Deshazor Everett is a lock to make this roster, both because he's a very capable Safety, but also crucially he's the leader of the Special Teams units in his role as the 'personal protector'. And working alongside Everett with the 2s is rookie Troy Apke, who will need to continue learning the playbook and what playing at the NFL level requires, but early signs are positive.
Special Teams
A unit that needs no fiddling with. Dustin Hopkins, Tress Way and Nick Sundberg have established themselves as reliable specialists.
Who Missed the Cut
In projecting a roster cut down to 53 spots, there will inevitably be a few players at different players who were close to making the cut but were edged out for whatever reason. Here's the five players who were the closest:
MLB Shaun Dion-Hamilton
The rookie seems a good Practice Squad candidate, as he comes across as the type of player who needs a year in the NFL system before looking to produce on his potential.
WR Robert Davis
It's a numbers game at this stage, and although Davis has been getting some reps with the KR/PR squad on Special Teams, he'll need to really stand out during preseason to have a chance at making the team this year.
RB Samaje Perine
One of Rob Kelley and Samaje Perine is going to make the team this year, and there will be many who advocate for Perine over Kelley. However Kelley seems the better fit on this team and for the playbook that Gruden is installing this year.
RB Byron Marshall
As above, only one of Byron Marshall or Kapri Bibbs are going to make the roster, and although Marshall has shown some good signs during camp thus far, Bibbs offers more on Special Teams and when you're talking about the last spots on the roster, that's what it takes to make the cut.
ILB Zach Vigil
The Inside Linebackers are being tasked with covering Tight Ends a bit more this year it seems, and Vigil has looked lost in coverage on more than one occasion on these plays. He may make the roster, but at this stage it's tough to project who would make way for him.
QB Kevin Hogan
The Redskins can't afford to carry three QBs on this roster, and Hogan hasn't burned the barn door down at camp.
Comments
comments
Powered by Facebook Comments