News
Projection: The Redskins Final 53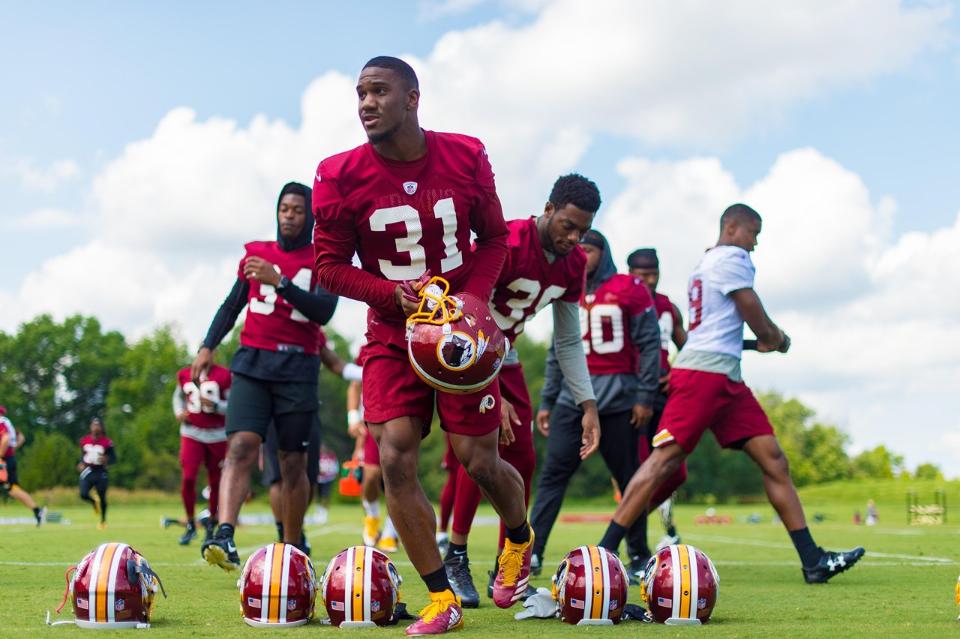 With three weeks of preseason football in the books, not to mention a full Training Camp and offseason schedule, we know as much as there is to be known about the forming shape that is the Washington Redskins 2017 roster.
With the reshuffled Redskins front office personnel department this offseason, the way the roster is put together now takes a communal approach, with Head Coach Jay Gruden having the leading voice, but with input from key figures such as Doug Williams and Bruce Allen. At the end of the day, all involved share the goal of wanting to put the best possible team on the field, and now that we have had multiple practice sessions to observe, a clearer picture is beginning to form of whom rests where on the proverbial pecking order.
And so, as we do annually, here is Redskins Capital Connection's updated attempt at projecting what the Redskins final 53 roster will look like: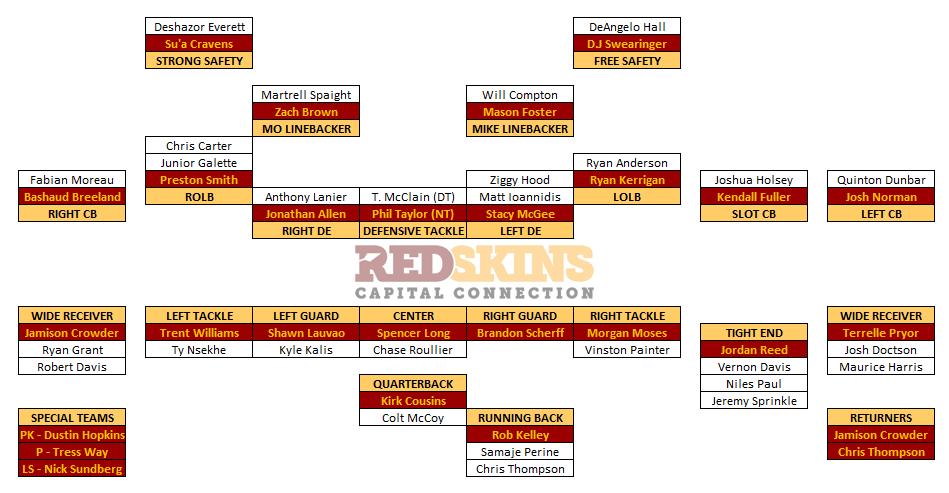 Click the image to see it full size
Quarterbacks
Regardless of the uncertainty that is Kirk Cousins and his contract status beyond the 2017 campaign, he is firmly this team's starting Quarterback for this year, such was the level of play of the backups in preseason football. (Not that there was ever any doubt, of course).
In fact, the only real mystery in projecting the Quarterbacks this year lies in answering two questions; will the team carry two or three total on their roster, and will Colt McCoy be able to hold of Nate Sudfeld for that number two spot?
For now at least, the primary backup Quarterback position is McCoy's. He's simply looked better in preseason, and he's been the Quarterback leading the second-unit offense thus far. Gruden still rates McCoy highly as an alternate if, for whatever reason, Cousins is unable to take the field. At this point, there really isn't much Sudfeld can do to supplant McCoy on the depth chart, and given the need to carry depth and talent at other positions, it really doesn't seem likely that the Redskins will carry three Quarterbacks, even though we know from history that is something Jay Gruden likes to do.
Running Backs
At this point of proceedings last year, the Running Backs depth chart looked vastly different. Matt Jones was the assumed starter, Keith Marshall the hot young rookie, and Chris Thompson the reliable third down back.
Thompson has retained that role, and his level of play got even better last year as well, to the point where Gruden called Thompson the "NFL's best third down back".
Matt Jones' days in Washington are numbered, with the Running Back seeking to be released to pursue opportunities elsewhere. While the Redskins don't seem eager to acquiesce, with Jones reluctance (or flat-out refusal) to play Special Teams and his inability to hold on to the football mean that when the time comes for the roster to be trimmed, he finds himself on the wrong end of the depth chart.
Rob Kelley enters the season as the presumptive starter, a role that he earned with patient running and an impressive work ethic. Throughout preseason Kelley struggled at times, but a nice performance in week three against the Bengals has seen him cement his role as the starter.
Backing up Kelley will almost definitely be rookie Samaje Perine, who will get opportunities throughout the year in a relief role with Kelley. .
Last year the Redskins only carried three Running Backs, and given the depth they need to carry at other positions, it makes sense they will follow suit again this year.
Wide Receivers
Perhaps no position group will look and play as dramatically different this season when compared to last. Terrelle Pryor has taken on the mantle of 'number one' receiver, and every single practice has demonstrated that he is likely going to be a force to be reckoned with this season for opposition defenders. At 6'4 and lightning fast, Pryor has all the tools required to be a dynamic play maker. If preseason is any indication, Pryor and Cousins still have some work to do to establish a rapport, but that should come in time.
Jamison Crowder continues to shine every time he's on the field, and one of the few touchdowns that the first-unit offense has scored in preseason ended up in Crowder's hands in the endzone. Simply put, Crowder is an incredible weapon, and he is prime for a big 2017 campaign.
All indications prior to preseason were that Josh Doctson is fully healthy and ready to contribute, but he's had lingering soft tissue issues throughout, and he didn't suit up for the 'crucial' week three preseason game. Any Redskins coach or player who says that they aren't worried would be lying. Doctson can be a difference maker, but the Redskins need to see him on the field for a sustained period of time to develop timing and trust with his offense.
Because of Doctson's health concerns and lack of reliability, we have the Redskins carrying six Wide Receivers this year, meaning that Maurice Harris, who continues to make the most of every opportunity he gets, will make the roster. As will Robert Davis and Ryan Grant, who despite failing to produce anything tangible in his previous three years on the Redskins roster, appears bulletproof in the eyes of Coach Gruden. To his credit, Grant is a serviceable run-blocker.
Tight Ends
Jordan Reed is a superstar. It really is that simple. There are scant few players in the NFL, at any position, who draw the eye like Reed does anytime he is near the ball. In terms of 'roster locks', he's at the very top of the list.
In 2016 the Redskins carried three Tight Ends on their roster, and it doesn't seem likely that will change this season. Niles Paul is too valuable on Special Teams, and Vernon Davis contributes solidly in both the air and ground game, and both are pretty safe bets to make the final cut.
Because Niles Paul also plays the 'H-Back' type role in the run game at times, rookie Jeremy Sprinkle will probably make the roster to provide necessary depth and special teams rotations.
Offensive Line
Through three weeks of preseason football, the Offensive Line has been one of the areas of most concern. This is a group laden with talent, but they've had difficulties opening running gaps and protecting the passer on too many occasions. The hope is that they've only been running a basic scheme in preseason, saving the real playbook for week one of the regular season, but it's an area to monitor for sure.
One of the only position groups that didn't see a huge injection of new talent either via the draft of free agency, with the only significant new face being Chase Roullier.
Across the line from Left to Right, the starters in week one 2017 will be the same starters as week 17 2016. With the retirement of Kory Lichtensteiger, Spencer Long enters the season as the starting Center, but apart from that adjustment, this is a stable and cohesive unit – exactly as it should be.
At Left Guard, Shawn Lauvao still holds on to that starting spot, and after a 2016 campaign where he never really took the field at 100%, he is looking to redeem himself and get back to the flashes of high-level play Redskins fans have seen from him. Thus far in preseason 2017, Lauvao has looked sharp.
Defensive Line
In stark contrast to the stability of the Offensive Line from last season, the Defensive Line going into the 2017 season is drastically changed, from new Coach Jim Tomsula all the way down to the last guys on the depth chart.
It's important to note that the composition of the Defensive Line changes from formation package to formation package as well, with guys shifting positions accordingly. Therefore, unlike other position groups in this projection, don't put an enormous amount of stock into which side of the line we have plugged different players in; expect them to move around as needed.
Two sizeable (both in contract size as well as body mass) free agent additions in Stacy McGee and Terrell McClain join the team, and when combined with first round pick Jonathan Allen (and the departure of Chris Baker) the interior of the defensive front will have a lot of new faces.
But it's sophomore Matt Ioannidis who has turned the most heads in preseason this season, looking noticeably quicker, stronger, and technically more proficient with his hands and stances.
Outside Linebackers
Whatever superstitions you may hold, enact them now. So far, Junior Galette has progressed from his recovery and through the offseason program with no concerns, and although the Redskins are likely to limit his downs should he make it to the regular season healthy, he could represent a great and disruptive addition to this position group. Against the Cincinnati Bengals, he proved that he's still explosive off of the snap, and although he didn't get to Dalton, he certainly hurried the throw.
The ever-reliable Ryan Kerrigan leads the Outside Linebackers once again, and he'll almost certainly be joined by veteran Preston Smith and second round rookie Ryan Anderson , who together will look to make their presence felt at every opportunity as well. With Trent Murphy out injured for the year, the Redskins will look to add a 5th player to this group, simply because they need the extra depth given Junior Galette's injury history, and the fact that the Special Teams unit needs bodies. Based only on preseason, Chris Carter stands most likely to be that last guy on the roster.
Inside Linebackers
The new starting combination of Mason Foster at the 'Mike' Linebacker and Zach Brown at the 'Mo' Linebacker looks very, very promising. These two players excel at their respective roles; Foster stopping the run, and Brown covering sideline-to-sideline. That leaves Will Compton to be the backup Mike.
As there is no need to carry a 5th Inside Linebacker this year now that Su'a Cravens has transitioned to Safety (sorry Nico Marley), all three of Brown, Compton and Foster, as well as Martrell Spaight, will see plenty of playing time.
Cornerbacks
In previous years the Redskins have usually carried six Cornerbacks on their initial 53 man roster, and given the talent that seems likely again this year.
Josh Norman needs no introduction, and as one of the elite players in the NFL at his position, he elevates the level of play of those around him, including Bashaud Breeland, who will be interesting to watch as he enters into the final year of his contract with the Redskins. The feisty and temperamental-yet-talented Cornerback will be looking to play the best football of his career to maximize the value of his next contract, whether that's in Washington or not.
Having a fully healthy Kendall Fuller is something that new Defensive Backs coach Torrian Gray will be chomping at the bit about, and not just because of the Virginia Tech connection; Fuller is a dynamo at covering strong route runners.
Third round rookie Fabian Moraeu has looked exciting in preseason form, and Joshua Holsey also has flashed some promising signs.
Safeties
Two new starters this year as free agent D.J Swearinger and newly transitioned Su'a Cravens look to cement themselves and establish an effective rapport. The good news for Redskins fans is that the early indications suggest that this duo works great off of each other, and it should be the strongest level of Safety play that Washington has had in almost a decade.
DeAngelo Hall is an enormously well-respected veteran who took a pay cut just to keep his place on the team, which suggests that he's safe for now. But given that it's unlikely that he'll be seeing any sort of time on Special Teams, then it's imperative that backup Deshazor Everett establish himself as a versatile option, which is exactly what he's done. Everett started life as a Cornerback who moved to Safety to help out a depleted group, and in a pinch he can still be plugged in there if necessary.
Special Teams
A unit that needs no fiddling with. Dustin Hopkins, Tress Way and Nick Sundberg have established themselves as reliable specialists.
Who Missed the Cut
In projecting a roster cut down to 53 spots, there will inevitably be a few players at different players who were close to making the cut but were edged out for whatever reason. Here's the five players who were the closest:
FS Will Blackmon
Football. It's a cruel game, but Will Blackmon's pinch hitting as a returner may not be enough to see him extending his career with the Redskins this year.
DT Joey Mbu
A strong candidate for practice squad listing, based on his preseason and Training Camp
ILB Nico Marley
So much to like about this kid, but unfortunately there's only a finite amount of roster spots and Marley, who hasn't put a foot wrong, just isn't going to overtake any of the four Inside Linebackers ahead of him on the depth chart.
RB Mack Brown
A solid Running Back in his own right, Mack Brown hasn't shown enough this preseason to overtake rookie Samaje Perine on the depth chart.
OG Arie Kouandjio
Disappointing that Kouandjio hasn't developed as hoped, and he saw himself overtaken on the second-unit offensive line by Kyle Kalis.
QB Nate Sudfeld
To be perfectly honest, the development to date of Sudfeld leaves a bit to be desired.
Comments
comments
Powered by Facebook Comments