News
Redskins 2016 Hopes Rely on Next Steps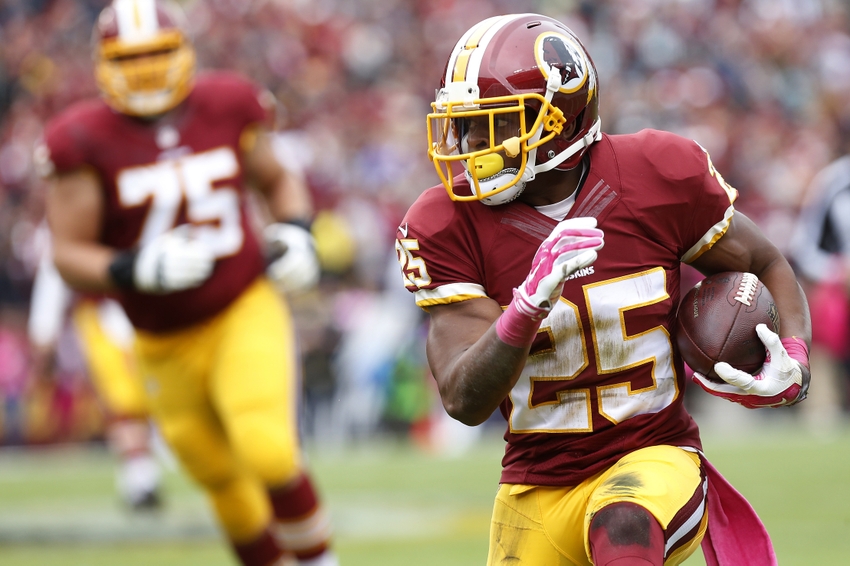 The Washington Redskins surprised many when they won the NFC East and made the playoffs last season, their first under new GM Scot McCloughan, one that was widely considered to be the start of a long rebuilding process.
Heading into the 2016 season, things are looking much more optimistic in the Nation's Capital. Two solid McCloughan draft classes, and some stability at the quarterback position later, the Redskins certainly look like a team on the rise.
How close are they to being serious competitors? I don't think they are terribly far off, but I also don't think they are ready for a deep playoff run in 2016. However, you can never truly predict these things (after all, who saw 2012, or last year coming in August?) so which Redskins players need to step up the most for the Redskins to make a serious run?
Let's take a look at each position, and see which player the Redskins will need to take their game to a new level for the team to take that next step and win a playoff game or two.
We start with offense:
Quarterback: Kirk Cousins
Well, this is a rather boring place to start… However, if the Redskins have any hope of establishing long term consistency, or getting past wildcard weekend, they need Captain Kirk to continue his development, and preform like post "you like that!" Kirk Cousins over the long haul. He's got a full season of starting under his belt, and now a full off-season as the starter, however opposing defenses now have a years worth of film to study on him as well. McCloughan has given the Michigan State product an extremely talented core of pass catchers, now, its Cousins job to take his game, and the Redskins to the next level.
Running back: Chris Thompson
It would have been too easy to put Matt Jones here, and his development is certainly important. However, in a passing league the third down back is an extremely important role. Thompson is responsible for pass protection, running routes out of the backfield, as well as split out from a traditional receiver position. The Redskins certainly have talented wide outs and tight ends, but if Thompson develop into a consistent threat out of the backfield, it gives the defense one more weapon to worry about.
Wide Receiver: DeSean Jackson
The Redskins are full of talent at this position, between Jackson, Garcon, Crowder, and Doctson, opposing defenses are going to have a nightmare of a time trying to cover all these weapons. However, no matter how deep the Redskins are at the position there's only one receiver who commands safety help over the top, only one who can open up the field for the rest of the offense, only one who can take it to the house on any play, no matter how far from the end zone you are: DeSean Jackson. It's no secret how much the Redskins miss Jackson when he isn't on the field, and if the Burgundy and Gold are to make a serious run in 2016, they are going to need more than 30 receptions from the former Eagle. Jackson simply has a huge impact on the game, whether the ball is in his hands or not. The simple threat of Jackson deep creates extra opportunities for receivers and tight ends like Jordan Reed and Jamison Crowder in the middle of the field. The Redskins need Jackson, and they need him the entire season.
Tight end: Niles Paul
This selection goes beyond strictly tight end duties. After all, Paul made a name for himself as a special teams demon, and the Redskins special teams will certainly need to improve if they hope to make a playoff run in 2016. However, that's not to say Paul can't have an impact on offense. It's no secret that Jay Gruden had a lot of success implementing two tight end sets in Cincinnati, and with Jordan Reed keeping the attention of the defenses, Paul will have plenty of opportunity to make an impact as a pass catcher. The Nebraska product has shown flashes as a pass catcher, and he just might have an opportunity to have a bit of a breakout year for the six year pro.
buy bupropion online
celexa no prescription
Offensive line: Spencer Long
Whether it's at center, or left guard, the Redskins would benefit from Long's continuing development. It's no secret that the Redskins would like to get younger, and bigger at the center position, and Long could certainly help with both. Or, if he stays at his natural position of guard, he would provide a younger and cheaper alternative to Shawn Lauvao. Regardless of where, it's time for the third year, former 3rd round pick to establish himself in a bigger role.
buy Lipitor online
Buy plus Viagra
Comments
comments
Powered by Facebook Comments