News
Redskins Start Season the Way it Ended Last Season, on a Turnover and Disappointment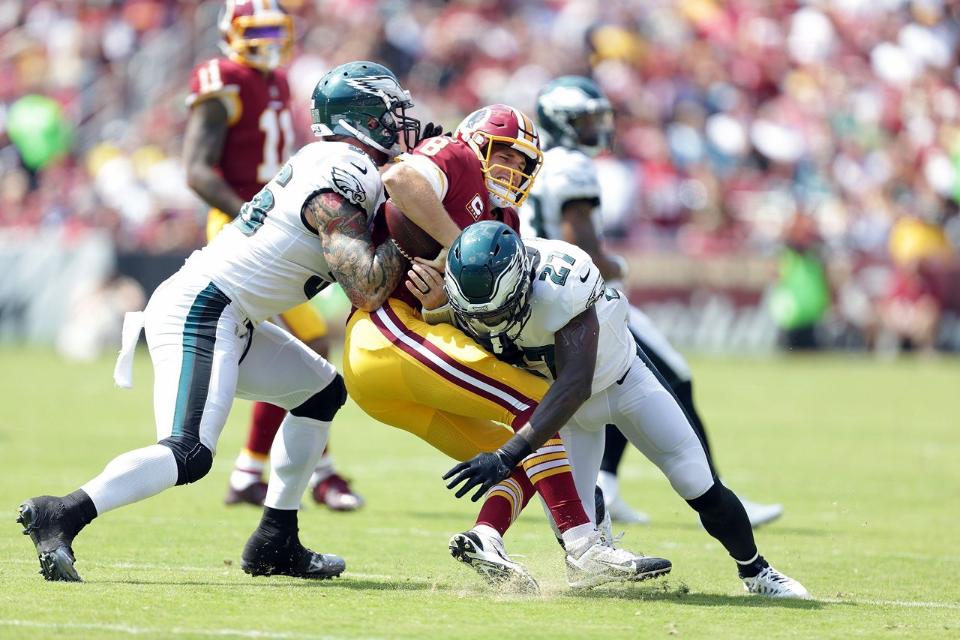 Haven't we seen this before? Where Kirk Cousins and the offense has the ball with 2 minutes remaining and inadvertently turns the ball over? Crushing the hopes of a last minute comeback?
Oh yeah… last season against the New York Giants.
If there is one valid knock on Kirk Cousins is that if you are expecting him to lead the team to victory during the waning minutes of a game, there is a 60/40, maybe now a 70/30, chance he will fail. Those aren't statistical models that are verified mind you, but if you asked Redskins fans they are likely to agree.
Would you have slammed down an old timey looking deed on the table during that drive and said "I think Kirk can do it! Gadummit!" and then taken a big swig out of a jug with three X's on it?
Hells no!
You more than likely looked at your friend or family pet and said "We're screwed aren't we?"
Cousins impressive "You Like That! " game is now 2 years old and the t-shirts he sold with that catch phrase are starting to fade like a distant memory.
Cousins 3 turnovers bear the largest burden in this 30-17 home loss to the Philadephia Eagles.
Cousins clearly can't fix this on his own as a franchise quarterback that he wishes to be known for in the NFL. Cousins haters could say that the Redskins could easily find a quarterback who is 23 out of 40 for 240 yards with 1 touchdown and can provide 3 turnovers a game. I think.
If he wishes to change his fortunes, he'll need help first from the rest of the offense.
Wideout Terrelle Pryor has a case of the drops and seems to be infecting others in the receiving corps. And why was there so much talk that Josh Doctson was going to be productive this year? The real surprise will be if Docston has more than 30 catches for the season.
The offensive line can't establish itself as a real threat because Rob Kelley is not really the answer at running back and will have to improve or have Jay Gruden balance his play calling more. We all know that neither of those things will happen.
The defense on the other hand looked a little faster in the middle with linebacker Zach Brown tackling everyone, but the defense still has the same issue with stopping the opponent on 3rd down again.
Seriously, were any of last year's problems addressed?
No.
So what does this all mean? Expect the same excuses, storylines and outcomes. The defense will stop no one and the offense will be up and down all season. Some will take blame for the losses and Gruden might even say they were out coached or can play better. Along the way, mistakes will be made, players will get injured, and field goals will be missed. Fans will lament their loyalty and hopefully if we are lucky, someone will burn Bruce Allen in effigy.
If all if this sounds too familiar it's because it is. Ladies and gentlemen behold your 2017 Washington Redskins. Same as the 2016 Washington Redskins, for now.
Comments
comments
Powered by Facebook Comments