News
Redskins Fans Die Inside a Little More after Saints Comeback March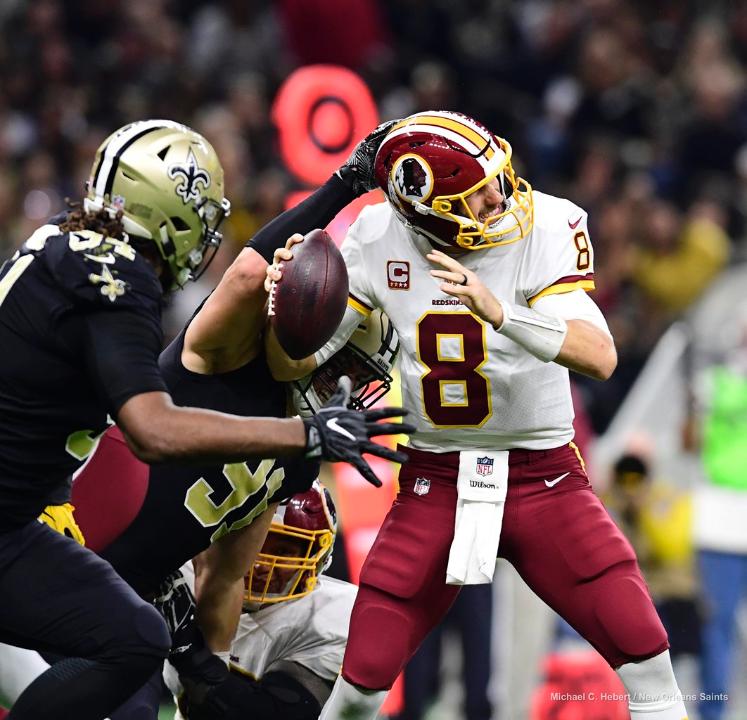 This is the kind of loss where a team loses a diehard fan's love for the team, and is replaced with a casual distant appreciation. No longer able to stomach such dramatic losses and gut wrenching misfortune, the diehard fan calls it quits, both metaphorically and emotionally. They may support the team and cheer wholesome-like, but when they lose in a dramatic fashion as the Redskins did this past Sunday, they merely go about the rest of their day. Possibly running an errand or two to make the Sunday afternoon productive.
Gone are the days of absolute anger, frustration, sadness, disappointment, disillusion  and possible destruction of property (hopefully their own) that was caused by a 15 point defensive meltdown in the 4th quarter. Gone are the busted remotes, the holes in drywall, and the ripped jerseys when a 3rd and 1 cannot be converted to seal the game.
To cheer on this specific Redskins team requires a level of commitment and passion unparalleled by any in the league except maybe the Cleveland Browns who suffer massive indignation and suffering on top of living in Cleveland.
When Redskins tight end Jeremy Sprinkle scored to make it 31-16 with 5:58 remaining left in the game there was hope that the Redskins did enough to win the game. Yet, all any savvy Redskins fan had to do was go back to last week in their memory bank to recall that the Minnesota Vikings had scored 21 points in about 4 minutes of playing time and made it look easy.
The New Orleans Saints would march down the field in similar fashion and little by little eat the Redskins defense alive. It is almost impossible to say the team wasn't prepared for this game because they played so well and with such power and energy to take the commanding lead.  Jay Gruden was adamant about communicating with the team this week that they had to play mistake free football. Even Redskins Safety D.J. Swearinger called the defense out on how to play 60 minutes in Friday's practice.
I don't know where the lack of killer instinct comes from but when you have a team on the ropes the ability to finish a team separates the good teams from the bad. This trait leads to larger victories and a truer sense of dominance. This particular team, and most Redskins teams of the recent, past lack that killer instinct, that thirst for not just a good win but utter dominance.
Often times they expect the teams to give up, and roll over and admit they have been beaten. Instead of taking their dignity and pride away from their opponent so that they are truly left with nothing. The Redskins seem to play with the knowledge of a team who rather likes their opponent and appreciates their effort.
Until you see that killer instinct, this team will never meet the expectations fans have set for the Redskins. A 15 point lead is about as safe as 3 point lead for all intensive purposes regarding this team. It seems that the bar will continue to be lowered as time goes on because the defense just isn't where it should be during this part of the season.
Coaching can't fix this, only strict execution by the players. When the season started there was an understanding that the defense was a work in progress. It was being retooled, rebuilt, re-engineered. It now seems clear to all that the campaign is still in full swing and that another season will be necessary to expect the defense to be any better than the previous years.
Injuries plague this team well… like The Plague. Every player seems destined to be hurt this season. This week it was Redskins leading rusher Chris Thompson, which is a big blow to the team.  I want to badly blame Redskins Strength Trainer Deuce Gruden for all the injuries but I can't because I'm worried he'll find me and grind me into a protein mix he most assuredly drinks 3 to 4 times a day.
As much as the players are injured let's not forget the Redskins faithful as their patience, grit and passion were crushed into a million pieces once again by a team that finds a way to lose in heartbreaking fashion, more times than it finds a way to win.
Comments
comments
Powered by Facebook Comments