News
Redskins vs. Ravens Preseason Week 4: Eyes on Guys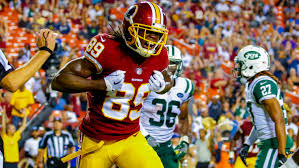 The final week of preseason is here and for many players on the Washington Redskins roster, this is their final shot to make a case for themselves to make the team. Though the starters are not playing tonight there are still many things to watch for. One of the biggest storylines going into this game is how will the running back position shake out following the signing of Adrian Peterson. Do the Redskins keep four or five backs? If they keep four, then who gets cut? Another position group that's got a numbers problem is the inside linebacker position. There is heavy competition behind Zach Brown and Mason Foster for who makes the team as their backups. Martrell Spaight has had a great preseason, rookie Shaun Dion Hamilton has been impressive while not being totally 100% healthy, Zach Vigil has made a strong case to be on the team, and Josh Harvey-Clemons has a skill-set that none of the others have. If they keep five, then who do they cut? Do they keep all six of them? I'd be surprised, plus the Redskins would have to sacrifice a roster spot for another position group to make it work. There's also the storyline, for those who care, of Robert Griffin III playing against his old team for the first time (the Redskins/Browns game back in 2016 doesn't count, Griffin didn't play in that game due to injury). Though many people find the final preseason game boring and unwatchable, I beg to differ. In fact, here are the guys that I'll have my eyes on for this game:
1. Samaje Perine/Rob Kelley- I believe that the running back group comes down to how these two running backs perform in tonight's game. I don't believe that the Redskins would actually keep five running backs on their 53-man roster. The locks to make the team are Adrian Peterson and Chris Thompson. After that, it's not so clear. Jay Gruden has been pretty vocal about his desire to have a true backup on the team for Thompson that matches his skill-set, especially with Thompson still not quite 100% healthy. I would think that if Gruden had his way, either Byron Marshall or Kapri Bibbs make this team so that they do have that backup for Thompson. With that said, that presumably makes the running back group Peterson, Thompson, and Bibbs/Marshall. They most likely will keep a fourth running back to be the backup for Peterson. Which brings us back to Perine and Kelley. Perine has missed time after spraining his ankle after one carry against the Jets in week two and is expected to be full-go tonight. Both guys need to make a statement tonight if they want to make this team.
2. Cam Sims- The undrafted rookie has made quite the impression this preseason. He's shown to able to make the tough catches and flashes big-play ability (minus the one drop he had against the Jets that lead to an interception). He has since missed practice time and also missed the game against the Broncos last week. The locks to make the roster in the wide receiver group are Josh Doctson, Paul Richardson, Jamison Crowder, and Maurice Harris. You may be surprised to see rookie Trey Quinn not among those locks, but if you look past the hype and the Chuck Norris-esque jokes, he hasn't done enough to be a lock. Sims has arguably made the stronger case if the decision comes down to the two of them. The question is, do the Redskins elect to keep five or six receivers? If they keep six, then there's a good chance both make the team. But then you also have to consider veteran receiver Brian Quick who's also fighting to make the team. Sims needs to continue his strong play with another big night tonight to put the final stamp on his case to make the team.
3. JP Holtz- The signing of Adrian Peterson has been a big boost to the young TE/FB chances of making the team. His blocking has lead to some big runs this preseason and has certainly made an impression. Peterson does seem to run better when following a lead blocker and if the Redskins want to cater to their new running back's strengths, then keeping a guy like Holtz on the roster would make sense. Another game of showing solid blocking tonight would give the Redskins coaching staff more confidence in making room for him on the team, knowing that he'd help the offense be successful.
4. Phil Taylor- The veteran nose guard got his first preseason action last week and had his flashes. His chances of making the roster are slim with Daron Payne, Jonathan Allen, Matt Ioannidis, and Tim Settle already ahead of him. His only real competition is with Ziggy Hood and Anthony Lanier and both guys have strong chances of making the team. That possibly could change if Taylor has a big game tonight. Having him on the roster does add more beef to the defensive line compared to Hood and Lanier who aren't as big as the others.
5. Martrell Spaight/Zach Vigil/Shaun Dion Hamilton- As slightly discussed above the competition behind Mason Foster and Zach Brown is tight. Spaight has had very strong preseason, Vigil appears to also have the coaching staff's favor by being the other starting linebacker next to Foster last week with Brown sitting out, and Hamilton has the advantage of being a draft pick plus he's also played really well this preseason. I'll have my eyes on all three of these guys because I believe it will be one of them who will end up being cut. It would be unrealistic to keep six inside linebackers, so this final preseason game has a lot riding on it for these guys. Should be very interesting to see how this plays out.
Comments
comments
Powered by Facebook Comments