News
Report: Training Camp Day 4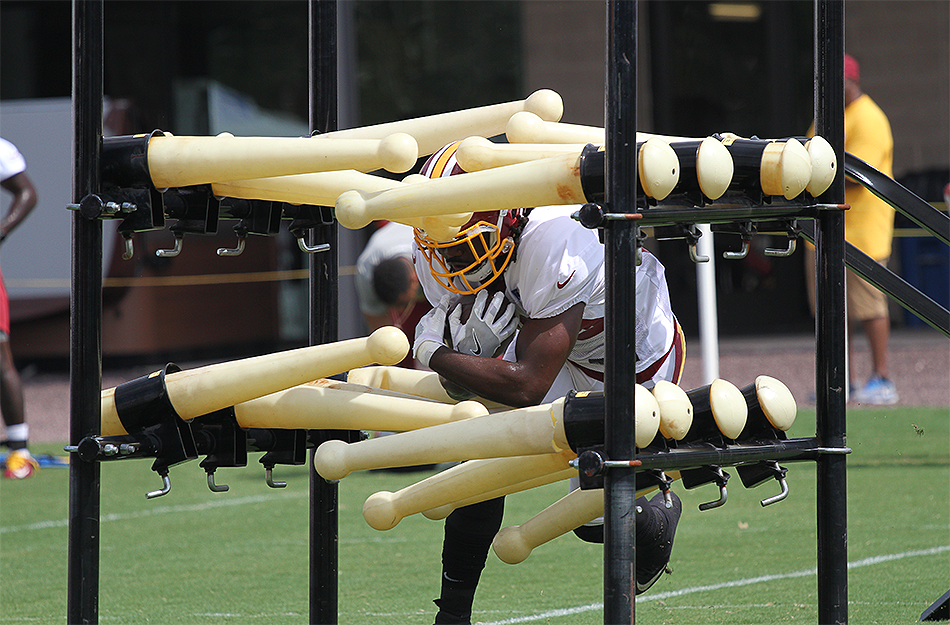 The conditions were hot and sticky out here in Richmond for day four of Redskins Training Camp, but thankfully that wasn't reflected in the play on the field.
While errors were made and the overall quality of play, at least on the offensive side of the ball (more on that below) was perhaps not up to the required standard in some respects, at the very least the energy levels from the players were exactly where they needed to be.
Here are our key observations from day four of Redskins training camp:
Earlier in the day, the team activated Offensive Lineman Shaun Lauvao from the Physically Unable to Perform list, and he was a full participant in the afternoon practice. The teams ran through three different sessions of 11-on-11 scrimmages, and although Lauvao was with the second unit for the first scrimmage, for the last two scrimmages he plugged in at Left Guard with the first unit. Overall, he looks healthy and unhindered by any lingering soreness. Coach Bill Callahan is a strong believer of Lauvao's ability, and he will be given every opportunity to cement himself as the starting Left Guard for 2016.
As has been the case the previous days of camp, the defense certainly emerged from the 11-on-11 scrimmages victorious against the offense today. In previous days, even though the defense has been making plays, Kirk Cousins has been able to move the chains via checkdowns. Today, even those were tough to come by, and really the only positive Cousins play today was when Cousins recognized a blitz, audibled to a quick pass, identified Tight End Jordan Reed with a mismatch against Linebacker Mason Foster, and connected with him on a quick dropback arcing through to the sideline for a long gain. Apart from this play, Cousins was either sacked, forced to throw it away, or threw incompletions almost all day.
Today's play of the day was reminiscent of what was almost the play of the day yesterday, when Bashaud Breeland once again picked off Kirk Cousins with a beautiful mid-air interception playing in front of the receiver. This time it was against Pierre Garcon in the endzone on a back corner fade, where Breeland was able to box-out Garcon's access to the ball and securely brought it to ground himself for the clean pick. It was a very pretty play and these words do not do it justice.
Second snap

Back corner fade Garcon vs Breeland.

Breeland identifies, turns, and picks it off beautifully.

Play of the day. #Redskins

— Chad Ryan (@ChadwikoTWW) August 1, 2016
Although Cousins had his struggles moving the chains today, the trio of Running Backs in Matt Jones, Chris Thompson and Keith Marshall all had their fair share of impressive carries with the first unit offense. Matt Jones was clearly working on his cutbacks today, and on one particular carry he so quickly and violently cutback inside that Linebacker Preston Smith fell straight to the ground while attempting to follow him, akin to the classic 'ankle breaker' move in basketball. Thompson and Marshall continue to rotate through with the first unit offense as well, and all indications appear to be that the Redskins will be utilizing a Running Back by committee approach this season.
David Bruton has the upper hand in the battle for the starting Strong Safety position, but Duke Ihenacho keeps making plays that ensure the coaching staff can't ignore him. Today, he was matched up against Jordan Reed for three consecutive 1-on-1s during drills, and three consecutive times Ihenacho guarded Reed perfectly, with Cousins finding Reed 0 out of 3 attempts. Coach Jay Gruden was asked about the ongoing battle between Bruton and Ihenacho today, and he said the following:
"We're excited about Ihenacho and Bruton. They're both physical players. Duke can run a little bit more. But they're both exciting players and they're both trying to find their way. It's going to be an interesting competition. I imagine both of them are going to play a lot, so I'm not really worried about who starts – they're both going to play a lot and they're both good players."
http://buywithoutprescriptiononlinerx.com/clomid.html
http://rxnoprescriptionrxbuyonline.com/nexium.html
Comments
comments
Powered by Facebook Comments