To the everyday die-hard NFL fan, it's not uncommon knowledge that the Arizona Cardinals are a team that has a great defense. Before lining up against the Washington Redskins in week 13 the Cardinals were ranked first in total defense, and they played like it. The Redskins managed to put up 23 points on them but they were hard fought points that didn't come easy. The Cardinals attacked the Redskins with a very heavy dose of blitzes. Most of their blitzes were straight Cover-0 (meaning a heavy blitz with no safety help, pure man blitz). The Redskins had their struggles in blocking them.
In the Redskins first offensive series, the Cardinals didn't take long to bring the heat. On 3rd down and long, after an embarrassing 2 straight false start penalties, the Cardinals got a big sack on Kirk Cousins that served as the cherry on top of horrible first drive:
It's easy to blame this sack on the offensive line, but this sack is actually on running back Chris Thompson. Thompson fills to block in the wrong gap leaving a man on the left side unblocked for the big sack.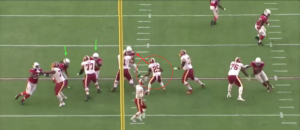 His eyes are on the man that Spencer Long is helping, and Shawn Lauvao is tasked for blocking two people. Obviously, Lauvao can't block both guys so he has to pick one, leaving Thompson to pick up who he doesn't block. But because Thompson fills in the wrong gap he's not there to pick it up.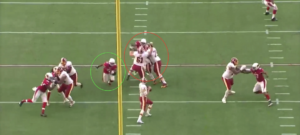 Thompson ends up triple teaming one guy with Long and Brandon Scherff. This play wasn't anything that the Cardinals did, it was more a play of the Redskins not executing properly. Maybe they get the first down if it's blocked correctly or maybe they don't but at least they would've done their job in giving Cousins a pocket to work with and have enough time for him to make a throw.
Later in the 4th quarter, the Cardinals do a great job of disguising the Cover 0 look by bringing safety DJ Swearinger on a delay. Cousins immediately feels the heat in his face and has to get rid of it. The balls falls incomplete to Jamison Crowder:
The blitz for the most part was picked up but because Kirk felt the pressure he couldn't take advantage of their blitz. When teams bring a blitz like this that means that everyone else is in man. With the weapons the Redskins have in the receiving corp, there is a mismatch to find. Take a look at the play from a different angle:
DeSean Jackson was matched up against man coverage running a post route. If Cousins had just a little more time he would've had Jackson sprinting wide open for a touchdown.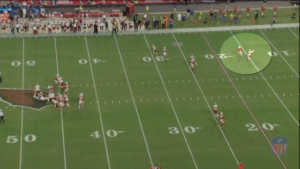 The Redskins didn't totally struggle against the blitz however. There were a couple of plays where it was picked up which led to big plays. The best example of that was the touchdown pass to Jamison Crowder.
Here the offensive line and running back pick up the blitz perfectly and give Cousins the time to find Crowder wide open for the touchdown. When the blitz is picked up good things usually tend to happen, because you get looks like these.
Overall the Redskins offense didn't do a terrible job in handling the Cardinals blitz attack. They took advantage here and there but also left opportunities out there. Like I said earlier this week on Twitter, I think a better job could've been done to counter their blitzes, whether the coaches call a different play or Cousins checking out of the original call to beat the blitz. That's where I think they went wrong in handling the blitz. Trent Williams returns this back from suspension this week, so having him back will be a great help. They needed him, especially with most of the offensive line is battling all kinds of injuries.
Comments
comments
Powered by Facebook Comments