News
Soaking it In- Credentialed for the First Time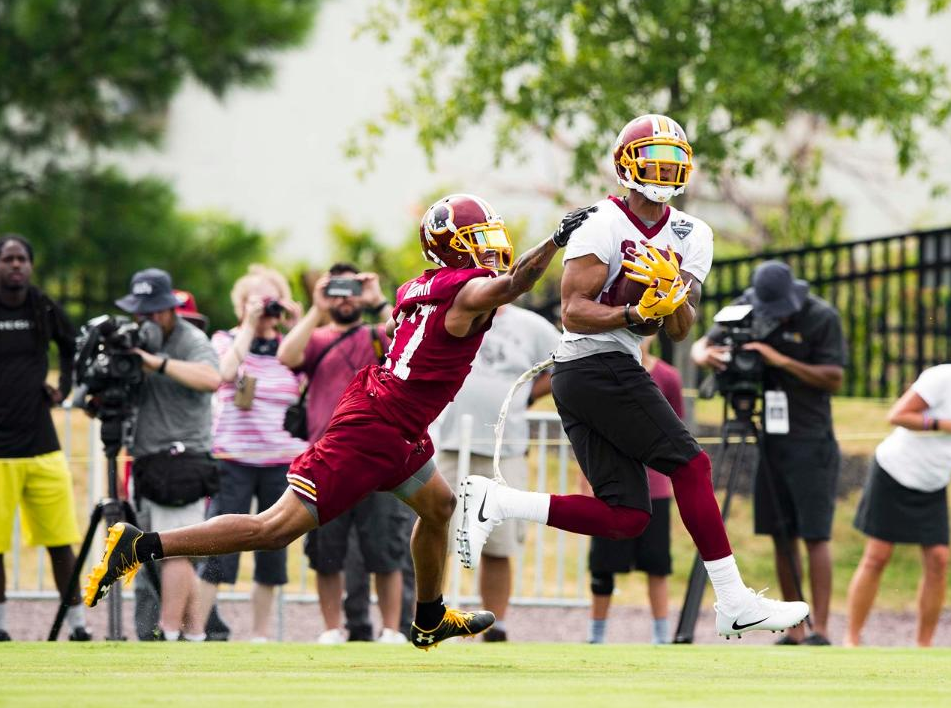 "Don't do or say anything stupid, Robbie".
That's what I kept telling myself as I walked up to the Bon Secours Training Center where the Washington Redskins hold their pre-season training camp. I had been going to watch the the Redskins practice in Training Camp since I was in high school, back when camp was held at Redskins Park in Ashburn, Va. All those times I had been going as a fan ready and eager to see my favorite team go to work. But this time, I wasn't going as a fan but as a credentialed member of the media.
Okay, I'm still a fan. But I was there now for more than just being a fan. I was there to watch practice and analyze what I saw, not be a fan-boy and get overwhelmed by the moment. Being on the sidelines with the big media types getting a close up view of the Redskins has been one of my dreams for a long time, and this year I made it.
I saw everyone -and I mean everyone- that you normally see on the beat covering the Redskins; major media outlet personalities, the local crew, and many others that you see on T.V. or read their articles in the news. I had been following these people and consuming their reporting and analysis for a long time and today I was among them as a peer. It was surreal.
Then there was the team itself. I got to stand in the press room where Head Coach Jay Gruden conducted his pre-practice press conference. I could've asked him a question if I wanted to (admittedly I was too nervous). After the presser, I was able to walk along the sidelines and to get a good look at the players as they practiced and hear their coaches working with them. Those interactions are priceless and something you can't catch from where the fans are. It's a football nerd's paradise.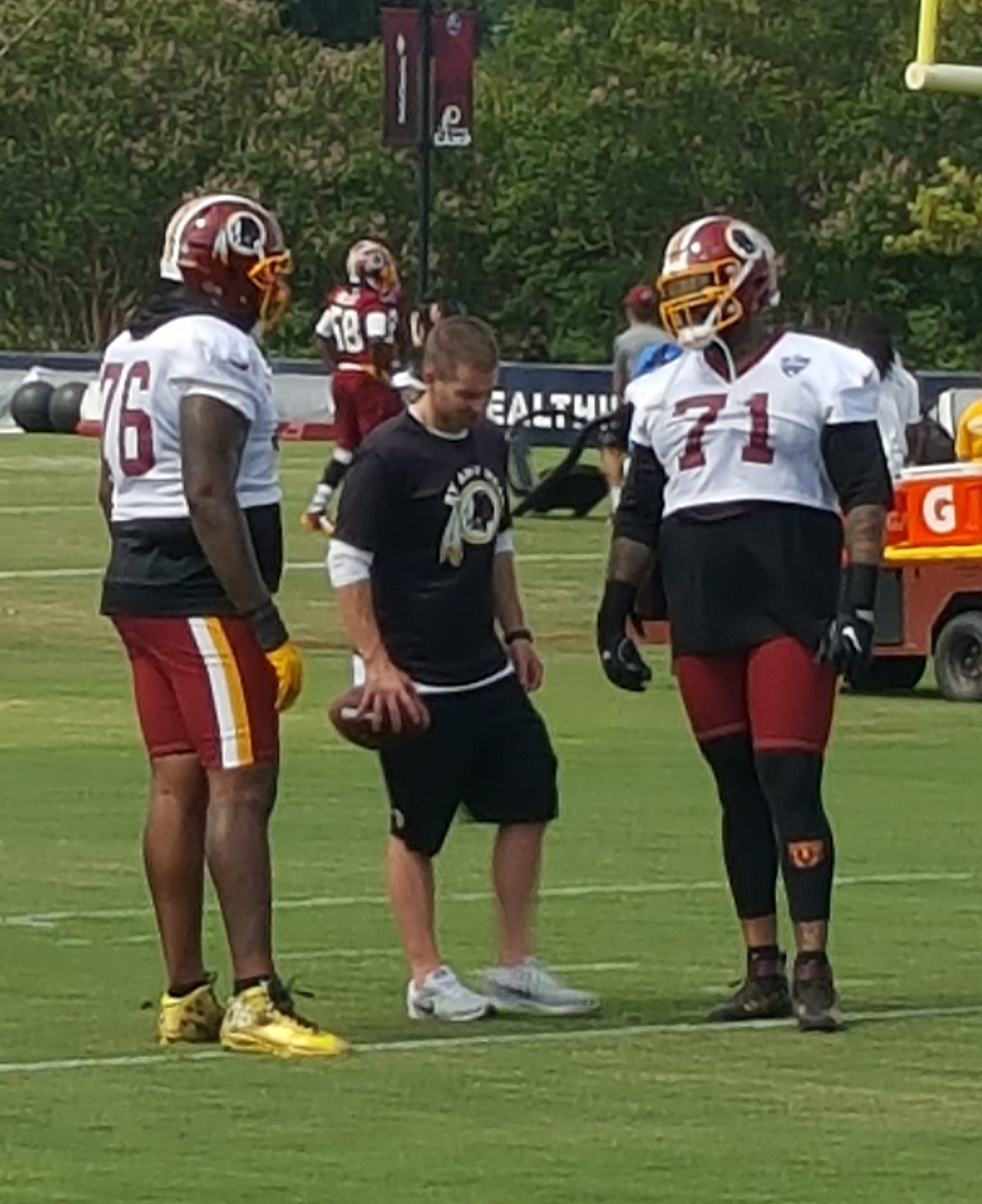 The most challenging thing about watching camp and reporting on it, it is impossible to watch everything. You have to focus on a specific position group or player if you really want to get an accurate observation. That being said, I have no idea how some of the other members of the media seem to get a ton of notes on everything. I guess that's why they're paid the big bucks!
My focus is always on the offensive line first and foremost, then the defensive line after that, and there's still a ton of things that you end up missing. That's why film is so important. The coaches get to go back and see what the players did in-depth while everyone on the outside are just making quick observations and assumptions. What'd I'd give to have access to film like that! Anyways, I was in fact on my best behavior and don't believe I said anything stupid. What I did do for certain is watch a lot of practice and took a lot of notes. So here's some quick notes and observations of what I saw from camp today:
Junior Galette looks like he's ready to go. He was getting off and out of his stance really fast and looked healthy. He went against reserve OT Ty Nsekhe for most of the practice. Nsekhe got the better of him in most situations but Galette had some nice reps against him too. He may be a tad rusty (having not played in 2 years, that shouldn't be too surprising) technique wise but he looks ready, health-wise.
Kendall Fuller had a great day. He came up with 2 big interceptions, one of them a diving catch on a deep ball from Kirk Cousins. Seeing Fuller making plays is good news, after the rocky rookie year he had.
Josh Doctson and Terrelle Pryor look great. Pryor looks smooth and does a great job of getting separation. Doctson looks healthy and shows surprisingly quick feet. Very crisp route running and making tough catches.
Jonathan Allen shined in 1 on 1's. Allen didn't have to much trouble beating the guys he was matched up against.  One play in particular, he beat Arie Kouandjio badly, which lead to Kouandjio getting grabby and tossed Allen to the ground. It would've been a holding penalty. Allen has been working mostly with the 2nd string guys so far but he'll be with the starters in no time. He's going to be a stud.
Chase Roullier looked good in 1 on 1's as well. Showed great ability at anchoring against the bull rush and using his hands to regain leverage. Good start for the versatile rookie center. Behind Spencer Long, the Redskins need a reliable backup that can come in and play in a pinch. The Redskins haven't had a true backup center in a while.
Rookie running back Samaje Perine looks much quicker to me than I expected. He didn't have the best numbers testing wise in the speed department and I came away impressed with how well he can move. Can't wait to see him in pads.
Ryan Anderson brought his nastiness to camp today. In 1on1s he bulldozed over linemen Vinston Painter on one rep. Anderson is known for his ability as a power rusher in college. It's good to see it action at the next level.
Rookie TE Jeremy Sprinkle caught my eye a couple of times today. He had one great rep in 1on1s making a tight catch in the endzone after beating his man. Then later in team drills he made a nice sliding catch for what would've been a 10-15 yard 1st down catch.
Morgan Moses didn't have a great day overall. He gave up a couple would-be sacks in team drills, at least two from what I could tell. He almost gave up a third sack against Preston Smith in team drills where Smith beast Moses inside but was bailed out by RG Brandon Scherff who leveled Smith. Granted, it's the first practice and no one is wearing pads, but even then you have to compete.
LB Chris Carter was a surprise today. Noticed him generating a lot of pressure as a pass rusher on a number of occasions.
That's about all the observations I was able to make. The overall edge went to the defense today, they were flying around and getting pressure on the quarterbacks. But like I said, there's no pads on. Once they're on it'll be a different discussion. I unfortunately won't be back to camp until August 5th, which is Fan Appreciation Day. Comment before or reach out to me on Twitter with any camp questions you have!
Comments
comments
Powered by Facebook Comments