News
The very relevant Trey Quinn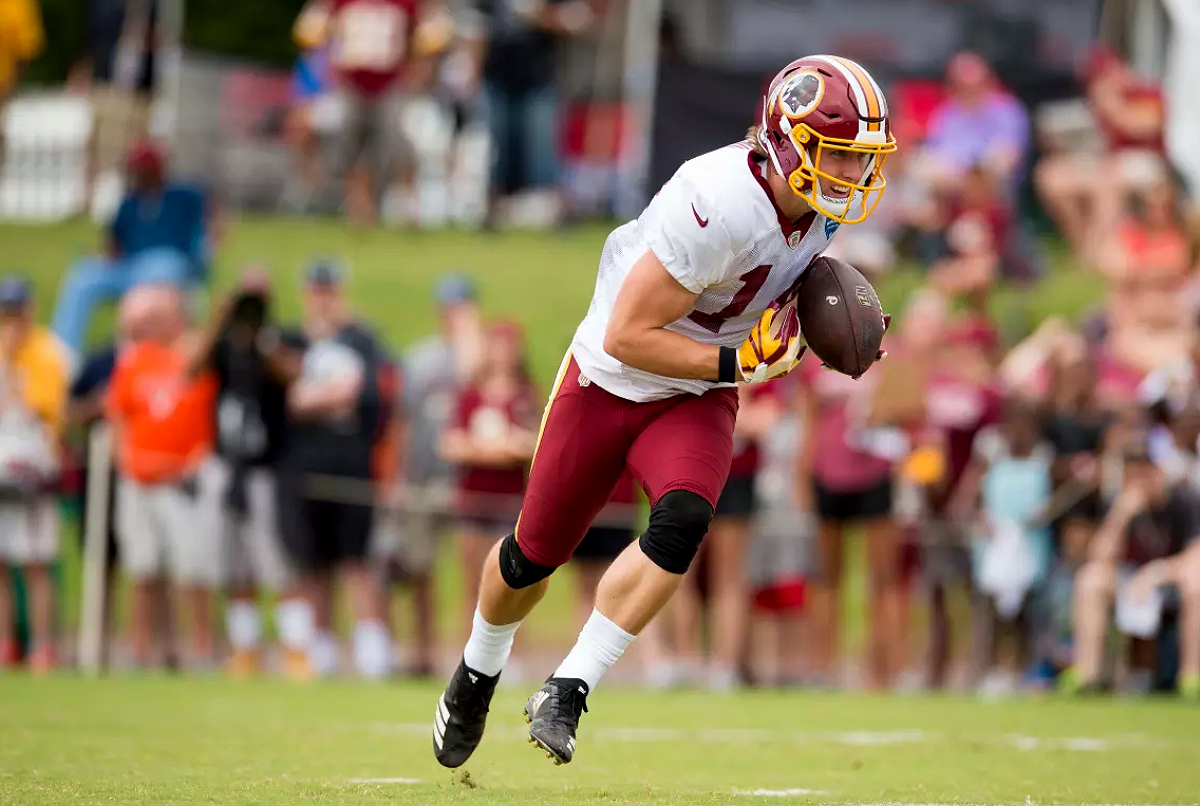 If anyone saw Trey Quinn in street clothes on the corner of Broad street and the Boulevard here in Richmond, odds are they wouldn't assume 'heralded college wide receiver out of Southern Methodist University'. Perhaps a surfer or hunter are what come to mind. He's only surfed once.
"I nailed it," says Quinn, "You give me 10 seconds to learn something I'm going pick up on it, and it only took me five."
Now he is in his first NFL Training Camp with a chip on his shoulder pads. As the 256 th pick in last year's draft, Quinn was labeled "Mr. Irrelevant," given to the player who is drafted with the final overall pick. Not the best title when battling to make the 53-man roster.
"If there are people picked ahead of me at my position, I'm going to have that chip on my shoulder," says Quinn, " because I think I'm the best player in the draft."
It's an uphill battle most young football players encounter, the difference here is they aren't considered "irrelevant."
"It's just an opportunity that I have right now, to go out and prove it," says Quinn, "I need to have that confidence."
It's a confidence that has come naturally to Quinn throughout his life. Turn back the pages of his story leading up to training camp and he is anything but irrelevant. A top five receiver in the SMU football program's history with 1,236 yards and 13 touchdowns in his only season with the Mustangs, he also led all of college football in 2017 with 8.8 receptions per game.
Quinn, a Lake Charles, La. Native, is also a dual-sport high school athlete in football and baseball who won state titles in both sports, not to mention his run in the 2008 Little League World Series where he pitched a no-hitter for South Lake Charles Little League before his team was eliminated in the U.S. title game.
Then there is Quinn's demeanor. A deadpan delivery that even stumps the most vigilant of viewers and reporters. During his post-practice availability, one referenced that fans have considered him to be the Redskin's Chuck Norris. "Who's Chuck Norris?" Quinn slyly rebukes.
After some explaining, Quinn replies happily, "I'm just kidding man."
The group along with the young wide receiver chuckle collectively. But quietly behind the scenes, Quinn has strung together impressive performances in his first five practices with the Redskins here at Training Camp. He has yet to drop a pass he should be catching (he won't confirm or deny if he has) and each completion draws support from fans in attendance.
"He's fun to watch," says head coach Jay Gruden, "you don't catch 115 balls in college unless you have some kind of idea of how to get open in zones."
"I think I'm boring as hell," says Quinn in reaction to Gruden's claim, "but I appreciate the comment he made!"
Ultimately the only comment that matters is whether Gruden and the coaching staff believe Trey Quinn is worthy of a spot on the 53-man roster. While he takes snaps at punt returner and in the slot behind incumbent starter Jamison Crowder, Quinn is making it evidently clear he is relevant in the wide receiver unit.
"If I can't perform then who will (fans) cheer on," says Quinn, "I'll be home sitting on my couch if I can't come out here and play ball."
Story by Redskins Capital Connection's Chip Brierre
Comments
comments
Powered by Facebook Comments