News
Training Camp Report: August 5th, 2017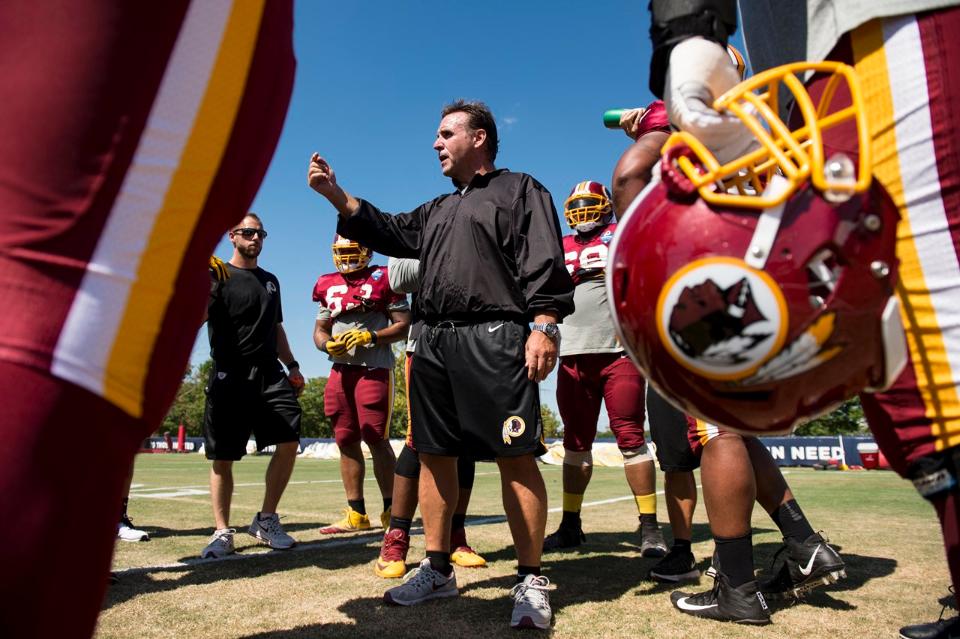 It's beginning to look a lot like football, as the pads were on today here in Richmond and there was a lot of hitting to be heard.
Today was a special day at Training Camp, as it was Fan Appreciation Day, and the Redskins certainly put on a show for the thousands of fans that came out to watch. The best part of Fan Appreciation Day is that the team wears full pads instead of just shells (in football speak, that means just helmet and shoulder pads) and does a lot more live team reps than normal.
This is great, as not only are they practicing more game-like scenarios, but it also offers more opportunities to watch players and evaluate how they're performing. With that said, lets get to the notes, observations, and highlights of the practice.
Josh Doctson is going to be a stud folks. I didn't watch a ton of him last week when I was there at camp for the 1st practice, but he looks like the real deal. Besides Jamison Crowder, Doctson to me looks the most natural receiver out there. Don't get me wrong; Pryor is extremely talented, but Doctson just does everything so well. He's got great feet, great hands, runs good routes, and you add in his ability to jump and highpoint the ball; he's the total package. The catch of the day (the other contenders were also by him) came during the WR vs DB 1 on 1 drills. Doctson was running down the sideline against Bashaud Breeland and made a falling backwards catch on a under thrown back-shoulder throw from Kirk Cousins. The runner up was a fade route in the redzone matched up against Dunbar. Dunbar had solid coverage on the route but Doctson just jumped up and caught it over Dunbar while keeping both feet in bounds for the TD. "MOSSed him," if you will. Once everybody is healthy (Reed and Crowder being 100%) I think this receiving group could be dominant. Better than the Pierre Garcon and DeSean Jackson days. That's not hyperbole, I really believe that.
He gets overlooked because of how much attention Doctson and Pryor are getting, but Maurice Harris is a good receiver. He's got really fast feet and very reliable hands. He catches my eye every time he's out there. Nothing fancy he did today but he's just very solid and I wanted to give him some praise for it.
I get asked a lot who the starters are or who it will be on the DL, but it's really a DL by committee by the way the Redskins are running it. Defensive Line Coach Jim Tomsula has the defensive linemen rotating in and out constantly. This makes it hard to really keep track of who's starting or who's with the 2's or 3's. I see this as a good thing, they will of course have a set of starters but the DL will rotate constantly. I believe that this position group is better overall than they've been which grants them the ability to rotate more which keeps guys fresh without suffering a drop off in talent. How much improved remains to be seen. We'll need to watch the group play in the preseason to really get an idea.

Along with the DL, the run defense in general seems improved. Guys on defense are swarming to the ball and playing fast. The offense's running game is having to earn everything they get. Today showed well for the defense in this regard. A good example is when the Redskins were practicing red zone situations. The offense ran the ball a couple times with rookie RB Samaje Perine, but the defense didn't allow much on either carry. Guys are flying to the ball and being disruptive.
Secondary depth is showing really strong. There were a number of occasions today where there would've been a coverage sack when it was the 2's of the offense and defense going at it. I counted at least 4 times where backup QB Colt McCoy had nothing open downfield and on most of those times he would have been sacked. There was one time where McCoy scrambled for a decent gain but defensive linemen are prohibited from touching the QB's. So McCoy's big scramble really should've been a sack. It's encouraging to see the backups in the secondary locking things down. Have quality depth in the secondary has not been something the Redskins have had in a while.
Rookie TE Jeremy Sprinkle continues to shine in my eyes among a very crowded TE group. He had a really nice fingertip diving catch today across the middle during team reps. Sprinkle was known to be a great blocking TE in college, so seeing him be a viable receiving threat on top of that is the cherry on top. With all the TE's in front of him having a history of being injury prone (Jordan Reed, Vernon Davis, Niles Paul, and Derek Carrier) the Redskins very well may have a gem in Sprinkle.
The Cousins/Pryor connection is not quite there yet. No need to sound any alarms but the chemistry just isn't quite there yet between the two of them. There was a couple of times where Kirk just lead Terrelle Pryor just a little too far, one that Pryor caught anyway and the other deep that Kirk had way overthrown. Pryor is just so fast and tall, it's taking some time for Kirk to get adjusted to him. They'll figure it out in due time.
Nate Sudfeld has a ways to go. Today was not a good day at all for Sudfeld. At the end of practice, for a solid ten minutes it was just the 3's of both sides going at it in team reps. Sudfeld had a couple of really bad balls thrown that he would love to take back. One was a pick in the endzone that he threw right to LB Pete Robertson. Robertson most likely would've returned that interception for a touchdown but the play was blown dead after a while of him running with the ball. Then not long after that pass Sudfeld threw a pass to rookie receiver Zach Pascal on a slant but it went right at Pascal's feet. Sudfeld has the arm talent you're looking for in a quarterback but the consistency and accuracy just isn't there yet.
There was no OL vs DL 1 on 1's today unfortunately. But the OL for the most part did a good job in pass protection. I think the running game is still in need of improvement however. Biggest thing I noticed on the OL was right near the end of practice. During the session when it was just the 3's going against each other, I noticed that Arie Kouandjio was playing with the third string at left guard. This was before I noticed who was playing with the 2's at left guard but Kouandjio was without a doubt out there with the 3's at the end of practice. Is he being demoted? I don't know. He very well could've been sent in there just to get more reps but it should be noted that he has underwhelmed so far this camp and could be finding himself fighting for a roster spot come the end of August. Something to keep an eye on.
Comments
comments
Powered by Facebook Comments