For the second day in a row, the Washington Redskins players came out to practice in pads for the afternoon session at Training Camp, and for the second day in a row there were plenty of big hits and big plays to make the fans in attendance happy.
Training Camp Report: Day 4
Probably the most noticeable thing about the fourth day of Training Camp was the obviously good mood both the coaches and players were in. As Head Coach Jay Gruden came out on to the field for morning walkthroughs, he spoke with team staff and assistant coaches in a jovial fashion, before heading across the field to the rope line to sign some autographs for waiting fans. It's the first time this camp I had seen Gruden (or any player, for that matter) go sign autographs before practice started.
Several veterans were given the afternoon off to rest, including DeSean Jackson, Jason Hatcher, Kory Lichtensteiger, Trent Williams, Ryan Kerrigan, and Dashon Goldson. This gave multiple guys a chance to get meaningful reps with the first team units.
Defensive Coordinator Joe Barry is evidently a guy who believes in taking advantage of an oppositions weaknesses, because with both Lichtensteiger and Williams missing from the first team offensive line, Barry dialled the blitzes up all day, sending 6 man rushes significantly more often than any time in the previous three days of practices. More often than not, Keenan Robinson was the extra blitzing linebacker, and he spent a great deal of his afternoon living in the backfield.
Josh LeRibius played at Center with Lichtensteiger out, and to his credit looked okay. As mentioned above, the defense was coming at him all day, but LeRibius held his own against the pass rush, and also had no fumbled snaps or false starts. A nice showing for the backup who has struggled since joining the team.
Morgan Moses came in at Left Tackle in place of Trent Williams, and was under constant pressure from Trent Murphy and Preston Smith, both of whom had good sessions today in the 11-on-11 drills. Moses, for his part, did okay during the one-on-one drills, but definitely looked like a backup and not a starter at other times.
Offensive Coordinator Sean McVay and Quarterbacks Coach Matt Cavanaugh brought out the Quarterback nets for the first time during camp this year, and took all three Quarterbacks to the far field, working with them on footwork and vision whilst going through progressions.
Following that drill, the Quarterbacks came back on to the main field and worked on ball security drills with Gruden, involving the QB taking the snap, doing a 5 step drop back, all whilst Gruden smacked their hands with what can best be described as a giant looking whiffle bat. Gruden has used this whiffle bat in numerous drills this year, and seems to get genuine enjoyment from beating the snot out of his players with it.
Tight End's coach Wes Phillips spent a decent amount of time dedicated to blocking drills with his group today. Jordan Reed looked good during these drills, and importantly he is looking healthy and strong. Je'Ron Hamm also stood out during these drills, using his size to his advantage against Niles Paul.
In one-on-one drills between Wide Receivers and Defensive Backs, Andre Roberts beat Chris Culliver to haul in a pass in the top left corner of the endzone. Roberts had to use some fancy top-tapping footwork to catch the pass in-bounds, and did so nicely.
At one point during the one-on-one drills, due to an apparent miscommunication no Corner Back came on to the field to cover Pierre Garcon, so Jay Gruden stepped in. After unsuccessfully trying to jam Garcon at the line, Gruden watched from 20 yards away as Garcon caught a 35 yard fade from Griffin easily.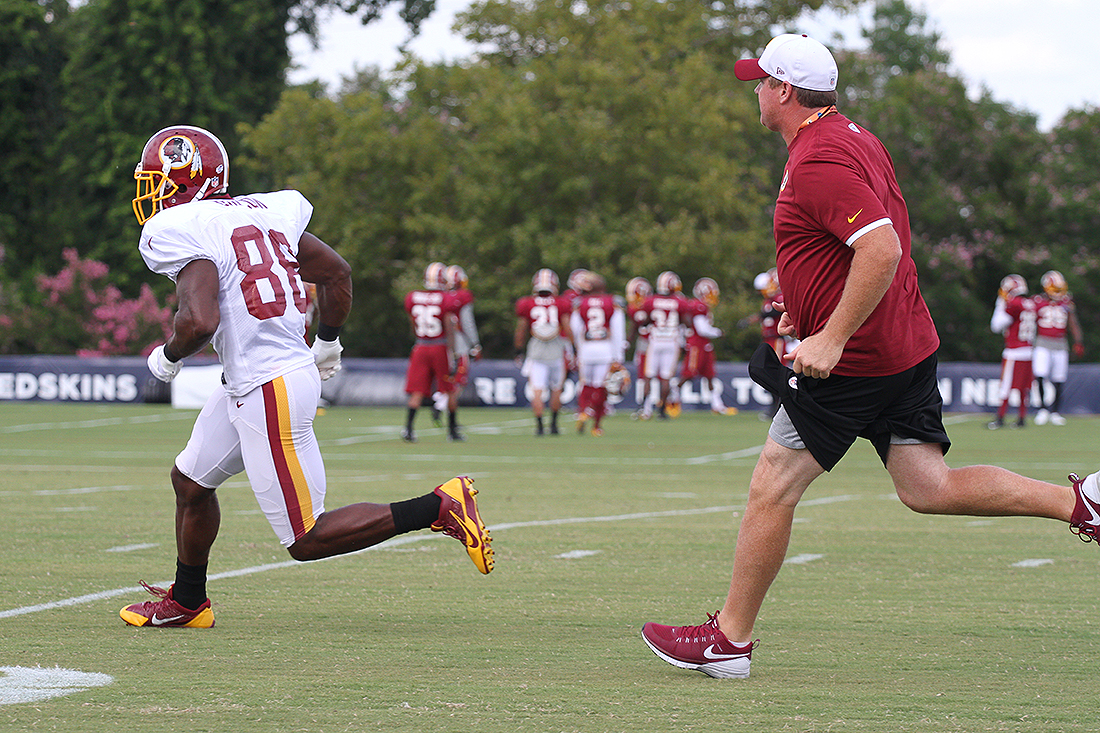 Both rookie receivers Jamison Crowder and Evan Spencer had good showings today. Spencer, who is likely to see a lot of time on special teams if he makes the final roster, was competing hard today, and had what could have been a great confidence builder for him where this happened;
Evan Spencer gets great separation from Culliver with a tight cut.
Crowd: "oooooh".
Spencer drops the pass though.
Crowd: " awwww"#Redskins

— Chad Ryan (@ChadwikoTWW) August 2, 2015
Crowder is definitely separating himself from the pack when it comes to who is going to be making the roster as the 4th wide receiver, and, in his flashy gold cleats, appears to be somewhat of a crowd favorite at camp, too.
During the one-on-one drills between receivers and defensive backs, the Quarterbacks were only throwing two different routes; go routes and comebacks. It has to be said, Robert Griffin III's go routes were superb, consistently placing the ball in to spots that worked to the receivers advantage and the defenders disadvantage.
Duke Ihenacho is serious about trying to win the starting Strong Safety role, and every day has been laying out hits and looking for turnovers. The gap is widening in this competition every day, and Jeron Johnson will need to show something new to gain ground back.
In the kicker battle between Kai Forbath and Ty Long, Forbath went 3 from 3 on 35 yard Field Goals, whilst Long went 2 from 3, sailing his first wide left. During kickoff drills, Long got noticeably more distance than Forbath, however.
Ryan Grant had a good day, with his biggest highlight coming when he got on the end of a 40 yard deep bomb from Griffin for a touchdown.
Kirk Cousins is a frustrating player to watch at camp. He's capable of throwing some excellent passes, but is still giving up too many turnovers in relatively low-pressure situations. Cousins' best work is a level above that of Colt McCoy's, but McCoy does a much better job of protecting the ball.
Towards the end of practice, Gruden sent the first team units back on to the field and yelled out that it was "Last play! One chance only! Game on the line!". Griffin executed a nice 3 step drop back, and had Garcon open for what would have been about a 15 yard completion across the middle, however the pass was tipped by Chris Baker and the ball hit the dirt. Baker made sure he let everyone in Richmond know who it was who tipped the ball.
Comments
comments
Powered by Facebook Comments