First things first, I've seen some other reporters refer to today as "day 7" of camp, because it's the 7th day of practices. However, i'm including Tuesday's day off in my count, so by my calendar today was day 8. With that clarified, let's begin.
Training Camp Report: Day 8
The first joint practice session with the Houston Texans was scheduled to start at 8:35am on Thursday, and it wasn't until approximately 8:10am that the Texans arrived from their hotel, already suited up and ready to go.
Numerous Redskins and Texans players with shared experiences enjoyed the opportunity to catch up with old friends. Robert Griffin III spent the first few minutes of warmups talking with Texans Long Snapper Jon Weeks, who went to college with Griffin at Baylor. Similarly, many of the Assistant Coaches spent a good deal of the early portion of practice conversing happily.
It was easily the largest crowd in attendance so far this year for Training Camp, and a large portion of the crowd were amped up. Some of the spectators directly behind me were extremely vocal, with Texans Cornerback Jonathan Joseph the target for their trash talk. It was all good natured, and to his credit Jonathan Joseph not only reciprocated, but after one series of drills came over to the ropeline to address them and send some trash talk back in the opposite direction. It was an amusing moment in a rowdy day.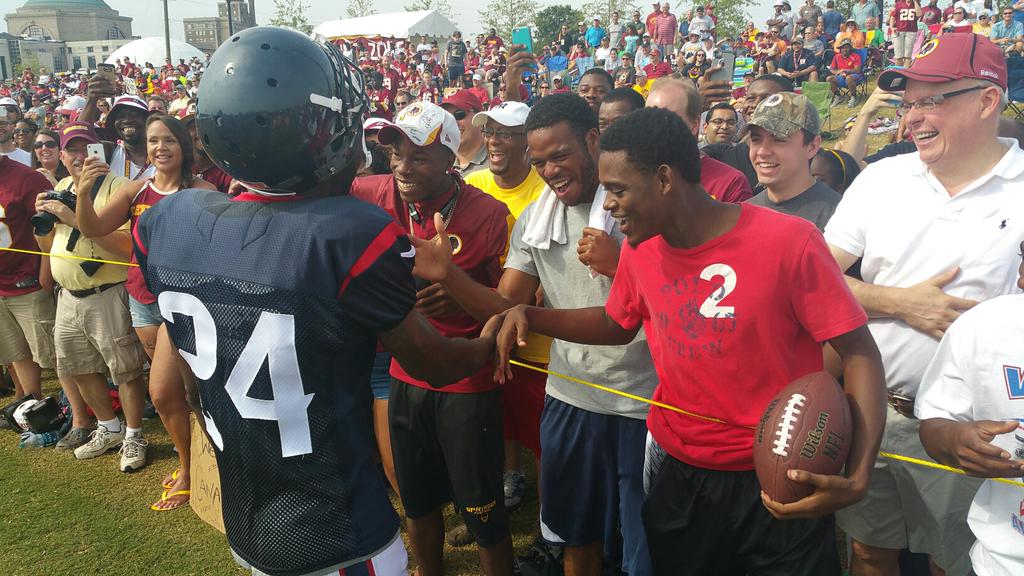 As suspected based on the previous day's practice, Brandon Scherff did indeed line up at Right Guard, with Morgan Moses at Right Tackle. It is clear that there are elements amongst the fans and the media alike who are sceptical that this move perhaps indicates some sort of failure on Scherff's part, but that is certainly not the case. Rather, Coach Bill Callahan has clearly identified how to get the most out of his Offensive Line as one cohesive unit, and for whatever reason, the "evaluation, not experimentation" of Scherff at guard and Moses at tackle seems to work.
In the initial Offensive Line vs Defensive Line drills, Brandon Scherff accounted for JJ Watt impressively, not giving up any ground and containing Watt consistently. Later in the day during 11-on-11's, Watt made a few nice plays, as he has been known to do, including batting a ball down at the line of scrimmage, and also blowing between Scherff and Moses using a nice swim move to get to the Quarterback extremely quickly. From where I was standing, it seemed like Watt was Moses assignment on that particular play.
The Redskins defense and the Texans offense were practicing on the far field where fans and media are unable to get to, so I didn't have a chance to look at those units up close. Because of that, I asked Gruden during the press conference today what he liked from the defense today. Here is his answer:
They look pretty good as a cohesive unit for being the first time against a new team. And Houston did a great job of shifting and  motioning backs and getting in empty formation where the communication was vital and I think our first group that was out there did a pretty good job.
Griffin had an average day today; not great, not terrible. He made some good throws, and also missed a few opportunities. Griffin has looked his best this camp when he releases the ball quickly and confidently. The longer Griffin has to wait in the pocket for a receiver to get open, the more erratic his throws and the less reliable he becomes. Some of that is on Griffin, some of it on the receivers. As has been noted in previous days reports, the defense have been doing a consistently good job of taking away the receivers and forcing the Quarterbacks into the checkdown. If Griffin can't find an open receiver quickly, he should look off to his checkdown a little quicker than he currently is. To be honest, this is only a minor issue.
The hands-down best play of the day came during Special Team Field Goal drills, when Morgan Moses reported in as eligible, line up outside Right Tackle, and when Kai Forbath took the snap and rolled out to the right, threw a floater pass to Moses, who in a jump ball battle with Texans Defensive End Jared Crick, came down with the ball for the Touchdown. You have to love a fat guy jump-ball Touchdown.
Jamison Crowder's name is featuring in these daily reports quite often, as his ability to draw the eye when he has the ball in his hands is undeniable. Today his highlight play came when, via some excellent quickness and great footwork, he shook Texans Cornerback Jonathan Joseph out of his cleats and left him in the dust. The crowd had one of their biggest cheers of the day on this play.
As has been widely reported in the media, both DeAngelo Hall and DeSean Jackson got injured today, but neither are serious and they are both scheduled to be back in time for week one of the regular season. Chris Culliver, on that far side of the field where no one could see, apparently "tweaked" his groin as well today, and he may see a "veterans" day of rest in the coming days accordingly as the team desperately tries to manage their quickly depleting defensive back stocks.
If you haven't seen or heard, I was fortunate enough to get an exclusive one on one sit-down interview with Robert Griffin III today. You can hear about it by clicking here.
Comments
comments
Powered by Facebook Comments