News
Week 13 Matchup: Redskins at Cowboys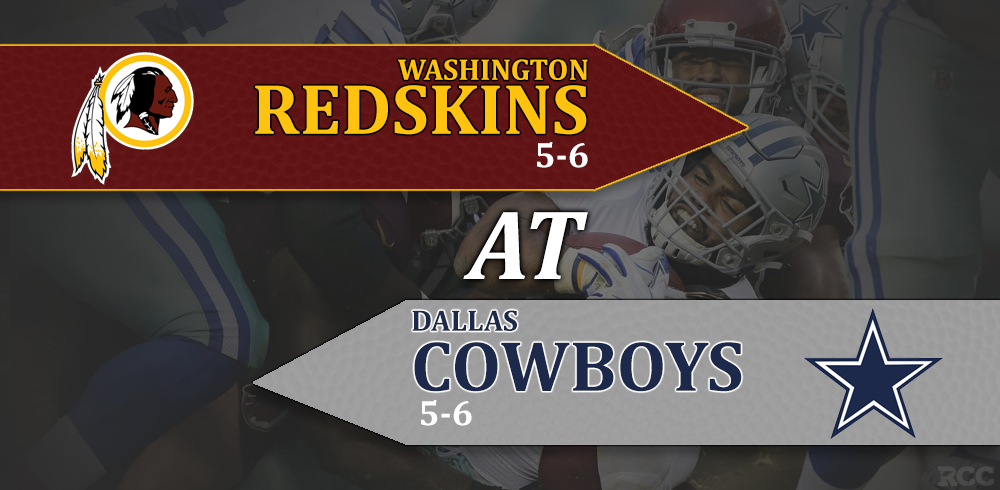 The playoffs are still a glimmer in the eyes of the Washington Redskins but that thought would all but disappear if they don't take care of business Thursday evening against their archnemesis; the Dallas Cowboys.
In their first matchup, the Cowboys defeated the Redskins 33-19 mainly due to the play of star running back Ezekiel Elliott. He rushed for 150 yards on 33 carries and found the endzone 2 times while Dak Prescott only passed for 143 yards and no touchdowns. Add in the 2 fumbles and an interception by Kirk Cousins, and you'll see why the Redskins were unable to pull out the victory.
This week however, the Redskins are gifted an early present; Elliott is currently serving his suspension and will not be playing on Thursday evening. That greatly alters the gameplan for the Redskins and if they can stay away from turnovers, they have a more favorable chance of coming out victorious.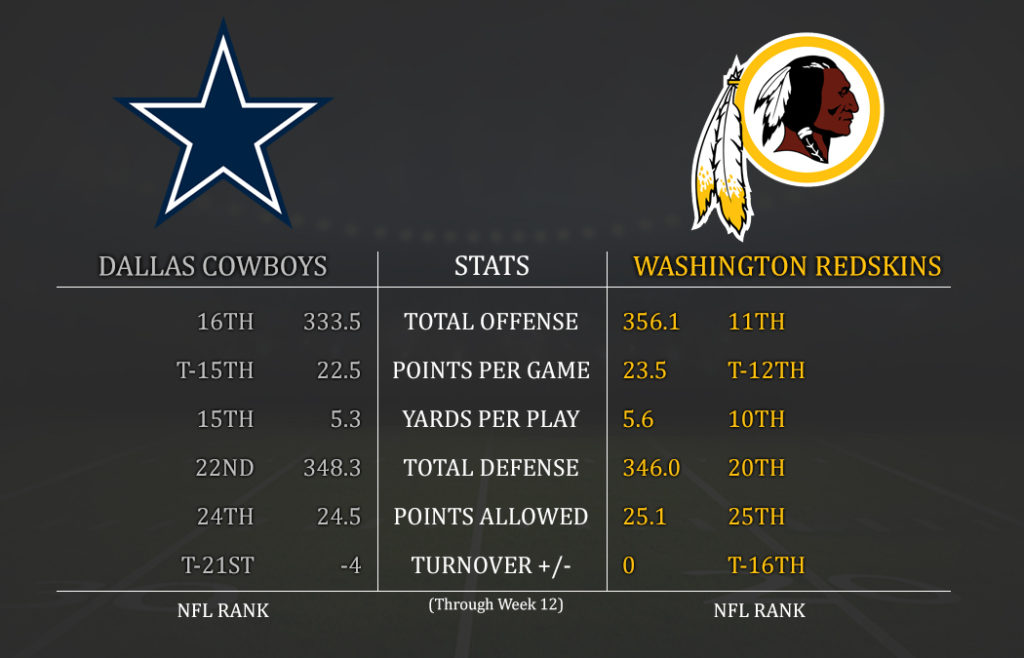 The current rankings don't tell the whole picture of how the Cowboys offense has performed without Elliott. Before losing Elliott, the Cowboys were 5-3 and were putting up an average of 28.3 points per game. In the last three weeks the Cowboys have been scoring an average of 7.3 points per game, quite the drastic difference. Granted that left tackle Tyron Smith was out in weeks 10 and 11 but he played last week against the San Diego Chargers, and yet the Cowboys still only scored 6 points.
The Chargers only blitzed four times and pressured Prescott on just a fourth of his dropbacks. Prescott still managed to play poorly, passing for just 179 yards and giving up two interceptions. He looked like a deer in headlights throughout the game. It justs goes to show how much of an impact that Elliott has on the Cowboys offense. If the Redskins defense can play similar to last weeks game against the Giants or the matchup against the Seahawks then the Redskins should be able to handle the powerless offense.
Defensively, the Cowboys and Redskins are fairly similar in that both have allowed the opposing team to find the endzone often. Each have a few games where they held the other team to under 20 points but then have several games where they find themselves giving up over 30 points. A constantly fluctuating defense that still hasn't found their identities. Also, both have suffered key injuries that have had dramatic effects.
The Cowboys have been without linebacker Sean Lee, who appears to not be playing on Thursday, who has been the leader for their defense. With him sidelined, teams have been able to move the ball fairly easily in both the run and passing game. These injuries will play a crucial role for the Redskins if they want to come out of Dallas with a win and closer to a wild card spot.
1) Eliminate Dez Bryant and the Deep Ball
Without Elliott, the Cowboys have to rely on their next big star player; Dez Bryant. This season, Bryant has yet to record a 100 yard game even with Elliott out the past three games. He managed to catch 8 receptions for 63 yards in Week 11 against the Philadelphia Eagles but was unable to find the endzone. Most of his catches are either a jump ball (which he's very good at winning) or a tough sideline catch. He's not known as a great yards after the catch type receiver and if the Redskins can cover him well enough , Prescott may just shy away from him all together.
In their previous matchup, the Redskins made Bryant irrelevant in the passing game. They held him to just 4 receptions for 39 yards with one of the catches being 18 yards. His other three catches were just an average of 7 yards. Josh Norman and Bashaud Breeland played well against Bryant, and have been excellent in coverage all season so there's no reason that they can't cover him once again.
The Redskins have had trouble against big plays. Currently tied with the Cowboys, they've allowed 57 plays to go for 20-yards or more but lead the league in giving up the biggest play; 92 yards for a touchdown. The lack of communication has been one of the biggest factors as to why they've had trouble against the deep ball and defensive coordinator Greg Manusky addressed that this week saying:
"I think that is the biggest thing that I always talk about is communication. I don't care what call we are on as long as we are on the same page. Overall, communication was a lot better last week. Sometimes it isn't and sometimes it is, but communication is vital and I think last week they did a good job of communicating. The previous week we did not."
This is where DJ Swearinger will be crucial in ensuring that the secondary is prepared for every snap. At any moment, Bryant can quickly spark the offense and instill confidence into Prescott. Eliminating that and allowing the quick passes underneath to Jason Witten or Cole Beasley is more manageable for the defense. The tackling for the Redskins has been much improved so if Prescott is forced to throw a 4-yard checkdown to Witten, usually Zach Brown is able to quickly make the tackle for minimum yards after the catch. The only thing they don't want to have happen is to be beaten by a thousand cuts, meaning allowing them march down the field and pick up four to five yards on every play.
Prescott will try to get Bryant involved early after not utilizing him enough last week so as long as Norman and Breeland can minimize Bryant's impact on offense, the front seven should be able to contain the short game to force a punt.
2) Pressure, Pressure and more Pressure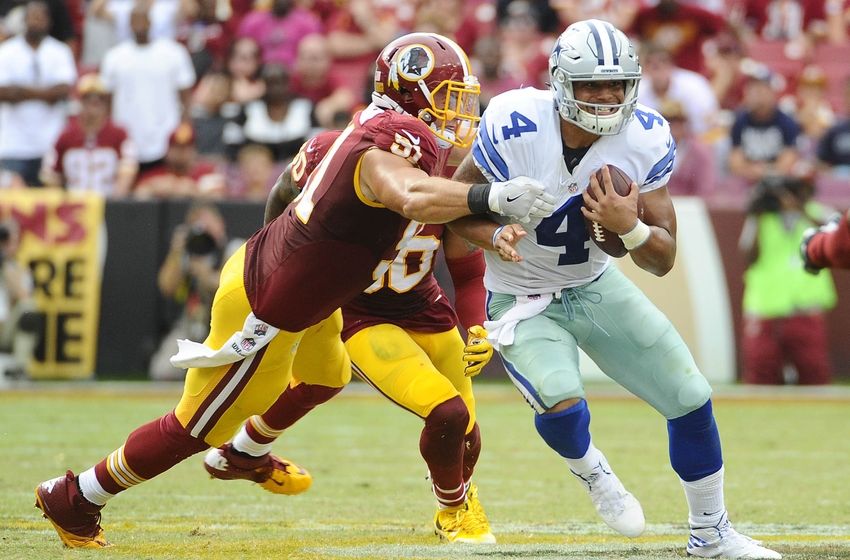 Greg Manusky sums it up perfectly when asked about the defensive line and facing Prescott:
"Well, I think Dak [Prescott] does a great job of stepping up in the pocket and keeping his eyes up the field. So we definitely have got to get pressure with those interior linemen up the field to push and kind of spread him out to the outside. If he does, then we will have the outside linebackers or defensive ends there. We do need push every time. When you push that pocket, sometimes they get a bit little rattled when they try to throw the ball. So that is what we are looking for this week."
Even though Prescott seems more pedestrian now without Elliott, he's still a smart quarterback who knows how to move around in the pocket. He's also not afraid to take off as a mobile quarterback, an issue that the Redskins defense always seems to have trouble guarding against.
In their matchup against the Seahawks, the Redskins gave up some plays to Russell Wilson, allowing him to rush for 77 yards and throw for 297 yards but managed to force two interceptions by bringing pressure. Using a similar gameplan and knowing Prescott is able to take off and run would be a smart way of handling his mobility. Try and force his hand in creating a play which could result in an interception. Even if he gets to the outside and tries to run, the Redskins have speed on defense and are quick to react. Zach Brown is the league's leading tackler and has done well in containing quarterbacks.
The Cowboys will have a healthy line with guard Zach Martin participating this week after suffering a concussion during last weeks game.  Tackle Tyron Smith is expected to play while tackle La'el Collins hasn't participated in Monday or Tuesday's practice. If any of them were to miss the game, it could provide a weak link in a otherwise strong offensive line.
Ryan Kerrigan has been having a great season and is known to feast on the Cowboys. He had two sacks in their last matchup and looks to add to that number come Thursday. Add in Junior Galette who has shown improvement through the weeks and the Redskins may be able to apply the much needed pressure. All this is partially thanks to nose tackle Ziggy Hood who has been doing his dirty job well all season.
He's constantly taking on double teams and even though it doesn't show up on any stat sheet, Hood has been making a difference. Battling in the trenches and eliminating an extra blocker to allow the pass rush to come off the edge has been crucial in the success of the pass rush. He'll have a tough outing against all-pro center Travis Frederick but as long as he continues to push the pocket in a few yards, Kerrigan and Galette will have a better chance of getting to Prescott.
If they are able to apply pressure using a 4-man rush then Prescott's chances of finding an open receiver is greatly reduced and his options become extremely limited. He's either sacked or tries to take off which then comes down to Brown or Martrell Spaight tackling him before he's able to pick up a first down. If Spaight is unable to play then Zach Vigil and Josh Harvey-Clemons will see playing time, both of whom played fairly well last week.
The Redskins have been able to get pressure on Prescott in their recent matchups so this week shouldn't be any different and now without Elliott, Prescott won't have his security blanket.
3) Giving Samaje Perine The Ball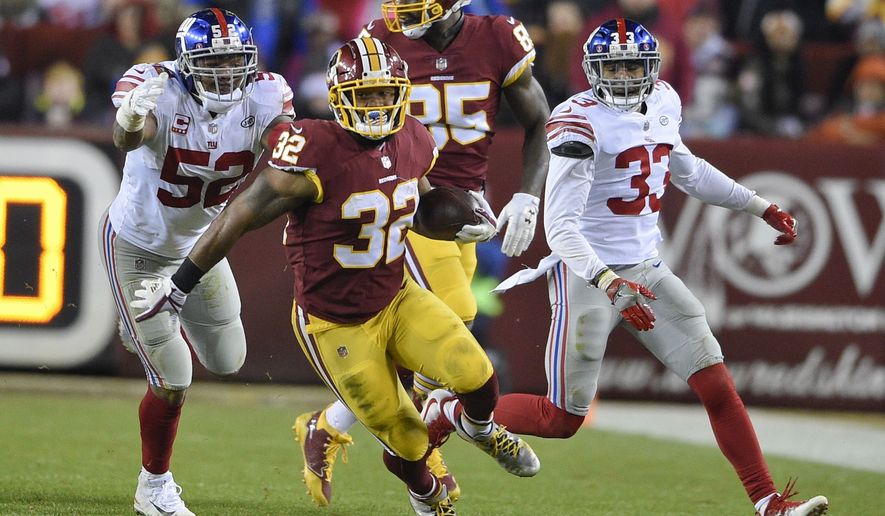 Could it be? Do the Redskins finally have a running game? It may be a bit early to make that declaration but Samaje Perine has back-to-back 100 yard rushing games. Last week against the Giants, he only had 11 yards rushing in the first half but turned it off after halftime. Perhaps the Giants defense wasn't playing as hard as they were before but Perine showed good footwork, patience and vision.
He let blocks develop and seemed more decisive in his cuts. As lanes developed, he reacted quickly to hit the gap before they closed and tried to cut around defenders, instead of running at them. It seemed more fluid and now being the lead back with Rob Kelley and Chris Thompson out for the season, Perine has shined in the role. If he's able to sustain a running game for the offense, this greatly benefits the passing game as well.
Kirk Cousins will be even more effective in the passing game now that defenses have to account for the run game. The Cowboys will likely stack the box which creates man coverage and gives Cousins a lot more opportunities down the field. Even if the receivers are covered, Perine also has shown to be effective in the quick pass game.
In the last three weeks, Perine has caught 5 catches for 64 yards, one of which was for 25 yards. It may not be stellar numbers ala Thompson but still has been effective to convert on third down. As Perine continues to develop (he's still a rookie), he could be the missing piece the Redskins have been lacking for awhile. There's no reason to shy away from giving him the ball and having a balanced attack on offense.
Head coach Jay Gruden has liked what he's seen from Perine and in this week's press conference said:
"Our running back, Samaje [Perine], has proven to be a good alternative for Rob [Kelley] and been a good first down back. You know, the big guy is Chris [Thompson]. But we'll see how [Byron] Marshall does. We're excited to give him some opportunities with some balls out of the backfield, see what he can handle and the protection part of it. But overall I think we haven't been that handcuffed. We've just got to go out and continue to do what we do and go attack."
Gruden always has been trying to include a running attack and with what appears to be some resemblance of a running game, there should be a heavy dosage of it come Thursday. Byron Marshall was just added to the team a few weeks back off of Philadelphia's practice squad and although has only been involved in two games, will have a chance to make plays as Perine's backup. He did have 4 rushes for 18 yards last week and should be given a few more opportunities going forward.
The Cowboys are allowing an average of 112.5 yards per game and with Sean Lee expected to be out, the Redskins should be able to run effectively. The only other impactful linebacker, Anthony Hitchens, has been limited in practice but is expected to play. In the Cowboys game against the Atlanta Falcons, Hitchens accounted for nine run stops which was six more than any other player. He's strong against the run but has been mediocre in coverage.
The Redskins should use more off-tackle and counter runs instead of the draw play. Hitchens is quick to the point of attack and can make an immediate impact at the line of scrimmage. Running to the side and giving Perine more of an option to either cut in from the tackle or bounce to the outside should help minimize Hitchen's impact.
Overall, the development of the run game is huge for the Redskins and the offense; even more so now with a constant rotation of offensive lineman and a quarterback who's been hit more than ever. This opens up the possibility to use play action more effectively. Now with Cousins creating off-schedule, the Redskins offense is much more poised to put up points against an average defense.
Conclusion
An NFC East division games rarely go as expected and even though the Cowboys are without Elliott and have been unable to score more than 9 points in the past three weeks, it wouldn't be surprising to see the offense break 20 points this week. On the other side of the ball, Cousins has shown incredible durability and poise in the pocket which has lead to several games of putting up over 20+ points.
The offense should be able to move the ball while it may came down to the defense and their ability to make stops on third down. Which defense will show up on Thursday? If it's the defense from the Saints 4th quarter comeback then the Redskins may be in trouble but if it resembles the Raiders, Seahawks or Giants games, then the Redskins shouldn't have an issue on being victorious.
Redskins 23, Cowboys 19
Comments
comments
Powered by Facebook Comments