News
Week 15: Cardinals at Redskins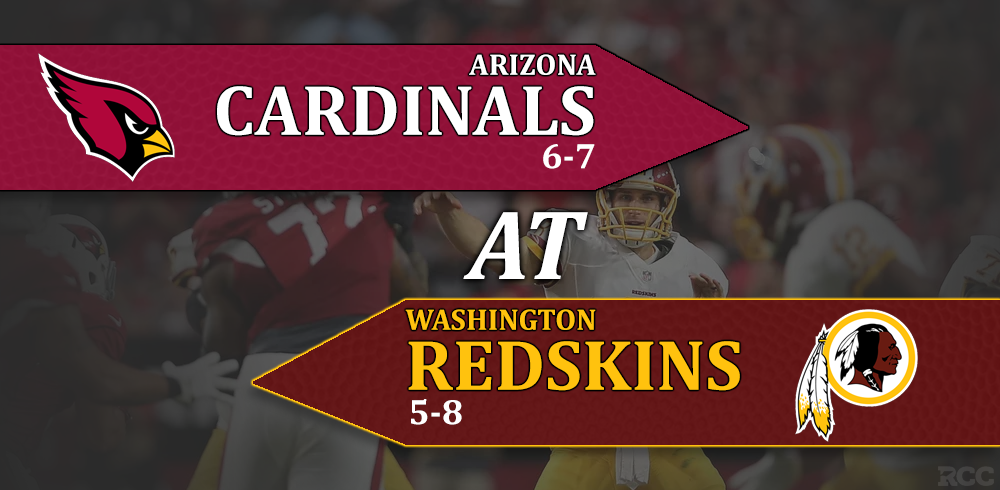 As each game goes by it appears more and more that the Washington Redskins are disinterested, depleted and mentally defeated. In a shellacking by the Los Angeles Chargers last Sunday, the Redskins continue down the slippery slope of a potential losing season. There needs to be a sense of pride and determination this Sunday. Playing at home against the Arizona Cardinals who are on the brink of playoff elimination, the Redskins have a chance to shut down a lackluster offense but will need a strong gameplay against a pretty good defense.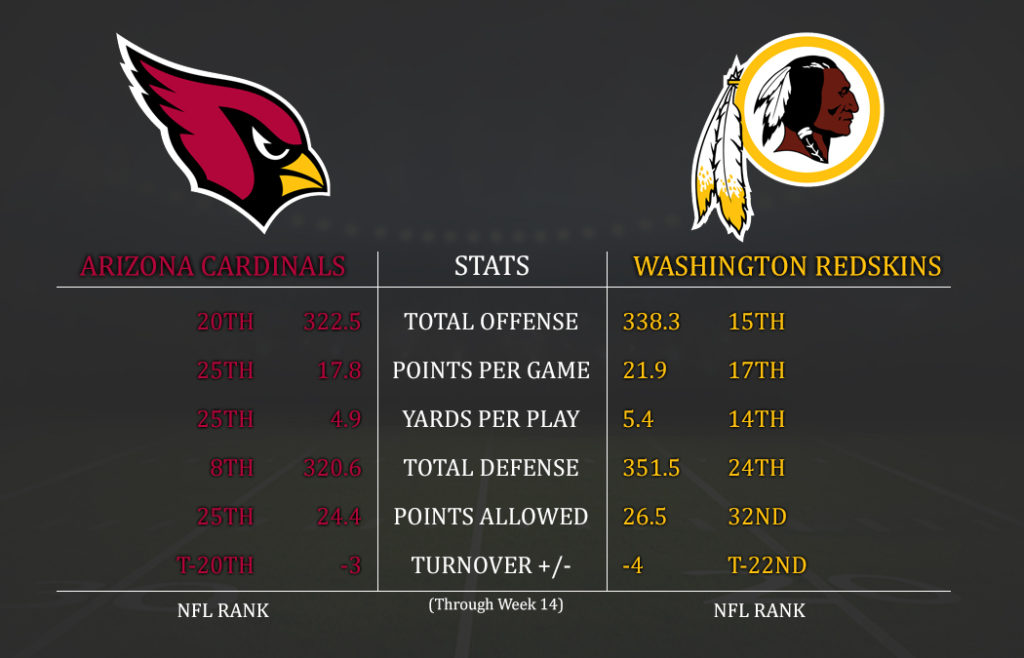 Offensively, the Cardinals are slightly below average that revolves around the great Larry Fitzgerald. He's hauled in 29.6% of all receiving yards (922) and has 27.7% of all receiving touchdowns (5); he's definitely their primary playmakers. Always has been and will be until retirement. They do have other strong receivers like J. J. Nelson and Jaron Brown who are capable of making plays but don't make as much as an impact as Fitzgerald.
The other primary weapon, running back Adrian Peterson, is in serious doubts to play Sunday or even for the rest of the season with a neck injury. According to ESPN's Adam Schefter, head coach Bruce Arians said on Wednesday that he has "no idea" whether or not Peterson will recover in time for the season. Peterson became their primary running back after being traded from the Saints in early October due to losing David Johnson at the beginning of the season. In just the 6 games he played for the Cardinals, he rushed for 448 yards which accounted for 44.7% of all rushing yards. Now without him, the offense slows down even more.
On the other side of the ball, the Cardinals defense is really strong between the 20's. Ranked 15th against the pass and 7th against the run, the Cardinals have been able to hold strong defensively. However, just like the Redskins, the Cardinals have been poor in the red zone. They've been allowing opponents red zone scoring percentage for touchdowns at 60.98% which is good for 27th in the league, one spot below the Redskins, according to TeamRankings.
This isn't saying much as the Redskins have allowed the most points per game in the league. It may come down to who can sling the ball the best this Sunday.
1) D.J. Swearinger – The Communicator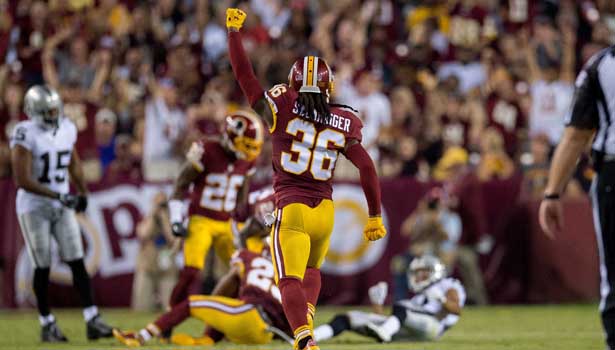 Before the Washington Redskins acquired safety D.J. Swearinger via free agency in 2017, Swearinger played for the Arizona Cardinals and current defensive coordinator James Bettcher. Swearinger is very familiar with Bettcher, head coach Bruce Arians and their overall schemes on both sides of the ball.
Having insider knowledge into how the Cardinals defense works and the general mindset of their gameplan will be extremely beneficial. Luckily, Swearinger is a very vocal player (just read his comments after the Chargers game) so he shouldn't have any problem coming forward to head coach Jay Gruden and giving his insight. Of course it comes down to Gruden and coordinators to pay attention, if Swearinger does come forward, and to take heed from his comments.
It's not just the coaching staff that Swearinger needs to communicate with, the entire defense benefits greatly when he's out there barking orders. He knows it and defensive coordinator Greg Manusky knows it. During a press conference this week, Manusky said:
"I think across the board, being with the fourth linebacker, we're going to have some communication and just not-fits that sometimes don't fit up. I think from our standpoint and D.J.'s, I mean, we've got to play better and we've got to communicate better. Every week that we play, that is the prime essence that we go into any game – to make sure that we communicate from the back to the front."
Swearinger has become that communicator and leader on defense. He may just have to take things into his own hands on Sunday, directing the defense based on how the Cardinals lineup at the line. He's familiar with them and while they will have different calls and wrinkles from last season, Swearinger could be the pivotal piece on defense that keeps Fitzgerald and the offense out of the endzone.
As mentioned previously, Fitzgerald accounts for the majority of their offense. Quarterback Blaine Gabbert has relied on Fitzgerald to be his primary playmaker in the passing game. He's also been trying to work in tight ends Jermaine Gresham and Ricky Seals-Jones into the mix. They've quickly become safety blankets for gabbert and with the Redskins troubles against tight ends, they may become the biggest piece in the passing game.
Now that Zach Brown expected to be out Sunday, the middle of the field immediately becomes a more viable option for tight ends to streak across for the quick pass. Backup Zach Vigil has played well but lacks the speed that Brown has when it comes to tackling. This will be most apparent in the run game.
Even though Peterson appears to be out for the rest of the season, Kerwynn Williams has proven he's able to assist in running the ball. In the last two weeks, Williams has run for 170 yards on 36 attempts for an average of 4.72 yards per carry. It's not as flashy as other running backs and he's yet to score a touchdown but getting chunk yards to set up a more manageable second and third downs is crucial. It also helps set up the passing game as Swearinger moves closer to the line to stack the box. This gives more opportunities for Fitzgerald to have one-on-one coverage where's he shown his ability to win the jump ball.
Fitzgerald has lined up in the slot 64% of the time which would match him up against Kendall Fuller. Fuller has been having an exceptional season thus far and when he's been covering the slot, he's only allowing 0.74 yards per coverage snap and a passer rating of 51.8 according to PFF. This matchup will the highlight of the game as Bashaud Breeland and Josh Norman should be able to cover their respective receivers a bit easier.
2) The Cardinals Pass Rush & Secondary
If there's one thing the Cardinals have done right this season it's been with the defense. Pass rusher Chandler Jones is having a Pro Bowl type season while Patrick Peterson and Tramon Williams have been silencing receivers all season.
Outside linebacker Chandler Jones leads the league in sacks with 14 while having two forced fumbles as well. He's recorded a sack every week except two, week 4 (against San Francisco 49ers) and week 11 (against Houston Texans). Jones is having a monster season, having produced 61 pressures this season which ranks sixth amongst all edge defenders. His speed and agility are second to none that gives any left tackles issues and with the lingering injuries that still plagues the Redskins offensive line, Jones may be added several more sacks to his total this Sunday.
Trent Williams has been stellar this season but his lingering injury continues to bother him every week. Last week, he hobbled around trying to protect Kirk Cousins with a bad knee. He hasn't practiced this week and the thought is that backup Ty Nsekhe will start at left tackle. Nsekhe has played well when called upon but going up against Jones will definitely be his toughest test. Cousins should use boots to get outside of the pocket in order to buy time to allow his receivers to finish their routes before Jones comes crashing in.
As the pass rush collapses the pocket, Cousins will be looking for help from his receivers who unfortunately will going up against a very talented secondary. Cornerback Tramon Williams will most likely be following Josh Doctson down the field and Williams has been stellar against the deep threat, a position that Doctson has excelled. According to PFF, Williams has been targeted 10 times on passes that are over 20 yards, and he has recorded an interception, two defended passes and has allowed a mere passer rating of just 24.2. That places him as the fourth-best among corners in deep coverage.
Doctson really hasn't had great separation from the defender, relying more on his speed and ability to track the ball in the air. Williams is quick but if Doctson can just get the step on him and stay to the inside of Williams, the deep pass may come into play as the game progresses. Even if Doctson is blanketed, Williams will be taken away from the play and may even call the attention of Tyrann Mathieu, the free safety. Cousins should use his eyes to key on Doctson to draw Mathieu to his side, leaving the other side of the field more accessible.
This could open up more receptions for Jamison Crowder who'll be strongly needed to come up big Sunday after having a weak performance the past two weeks. Unfortunately, if lining up on opposite side of Doctson, Crowder will be up against Patrick Peterson. A six-time Pro Bowler, Peterson has allowed a total of 17 receptions for 257 yards, two touchdowns while getting an interception and defending seven passes so far this season.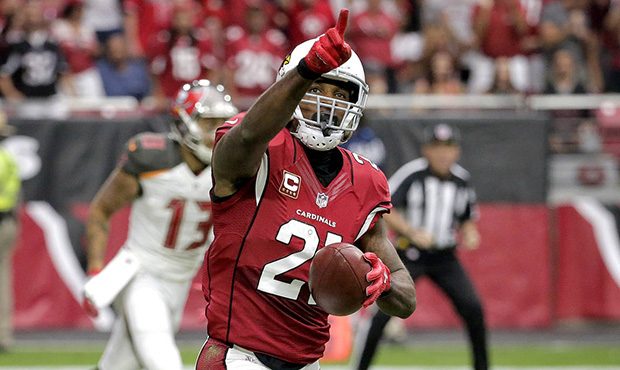 Peterson tends to play a little soft while tracking his receiver but is quick to make up the ground to break up the pass. Crowder would be best in a quick slant across the middle while Peterson is turning his hips to attack the play. Cousins will just have to keep an eye on inside linebacker Karlos Dansby or strong safety Budda Baker to ensure they aren't camping the middle of the field. Both of which have provided tight protection against the pass, especially against Tight Ends. Vernon Davis may have to work the outside of the field to shy away from Baker.
It will be a tough matchup for the Redskins offense as they've become more lethargic it seems in the past few weeks. If they come out flat like they did against the Chargers, the Cardinals defense will have no problem keeping the Redskins contained. If they come out with an aggressive gameplan and determination, there are plays to be made against the Cardinals defense. On third down, Cardinals are statistically worse than the Redskins (just slightly), allowing opposing offenses to convert 40.74% of the time. It all comes down to preparation.
3) Gameplan, Preparation and Conviction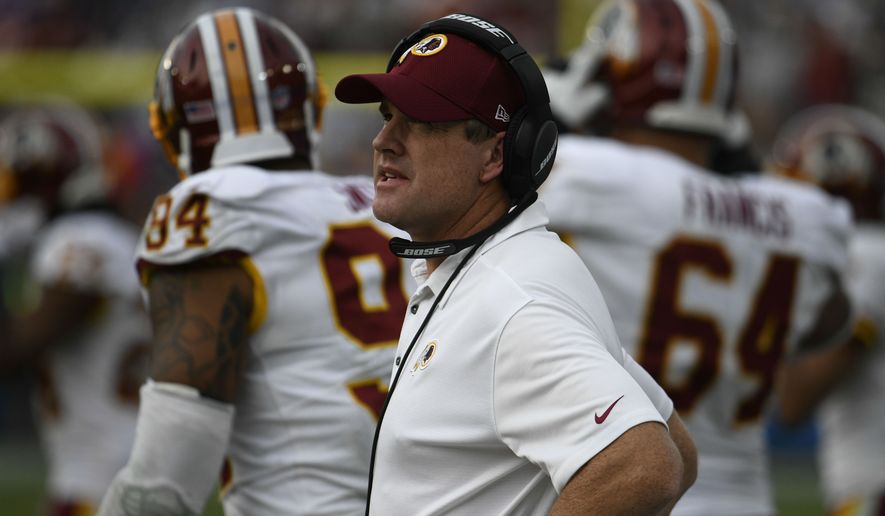 After the embarrassing lost against the Chargers last week, Swearinger said:
"We've got to practice better. I've been saying it all year. … It's not surprising at all to me. You don't prepare well, you're going to fail. I don't think we prepared well with some of the questions that's been asked (by players) before the game. 'Are you doing this right here? Are you doing this right there?' We're just not prepared."
That speaks volume for how the team has been practicing and ensuring that all players are up to speed come game time. Granted there is a lot of players that are either backups or new to the team but they should be given extra attention, especially if they're expecting to see the field. It's a two-way street; the coaches need to instill enough practice and preparation during the week while the players need to be willing to speak up, ask questions and stay dedicated even in a gloomy season.
Now, it's hard to say exactly where the problem lies without being a part of the organization but for Swearinger to come out and speak his mind on the matter then there surely is an issue at hand. Gruden has said numerous times that it's on him to get the players ready come game time but if the past few weeks are an example of being prepared then the Redskins and Gruden are in for a rough ride for the next three games.
It doesn't matter if the Cardinals were ranked as the worst offense and defense in the league, if the team comes out flat and are lacking an understanding of the gameplan, then they will struggle to move the ball. Same goes for the defensive side of the ball. If a safety is unsure if he's playing zone or blitzing and leaves his man to run free then the score will get out of hand quickly.
It all comes down to being prepared before the game in order to execute at a high level. This falls on coaches and players alike. Gruden and his coaching staff need to tighten the reigns, keep players accountable and spend every possible second they can getting each and every player up to speed. Instill confidence and even test them throughout the week.
On ESPN 980, Chris Cooley spoke about how during his time playing for the Redskins there would be random tests that covered assignments, routes and just general questions in regards to practice. This kept players in check and gave coaches a sense of where they would need to spend extra time or whose having trouble in certain areas. They may be currently doing this but if not, this sounds like a good practice to get the team prepared for their matchup.
When Kirk Cousins as asked about getting all the new players up to speed during his press conference this week, he said:
"I think the challenge certainly lies with the position coaches trying to get those guys ready as well. Just communicating in the huddle is key to make sure everybody knows what they are doing, but I found during the Chargers game that any new players who came in, if I did communicate and over-communicate they nodded back that 'I've got it. You don't have to tell me.' So they were on top of it and some of it is just that familiarity."
Cousins makes a valid point; practice makes perfect. The concept can be drilled into the heads of these new players but there's a big difference between running a route for the fifth time versus running it for the hundred-and-fifth time. The injuries has definitely caused a lot of unfamiliarity and inconsistency while trying to give everyone enough reps has been a challenge. There's a lot of circumstances as to why there's been a struggle with preparation but in order for the Redskins to defeat the Cardinals, it begins in practice.
If Gruden is able to truly have the Redskins ready to play with a level of aggressiveness that has been lacking the past three weeks then they have a shot in winning in front of the home crowd. There's definitely still enough talent with Cousins at the helm of the offense and Swearinger leading the defense, but will everyone be ready?
Conclusion
The Cardinals have been a streaky team this season having beaten the Jaguars and Titans but then being shutout 33-0 against the Rams. They are coming off a tough win against the Titans and have to travel across the country to FedEx Field. The Redskins do have their number, leading the series 74-46-2 but lost last season 31-23 on December 4th. Trying to contain Fitzgerald will be a task but at least they don't have to worry too much about the running game with Peterson out.
All the drama surrounding the team may play a factor as the season seems to continue to get darker and darker but Sunday allows for a bit of light to shine through.
Redskins 26, Cardinals 24
Comments
comments
Powered by Facebook Comments