News
Week 16 Matchup: Broncos at Redskins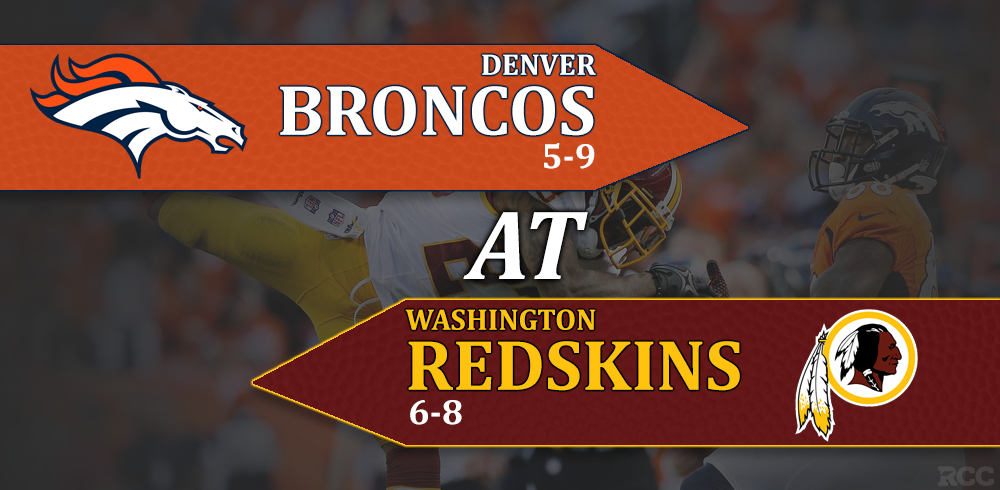 It may not have been the prettiest victory for the Washington Redskins last week against the struggling Arizona Cardinals but a win can go a long way in helping create a culture in the locker room. The defense held their own, especially in the red zone, even if it was against lackluster Blaine Gabbert. The offense wasn't flashy but managed to sustain a few drives for points in order to keep the lead. One of the highlights was watching some of the lesser known players shine such as Anthony Lanier II and Preston Smith.
This week, both Lanier and Smith should have another impactful game against another weak offense in the Denver Broncos. The Broncos have been working through various quarterbacks in trying to find someone that's able to get the offense moving in the right direction. Last week, Brock Osweiler was able to string together a few strong drives to lead his team to victory over a anemic Indianapolis Colts.
However, the Broncos rely heavily on their defense whose currently ranked as the best in allowing the least yards per game, second best against the run and fourth best against the pass. While the Redskins offense haven't been as productive on offense since losing Chris Thompson, they will need to be focused on getting the ball out quickly.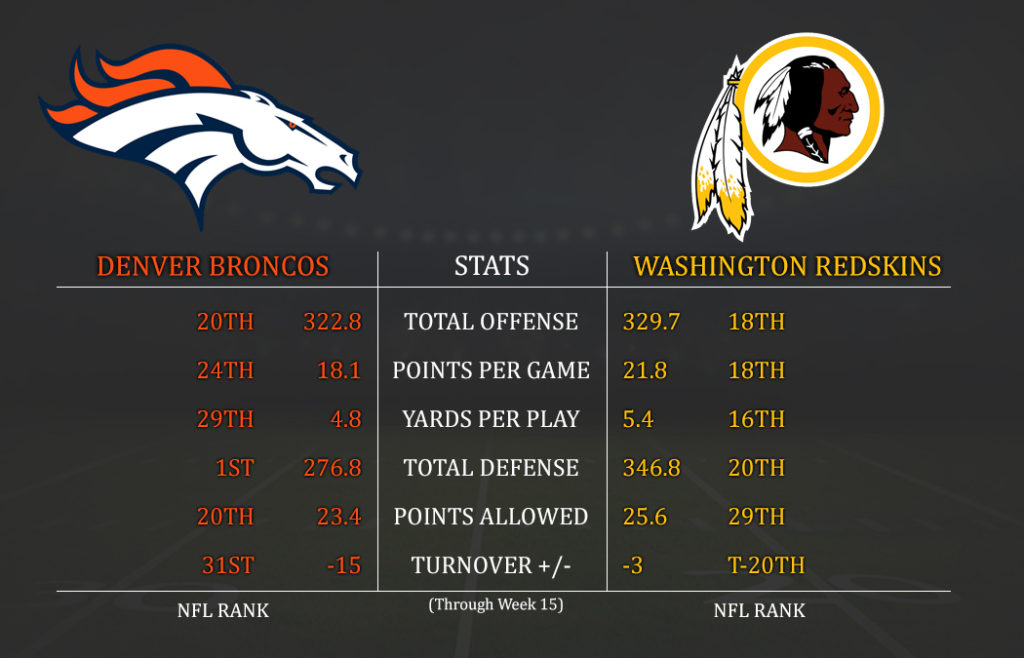 The broncos defense may be one of the top rated in the league but they've struggled in the red zone similar to the Redskins. Currently, the Broncos are rated 29th in opponent red zone scoring percentage (touchdowns) according to TeamRankings. If the Redskins can manage to move the ball between the 20's, they may be able to put up a few touchdowns if Kirk Cousins continues to extend plays and work off script.
Although the red zone percentage may be high for the Broncos, the actual attempts per game is where they rank much higher at 15th best in the league (1.6 touchdowns per game). Whereas the Redskins are currently 25th with 1.9 touchdowns per game average in the red zone. The biggest problems the Redskins offense will face is marching down the field. There won't be many big play opportunities similar to last week but a healthy dose of quick plays with a few wrinkles to confuse the defense, a la Los Angeles Rams, will be crucial.
On the flip side, the Redskins defense has struggled in the past few weeks. They still allowed the Cardinals gain 286 yards on offense but held strong by not allowing a touchdown. Denver have been very flat on offense with their rotational quarterback play. In fact, as of Thursday head coach Vance Joseph has yet to name a starter:
"Speaking of that, we've got two guys working. We've got Brock Osweiler and we've got Paxton Lynch working. Trevor [Siemian] went to IR on Monday. We haven't decided yet. We've got two guys working and they're splitting reps right down the middle."
Osweiler did play well last week against the Colts but hasn't done anything substantial all season while Paxton Lynch has looked like a deer in headlights. This could be a game where the defense comes up big to help the offense that will be seeing a lot of pressure.
1) Junior Galette and the Pass Rush

Junior Galette looked like his former self last week against the Cardinals. He had one of his best games this season posting a sack and several pressure while getting the highest grade on the team from Pro Football Focus with a 85.2. His explosiveness off the line gave offensive lineman problems all game and if the Redskins want to apply pressure against the Broncos, Galette will need to see the field more this week.
He saw 33 snaps, third highest, and while he may not have had savvy stats his effectiveness to draw attention and blockers allowed for Lanier, Smith and Ryan Kerrigan to be extremely effective in getting to the quarterback. Kerrigan will most likely line up on the left side where he's been most effective which puts him up against tackle Donald Stephenson. Stephenson has had some trouble in the past few weeks. In two games he's allowed three and five pressures respectively and Kerrigan has accumulated 47 total pressures from the left side. Hopefully this week maybe a referee will be able to notice Kerrigan being held.
While Kerrigan and Galette are busy working the edges, a mixture of Lanier, Smith and Matt Ioannidis will be rushing through the gaps. Both guards Max Garcia and Connor McGovern have been just average in pass protection. They've often been pushed back into their quarterback occasionally and with Lanier know having a knack for putting his arms up to deflect passes, he may be able to have a multiple pass deflection game again. Head Coach Jay Gruden has been pleased with Lanier's progress:
"He had three deflected passes last week, which you couldn't get him to raise his hands last year, so he's been disruptive. He's learning the defense. He's learning about leverages and taking on double teams in the running game. It's all a process."
Obviously a pass rush is always beneficial but this week against either Osweiler or Lynch, it could the key component on what allows the Redskins to have back-to-back victories. Also, if the they are able to produce a few more turnovers, good field position would allow the offense to operate more efficiently and try to get into the red zone easier. Once there, Cousins may be able to capitalize from the turnover(s).
2) Slowing Down Mr. Anderson…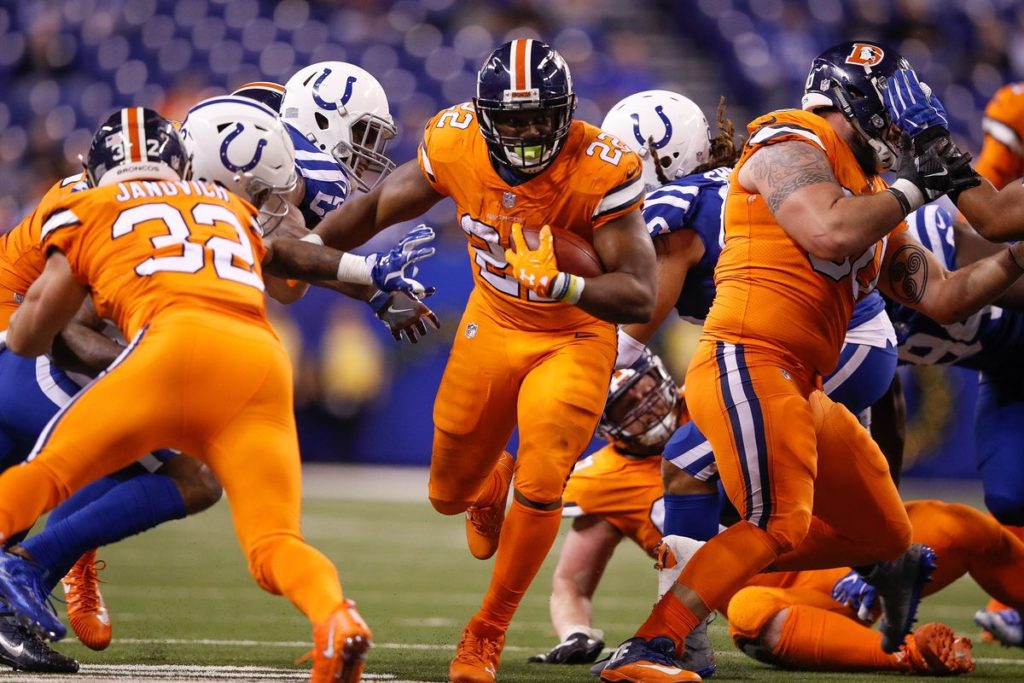 There's still a committee of running backs on the Broncos offense but over the past three weeks, CJ Anderson has increased his snap percentage in each game. Last week against the Colts (ranked 29th against the run), Anderson rushed for 158 yards with an average of 5.3 yards per rush. While the Colts aren't great against the run, Anderson has always been an effective runner and lately has shown why he should be the lead back.
He's also averages 2.87 yards after contact per attempt which puts him at third best behind Mark Ingram and Kareem Hunt. The Redskins defense will have their hands full as running backs have been fairly effective in the past few games. A big issue will be that linebacker Zach Brown may be still out for the game. Gruden said "There's a chance, yes, but I have no idea" when asked about Brown's availability. Not all that reassuring. That means Zach Vigil will be the primary linebacker that should matchup against Anderson which isn't all that bad.
Vigil has recorded at least two stops in each game while currently ranked 27th out of 92 linebackers against the run, according to PFF. Vigil and the defense should expect to see Anderson the most when the Broncos are between their 21 and 50 yard line. He's gained over 50% of his yards in that area of the field while barely being useful in the red zone. The Broncos will rely on Anderson, mixed with Devontae Booker, as it's their best chance at scoring.
In all five of their victories, they've run more than they passed. It's pretty straightforward and head coach Vance Joseph will gameplan accordingly. The Redskins should be expecting the run and will need to bring safety DJ Swearinger down into the box to help stuff the run. Anderson likes to run up the middle (41.03% of his rushing yards are up the middle) and rarely runs along the sidelines. If the Redskins do bring pressure with Kerrigan or Galette, the offensive line may try to force them in the back of the pocket to allow more room for Anderson. If so, then the linebacker group will need to stay focused and get off their blocks quickly.
Though the running game will be the majority of their offense, the Redskins defensive backs will still need to be aggressive while matching up against Demaryius Thomas and Emmanuel Sanders. Not only are they dangerous in the passing game, they also been effective blockers. With Booker being more of the receiving back, quick screens will be in play for whoever is in for quarterback similar to how Redskins used Thompson. Fortunately, Kendall Fuller has been elite in the screen game and has a knack for shutting them down before they break for big gains.
This will be a smash mouth offense lead by Anderson and the Redskins will need to be prepared to react.
3) Field Position, Time of Possession and the Big Play
As mentioned earlier, field position will be a major factor for the Redskins offense but also will be their ability to run out the clock. Last week the Redskins only had a time of possession of 23:44 while the Cardinals controlled the clock for 36:16. They were fortunate enough to be going up against Gabbert who had several misplays but if the defense is to be effective, the offense will need to control the clock for longer come Sunday.
When asked about Cousins' situational awareness and going up against the Broncos defense, he said:
"But I think still, against these guys, field position will be key, but we do need to try to hit some big plays against them. I think the thought of going 90 yards or 80 yards on 15 plays is going to be hard to do, so we're going to have to try figure out ways to get some big plays and shots down the field. So, he will have to be a little bit more aggressive this week."
Gruden said it perfectly. The Broncos aren't a team you can simply just march up and down the field on. If Cousins is being constantly pinned back towards his own end zone then a big play similar to Kapri Bibbs's 36-yard touchdown catch off of a fake-reverse screen pass will be the game changer. Those types of play will provide confidence and momentum for the offense. Even if it's not for a touchdown, it will demoralize the defense. Well, maybe not so much the Broncos defense with Von Miller.
Miller is still one of the best in the league and can quickly change the tide. He has 10 sacks, 53 tackles and 73 pressure already on the season. Morgan Moses will be given the honors in trying to keep Miller away from Cousins, all while hobbling around on two injured ankles. This is where Cousins needs to be ready to check out of a play or flip it to the side being pressured in order to take advantage of an opening in the flat. If Miller and Adam Gotsis are coming off the right side then Bibbs should chip block then run out into the flat to give Cousins an escape route. It may go for only 4-5 yards but it keeps the clock ticking.
The big play down the field will be the toughest task against the "No Fly Zone" secondary. Cornerbacks Aqib Talib and Chris Harris are one of the best defensive back tandems in the league. Together they are allowing just 0.60 and 0.72 yards per cover snap respectively which ranks fourth and ninth best amongst 120 cornerbacks. They've proven that they can shutdown a receiver and it seems all season, no Redskins receiver really has taken over as the clear #1. Jamison Crowder will have a big game then fizzle out for a few games while Josh Doctson comes out with a huge catch only to be silent for a stretch of games.
Now they are going up against one of the toughest secondaries in the league. The shot down the field may not be available but a breakaway screen game may just be as effective.
On that beautiful Bibbs touchdown run, three of the offensive lineman can be seen running downfield to provide blocks for him. Center Chase Roullier runs down the whole field and even makes it into the end zone before Bibbs. These type of shallow passes with the line moving down the field to overpower linebackers and defensive backs has been effective for the Redskins all season. More of these plays with these athletic lineman should be sprinkled throughout the game.
It will keep the offense going, eat up the clock and get chunk yards against this stout defense. It may not work on every play but it shouldn't be abandoned right away. Add in a few runs with Samaje Perine and it's possible that a deep shot to Doctson may come available. Having a well-balanced offensive gameplan will help Cousins get into the red zone where the Broncos have been least effective. Also with winning the time of possession comes much needed rest for the defense.
Gruden should be well prepared for this matchup as he's been calling some good plays lately, they just haven't been executed as well as they should. Come Sunday if they come out aggressive and focused then there's ample opportunities to put up a touchdown or two.
Conclusion
The Redskins are coming off a win at home and don't have to travel this week so they should be well rested, focused and prepared for Sunday. The Broncos did defeat the Colts pretty handily but the Colts are 3-11 and haven't shown much progress all season. More than likely it will be a defensive showdown and while the Broncos have the clear advantage in that department, Cousins is a much better quarterback than Lynch or Osweiler. Escaping the pocket while under pressure to extend the play may just give enough time for Cousins' receivers to provide a window for a completion. The windows will be tight but Cousins will have to trust his instinct.
Redskins 17, Broncos 12
Comments
comments
Powered by Facebook Comments