News
Week 17 Matchup: Redskins at Giants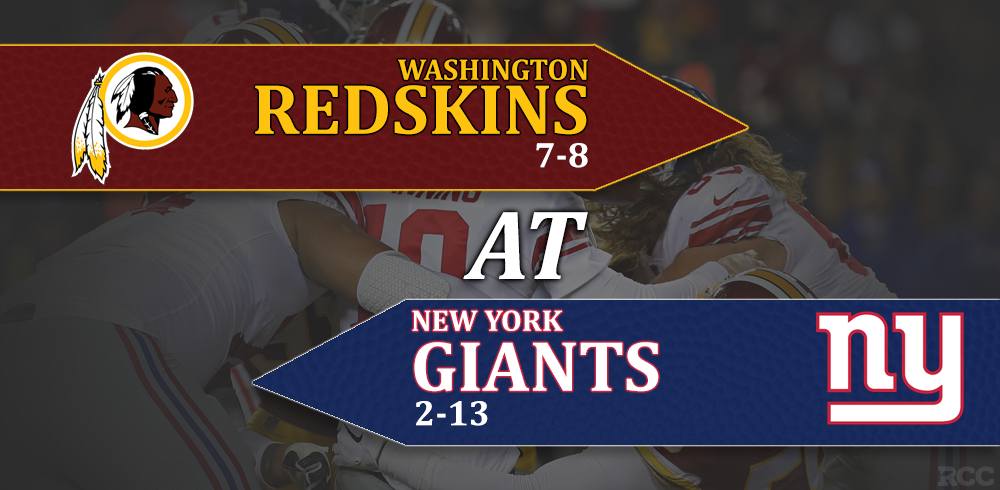 The Grand Finale; the Washington Redskins travel up I-95 to take on divisional rival New York Giants. It all seems too eerily familiar from last season when the Redskins had to face the Giants in a must-win situation to give them a playoff spot. However, this season is different as the Redskins have already been eliminated from playoff contention. They are simply playing to salvage the season and finish out at a record of 8-8 to give them three seasons in a row with a non-losing record.
It may not seem much as a fan but to the team, it sets a positive attitude for the culture of the organization. While the Redskins have no playoff chances, the Giants have been feeling that way since Week 5 when star receiver Odell Beckham Jr went down with an ankle injury. He's missed all season alongside receiver Brandon Marshall which has completely crippled the offense. If it weren't for the fact that it's a division game and the Giants always love to spoil anything positive for the Redskins, it'd be a walk in the park.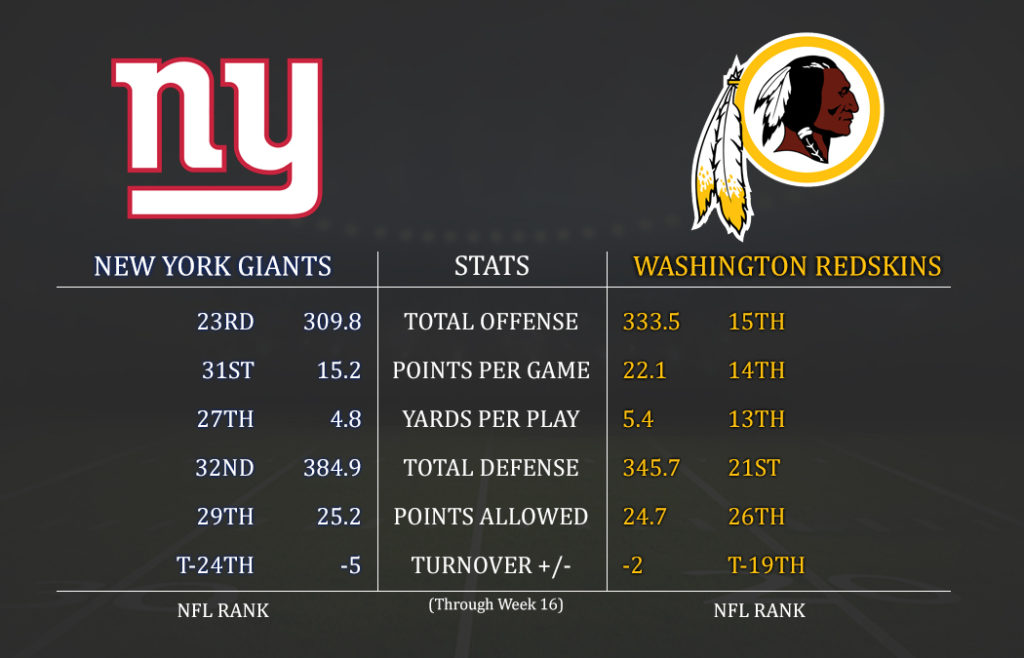 Statistically the Giants are bottom of the league throughout most of the categories on offense and defense. Despite the large gaps between where the teams rank on offense and defense, it's always a guessing game on what could happen between these two teams. The first time they played back in Week 12 it was a lot closer than it should have been.
Well into the 4th quarter the score was tied 10-10 and it wasn't until 5:02 left in the game that Kirk Cousins connected with Josh Doctson on a 14-yard pass for a touchdown. The Redskins were able to drive down the field once again at the end of the game to cap off with a 33-yard field goal from Nick Rose to win 20-10. While Cousins did pass for 242 yards, he also threw that ugly interception that was returned 53-yards for a touchdown.
That was the only touchdown for the Giants all game which didn't even come from the offense. If it wasn't for the interception the Giants would only have scored on their field goal halfway through the second quarter. Eli Manning threw for just 113 yards and threw for an interception as well.
Nothing really has changed for either team. The Giants offense is inept (got shutout against the Cardinals last week) and after the drama that's unfolding this week between Landon Collins and Eli Apple, the defense, primarily the secondary, seems to be in a disarray. As for the Redskins, the injuries still sting but the depth has stepped up and provided much needed help along the offensive line and linebacker corp. In fact, the Redskins are the only team so far to not allow the Denver Broncos to record a sack. Yeah, against our offensive line!
As mentioned previously, the Redskins and Giants are extremely familiar with one another and not much is different from their first matchup (see: Week 12 Match Preview).
TL;DR: Giants have strong pass rush with Olivier Vernon and Jason Pierre-Paul. The Redskins will need to cover the tight end as it's always been an issue for the Redskins. Fortunately, Evan Engram is listed as out for the game Sunday. This will fall on Zach Vigil to key in on him. Lastly, continue to strong pressure with Ryan Kerrigan and Preston Smith to rattle Eli Manning.
This week with it being the last game against a weak and known opponent, there's some things that would be nice to see be done in the game.
1) Keep Junior Galette Going & Mixing In Rookies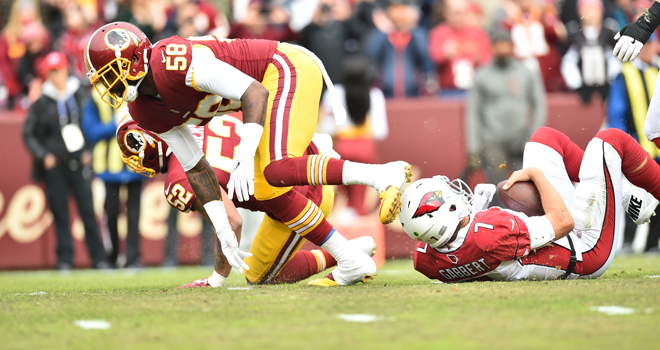 Back in 2015, the Redskins signed Junior Galette in what seemed to be one of the best free agency signings in a long time. He's coming off an explosive season and could create an impact immediately on defense. Unfortunately his season ended before it began due to injury. In the beginning of the 2016 training camp, Galette suffers another season-ending injury and the possibility of him suiting up for the Redskins seemed unlikely.
This season he came back healthy and an impact he's definitely made. He started off slow; getting rotated in to get comfortable. A little slow and maybe not as explosive pre-injury but still the effort was there. Fast forward towards the middle of the season and Galette has returned to his former self.
In the past three weeks, his snap count as almost doubled (48.6%, 40.2% and 56.2% respectively). He got a sack against the Cardinals and have several quarterback pressures in weeks 15 and 16. His power and speed have fully returned and has become a force against any blocker. He should see at least 50% snap count on defense allowing him to go into the offseason with the mindset and attitude that he's a serious threat once again. Also with him on one side, it's been giving Ryan Kerrigan better odds to get to the quarterback from his side. They've become a strong duo that should be able to dominate the Giants offensive line.
There's no doubt that this years rookie's have produced more than in previous seasons. Jonathan Allen started to become a dominant defensive lineman before his injury. Although his stats may not say it all, his play on the field and ability to give those around him opportunities to make plays was huge. Allen's Alabama teammate Ryan Anderson really hasn't produced as much as they would've like and not dealing with an injury, Anderson won't be able to play to see more from him.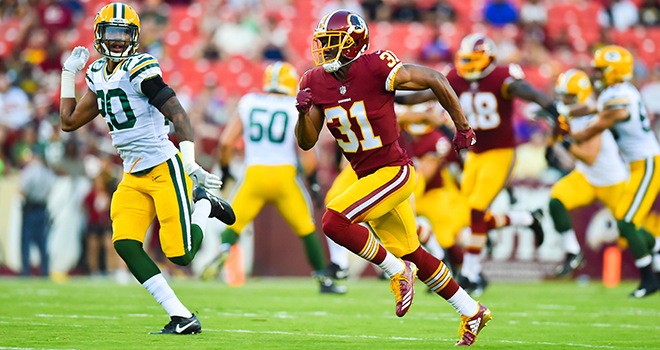 Cornerback Fabian Moreau has only played in a handful of games on defense this season but has been used a lot on special teams. Bashaud Breeland and Josh Norman are stellar corners and are having strong seasons but in a meaningless game, Moreau should be given a chance to play a few more snaps lined up in the corner position. The Giants receivers are good matchups for Moreau as they're primarily backups outside of Sterling Shepard. It's important for the rookies to be on the field and for the coaching staff to see what they're capable of doing in their position.
Three rookie draft picks; Samaje Perine, Jeremy Sprinkle and Chase Roullier, all have been given plenty of snaps due in part to injury. Perine has flashed every so often while Sprinkle has shown that he's the best blocking tight end on the roster. That's not entirely saying much as tight end blocking as been atrocious all season but he's shown a willingness and understanding of what it takes to block in the run game. Roullier has excelled as center in pass protection but still needs work in the run. All three should be active for the matchup on Sunday.
Robert Davis is still in the concussion protocol but if able to suit up, head coach Jay Gruden should mix in some spread offense with Davis lined up to at least see his understanding of route concepts. Even if the ball isn't thrown to him, matching up against a defensive back and getting used to breaking correctly on a route is vital. It's much different in gametime then in practice.
Lastly, the two 7th round draft picks, Josh Harvey-Clemons and Joshua Holsey, have been producing on special teams. While it's nothing spectacular they are being utilized while Harvey-Clemons has seen an increase of snaps on defense. The last two weeks he's seen 25 snaps (30.5% and 34.2% of snaps) in each game. He's recorded 2 tackles in each game and has shown to be a positive depth player.
Holsey has only played 10 snaps on defense, 5 snaps in weeks 1 and 2, due to Breeland, Norman and Kendall Fuller being the primary starting corners. Even if one is out, Moreau and Quinton Dunbar are listed higher on the depth chart. Similar to Moreau's situation, the Giants receivers aren't as polished as Beckham or Marshall and would be a good matchup for the rookie. Worst case scenario is that he gets burned then simply swap in Norman or Breeland.
Not all the rookies should be the starters for their position as it's not completely fair to those who've earned starting position but thrown in for a few plays throughout the game, or if it gets out of hand, wouldn't hurt. The Giants are bruised and banged up, there couldn't be a better matchup for the rookies to get some work in before the season ends.
When Gruden was asked about his assessment of the rookies he said:
"Yeah, I think with all the rookies that played, I think we saw obviously some good, some things we can coach up and make them better, but also getting to know them as people and what they can expect coming into next year and getting their body stronger, like I said, get themselves mentally ready and physically ready to play in the offseason. But we do have great evaluation on all of them."
Gruden does feel comfortable with where the team is at on evaluating the rookies going into the offseason but one more game wouldn't hurt.
2) Josh Doctson and the Big Plays
It seems Gruden is already on the idea of trying to feed the ball to Doctson more. Last week he was target a career-high 13 times but only managing to pull in two receptions for 61-yards and a touchdown. A few throws were a little high and one was definitely pass interference but the concept of having Doctson be the primary playmaker in the passing game is definitely developing. He also lined up on every offensive snap, just the third time this season.
Doctson has shown the ability to win on a jump ball on tight coverage or how to track the ball in the air, ala DeSean Jackson. Then there's a few plays where it seems he pulls up or doesn't fully extend for the catch. It's very peculiar but it may just be rookie growing pains (he missed his first season due to injury). He's extremely fluid and a very crisp route runner. All the tangibles are there for him to be a #1 receiver and if Cousins needs to continue to force feed the ball to continue to build that chemistry then so be it. The deep shots against the ailing Giants secondary would be an ideal situation.
Gruden commented on Doctson and what he's seen thus far:
"We all know that he can go vertical and outjump people and it's a matter of getting him more opportunities in that regard, but it's also about cleaning up his routes on every given split, every pattern that we have, every concept that we have. I've been impressed with Josh throughout the whole year. He's been durable."
Eli Apple has been suspended due to the drama surrounding him, Collins and coaching staff. The secondary will be a little more worse for wear with Apple out. Dominique Rodgers-Cromartie is still playing and will probably be covering Doctson for most of the game and if Doctson is unavailable, it should still give chances for Jamison Crowder and Ryan Grant.
The deep passes don't necessarily have to be given only to Doctson, though it would be ideal for him to get the most chances before seasons end. It would have been great to see rookie receiver Robert Davis out there but unfortunately he's still questionable with a concussion. He's only played on 3 plays last week in special teams and has yet to see the field as a receiver.
Offensively, this is a chance to air the ball out, work through the playbook and try out some concepts that may not have been able to be worked in during the season.
Gruden has sprinkled in a few plays with some wrinkles (the fake reverse to quick pass to Kapri Bibbs) and while the Redskins don't need to just try plays that don't make any sense in context, adding in a few newer concepts for someone like Jeremy Sprinkle to see what he can do as a receiving tight end. He's shown a willingness to block but only has two receptions for 13 yards. Jordan Reed can't be relied on and Vernon Davis has done well but should be used more as a #2 tight end. If Sprinkle doesn't have the ability to become a threat in the passing game it would be beneficial to find out sooner so that the team can plan on filling that void.
The same thought process goes for the defense, although the depth has been tested throughout the season due to the numerous injuries. Players like Anthony Lanier II, Matt Ioannidis, even Zach Vigil have stepped up and played well. While no team wants injuries, the silver lining is allowing players who may rarely see the field show what they can do on the field. Not to mention how Preston Smith has really come on strong this season and defensive coordinator Greg Manusky is very aware having recently said:
"But with Preston, I mean, the sky's the limit for the guy. The guy's practiced hard, hasn't missed much practice time, but overall, just the study – studying the habits of watching the tackles, see how they set and trying to get their hands down or get the moves that he needs to get against players. Overall, [he's] doing a great job."
Ultimately the goal is to beat the Giants to end the season on a high note but if there's time to substitute a few other players to just get a little more tape on them then they should take the chance.
3) Win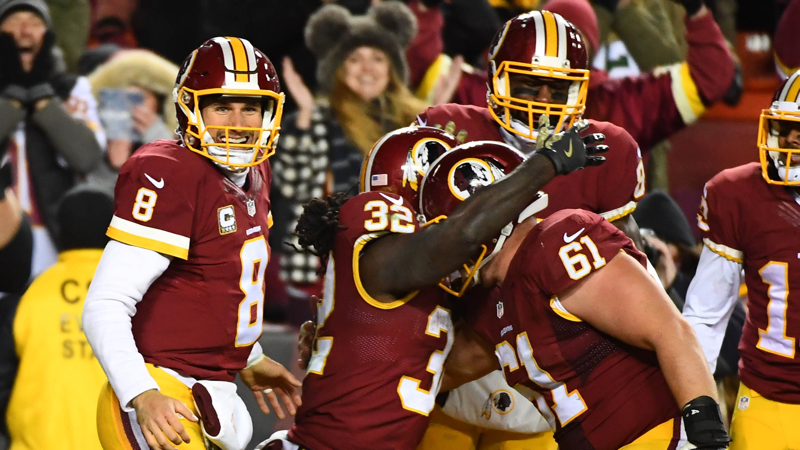 It may seem like a no-brainer but defeating the Giants, who are one of the worst teams in the league, is the most important piece in Sunday's game. If somehow the Redskins come out and stumble around, allowing the Giants to come out victorious, it will be a complete disaster. Their injury list is just as long as the Redskins with key injuries on both sides of the ball and that's just on their injured reserve list.
Currently listed as out according to the Giants latest injury report are; Evan Engram, Tavarres King and Sterling Shepard. Those are the top-3 receivers for the Giants this season. The Giants offense shouldn't even be able to get near the end zone on Sunday. The Redskins thought they were banged up, the Giants outside of Eli Manning have no one on offense.
On defense they still have their pass rushers though JPP is currently listed as questionable. Even if he's not ready there's Oliver Vernon, Damon Harrison and Dalvin Tomlinson who can get pressure on Cousins. It may not be a walk in the park for the Redskins offense but they've faced some of the toughest defenses already and have been up substantial yards and points.
At no point in the game should the Giants have the lead. It should be a showing of force from the Redskins and with how many players and the organization have been speaking on how it's important to end the season on a high note, they should win by at least 10 points. When Cousins was asked about what this game means during his press conference after practice on Monday, he said:
"Who would have thought that winning these last two games when, quote-unquote, we were done or it was meaningless, I mean emotionally around the building it makes a big difference. Coaches and players are all in a better mood. So that's why you want to win first and foremost. Then we want to get to 8-8, and I talked about that on Sunday, the importance of that."
They are stating how it's become a must-win game for the team so they better come out and show it. They definitely have the ability on offense and defense to completely shutdown the Giants. They've been able to beat bad teams, like Cardinals and Broncos, and the Giants are probably the worst of the three. Even though it's a division game and for some reason the NFC East division games can be completely shocking, there's no excuse for a loss.
So, before all the notions of allowing rookies and depth players time on the field, and before trying to sample plays that may have not gotten into rotation, taking control of the game is the utmost important aspect of Sunday. Beat the Giants.
Conclusion
Every season must come to an end. While the Redskins season didn't turn out as well as many hoped thanks to injuries, brutal early scheduling and sometimes not playing up to their ability, there's still some pride to play on Sunday. The Giants are completely dismantled on their roster. DJ Swearinger should have his defense fired up while Cousins, who may be playing his last game as a Redskins, will have his offense clicking, the Redskins should take care of business.
If not, the sour taste of the season will linger for quite some time, especially with the whole Cousins contract still looming overhead.
Redskins 27, Giants 3
Comments
comments
Powered by Facebook Comments