News
Week 4 Matchup: Redskins at Chiefs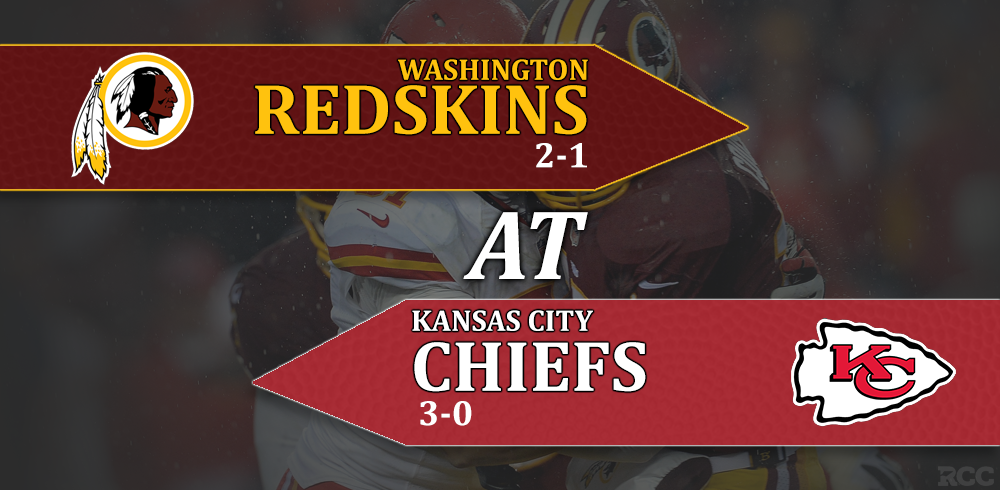 In an absolute stunning show of force, the Washington Redskins shell-shocked the Oakland Raiders last Sunday night at FedEx Field. The defense's aggression shut down the Raiders high powered offense and held them to 128 total yards and just a mere 10 points, all of which came off of costly Redskins turnovers. Offensively, Kirk Cousins finally clicked and catapulted the offense alongside Chris Thompson for a total of 472 yards and 27 points, not to mention a 52-yard touchdown pass to Josh Doctson.
It was the Redskins most well-rounded game in the past 25 years. Hopefully, it wasn't an anomaly as they will have to perform at the same level in order to take down their next opponent; the Kansas City Chiefs.
Currently ranked by many experts as the best team in the league, the Chiefs have powerful weapons on both sides of the ball and play in one of the most hostile environments; Arrowhead Stadium.
Slaying the Three-Headed Dragon; Hunt, Hill & Kelce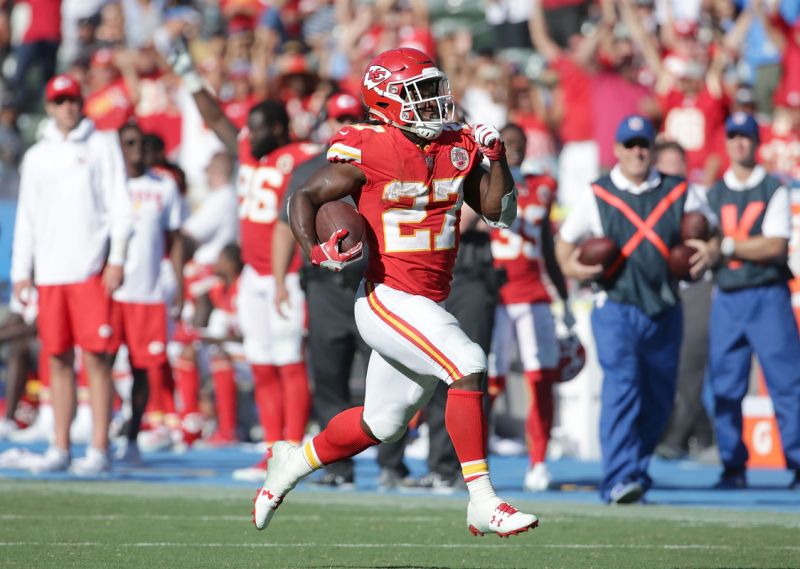 The Chiefs offense isn't overly complicated or incredibly flashy but is focused on speed and power which they execute it flawlessly. Alex Smith is that type of quarterback who won't single handily take a game over but plays a high level as long as the rest of the offense is playing mistake free. Also, he protects the ball extremely well having not thrown an interception yet through the first three games.
However, Smith is fortunate enough to be surrounded by the top rusher and current clear rookie of the year, Kareem Hunt. Hunt has taken the league by storm having already rushed for 401 yards and 137 yards of receiving while scoring six touchdowns. His mixture of elusive speed, power to break through tackles and sticky hands in the passing game has created constant mismatches against each opponent.
In this play, Hunt starts off the play lined up next to Smith in shotgun formation and immediately breaks out to the right and down the field. The receivers are running verticals to draw the secondary which causes a linebacker to shadow Hunt who has a hard time keeping pace. Hunt then cuts inside and catches a sharp pass from Smith who hits him in stride allowing him to run in for the touchdown. Smith has been more willing thus far to take shots further down the field, an attribute of his game that he's been criticized in previous seasons.
Once again, lined up in the shotgun, a simple off-tackle run play but Hunt sees the lane open to the left of the tackle and cuts in quickly and uses his quick burst to cut through the hole. A great block by right guard Laurent Duvernay-Tardif which sets up the inside lane while left guard Bryan Witzmann pushes up to the second level with extra guard Zach Fulton. The Chiefs offensive line may not be labeled as the most gritty but more often than not, they win key battles in the run game.
However, this is where Redskins linebacker Zach Brown shines with his elite speed and run defense. Also, he should have assistance if required thanks in part with the Redskins front four able to generate a pass rush. Mason Foster, who was limited in practice, or Will Compton should help contain Hunt if he tries to break through the line and cut through the middle of the field. If he goes off the edge, then Preston Smith and Ryan Kerrigan have been great in stopping the run behind the line of scrimmage.
The only major issue could be if Smith or Kerrigan are given space to rush then pushed back providing a small lane for Hunt to break towards the sideline. If so, Hunt's speed will be tough to match, especially in the open field, but will still have to face the hard hitting secondary as long as they're not being pulled away from the play by receiver Tyreek Hill.
Hill is one of the fastest offensive players in the league and can be a duel threat alongside Hunt. He's shown he can start from the halfback position and follow his lead block. Once he sees daylight, he's hits turbo mode and blows by the defense. His speed will be hard to match but if DJ Swearinger can key in a big hit like he did last weekend against Marshawn Lynch then it may rattle Hill whose undersized.
As effective as Hill is as a runner, he has become a serious threat as a receiver. Hill still isn't a great route runner but can easily get behind the secondary if the defensive back hesitates even for a second. He's become a deep threat similar to DeSean Jackson with an average of 15.8 yards per reception but even if he's not targeted, the defense has to keep him in check. If there's any separation, Smith will take the shot more often than previous season.
As mentioned previously, Smith was never known to be accurate with his deep passes but in the past few weeks he's shown the ability to connect on big plays if given the opportunity. Hill has been giving the Smith and the Chiefs offensive that freedom to make those type of plays. In fact, Smith is already 2 for 3 for 31-40 yard passes for 153 yards and 2 touchdowns. All of last season, Smith was just 4 for 11 for 161 yards and 1 touchdown. Hill has made an impact and has given more confidence to Smith.
This will be a tough matchup for the Redskins secondary who has played extremely well in man coverage but may need to keep a high safety. Josh Norman and Bashaud Breeland will have to play tight coverage throughout the game or allow Hill to stay underneath them. The moment Hill breaks past them, even with a safety for insurance, it may be too late. In order to minimize the deep threat, the front seven and their pass rush must be aggressive.
Kerrigan will be crucial in getting to the quarterback and throwing Smith off his rhythm. Right tackle Mitchell Schwartz has allowed 3 out of 12 sacks on Smith this season already. Fortunately, Kerrigan has been effective thus far as an edge rusher; already accumulating 2.5 sacks, a forced fumble and an interception. If Kerrigan gets started early, the Chiefs may have to use Hunt or tight end Travis Kelce as an extra blocker. This could cause strain on the left side of the line and give Preston Smith an opportunity to create more havoc in the backfield.
According to Chiefs injury report from Thursday, center Mitch Morse didn't participate (missed last weeks game with a foot injury) and left tackle Eric Fisher was limited. These matchups could be crucial in winning the battle up front and provide pressure on Alex Smith. Rotating in Matt Ioannidis and Junior Galette on key defensive down, they should penetrate the line and rattle Smith. By doing so, then Smith will begin to feel pressure even if there's not and begin to panic which could result in a few turnovers.
Lastly, and always appears to be an issue for the Redskins, tight end Travis Kelce will be a nightmare to cover. For some reason, tight ends have run free against the Redskins defense and Kelce is one of the more dominant pass catching tight ends. He might not be completely eliminated from the game but should be a key focus for the linebackers. If he appears to be setting up to block, he's most likely going to chip then run either out into the flat or into the middle of the field.
To counteract this, allow Swearinger to post up around 8 yards off the line and keep eyes on Kelce until the play develops, or use Montae Nicholson who has shown incredible speed to get to a play immediately as soon as the ball is released. His quick hips and ball tracking skills will be crucial in covering ground quickly especially with the type of speed the Chiefs have on offense.
Defensively, the Redskins need to continue to play smash mouth football while allowing Zach Brown and DJ Swearinger direct traffic on the field. In fact, last week Brown called a few plays while there were a few miscommunications, according to defensive coordinator Greg Manusky who mentioned it in a press conference this week;
"Sometimes the communication system goes, you know, in some of those games. I was actually calling it in too fast, which was kind of weird, and the clock wasn't on and he didn't get the call and it was messed up. It was my mess up. They made a call and they played it. So whatever the call was that Zach [Brown] made in the middle, we played it."
The mental and physical level currently on the defense is at an all time high and if they can continue to play at that level, the Redskins can shut down the Chiefs offense, or at least slow it down. Manusky and defensive line coach Jim Tomsula have uncomplicated the defensive playbook and allowing the players to focus more on what's happening on the field and not what's coming from the sideline. This more simplistic approach has catapulted the defense and the only question is if it can be sustainable? The big test will be the Chiefs.
Kirk Cousins Keeping the Drive Alive
There will always be a similar narrative each and every week; can Kirk Cousins do enough to sustain drives and put points on the board? If last week's performance is closer to the norm then the first two games, the Redskins offense should be able to keep pace with the Chiefs if a shoot out were to arise. Not only is it vital in order to score points but it gives that much needed rest for the defense so that they can continue to play fast and aggressive.
The Chiefs defense is mostly composed of average to slightly above average players alongside two elite players in linebacker Justin Houston and cornerback Marcus Peters. Currently ranked 28th in total yards per game, 24th against the pass (yards per game) and 19th against the run (yards per game) the Redskins have a chance to repeat last week's success. However, it won't be as easy it may show in the stats. Their pass rush has gotten to the quarterback several times with Houston posting at least one sack a game so far this season.
The Redskins are fortunate enough to have one of the best left tackles in the league with Trent Williams. Very rarely does Williams get beat and if so, it tends to happen just once. Williams should be able to minimize Houston's impact as a pass rusher while containing him in the run game. If head coach Jay Gruden and offensive line coach Bill Callahan were smart, they'd either run between the tackles or off to the right side. If they do rush left, expect right guard Brandon Scherff to sweep across to help provide an extra block.
Scherff has become one of the most dominant lineman, picking up blocks and moving with athleticism that catches the defensive lineman off guard. He'll be vital in helping setup the run game, an aspect of the game in which Gruden won't abandon, and shouldn't. Although the Redskins rushed for only 114 yards on 33 carries, it helped set up the passing game and wore down the defensive line.
Rob Kelley is still limited in practice due to his rib injury while Samaje Perine participated fully. If Kelley is unable to go, a mixture of Perine and offensive star Chris Thompson will once again be utilized for the ground attack. Even if the running game isn't as explosive as it was against the Los Angeles Rams, picking up even 2 to 3 yards on first and second down makes a manageable 3rd down for Cousins. A simple screen pass to Thompson has resulted in a big gain more often than not and should be implemented until it fails.
Even with the quick passing working well for Cousins and the offense, they have a chance to exploit the man coverage of the Chiefs secondary. Besides Marcus Peters, the rest of the defensive backs haven't shown shutdown capability and should be targeted. There will be big opportunities similar to the 52-yard touchdown pass to Josh Doctson from last week's game against the Oakland Raiders.
Cousins should feel more comfortable in targeting the deep pass. The way Doctson got over David Amerson to haul in the catch should prove to Cousins that the receivers will make the play if given the opportunity. This is where Terrelle Pryor needs to step up and make plays that he's capable of doing. He's only caught 2 passes in each of the last 2 games and hasn't become the threat in the passing game that the Redskins thought they were getting when signing him. This week he could have a breakout game against an undersized secondary.
Jamison Crowder has also been fairly quiet so far this season. He's made a few key 3rd down conversions but has yet to go over 60-yards receiving. Thompson has been the option in the quick pass game but Chiefs head coach Andy Reid may try to take him out of the equation. Reid is very aware of Thompson's abilities and during yesterday's press conference he said:
"Well, they have got a great coach that knows offensive football, but I'll tell you what, when you turn on the tape, [No.] 25 jumps out at you. He is doing some really good things out of the backfield. He's fast, quick, can catch, all of those things. He is a good player, a real good player."
Reid will gameplan to try and stop Thompson and this is where Crowder may prove to be effective. Lining up opposite of Thompson, Crowder has shown similar ability to create big yardage from a quick screen. This would given Cousins another outlet in case the pocket begins to collapse.
The Chiefs are definitely hurting with the loss of safety Eric Berry and have been giving up an average of 369 yards per game. In order to keep pace with the Chiefs offense and their first ranked rushing attack, the Redskins will need to air it out more then they have previously. Cousins appears to be more confident and hitting targets with better accuracy. A big test for this offense which has the potential to succeed as long as they don't leave big yards on the field.
Every season Cousins seems to start slow and then gets in a rhythm that drives the offense into the upper echelon of the league. The Raiders game could have been the turning point the Redskins offensively needed  and if not, it could get ugly. The defense would be gassed quicker trying to chase down Hunt and Hill while the offense adds to the three-and-out count.
Gruden should have a gameplan set and scripted as Arrowhead Stadium will be extremely loud Monday night and the offense can not continue to kill themselves with costly penalties. As long as Cousins gets comfortable and trusting in his receivers, they should be able to find the end zone a few times.
Prediction
Even though the Redskins showed a lot of firepower on defense and found their footing on offense last week, the haunting of Monday night games loom. Cousins is 0-3 on Monday night and traveling to the hostile environment of Arrowhead Stadium just adds on to the fear of a loss. Although the Redskins should be able to shut down the Chiefs receivers such as, Albert Wilson and Chris Conley, they may be too focused on the speed of Hunt and Hill that they play everyone else a little soft.
Redskins 20, Chiefs 24  
Comments
comments
Powered by Facebook Comments