News
Week 7 Matchup: Redskins at Eagles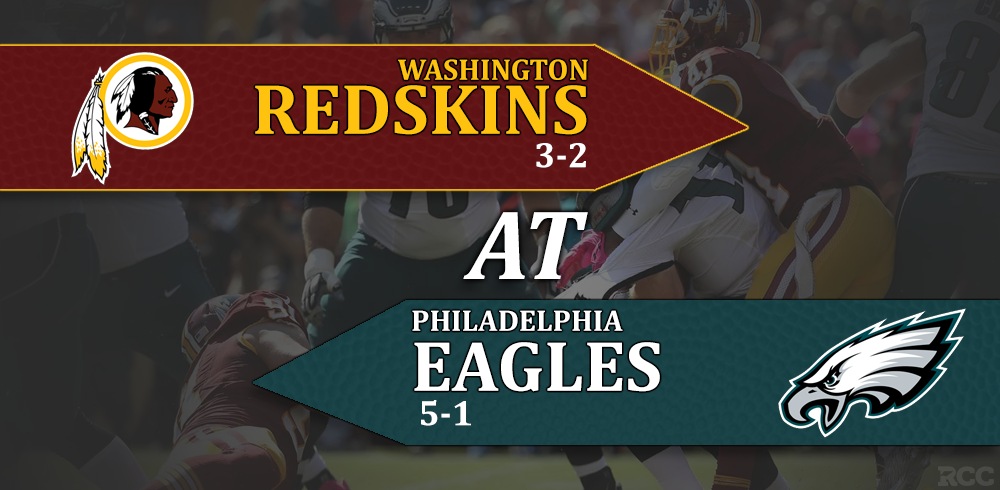 Imperative: of vital important; crucial. The perfect word to describes Monday night's matchup against the Philadelphia Eagles. If the Washington Redskins come out victorious, they would be just one game behind the Eagles in the division but if they were to lose, they'd be three games behind and most likely be in the chase for a wild card spot. This is why it's imperative for the Redskins to win in Philadelphia this Monday night.
Despite losing Week 1 against the Eagles, the Redskins were only down 2 points early in the fourth quarter and driving down the field to take the lead. An unfortunate interception by Kirk Cousin took away almost guaranteed points (they were on the 14-yard line). However, the defense held strong in the remainder of the 4th quarter and the Redskins get the ball back with just under 2 minutes. After a 7-yard completion to Jordan Reed, Cousins is hit on the next play as he's about to throw that forces a fumble. Brandon Graham forces the fumble while Fletcher Cox recoveries it and runs it in for an Eagles touchdown.
Morgan Moses is unable to keep his block on Graham, as well as Brandon Scherff on Cox, which ultimately results in the turnover. Fortunately, the Redskins offensive line has looked completely different from Week 1 and is one of the best in pass protection. They will have to keep Cousins safe because the offense will have to match the Eagles as the defense is still reeling from injuries.
Containing Wentz In The Pocket
Eagles quarterback Carson Wentz has been one of the best this season at extending plays. The Redskins saw it in Week 1 on the Eagles first touchdown where he scrambled around for about 8 seconds to find Nelson Agholor open for the easy catch and run. He's been doing it every game, making plays with his feet either as a rusher or keeping a play alive. The Redskins will have to bring pressure but also finish the play by bringing him down. They can not allow him to scramble.
When they do bring pressure, they'll have to be wary of being pushed too far back in the pocket and taken out of the play. Wentz is more than capable to stepping up in the pocket and either dumping it off to tight end Zach Ertz or tucking and running. This is where edge rushers Ryan Kerrigan and Preston Smith need to be sharp and collapse the pocket quickly, not letting Wentz to cut to the outside.
Kerrigan will have his hands full against Lane Johnson who's passed through the concussion protocol, and has been cleared to play. In their first matchup, Kerrigan was able to still bring some pressure and registered half a sack. He's also extremely smart in reading the quarterback's eyes and understanding where the play is going. In Week 1, he dropped back in coverage while focusing on Wentz and intercepted a deflected pass for a touchdown. If he's able to replicate that play and put points on the board defensively, that may prove to be the difference maker.
On the other side of the line, Preston Smith will be going up against Jason Peters. Peters is having a remarkable season, ranking as PFF's top ranked offensive tackle, but has allowed a sack this season. To whom? Preston Smith in Week 1. Smith's long arms and relentless attack has given Peters some trouble in their first matchup. With Jonathan Allen out for the season, Smith won't have the comfort of Allen taking care of key blocks to allow the pressure. He'll have to rely on Anthony Lanier II to take up blocks in the trenches and apply pressure.
While Kerrigan and Smith are busy on the edge, Matt Ioannidis will have a chance to add to his already impressive stat sheet. One of the biggest surprises of the season thus far, Ioannidis has become a dominant force. Unfortunately like Smith, Ioannidis had great chemistry with Jonathan Allen but is more than capable of providing pressure without him. This game will be a big test and the interior lineman for the Eagles aren't as strong as their tackles.
If they are able to keep Wentz from scrambling outside the pocket (they had a few missed sacks in Week 1) and finish their tackles, the Eagles passing game is strong but not overly impressive. With that said, the Redskins may be missing two key players in the secondary; Bashaud Breeland and Josh Norman.
Eagles Receivers Versus Banged Up Secondary
Besides containing Wentz, the biggest aspect of the Redskins defense will be primarily on who will be playing in the cornerback positions. Currently, Josh Norman (ribs) and Bashaud Breeland (knee) are on the injury report and limited in practice on Thursday. When asked about Norman and Breeland, head coach Jay Gruden said;
He [Josh Norman] just did individual today so he didn't do any team stuff. He ran around and looked fine to me but that's up to his pain tolerance and what the trainers say. Breeland started out individually, did some one-on-one's in the beginning then we took him out. He looked okay.
There's still a possibility that either one could start come Monday but if they are unable then Quinton Dunbar and rookie Fabian Moreau will see a lot more playing time. Dunbar played well last week against the 49ers but Moreau had a blown coverage late in the game that went for a touchdown. Eagles head coach Doug Pederson would love to attack the young corners and the Redskins could see a lot more empty backfield sets to take advantage of the mismatches.
Kendall Fuller has played very well so far this season and should do well in either man or zone coverage. The other mismatch will be the other rookie Joshua Holsey who came in for a few plays against the 49ers but really hasn't seen much playing time. He will have a tough task in coverage if called upon.
Eagles receiver Alshon Jeffery is averaging 13.2 yards per reception while Nelson Agholor has blossomed thus far and is averaging 16.1 yards per reception. They've become playmakers for Wentz and the offense. Defensively, the Redskins will need to play more man coverage over zone while being more aggressive with bumping the receiver in the first five yards. Last week, they were playing off their man by about 8 yards and not being overly aggressive, especially later in the game when the score was much closer. Being more physical and communicating at all times will be crucial in limited the big play.
Safety DJ Swearinger has become the voice of the secondary on the field and will have to keep an eye on Moreau and Holsey to make sure they're on the same page. Directing them pre-snap and ensuring they understand they coverage will help prevent large blown coverage. Swearinger has been vital in the backfield and will be the leader once again come game time. Him alongside fellow safety Deshazor Everett are very capable on locking down their receivers. The only issue is against tight ends.
If either Norman or Breeland (or both) are able to play Monday, it would completely change the dynamic of the defense. Norman held Jeffrey to just 3 catches for 38 yards in their first matchup. Taking Jeffrey out of the game would be ideal so that the defense can focus on the biggest threat; tight end Zach Ertz.
Ertz is the Eagles leading receiver and like every tight end, gives the Redskins constant headaches. For some reason, Zach Brown is still a liability covering the center of the field during passing plays. The only way to prevent Ertz winning across the middle is dropping Mason Foster back when Ertz is lined up in key passing downs, or at least to have Foster spy him. Wentz is aware of Brown's lack of ability to shut down Ertz and will target him a lot come Monday.
Overall, the biggest issue on defense will be dependant on if Norman and/or Breeland are ready come game time. If not, it may be a long night of Wentz airing out the football. If they do play, then there might be more use of LaGarrette Blount in the running game. He's being used efficiently by limiting his carries to an average of 11.7 carries per game but also averaging 5.6 yards per carry. If the passing game is faltering, then the Eagles have no problem rushing. Zach Brown has no problem on shutting down the run game alongside Ziggy Hood.
Kirk Cousins And The Offensive Attack
Running back Chris Thompson is the Redskins leading receiver. Although it's marvelous that he's been such a threat, it's concerning that he's ahead of Vernon Davis (second in receiving yards) by 115 yards. The first wide receiver on the list is Terrelle Pryor with a mere 209 yards. Despite the receivers not living up to their potential just yet, Thompson has earned his yards more than anyone.
The Eagles will look to try and take Thompson out of the game but the Redskins shouldn't shy away from him until it's completely shut down. Keep using the screen and allow offensive lineman Brandon Scherff and Trent Williams run down field and provide blocks like they've been doing all season. If the Eagles catch on quickly, then it's time to target Josh Doctson more than ever before. Craig Hoffman, Redskins beat reporter and host on 106.7 The Fan, joined our podcast this week and mentioned Doctson;
Doctson is more talented than Ryan Grant. He should be playing more… I think over time Doctson needs to play more as Kirk builds more of that trust with him. How dynamic Josh Doctson is lifts the ceiling of this offense tremendously.
Doctson currently has 4 receptions for 90 yards and two touchdowns, not to mention almost held on for the go-ahead touchdown against the Chiefs. He's shown that he's a very talented receiver but is not being utilized enough in the passing game. Last week against the 49ers, he was in for just 25.7% of the offensive plays. Increasing his targets and playing time will only benefit Kirk Cousins and the offense.
In order for Cousins and the passing game to develop, the offensive line will have to play better than they did in Week 1. In the first matchup, Cousins was sacked four times for a loss of 40-yards. Granted, Cousins and the offense start slow and have played well since that first week but the Eagles still match up well. As mentioned previously, Fletcher Cox and Brandon Graham made some key plays against the right side of Morgan Moses and Brandon Scherff.
Between Graham and Cox, they tallied 3 sacks, 4.5 tackles for a loss and 4 hits on the quarterback, on top of the fumble and fumble recover. Moses and Scherff are definitely playing better and can't allow similar results. Offensive line coach Bill Callahan has done a better job preparing the line throughout the season. In Weeks 3 and 4, Cousins was sacked only once and those were against strong pass rushers, the Raiders and Chiefs respectively.
Head coach Gruden is aware of what happened in the first game and will adjust accordingly. In Monday's press conference he said;
We have to do a much better job than we did the last time we played them handling their pressure. It wasn't just blitzes. It was four-man pressures with [Brandon] Graham and those other guys. They have Fletcher Cox. They have a very good pass rush, very strong defense.
The line may be able to hold their own better than before but a quicker release by Cousins would help negate any chances of sacks. Also, using Thompson or Jordan Reed as his checkdown would help prevent too much pressure in the pocket. Reed, like Doctson, hasn't been target a lot this season. Only 18 receptions for 142 yards through 6 games, Reed has always been one of the best receiving tight ends in the league. Using him to block, which should never be asked of, is misusing him.
Since Thompson is such a threat in the quick screen game and the Eagles should be preparing for it, the deep pass should open up with a lot of man coverage. Pryor and Doctson should be able to separate and get over the top of their coverage and if not, they've shown the ability to win the jump ball. Even if Cousins overthrows them for an incompletion, the Eagles will have to account for the deep ball which in turn, opens up the play action and running game.
Is There Any Chance For A Running Game?
Still an uncertainty, the Redskins run game has been a rollercoaster thus far. In Week 1, the Redskins were held to just 64 yards on the ground on 17 attempts but then a week later against the Rams, they run for 229 yards on 39 attempts. To be fair, the Eagles currently have the #1 rushing defense in the league, only allowing an average of 65.7 yards per game.
Gruden has stated that he wants to run the ball and won't simply give up on the running game. After the Week 1 loss, Gruden felt as though the running game "got away" from the Redskins. Even though they weren't getting big results, the run game can wear down a defense rather quickly. Even if they gain 3 or 4 yards on first down, Cousins is pretty consistent on converting on manageable second and third downs.
Robert Kelley is still recovering from his ankle injury and was limited in practice on Thursday. If unable to play, then Samaje Perine, Mack Brown and Chris Thompson will rotate as the running back. Brown hasn't had many touches so still a bit of an unknown whereas Perine hasn't flashed as much as many predicted before the season starter.
Perine did look good catching passes out of the backfield. Interchanging Perine and Thompson could provide a good one-two punch in the run and screen game. Gruden should use the read-option as well a few times. Last week, Cousins rushed for a 7-yard touchdown on a read-option play that the 49ers weren't expecting. It shouldn't be used a lot but mix that in with a few draw plays, there is potential for a run game. It may not be big yardage plays or equate to over 100 yards on the ground but it would help elevate the passing game.
Even though it appears to be an unwinnable battle on the ground, the Redskins shouldn't abandon the run unless they are down several scores in the second half. A 60/40 balance will be important to win the time of possession battle and ultimately keep Wentz off the field.
Conclusion
It seems every week has become a "must-win" type game for the Redskins but this is the most important so far this season. A win keeps them in the divisional race whereas a loss more than likely bumps them out and into the wild card showdown.
In Week 1, they were their own worst enemy in turnovers and could have won that game. This week they still have the chance to beat the Eagles but it depends on two major pieces; winning the turnover battle and if Norman and/or Breeland are able to play. Without both corners, Wentz and his offense will most likely pick apart a young secondary.
Redskins 27, Eagles 31 
Comments
comments
Powered by Facebook Comments