News
Week 8 Matchup: Cowboys at Redskins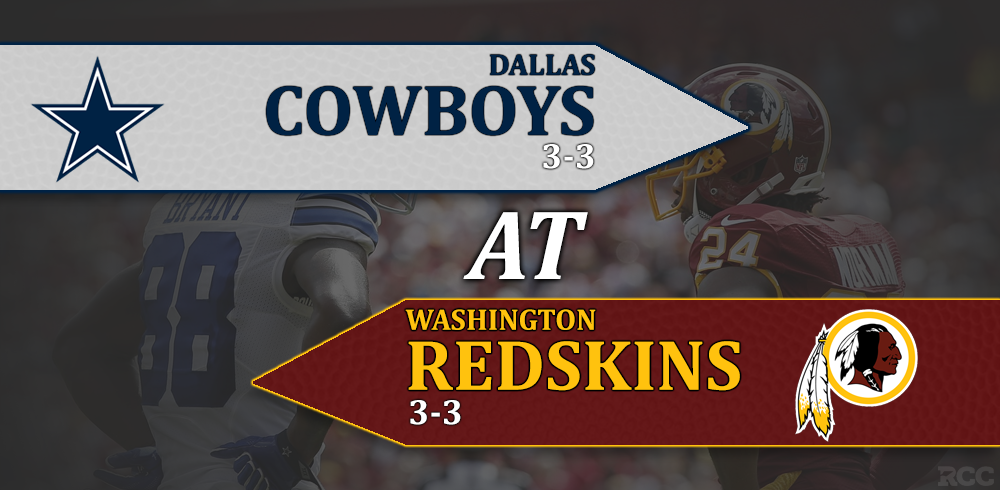 It's the epitome of NFL rivalry; Cowboys versus Redskins. In one of the most historic and deepest rivalries in all of football, the Dallas Cowboys travel to FedEx Field to face a limping Washington Redskins team. Normally the excitement would be sky high for the showdown between these two hated teams but the past several games for the Redskins have begun to paint another tale. Riddled with injuries, the Redskins currently have six players on injured reserve and seventeen more on the current injury report. Even with these injuries, some of which are minor, the Redskins will battle the Cowboys with every ounce of strength they can conjure.
The Current NFL Rankings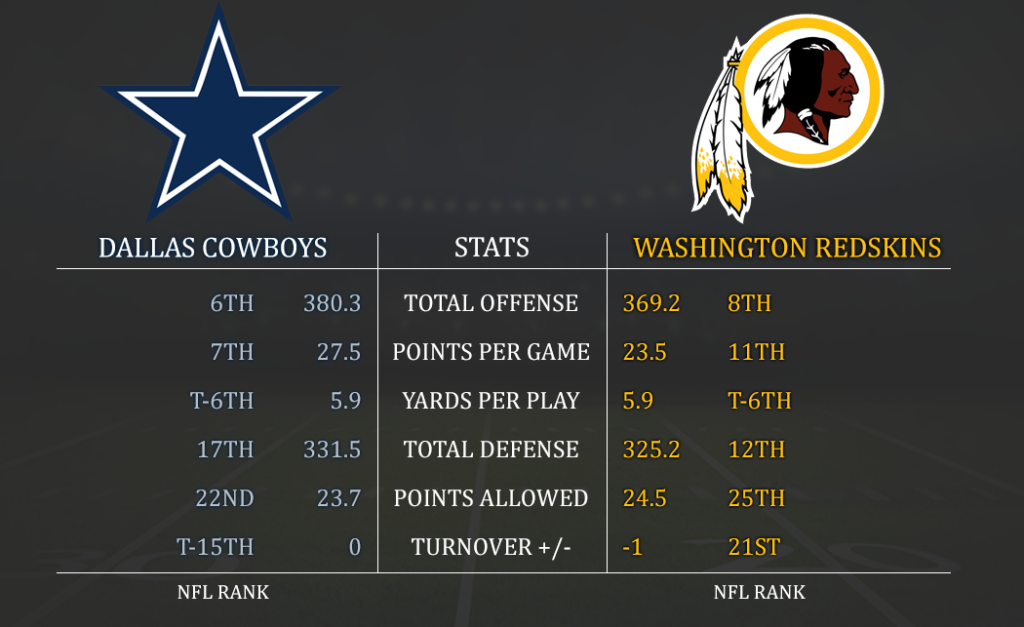 Both teams have been having a very similar season thus far; both are 3-3 and both are ranked fairly close to one another offensively and defensively. The major difference though is in the run game. Currently, the Cowboys are ranked second overall in rushing yards per game (147.5 yards compared to Redskins 114.8 which ranks 14th) thanks to star running back Ezekiel Elliott. After a stellar rookie season, Elliott hasn't missed a beat. Not only has his ground game continued to flourish, his usage in the receiving game has increased.
As far as the defense goes, the Cowboys have had some trouble stopping the run. The Redskins will have to mimic Elliott with a mixture of Rob Kelley and Chris Thompson, and try to establish a run game early on. This would help keep the ball out of Dak Prescott and Ezekiel Elliott's hands while tiring out their defense. Then Kirk Cousins can start opening up the passing game through play action and boots.
None of it will matter if they can't contain Elliott.
Not Allowing Ezekiel Elliott to Feed on the Defense
The Cowboys offense is primarily built on feeding the ball to Elliott and allowing him to beat down defenses through power running and screen attacks. Last week against the San Francisco 49ers, Elliott caught a screen pass that was behind the line of scrimmage and went 72-yards for a touchdown. His vision along with his ability to make quick cuts and his burst of speed is extremely dangerous very similar to Redskins Chris Thompson.
A major difference between Elliott and Thompson isn't necessarily their ability to make big plays but falls more their teammates. For some reason, the Redskins receivers, and tight ends, are just unable to block. In the big touchdown reception by Elliott, two receivers (Noah Brown and Brice Butler) make important blocks that allows Elliott the ability to cut to the outside then back in to find the end zone. Zack Martin, right guard, makes a great block as the play begins as well but the Redskins offensive line have been making these types of blocks all season.
If the Redskins want to limit these big screens from Elliott, the front seven will have to keep eyes on him at all times. If he rolls out, especially with a guard or tackle, expect him to be the primary read from Dak Prescott. This is where cornerback Kendall Fuller continues to do well and will have to be utilized a lot through the game. Having him track Elliott as a receiver and shed his initial block should minimize any extra yardage. Elliott already has more than half of last season's receiving yards through the first six games of the season. It will only increase as the season goes on and proves to be effective. Stopping it early and trying to keep him in between the tackles would be ideal.
As a runner, Elliott is just as lethal due in part to the offensive line. They've run numerous running plays while pulling the guard across the line to block and provide an open lane.
In this run against the 49ers, left guard Jonathan Cooper runs to his right immediately as the ball is snapped and blocks the rusher that right guard Zack Martin allows through. This allows Martin to block the next man up, opening a lane behind himself and Martin. The Redskins tend to do similar backside guard pulls in their running schemes. Normally it's reserved for power and counter run styles but now have transferred into zone plays. It tends to cause small hesitation by the linebacker and that's all is needed to create that open lane.
Fortunately as stated, the Redskins practice this style on offense which means the defense is quite familiar with reading the play. Zach Brown (full practice on Thursday) and Mason Foster (limited practice – shoulder) have been really strong against the run thus far. They've been able to get off their blocks completely to bring down the runner before they get to the second level. Brown has been one of the bright spots on defense and a vocal leader while on the field. As long as he doesn't have to cover anyone across the middle, Brown has been a difference maker. He'll also be beneficial in stopping the screen game.
Yet Another Agile, Mobile Quarterback
Mobile quarterbacks have been the crux of the Redskins defense. They've been able to bring pressure but have a hard time finishing the play. Just narrowly missing the quarterback who then flushes out of the pocket and either makes a completion or runs for the first down. Dak Prescott may not be as mobile as Aaron Rodgers or Carson Wentz but he's shown that he's more than capable of maneuvering to keep a play alive.
Prescott currently has three rushing touchdowns and 152-yards rushing, putting him as the second best rusher on the Cowboys. Not entirely difficult as Elliott is the clear rusher but shows how dangerous Prescott can be if given any space. Thanks to his mobility and highly rated offensive line, Prescott has only been sacked 7 times this season, one of the lowest among quarterbacks (Cousins is currently as 12). Just bringing pressure won't be enough, the defensive line will have to complete the tackle and not allow Prescott the opportunity to rush.
Preston Smith and Ryan Kerrigan have been great with the pressure and currently have 8.5 sacks between the two of them. If they can crash the pocket and keep Prescott from getting to the outside then it will be up to the defensive backs to play tight man coverage. The biggest question is still the status of Josh Norman. He's currently not cleared by the doctors but after Thursday's practice he said:
"I turned finally for the first time and actually got active. It feels a little sore, but that comes with the territory of that injury. But I felt fine. I don't see any problems or reasons why I can't go this week."
He's more than ready to suit up and line up against Cowboys receiver Dez Bryant. Bryant is having a better start to the season than last year but has had trouble finding the end zone against the Redskins. It's either Bashaud Breeland or Norman covering him and keeping him from scoring a touchdown. In fact, the past two seasons, Bryant hasn't scored a touchdown against the Redskins. Breeland is full-participant and practice and if Norman is unable to play, is capable of keeping Bryant fairly quiet throughout the game.
Last week, Breeland was a shutdown corner and has been playing the best football of his career, even with Norman sidelined.
The receiving group of the Cowboys aren't entirely difficult for the Redskins to deal with but it does come down to one player; Jason Witten. Again, every week it seems, the Redskins can't stop the opposing tight end. Last week, Eagles tight end Zach Ertz had 5 catches for 89-yards and a touchdown. Witten is just behind Bryant in receiving yards and is still one of the biggest threats alongside Elliott, Bryant and Prescott.
Brown continues to be a liability in coverage and it seems defensive coordinator Greg Manusky has yet to find a solution. Witten will more then likely be targeted fairly often, especially on third downs which have become bit of a problem for the Redskins. Allowing the receiving to stand freely at exactly the first down marker needs to be addressed. Tight man coverage and more physicality in the first five yards may draw more incompletions or deflect passes. If bumped at the line, this could disrupt Prescott's timing with the receiver and cause him to either go onto his second read which in turn, could buy just a second or two more for the pass rush to be more effective.
Either way, playing soft or with a 8-yard cushion on 3rd down has been allowing opposing teams to convert regularly. The Cowboys convert third down 45.3% of the time thanks to Prescott's 66.7% completion accuracy on third down. The biggest test will be if the defense can make stops and get off the field before tiring out. Not all drives will be three-and-outs but at least adhering to the bend and don't break motto would be more ideal than constantly being gashed while trying to force a punt.
The injuries on defense are starting to heal with Norman still being unclear. The current injury report, courtesy of Redskins.com: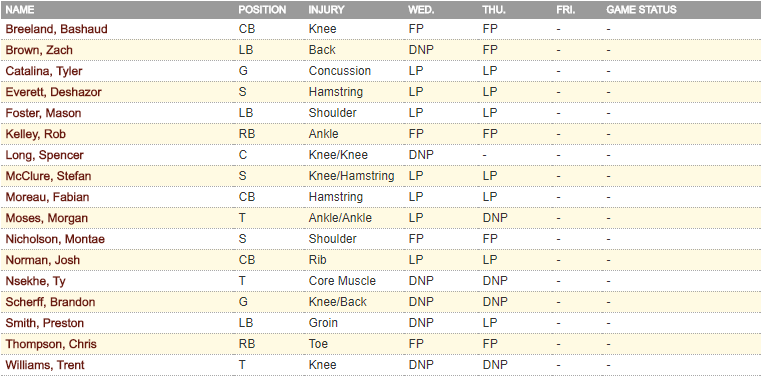 What Offensive Line? – Keeping Cousins Alive
Oh my; the current offensive line is in complete shambles. Currently four of the five starting players did not participate in practice and may not be able to play Sunday. Trent Williams (Left Tackle), Brandon Scherff (Right Guard), Morgan Moses (Right Tackle) and Spencer Long (Center) were out leaving just Shawn Lauvao as the only starting lineman.
That means rookie Chase Roullier will get his first career start at center come Sunday. Roullier did come in during the Eagles at both center and right guard. He'll be joined possibly by T.J. Clemmings and Andreas Knappe at the tackle positions. Knappe was just signed to the practice squad last week. They will be tested against a strong pass rush led by defensive end Demarcus Lawrence who leads the NFL with 9.5 sacks.
Lawrence is capable of moving to where he's most likely to cause the most disruption. The Redskins will have to provide some form of support in terms of blocking in order to keep Cousins upright. The tight ends haven't shown any ability in blocking with holding so they may cause more damage if asked to be an extra blocker. Jordan Reed and Vernon Davis have been great as receiving threats while Niles Paul is the most capable to be utilized in pass protection. Even if he's lined up in the fullback position to be the lead block for Kelley or Thompson would be more beneficial than no one.
Cousins will to roll out of the pocket more and use his feet to buy time for his receivers to finish their routes and get open. Fortunately, Reed come out strong last week against the Eagles, catching two touchdowns. He appeared more like his healthy former-self; running great routes and taken advantage of mismatches from the defense. He'll need to continue to play at his peak against the Cowboys and be Cousins security blanket.
However, the receivers still haven't lived up to the hype. After seven weeks of the season, granted the Redskins have already had their bye, the first receiver to be listed amongst receiving yards leaders is Terrelle Pryor who ranks 91st. To say that Pierre Garcon and DeSean Jackson have been sorely missed is an understatement. With that being said, Kirk Cousins has still managed to throw for 1,637 yards and 12 touchdowns. The biggest component of the passing offense has been running back Chris Thompson.
Each and every week Thompson becomes a dangerous threat once the ball is in his hands. He's currently tied with Eagles receiver Nelson Agholor for 366 receiving yards with one less reception. He's having a monster season and should have another strong game against the Cowboys. The Cowboys have been giving up an average of 216 yards through the air and have played against a few lackluster offenses. There's no reason to stop using Thompson in the quick pass game which will be needed thanks to a severely injured offensive line.
Josh Doctson finally saw a lot more snaps last week but was still only targeted five times. He's begun to prove his capability as a #1 receiver and Cousins will need to utilize him against a fairly average secondary. Cornerbacks Orlando Scandrick and Anthony Brown have given up several big passes and both are under 6 feet tall, giving a height advantage to Pryor, Doctson and Reed. The passing game should be strong against the Cowboys but it will all come down to if the line can give enough time to Cousins, or if Jay Gruden can call up some plays to roll out Cousins.
Lastly, please keep Jamison Crowder away from special teams and start using him more as a receiver.
The Running Game, Is It Possible?
There's no denying that running game hasn't improved over last season and if there's any hope, it may have died with the injuries to the offensive line. Offense line coach Bill Callahan and Gruden may have to simplify the running plays this week with a lot of new names in the lineup which may make things easier for everyone. Instead of trying to use backside guard pulls and shuffling lineman around, just using power running to push the pile for 3-4 yards a carry may just be enough to keep the defense honest. Or using a pitch to allow Kelley some freedom to break a tackle on the outside.
Samaje Perine didn't seen a single snap last week against the Eagles has become a disappointment this season. Switch him and Crowder in special teams to see if he's able to provide a spark on returning punts. A mixture of Kelley and Thompson appears to be the plan going forward barring an injury and even then, Mack Brown may be called upon before Perine.
The Cowboys have been susceptible to the run and if there's a game where the Redskins want to get the run going it may be this Sunday, even with the newly created line. Linebackers Jaylon Smith and Sean Lee have yet to capitalize on their strengths on the field and have recorded several missed tackles against the run. If Kelley keeps his helmet down and legs moving, he may be able to attack the middle with power runs. On third and one, running Kelley between the center and tackle should be effective, more than the passing attempts that were used last week. Even trying to use a QB Sneak to get the first down would have converted more often.
If all else fails, then it's up to Kirk's arm to lead the offense and possibly his feet. He continues to show he's capable of being mobile and provide a spark on offense. When he lowered his shoulder to get the first down against the 49ers on the scoring drive near the end of the game, he proved his drive to succeed. It was an 18-yard run which was sealed with an 8-yard touchdown run to take a commanding lead. Cousins has the ability to score with the game on the line and it may just come down to that once again.
Conclusion
The Redskins are banged up on both sides of the ball but the biggest concern will be the offensive line. Morgan Moses has the potential to play while the others listed will most likely sit out this game. The Cowboys will bring pressure and disguises blitzes to confuse them all game. It will be up to Cousins to read the defense and audible if required. If he's sacked and hurried all game, the offense will stall and the term "three-and-out" will become the synonym for Sunday's game.
Defensively, the Redskins need to focus on Elliott while containing Prescott. They started strong against Wentz last week but become bruised and tired as they stayed on the field for too long. If they are able to hold them on a few drives while the offense wins the time of possession, the defense can slow them down. Norman will be the biggest factor if not just for the rivalry between him and Dez.
Redskins 17, Cowboys 23
Comments
comments
Powered by Facebook Comments