News
Week 9 Matchup: Redskins at Seahawks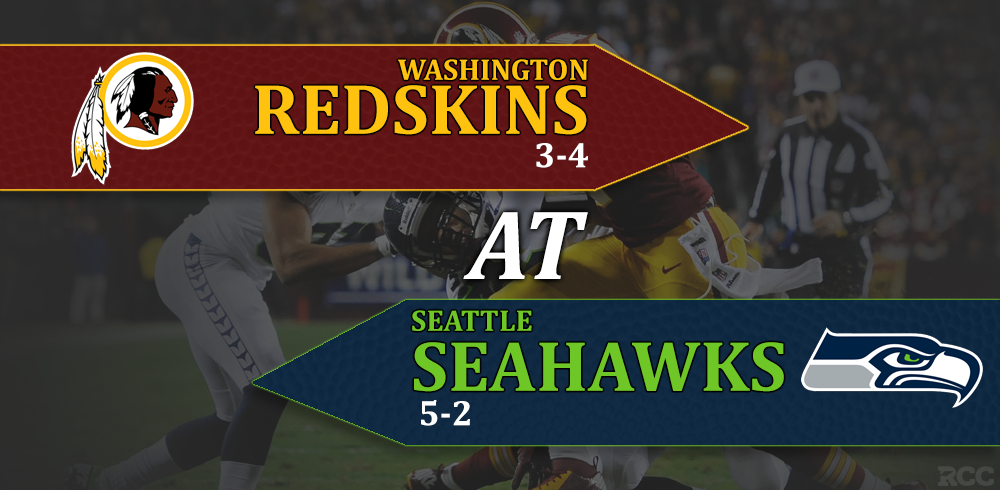 The Washington Redskins travel cross country to face the Seattle Seahawks in one of the most hostile environments in the league; CenturyLink Field. In a season riddled with injuries, the Redskins will have to play near-perfect in a ocean of noise to take down the rising Seahawks.
Despite not being in their division, the Seahawks have become one of the Redskins biggest rivalries due to the fact of being knocked out of the postseason three out of the last four playoff appearances (2005, 2007 and 2012). Even though it has been five years since the latest playoff showdown, the wound is still healing, especially since it happened at FedEx Field. They aim to seek revenge but are the Redskins strong enough and healthy enough to pull out a victory Sunday?
Current NFL Rankings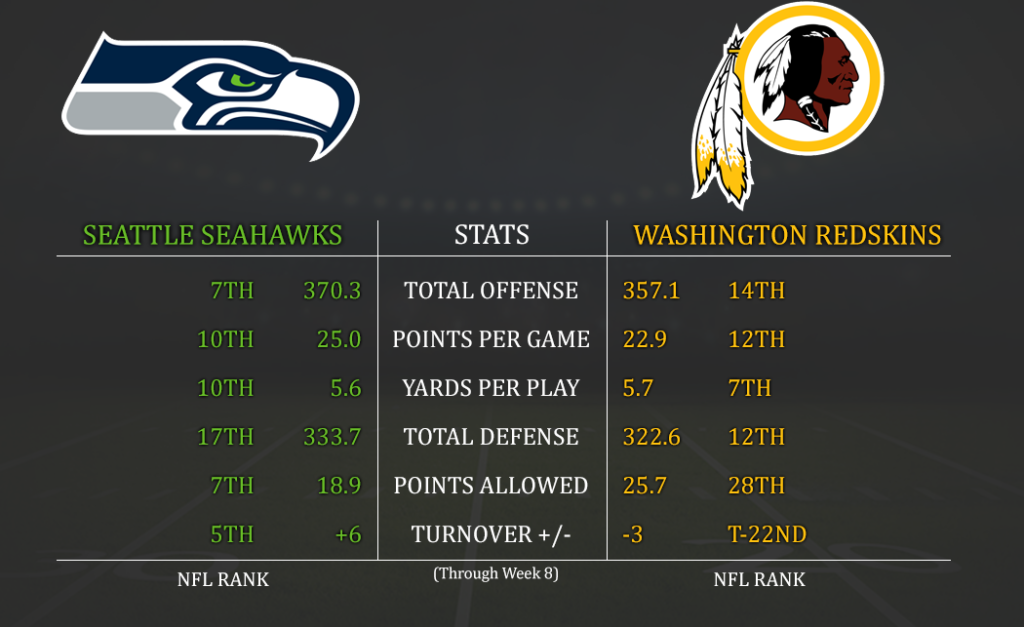 The biggest difference is on the defensive side with the average points allowed per game. The Seahawks are allowing just under 19 points per game which includes last week's shootout against Deshaun Watson and the Houston Texans. Whereas, the Redskins are allowing almost 26 points per game. To be fair, they've faced a top-10 offense (per points per game) in five out of their seven games (Rams, Chiefs, Cowboys, Eagles x2) while the Seahawks have only faced two top-10 offenses (Rams and Texans, possibly Packers in Week 1).
Even with the varying matchups, the Redskins will need to play smash mouth defense and make stops on third downs to force a punt.
Oh Man, Not Another Mobile QB!
The Redskins defenses worst nightmare of mobile quarterbacks is reincarnated this week in the form of Seahawks quarterback Russell Wilson. Heralded as one of the best mobile quarterbacks in the league, Wilson can beat you with his arm or his feet. It's nothing new to opposing defenses but it's very hard to keep him contained in the pocket and the moment any pressure is near, he quickly scrambles and keeps the play alive.
Absolutely nauseating to watch him out maneuver linebackers and break free to gain yardage when a sacked almost seemed inevitable. He's been doing it since his rookie season so defensive coach Gary Manusky and defensive lineman coach Jim Tomsula should be well aware of his mobility. Possibly having Zach Brown used as a QB spy and just focusing primarily on Wilson could be the difference between a first down or third down stop. Brown definitely has the speed and tackling ability, currently leading the league in tackles, to take on the role. He'll just have to be careful and not simply dive at Wilson's feet but to actually wrap him up.
When Manusky was asked about using a spy on Wilson after Thursday's practice, he said:
"Well, sometimes from a spy's perspective, sometimes it's a three-man rush, sometimes it's a four-man rush, so that spy player sometimes gets lost in the shuffle – sometimes when he's thinking he's going this way and he goes the opposite way. Overall, sometimes you do have to spy him and sometimes you don't."
A major reason that Wilson has been scrambling this season has been the problems with the Seahawks offensive line. They made a trade with the Houston Texans on Wednesday and acquired Left Tackle Duane Brown. After losing George Fant to a torn ACL in mid-August, the Seahawks were in dire need of strengthening their line. Now with Brown protecting Wilson's blindside, the passing and running game may become even more lethal.
Even with the new addition to the offensive line, the right side is still a weak spot and can be exploited. Right tackle Germain Ifedi and right guard Oday Aboushi have been allowing pressure on almost 50% of Wilson's dropbacks. Bringing pressure with Preston Smith or possibly Junior Gallette should eventually result in a sack. Using Ryan Kerrigan on that side as well with Brown keep eyes on Wilson could limit his scrambles. Even if he does scramble, the secondary should do well in coverage to not allow a bigger play downfield.
The passing game of the Seahawks was electric last week against the Texans but besides that game, Doug Baldwin is the only receiver to eclipse 100 yards in a game. That occurred in Week 3 against the Tennessee Titans. Tyler Lockett and Paul Richardson did come out big last week and are more than capable of being a threat in the passing game but with Josh Norman and possibly Bashaud Breeland (currently limited at practice) playing, they've proven that they can cover their receivers and take them out of games.
If Breeland is unable to play Sunday then Quinton Dunbar will see the majority of the playing time. Last week, Dunbar allowed a few passes while covering Dez Bryant primarily when trying to to bump him off the line and then having to quickly turn his hips and chase down Bryant. Other than a few missed coverages, Dunbar has held his own pretty well but would have a tough challenge if lining up against Lockett. Lockett is very quick off the line and when lining up in the slot, he can easily blow by the defender down the sideline. Dunbar will have to be either extremely aggressive at the line and try to throw off his route or stay in stride with Lockett.
Just like in every game, the Redskins will have trouble with tight end Jimmy Graham. Even though he's not having as a successful season, he's still a threat in the red zone with at least one touchdown in the last three games. Defensively, they haven't found an answer on stopping tight ends and could be a problem all game.
The Redskins matchup well against the receivers and even more so if both Breeland and Norman are on the field. As for the run, the Seahawks are only averaging 97.6 yards per game on the ground with Wilson accounting for nearly 30% of those yards. To put it in perspective, the Redskins are ranked higher with an average of 105.4 yards per game and the running game has been fairly lackluster once again this season.
Only thing the Seahawks can hope for is trying to replicate what Cowboys running back Ezekiel Elliott was able to do last week but Chris Carson and Eddie Lacy are nowhere near Elliott as a running back. Both players don't have a rushing touchdown and Carson is averaging just 4.2 yards per attempt and Lacy is averaging a mere 2.6 yards per attempt. No reason the Redskins aren't able to shutdown the running game outside of Wilson even with their injuries.
The Stalling Offense, Can It Be Rebooted?
Welcome back Jamison Crowder, oh how you've been missed in the passing game. Finally eclipsing 100-yards receiving in a game, Crowder had a big game against the Cowboys. Hauling in a beautiful pass from Kirk Cousins for 41-yards which help set up a Rob Kelley touchdown run, Crowder finally came alive. Unfortunately, as soon as he become a threat in the offense, Crowder is suffering from a sore hamstring and has missed both practices this week.
Cousins will have to rely on his main threat this season, Chris Thompson. Thompson has more receiving yards than any receiver on the Seahawks and head coach Jay Gruden should once again make sure to put the ball in the hands of his biggest playmakers. He did have a fumble last week that was ultimately recovered by the Cowboys but that shouldn't limit his snaps. Him and Cousins are the main cogs in this offense and will once again have to rely on them to come through big.
For some reason, it appears Josh Doctson is still being under utilized. Only had three targets last week with one reception for 1-yard which was ultimately a touchdown but a ghost for the whole game. This may be the week where Doctson becomes a major factor in sustaining drives and putting points on the board. Seattle's All-Pro safety, Earl Thomas, is currently questionable to play this Sunday while nursing a hamstring. When head coach Pete Carroll was asked about Thomas practicing before Wednesday's practice, he said according to The News Tribune:
"No, not yet. We are going to wait a couple days, we will see on Friday."
If he's unable to play then Bradley McDougald will make his first start as a Seahawk. This could be an ideal mismatch for the Redskins in the passing game. None of it will matter unless Cousins is willing to throw into tight coverage and trusting that his receivers are going to make the play. Terrelle Pryor has still been struggling but even if he's a non-factor, Ryan Grant has developed into a safety blanket for Cousins. It will be a struggle going against Kam Chancellor and Richard Sherman.
Sherman had 2 interceptions last week and only allowed one reception for every 9.8 snaps in coverage according to PFF. Chancellor doesn't post big stats as a safety but is a big hitter and very versatile in coverage. Both players are 6′ 3″ which eliminates any type of size advantage against them. Playing shallow routes and getting tight end Vernon Davis involved to get chunk yardage may be key to use early to draw the secondary closer to the line and hope a deep pass opens up.
The passing game will suffer if Cousins doesn't get enough protection from the offensive line. Trent Williams and Spencer Long are expected to miss Sunday's game but Brandon Scherff did have limited practice on Thursday. If he's able to play, it would immediately upgrade the line. They will need all the assistance they can against the powerful defensive front of the Seahawks.
They are fast, aggressive and relentless. Michael Bennett and Frank Clark, who had one of the most productive pass rushes last week, have become a dominant duo. Between the two of them, they had 10 sacks, a fumble and 37 tackles. The speed alone catches a lot of offensive lineman off-guard and with their strong secondary, quarterbacks are forced to take an extra second or two to let a receiver get open, just enough time for either one of them to make a play.
Bennett will line up against Morgan Moses who is playing on two sprained ankles. He may not be able to fully contain Bennett on his rush but if he can keep him contained long enough and having a quick checkdown available for Cousins, the Redskins may be able to limit his impact. There's still weak spots with Williams and Long out but if Scherff does play, they could move Tyler Catalina to left guard.
The offensive line, despite down two starters, will have to protect Cousins or else the offense will stall throughout the game. Allowing Cousins to roll out and be more effective outside of the pocket like he has shown this season, will be crucial. Even if accounting for the strong front four, middle linebacker Bobby Wagner is more than able to decimate a quarterback or running back. With the way the Redskins have been running and with Rob Kelley still nursing a sore ankle, Cousins arm will be the deciding factor.
It seems to be the same formula week in and week out; utilize Thompson in the screen game, one receiver takes over the game and Vernon Davis makes a huge play to put them in the red zone. This time, they will need Doctson to become that special talent that they drafted.
Prediction
Redskins 17, Seahawks 23
Comments
comments
Powered by Facebook Comments